Day TEN of our Design Team's Favorite Things!
Only FIVE more days until Christmas!
From now until Christmas Eve we are showcasing our Design Team's Favorite cardstock. Each designer picked a few of their favorite lines and created some gorgeous projects for you showcasing why they love it so much.
Then, on that day, just by commenting on that post, you have the chance to win! AND some days we might be showcasing more than one line so you need come back often.
Here is how it works:
1.) We post every day. The following day we pick a winner and then start over so keep coming back!
2.) You have all day and night to post. Yes, you heard me! You can win up until the next day when I pick a winner when I get up. We want our international fans to be able to win and they are normally sleeping now 😉
3.) Want additional chances to win?  Comment on Facebook and share the excitement on your blogs! If you share on your blog, come back here and link us up. Remember, you can do it every day for more chances to win!
WE LOVE our FACEBOOK FANS! And we do LOADS of giveaways over there, too. Make sure you like us to be able to win 😉
4.) Please note: we will not be shipping to winners until the January due to the Holidays. Winners must email ellen_sosnoski@coredinations.com with your name, address, phone number if international to claim prizes.
Now who wants a winner from yesterday????
Oooh, this looks fantastic! Great samples with this line.
Today is all about BasicGrey and My Mind's Eye Core Impressions! Yep! You guessed it….we have TWO giveaways for you today.
First up we have Design Team Member Shaunte Wadley with a layout using the MME Core Impressions. Did you know we have mini packs of cardstock in the MME design for our cardmaker friends?  We sure do!  Obviously these look awesome on layouts as Shaunte shows us here.
Love how she hung the cutout shapes with the MayArts Ribbon like ornaments!
And a close-up. Love how Shaunte inked the edges in black. Looks gorgeous on the whitewash and a great way to accent that sanding. REMEMBER! Use your Dust Buddy before you ink 😉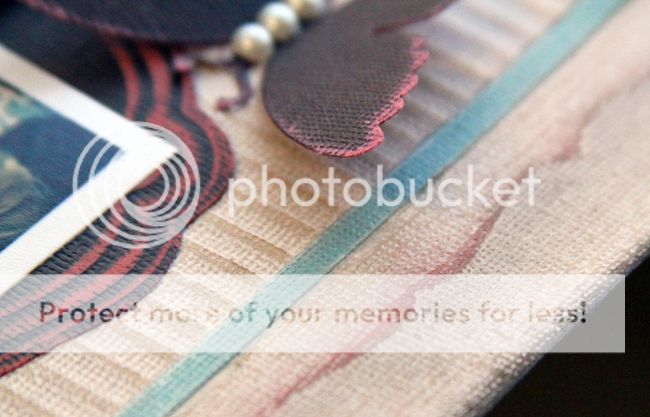 And next up we have some BasicGrey Core Impressions from Design Team Member Kim Jeffress using the Whimsy collection.
How about this for upcycling your scrappy packaging???? Everything does go better with candy.
See you tomorrow!