Fabulous Friday with Imaginisce
And we are having a BLAST! Are you? Sorry we are a bit late getting up today. We had some technical difficulties but we are ready!!!
REMEMBER…you can post on our blog here all week long for a chance to win. We will put all of the comments in random. org and pick one random winner from ALL the  blog posts ….  the more you comment the more you can WIN WIN WIN! AND we will pick one lucky winner from our Facebook page, too!
AND…yes there is more! Imaginisce is giving away goodies on their blog, too! Of course there is loads inspiration over on their blog as well. PLEASE head over to their Facebook page as well. If you don't like them, well you should! And if you already do…awesome! Tell them we said HI!
Today we have layouts galore for you from our ever inspiring Design Team!
We got to play with the i-Rock.
And of course…we are showing off what it can do with some Core'dinations Cardstock!  A match made in heaven!  Today we have some layouts for you from our Design Team.
First up a layout from me :)….Want to know how to make this arrow using your i-Rock and some Glam Rocks???
CLICK HERE to go to our Facebook page and view a quick video to see how I did it with some Core Essentials cardstock. It is so easy and just ONE MORE reason to get yourself an i-Rock 😉
And a close up of the  arrow:
And we have some Spotted galore on this layout from Lydia Jackson!!!
How much do you love the Legos she created?????? Brilliant!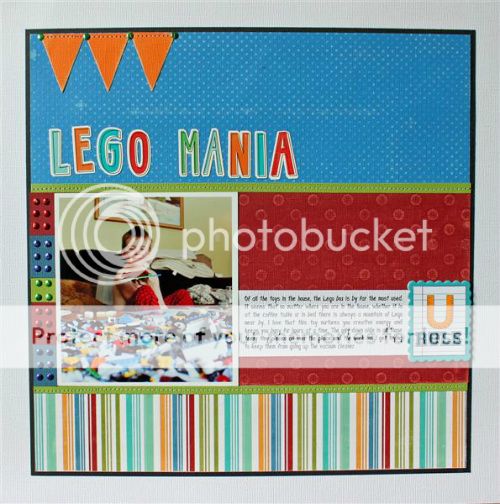 And another layout from Melissa Oliveira. Melissa used her Glam Rocks as little accents on her title and ran her hanging banner flags through her Fiskars Paper Crimper.
And how much do you love all of this gray Tim Holtz KRaft-Core???