Hard Core Crop WINNERS!
If you are looking for the Scrapbook Adhesives by 3L post it is
here
. Remember to comment all week long for a chance to win some Glitter Silk!
And we finalizing the Guest Designer entries as well. We will post that next week and when I have an actual day I will let you know.
Here are the WINNERS! And I hate using that term because there were now losers here. EVERYONE that participated was amazing. We cannot thank YOU enough. YOU guys, our Hard Core Crafters are what make Core what is.
Thank you for your patience!
We have  OVER TWENTY winners…yes..you heard me TWENTY! I know we said we would be giving away a pack for each challenge but it didn't seem right so we added a few(okay, a lot!)  more. Hope that is okay with you guys! That is why it took a bit longer to get this list ready. I had to go through a TON OF GORGEOUS, AMAZING, BEAUTIFUL, FANTASTIC, FABULOUS projects from everyone!
First up…Lydia's Challenges.
Ad Challenge Winner….Amy Prior!
How about those different shaped sanded hexagons that are mix of antiquing and Core Impressions? And those bright colors? And how she mimicked the sprinkles with pearls? Lydia love how she used a ton of texture, different techniques and multiple collections. Plus her layout made Lydia smile!!
Color Challenge Winner….Courtney Lee!  (Courts crafts)  Lydia just  loved her card and how she used the front and backsides of the paper….Courtney also applied glitter, glossy accents and the perfect amount of embossing to show off that Core!
Cari's Scoring Challenge Winner is………
Sherry Coogan!
That scor'd sun is just
brilliant
! I have a feeling you will be seeing this technique around here 😉
The winner of Andrea's Die Cut challenge is…….
Trine!
The perfect mix of sanding and paper tearing techniques with the Black Magic Core are gorgeous.
Trine added the perfect dimensions to her leaves and floral die cuts!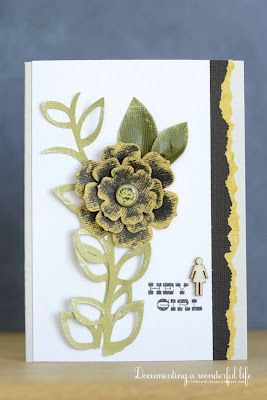 Next up for Challenges is Debbie Standard…
For her Core only challenge is ScrapRona!
WOW. Just WOW on these pumpkins with the Kraft Core.
And next up is Debbie's Card Challenge!
All those die cuts…sanding…embossing … the use of the same color family…
And Kim's Trendy challenge winner is……………
Amy Coose!
Melissa is up next with her Handmade  Embellishment challenge….
Brenda's Crafty Corner come on down!
Check out this detail….pinwheel…the flower center and itty bitty circle punches?!?!?!?
CUTENESS!
Let's see who is next?
Ellen's Pinterest Challenge winner is Corrie Wagner!
Whitewash on Whitewash? Looks beautiful especially with the grid pattern on a card.
And Char Dobson's challenges are next…
Tag/Journaling challenge winnner is…………….
Rebecca Keppel!
These rainbow tags with sanding and matching alphas is awesome! And that subtle scor'ed frame 😉
The winner of Char's antiquing challenge is……………..
Tina Conolly!
Scared of crumpling and sanding that paper? Don't be! Tina used it as a photo mat here on this layout.
Our very gracious and fabulous Guest Designer Kristine Davidson has a winner as well….
Melinda Spinks!
And Jennifer Edwards Strips Challenge winner………….
LeeAnn Pearce..now those are some killer strips! Love those antiqued and super distressed ones!
And last but not least our Mini Challenge winners …..
Mini challenges 1 —Amy Aussiescrap Diva
2 — Jill Rugg
3 — Marylou
4 — Toni Booth
And our random winner from posting our "first ever infamous" Hard Core Blinkie is………
Tracy M!!!
AND WE AREN'T DONE?!  What, what?!?!?!  There were  SO MANY of you that completed so many challenges we just couldn't stop.
So what did we do?????  I made a list of all of the Hard Core Croppers that did more than one challenge and picked
THREE
FIVE  
SEVEN
MORE random winners to receive a RAK from us! I had to….you guys worked so hard and showed love of Core'dinations Cardstock that we all share it just didn't seem right not to have a few more winners.
The only favor I ask is that you make sure you join us again next time!!!!!!!!!!!!!!!
KerriNZ
Mandi
KellyP
Rachel Theall
Donna Tyler Lehr
Louise Gordon
Beth Card Ullman
So how do you claim your prizes?
Winners email ellen_sosnoski@coredinations.com with the subject line reading the challenge  you won, For Example: Hard Core Crop Winner Ad Challenge. Also include in the body of the email your name, address, and phone number (if  international this is necessary). Due to the amount of winners this time we will not  be sending out confirmation emails.
We ship prizes to our lucky winners twice a month.  Winners have 30 days to claim prizes. Prizes are subject to availability and we reserve the right to substitute if necessary with equal value prize (if this happens we always send an email ;))