Kids Crafts and Core! Holiday Ideas in here…
Today we have designer Jill Lebbin with a super fun craft to do with your kiddos that is not only festive but cute! Who doesn't love teepees?!??!
Jill from Every Day is an Occasion here to share a Kids Core project with you today! My son, daughter and I made Tepees out of white Core! How cute are these?
Core Tepees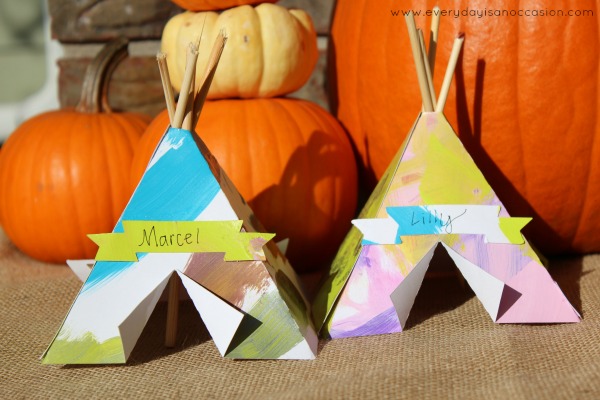 To create these tepees, I use Coredinations 12×12 white paper, this silhouette cut, Americana multi-surface paint, bamboo skewers, Elmers Craft Bond glue.
First, I had my kids paint the Core paper and we let it dry. Then, I put the paper through the silhouette cameo and cut it out using the this cut. If you don't have a Silhouette, you could cut four triangles and add little tabs (or a section to fold over so you can adhere them) to the triangles and glue the sides together. Then we cut bamboo skewers in half so they would fit in the opening. You can embellish these, stamp them or add litte name plates like I did. That's it!
I fond my inspiration from this blog, that artist that woman so you can check out and she has a downloadable pdf you can use to make these on your own for Thanksgivingif you don't have a Silhouette. We are going to use these tepees at our Thanksgiving table as place cards! So excited! My son had a blast putting this together!
Have a great day! Smiles, Jill
~~~~~~~~~~~~~~~~~~~~~~~~~~~~
And crafting with your kids doesn't have to be downloads. Simple handcut circles like this are all you need to make cute catepillars like this one from Heather Kaesgan. Her son LOVES to craft with her and this is the CUTEST! Right side, wrong side, stamping…anything goes with this!