Andrea Amu
Hello! My name is Andrea Amu and I am born and raised in Pennsylvania where I live with my fun-loving hubby of nearly 11 years. Scrapbooking has been one of my biggest obsessions since 1997 and most recently I've seemed to catch a card making bug too! When I'm not busy being crafty, I can also be found working part-time as a substitute Preschool teacher. I find enjoyment in shopping at craft and antique/junque shops, and collecting Old World stoneware and unique pieces of silver and gemstone jewelry. Currently, I am also serving my third year as a designer for CreativeXpress.com and I've been fortunate to have had my designs published in Memory Makers publications, Northridge Publishing Media's CARDS and Cricut magazines, Paper Crafts, The Bug magazine, Pinecone Press, and Blue Media and Quarry books. I am really excited to now be a part of the Core'dinations Design Team and I look forward to many inspirational experiences along the way!
To visit my gallery, click here. To visit my blog, click here.
April Derrick
My name is April Derrick and I am a Stay-At-Home Mother and Scrapbook Artist. I live in Arkansas, with my husband Scott, my daughter Charlie, and my sons Memphis and Castor. I have a love for all things crafty, and a passion for designing scrapbook layouts & mixed media art. I love to paint, draw, & distress…anything where I can get my hands messy! Documenting my memories in an artful way is extremely important to me and I always strive to inspire others whenever I can. I enjoy teaching others new techniques and I have been fortunate enough to host an annual scrapbooking /art retreat for the last six years on Petit Jean Mountain. I'm addicted to my camera, my scrap tunes, my sewing machine, all of my art mediums, and of course Core'dinations ColorCore Cardstock. In my opinion, Core'dinations Cardstock just plain rocks and I am honored to be part of the Design Team!
To visit my gallery, click here. To visit my blog, click here.
Char Dobson
Hey there! I'm Char from Winnipeg, Manitoba in Canada! I am a wife, mother and avid paper crafter. By day I work as an Educational Assistant in the public school system. At night, after my kiddos are tucked into bed, you can find me creating cards, layouts and all types of crafty projects. I consider paper crafting to be my creative playground. In fact, one of the reasons why I love Core'dinations so much is the play factor. They are always coming out with a new line or I am trying a new technique. I am honored and thrilled to be part of the fabulous design team at Core'dinations!
To visit my gallery, click here. To visit my blog, click here.
Debbie Standard
My name is Debbie Standard and I have been scrapping for about 10 years now. I have been a Critical Care Nurse for 14 years. I am now employed as head of the Trauma Case Managers at a Level 1 Trauma Center. I work full time and still put in about 5 hours a week charging in the Trauma Intensive Care Unit. I am also a mother to four, three daughters and a son. Between my husband and myself we have a total of six children, eleven grandchildren and one great-greatchild (by his oldest granddaughter), one dog and two cats. I love scrapping – it's my therapy. Once I started submitting for publishing I've been addicted. So much fun to see what I have created in a magazine – I never get over the thrill! I have met some wonderful people through design teams and boards. I am so excited to be a part of Core'dinations Design Team. This cardstock is such an exciting product and I am so looking forward with working with this impressive group of Design Team members!
To visit my gallery, click here. To visit my blog, click here.
Leica Forrest
I have been creative and passionate about art since I was able to hold a crayon. Constantly drawing on walls and signing my little sisters name to the artwork, I've embraced all the creativeness that scrapbooking brings. I first discovered it when I started traveling all over the world and realized I wanted to remember my experiences forever. Then I married the man of my dreams, and we had 2 boys (Riley:7, Jager:5) and a little girl (Ireland: almost 3). Now you will find me embracing the life of a mommy while still teaching locally and traveling internationally teaching scrapbooking and altered art classes where you are sure to have a good time laughing and learning. I have been published in U.S. & Canadian magazines, international websites and blogs. I have also worked on design/educator teams for many of the industry's leading manufacturers. Currently I am an endorsed educator for Tattered Angels, Scrapbook Adhesives by 3L ,Vintage Street Market, Urban Swank and Core'dinations.
To visit my gallery, click here. To visit my blog, click here.
Lydia Jackson
My name is Lydia Jackson and I live on the beautiful west coast of Canada, I am a SAHM, with two little boys who are my whole world. I am married to an adoring husband, who loves me, keeps me grounded and supports my addiction to paper. I love life and all it's imperfections, and I live by and struggle with my motto, believe and anything is possible. I have been formally scrapbooking for 11 years, but I have been a crafter my whole life. I am incredibly excited to be a part of the Core-dinations design team, for me, it is a dream come true.
To visit my gallery, click here. To visit my blog, click here.
Melissa Oliveira
I'm a native Cape Cod'er married to my best friend Bob. I am a mostly stay-at-home-mom to my 14 year old son Griffin, almost 2 year old daughter Maya Grace, and new baby girl Sadie. My scrapbooking began shortly after Griffin was born (complete with sticker-sneeze and creatively shaped cropped photos), and has developed into an intense love for all things paper realted. My camera is always at my side, ready to capture the every day moments that become the subjects of my scrapbook pages. I scrap because I want to remember all the little things, not just the holidays and birthday parties and major events (although those are important, too). I want to remember that Griffin refused to have his picture taken for a year, that Maya Grace's hair is the curliest right after bath time, and that Sadie has the.best.dimples.ever. I have found an intense love for the Core'dinations brand of products and can't imagine scrapping without them. I love creating my own embellishments and trying different journaling techniques with these uber-cool papers. In addition to paper crafting, I'm addicted to my sewing machine and crochet hook, as well as my ipod, flip flops, and the beach, of course!
To visit my gallery, click here. To visit my blog, click here.
Shaunte Wadley
I am a 30-something, chocolate-loving, SAHM from Utah. I have been scrapbooking since 1997, the dreaded era of photos cropped with deco scissors. Since then, my work has evolved into a clean, linear, photo-focused style. I have been published a few times, been to a few trade shows, taught a few classes, worked for a few design teams…but have not yet lost the love for this hobby. I love it for the creative outlet, and the good people I have met along the way. My favorite subjects to scrap are my husband and five kids (I never lack for subject material ) I especially like making mini-albums of our many trips together. When I'm not scrapping, I am traveling, blog-hopping, reading, or editing photo shoots. And doing laundry. Always laundry.
To visit my gallery, click here. To visit my blog, click here.
We are so exciting to say that our NEW releases are shipping NOW!!!
Here are a a few projects from our Design Team using the new Tim Holtz/Sizzix Cut and Emboss series. No more cutting down that cardstock to fit your embossing machine. We have the size JUST for you! And the Tim Holtz Distress and Adirondack colors are in one convenient pack.
Card from Melissa Oliviera using some of the gorgeous Tim Holtz cardstocks:
And a layout from April Derrick using some of the Tim Holtz/Sizzix 4.24×5.5 sheets as well. They can be used for layouts AND cards!
Don't you love how she embossed and debossed the same folder??? For more information on these techniques check out our videos here.
HAVE YOU SEEN THE NEWS?
We are at it again. YES, we are giving away more Core'dinations Cardstock!
WE ARE GIVING AWAY 50 OF THESE! Plus three lucky winners will get a signed copy from Tim himself!
CLICK HERE to enter to win.
Curious what to do with your Kraft Core? We have tons and tons of inspiration coming for you and we are kicking it off with a great tutorial for you from Designer April Derrick. April is our in house Tim Holtz guru. She uses color washes and distress inks beautifully and  this layout is no exception. We hope you can find some cool techniques to use on your craft projects from this tutorial today.
Supply List:
- Cardstock: Core'dinations / Tim Holtz Craft Core Nostalgic Collection
- Patterned Paper: 7gypsies
- Color Wash: Ranger Adirondack in Red Pepper
- Pens: Staedtler Triplus Fineliners
- Film Strip Tape, Tissue Tape, Mini Staples: Tim Holtz
– Metal Clip: 7gypsies
- Sparkly Brad: Paper Studio
- Distress Ink: Ranger
- Other: White Office Tag, Black Sewing Thread
Step 1 – Spray 3 to 4 squirts of Color Wash on a craft mat.
Step 2 – Dip a paintbrush into water and then swirl your color wash around with your paintbrush creating a small puddle of paint.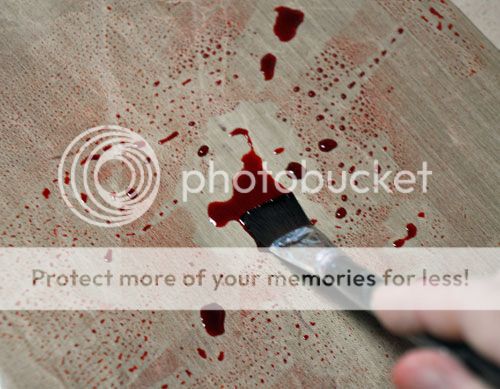 Step 3 – Start painting your cardstock. You can paint as little or as much as you like, depending on how much of the cardstock you want to cover.
Step 4 – With every layer of color wash paint you add, the colors will get deeper and darker. If you think it's too dark you can swipe a paper towel across it while it's still wet. You will probably need to add more color mist and water during the painting process depending on how much paint you use.
* Note}: I always like to leave the "Logo strip" along the bottom of the cardstock on until I have finished the painting process! Then I cut it off right before I get ready to sand and set it aside to use later.
Step 5-Grab your Core'dinations Sand it Gadget and sand away! On this particular layout, I chose to sand the edges of the cardstock sheet and also various areas towards the top of the sheet where my paint was a little lighter. This resulted in a really cool texture effect!
Step 6 – Grab your color wash and spray a couple of mists onto your cardstock. (I personally like to choose 2-3 areas to mist. I don't want it to overwhelm my page and it also helps if you have an idea of where your picture is going to be placed so you can spray the areas you know will not be covered up.)
Step 7 – Hold the cap of the color wash bottle and squeeze. Large drops will fall out of the bottom of the tube. I like to call this Cap Dropping. It's an easy way to get big drops, if you don't want larger drops than simply skip this step.
Now remember how I said I save my "Logo Strips" to use later? Well here's what I did with my leftover strip!
I cut the strip in different sections and sizes. This way I ended up with some of the painted portion without words, and the others I just flipped over to use the kraft core side without writing.
Then I simply adhered the small strips of cardstock along the top portion of my layout in a collage like fashion. I even turned up a couple of the edges of the kraft strips so that a little of the red painted side would show. I completed this look by sewing over my paper strips, but you could also create a faux stitch using pens!
Here is what it looks like almost done. You just need to embellish and you are read to go!
Looking for ways to use our Tim Holtz Kraft-Core collection?
Tim Holtz and Core'dinations collaborate once again and introduced this rustic blend of colors on natural kraft cardstock.
This pack is available in a 24 assorted pack  and individual 12×12 sheets.  It looks beautiful sanded, distressed or leave it as is.
Here are some designs to help inspire you.
Designer Shaunte Wadley
Designer Debbie Standard
Want to win some CORE?????????
BasicGrey Core Impressions that is…
Check out the BasicGrey blog today (you must comment over there for a chance to win by midnight MST)
GOOD LUCK!
See you tomorrow with some more inspiration!
Have you seen September's Core Colour Challenge???
CLICK here for more details if you didn't
Well, we have some more inspiration for you!!!
Today Design Team Member Char Dobson made this super fun and just perfect project for Back to School for us today. This is so fun and just perfect for a teacher gift.
And Char's Tuesday tip is to not be afraid to pair those gorgeous primary colors with an accent color like purple. How awesome is this color combo???  Char used our September Colour Lover's piece as her inspiration for this layout. You don't have to use every color…just pick and choose the ones that work for YOU!
Core: Essentials (brights), Core tags (brights)
Other supplies: Cuttlebug Measure by Measure and Number Collage embossing folders, Scor-pal, Cricut Plantin Schoolbook (stars), unknown button brads, buttons, hemp cord, alphabet beads, pop dots, pencils, sticky notes
Today we have some My Mind's Eye inspiration from Design Team Member Andrea Amu.
Check out the My Mind's Eye Core Impression pack here. You will looooooove it!!!!
This color combo is gorgeous, don't you think?
And some gorgeous details…..
Love the detailed sanding and Dimensional Pearls…
Today's Tutorial is from Design Team Member Kim Jefress…..
AND she used Septembers Colour Inspiration  Challenge!
MY COLOUR BOOK
My two year old son is having trouble remembering his colours. I decided to make a mini album for him using some Core'dinations cardstock, embossing folders and chipboard.
1.Choose a pre made mini album, measure the size of each page and then cut your CORE cardstock in your chosen colours to size. Mark with a pencil where the holes are and using a hole punch,  punch some holes for the rings to thread through.
2. From the same sheets of coloured cardstock, cut pieces to fit into embossing folders you have, then emboss each coloured card with a different folder.
3.Using your sand it tool or sand paper, sand the embossed design on each piece of embossed cardstock.
4.Cover your album with PVA glue or craft glue and lay down your cardstock pieces from step 1. Smooth out with your fingers.
5. Now glue down your co ordinating embossed pieces the same way.
6. Choose some chipboard pieces and decorate each one to suit the colours of your pages. I have used, glimmer mist, paint, glitter and ink.
7. Using strong adhesive glue the chipboard onto each page, Type or write out a matching sentence for each colour, print trim and add to each page.
8. Use buttons and letter stickers to create your cover and then put your book together and you are done!
Here are some of the inside pages….GORGEOUS!!!!
And here are Kim's cuties looking at this amazing book!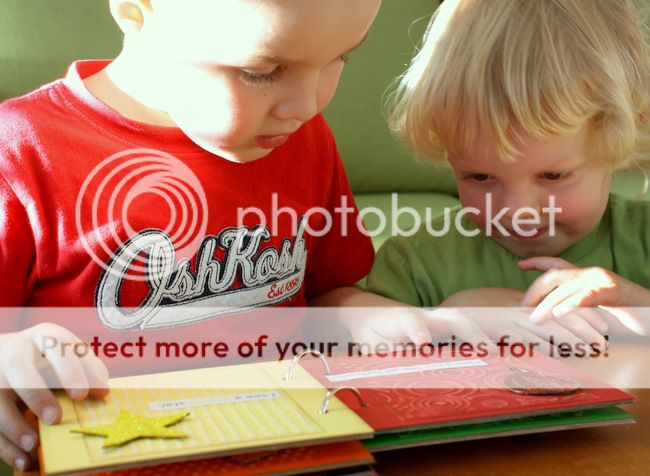 We had so much fun last month working with Paper Trunk.
We picked a random winner from this post……
AND it was…….
Villa Steeves says:
Great layout! I love the flowers!
Design Team Member Brianne Nevill created this  deliciously fun layout using lots of embossing.  And how fun is that paper piecing??  AND the great thing about Tim Holtz Kraft-Core is that if you want to have a solid kraft layout base, you can just flip it over!
Again, thank you so much for coming here and commenting and checking out the
FABULOUS things our Design Team has been working hard on. We love hearing your feedback!!!!
Don't forget about September's Colour Challenge!!! Details here.
Happy Friday!
(edited with last month's winner)
First up we want to Congratulate Courtney! She is the winner for last month's Colour Challenge.  Email ellen.sosnoski@coredinations.com with your address information. Prizes will not go out until September 12  due to us being out of the office at an event.
Here is the cute card she made.  Love all the great Cricut work and the glossy accents. A GREAT example of how Core'dinations ColorCore Cardstock can be your go to cardstock for any project.
You can see her entry here on her blog.
Now it is time to live with September's Colour Challenge!!!
It is all about colour for sure.
Again, our inspiration piece comes from our Pinterest Colour Lover's Board. Every Month Design Team Member Lydia Jackson gets the incredibly difficult task of choosing one of the beautiful color schemes found in Pinterest.
This month it is all  about back to school!
What is better than rainbow crayons???
Our Core Essentials line is PERFECT for this challenge. LOADS AND LOADS of gorgeous colours…..
Design Team Member Debbie Standard Created this fun card using this colour inspiration using loads of embossing and sanding:
AND…Debbie created a layout, too.
The great thing about this inspiration piece is that you don't have to use every single colour like Debbie did here.  She focused on the blue, red, yellow, orange and brown. Looks awesome, don't you agree?  The Stacy Julian Line Core Impressions is great for this challenge as well. No one does Colour like Stacy!
Remember you must use Core'dinations Cardstock on your project and link back to THIS post by September 30th or link us up on our Facebook page.