Oh yes! Project life with David Tutera Celebrate. With the last few days of fall upon us, what are you going to do with all those photos? Pumpking picking, leaves falling, Halloween…you name it…we've got photos for it, right?
Well we have a  cool is this idea from  Designer Trine Brandt-Lassen using those Step 2 layers and Step 3 embellishments.
One of our NEW chipboard pieces from the embellishment kits layered on some David Tutera Casual Elegance burlap and more bits of the Step 2 layers!
How pretty is this Step 2 Lace Grid kraft layer? Because they are made to fit the A2 size, they will work perfectly for the 4×6 areas on your Project Life albums.
In the vellum pocket, Trine used a punch of the Step 3 embellishemtns and finished it of with the "So Thankful" sticker.
Hi! Jill from Every Day is an Occasion back to share another Kids Core project with you! Today it's all about being grateful! This Grateful Journal can be used a couple of ways. The first way, which is how I'm going to be using it, is a mini album. Since November 1, I have been taking pictures of things I'm grateful for and posting them on Instagram. I am going to print the photos and then put them in this mini album. The second way could be used on Thanksgiving and to have everyone draw pictures or write on the page what they are Thankful for. Then at the Thanksgiving Table the journal can be read and you have a keepsake to look back on when your kids are older. Now these are just two ideas I came up with. I'm sure you have a great idea if these don't work for you!
Grateful Journal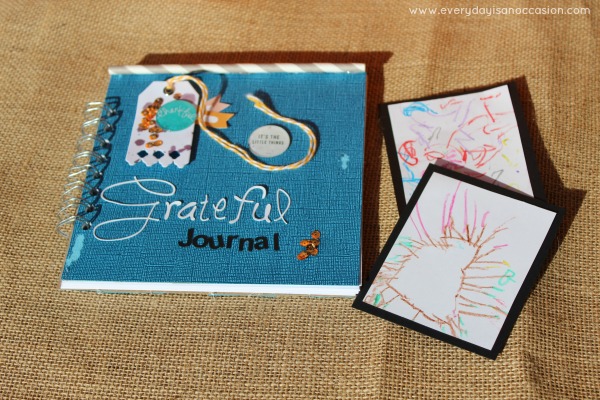 One thing is for sure, I love Core'dinations white core paper! The 12×12 and 110lb 8 1/2 x 11 packs are such an AMAZING quality of paper! I made this entire journal out of scratch and it's thanks to the white core! It is so super sturdy that I felt comfortable using it as all the album pages. To create the cover I actually used a cereal box and cut it to 6 1/2 x 6 1/2. I then used my Xyron Mega Runner to adhere the Vintage Core'dinations cardstock to the cardboard. To create the album pages, I just cut 15 white sheets down to 6 1/2 x 6 1/2. Then I used my cinch machine to bind all the pages together.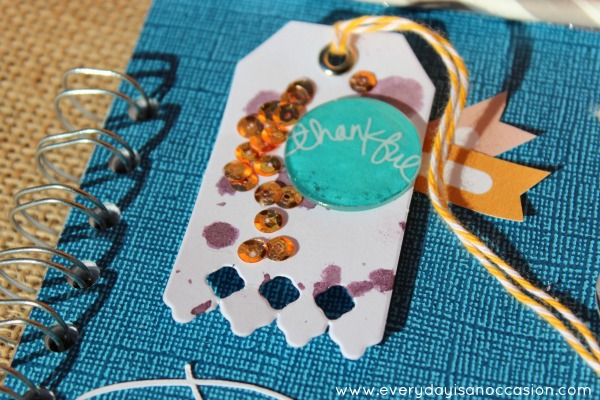 For the cover, I used Core tags along with some vintage sequins I was handed down from my Great Grandmother. I also used some Amethyst Colorshine. I attached some Hemptique Twine to my tag. I have to say though, my favorite thing is to print onto core. I used Shanna Noel's thankful prints and printed them onto my 8 1/2 x11 white core. Then I used my Epiphany Crafts Round 25 tool to punch them out and I put an acrylic sticker (they go with the round 25 tool) on top.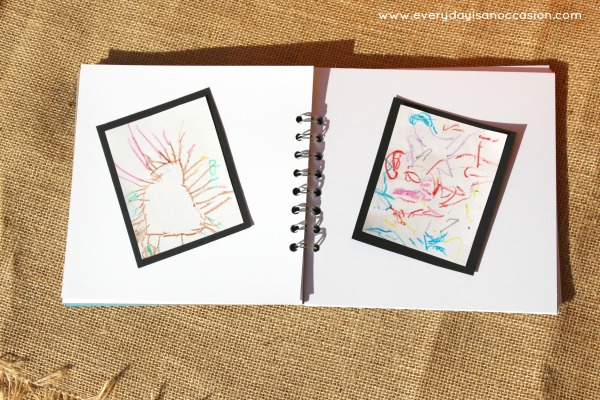 This is all great and grand you may be saying to yourself…but what you really want to know is how is this a kids craft? Well, let me tell youwhat we did… I talked to my kids (2 & 4) about being grateful or thankful. We have read many Thanksgiving books together and discussed what it means. Then I had my kids draw pictures about what they are thankful for. My 4 year old son (on the left) said he is thankful for "ALL the leaves". I said, "Oh you're thankful for leaves?" He said, "No, Mom… ALL the leaves" CUTE! My two year old daughter (on the right) said she is thankful for Daddy and she said Daddy has colorful hair. LOL! I am going to add these to my Instagram pictures. Once I have them printed I will have my kids help me create the layouts with photos of them and their drawings.
Have a great day! Smiles, Jill
You can Follow Jill on Instagram here and Core'dinations here!
If you LOVE tags than you came to the right place. We have them in textured Core, lights, darks, pastels, smooth tags and MORE! Make sure you check them out HERE.
Today we have some gorgeous festive cards from Designer Clare Buswell!
If these don't get you in the spirit, I am not sure what will!
How cute is the pompom trim?
Memento Luxe Love Letter ink pad, Jet Black Ranger Ink, Distress Ink (Scattered Straw and Vintage Photo), Mistletoe Moments embossing folder from Crafter's Companion, Big Shot (Sizzix), Waltzingmouse Stamps (Nordic Winter, Compliments of the Season, Santa's Coming to Town), baker's twine, seam binding, pom pom trim, silver bells, red saddle stitch ribbon.
We are back with more Core Tags! This time we have moved on to the Christmas theme because you can never have too many tags this time of year, right?
First up we have some Tags from Kate Nolan-Denham. I looove all the details that Kate gets on her tags! Grab those embossing folders…don't be nervous! You can pop out that metal gromment and run it through your embossing machine or you can just put the folder right below it like Kate did on this first tag:
And our Smooth tags are PERFECT for stamping!
Supplies:
Core'dinations CoreTags – Brights
Core'dinations CoreTags – Creative Sm Ivory
Core'dinations CoreTags – Oval Tag White
Core'dinations Cut & Emboss 4.25 x 5.5
Stampin' Up Stamps
Gel-A-Tins Stamps
Sizzix Dies & Embosssing Folder
EKSucess Border Punch
Ranger Archival Ink & Stickles
Queen & Co Bling
~~~~~~~~~~~~~~~~~~~~~~~~~~~~~~~~~~
And Heather Kaesgan has some great tags for us today, too!  And for this first tag, Heather used her scallop bunch along the bottom.  There are SO many things you can do with our tags…sky is the limit!
How cute is Rudolph in the brown with his red nose bling?
Supply list for Heather's Tags:
Tree 
Core'dinations Core Tags – Dark
Core'dinations Color Cardstock – Chocolate Mocha
Anna Griffin Embossing Folder
Silhouette – tree # 50884
Darice Ribbon
Darice Pearls
Sand It Gadget
Snowflake
Core'dinations Core Tags – Dark
Darice Embossing Folder
Darice Pearls
Darice Ribbon
David Tutera Sticker
Sand It Gadget
Rudolph
Core'dinations Core Tags – Dark
Core'dinations Color Cardstock - Red Rose
Sizzix Embossing Folder
"Merry Christmas" Silhouette File # 4347
Darice Pearls
Darice Ribbon
Darice Embossing Folder
And a close up of that embossing and sanding detail:
Cuttlebug
Cuttlebug embossing folder
Tim Holtz Ink Walnut Stain
Tattered Angels – Pearl Shimmer Mist
Spellbinder's Die Cut – Rose Creations S5-050
Ribbon:  Stash
Brads:  My Mind's Eye
Leaves:  Silhouette Cameo die cut
Cameo die cutting machine
Sand it Gadget
Dust Buddy
Xyron machine
And a close up:
Cuttlebug
Cuttlebug embossing folder
Tim Holtz Ink Walnut Stain
Tattered Angels – Pearl Shimmer Mist
Die Namics Die Cut- royal rolled rose and mini rolled rose
Ribbon:  Stash
Sentiment:  David Tutura
Leaves:  Cameo die cut
Cameo die cutting machine
Sand it Gadget
Dust Buddy
Xyron Sticker machine