April Derrick is at it again!
Check out her blog here for a super cool tutorial on how to make a cool background with Core'dinations, Distress Stains and WATER!
You don't want to miss this…
It's super easy and effective and, of course, it looks awesome with My Mind's Eye Core Impressions. The pre-embossed patterns
pick up the Distress Stains beautifully. And don't forget that Sand It Gadget for all your sanding needs.
So click here to go to April's blog to see how THIS…
BECOMES THIS!
Have a GREAT day!!!
Happy Monday!
We are so excited to bring you some fun Paper Trunk projects over the next few weeks.
Make sure you head over to their blog today for some awesome inspiration, too!
First up we have a gorgeous layout from Shaunte Wadley using loads of color. Love it against the black Core Essentials cardstock.
A little embossing here…a little sanding there….some Paper Trunk patterned papers…VOILA!
Make sure you tune Wednesday for some more projects
and you never know when we will
be giving something away!!!
Have a GREAT week!
Good Morning!
Today we have the COOLEST tutorial for you from Susan Weckesser on how to create your own flock with the fibers from
sanding Core'dinations Cardstock. Make sure you KEEP reading!
Here is Susan in her own words:
See the cute little birdie?  This is what we are going to learn today. AND if you like videos, check it the one that Susan made just for us here on YouTube!
I LOVE DISTRESSING and RIPPING my paper all the time!!! However, one day I noticed that I was making a LOT of 'dust' that looked like 'FLOCKING'. So, I started to collect it and use it just like flocking and this is how I did it…
Samples of my Core'dination flocking in jars.
The 'core' in the Core'dinations Cardstock, which is paper fibre, creates the neat flocking look. Each style of Core'dinations Cardstock will create a slightly different look.
This is from some Core Essentials
This one is from some Black Magic…can you see the flecks of black in the flocking?
I used a pair of scissors to easily loosen the paper fibres that I wanted to collect to make my projects. Please watch my You Tube video at the end of my blog post to see exactly how I did it!
I them used Kuretake 2 way Glue to outline where I wanted to place my 'flocking'.
I placed some of the paper flocking on and then neatly edged it into place with a popsicle stick! So easy and fast!
You can add more than one color to your designs and you can add embellishments like rhinestones! There really aren't any limits to what you can do!
AND make sure you check out Susan's Video here.  It's awesome!
Thanks so much Susan!!!
WE HAVE A FUN FEW WEEKS IN STORE FOR YOU!!!!
Make sure you check back Monday, August 1st as we get started to show off some gorgeous designs from Core'dinations and Paper Trunk!!!
Here are some sneaks for you.
I know the one thing I am super excited for is COLOR!!!
See you Monday!!!
Happy Wednesday!
First up we want to remind you today is  THE LAST day to get those Peachy Keen entries in for our July Colour Challenge!!!
Today we are sharing a bunch of cards from the Design Team that are all about summer!
First up we have a FUN & Festive card from Kim Jeffress. Who says it's winter in Australia???
Love the use of the Jenni Bowlin Calendar card from the 4×6 paper pad.
And next up we have a card from Andrea Amu using  a great mix of Gemstones , Vintage and Core Essentials and
beautiful cuts from her Cricut:
And a close-up…
We have an awesome tutorial for you today from Design Team Member April Derrick.
Let's get started!
Step 1 - To create the background for my layout, I started by gathering the following supplies: Ranger Distress Inks in Weathered Wood and Broken China, two Ranger Foam Applicator Tools, Core'dinations Sand it Gadget , and of course a beautiful sheet of Core'dinations Core Impression Cardstock. The particular sheet I used was from the Jenni Bowlin Studio Collection: Vintage Brights!
Step 2 – I started by applying some of the Weathered Wood Distress Ink along the bottom of the cardstock.

Step 3 - Next I added a layer of Broken China Distress Ink and I made sure to blend the two colors together where they meet so it would having a flowing effect.
Step 4 - I continued to apply the Broken China distress ink all the way up to the top of the cardstock, however I didn't apply as much towards the top because I wanted to make sure that some of the whitewash coat and stunning red core would show through! This picture shows a close up of how the colors blended beautifully.
Step 5 – I grabbed my Core'dinations Sand it Gadget and started distressing away! I sanded various areas of the cardstock making sure to leave a few un-sanded patches to add visual interest!

Step 6 – I also sanded along the edges of the cardstock to help create a beautiful red border. You can see what my completed layout background looked like before I began adding embellishments.
Step 7 - I completed the layout by adding pictures I had created in a free online photo editor, and various patterned papers & embellishments!
Supplies:
* Supply list for Project:
- Core'dinations Core Impressions Cardstock
- Distress Inks: Ranger
- Stickles: Ranger
- Patterned Paper: Jenni Bowlin
- Rub on: Jenni Bowlin
- Tissue Tape: Tim Holtz
- Tools: Ranger Foam Applicator tool
- Mini Staples: Tim Holtz
- Other: Baker's twine, Photo booth pictures made in Big Huge Labs
The answer is….
IT'S NEVER TOO MUCH!!!
Every month we challenge our designers to create something special and this month it was to emboss!
You know how much we love to emboss and sand here. And if you need some tips make sure you check out our videos here.
Design Team Member Lydia Jackson ran with this challenge and created this cool layout that uses
30 DIFFERENT EMBOSSING FOLDERS!!! Can you beat that? We would love to see you try!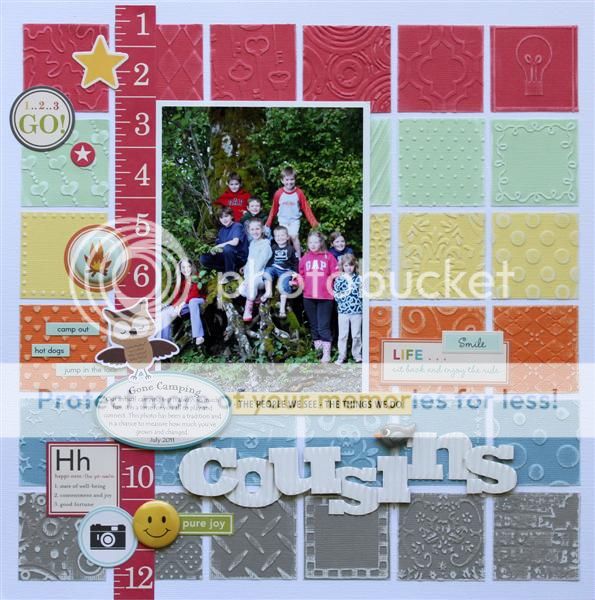 So what better way to cool off than some ICE CREAM!!!
I don't know about you but ice cream is an important part of life here in our household.
When it comes time for a trip for some there is heated discussion as to where we should go…
hard ice cream, soft ice cream, yogurt, custard…you name it…we got it around here. It's so
much fun to go as a family and enjoy each  other and have a delicious treat.
WELL, that is what we have for you today! Design Team Member Char Dobson created this yummmmmmmy card using her Spellbinders Nested Ice Cream Cones and loads of different embossing and Core'dinations Cardstock.
Now THIS is an ice cream cone card good enough to eat!
Whitewash Cardstock, Core Essentials.
Welcome!
Today we are sharing some of Design Team Member Debbie Standards gorgeous cards.
Debbie's attention to detail and color is amazing.
Check out the fun embossing and square accents on this card. The Whitewash cardstock looks beautiful against the Core'dinating
(Embossing Folder by Provocraft)
Again, some Cuttlebug action here from Debbie.
These flowers are gorgeous! Are you looking a the details?  Debbie used some Stickles and Dimensionals to accent her
beautiful stamping.
It's summer time, right?!?!?!
Haha, yes….I know a lot of us are getting hammered  with heat these days so what better way to spend
the days inside scrapping and being inspired, right?
Today's super fun Summer Themed project comes from Design Team Member Brianne Neville.
How cute are these????????
Supplies:
Core'dinations: Core Essentials (Snowflake), Vintage, Gemstones.  Silhouette SD (glasses, umbrellas)
Have a great week!