So we have been snowed in for the last few days and our kids parties won't be happening until Monday so this is GREAT for a last minute Valentine this weekend!
~~~~~~~~~~~~~~~~~~~~~~~~~~~~~~~~~
Hi there! Jill from http://everydayisanoccasion.com here to share a fun Valentine project you can do with your kids. If your kids like to paint like mine do then this project will be right up their alley!
Kids Core Valentines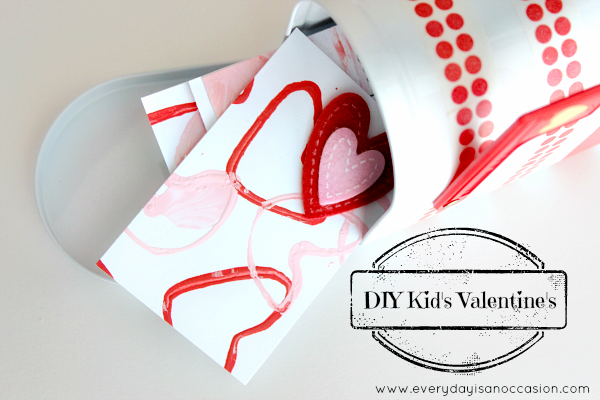 This project occupied my kids for quite some time and it is a project you don't have to hover over them. They can do it themselves. My children are 4 and 2 and so I love finding projects like this!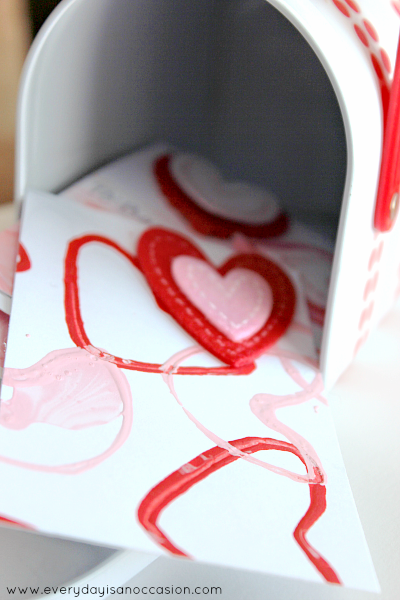 Front: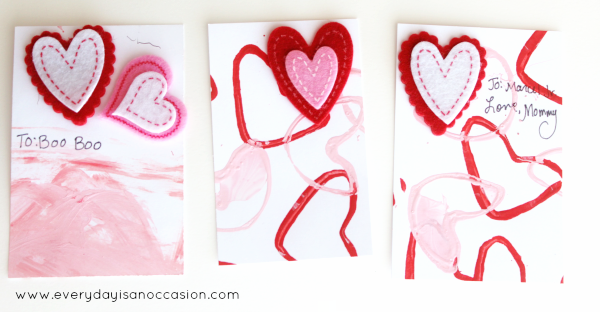 Back: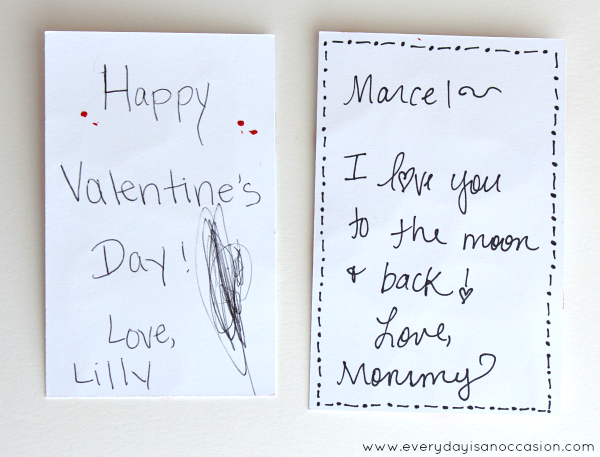 How to Make Core'dinations Valentines

Materials: 110 lb White Core'dinations Cardstock, Toilet paper tube, and paint
Step 1. Fold Toilet paper tube to look like a heart and dip into paint
Step 2. Allow paint to dry and then cut up and embellish. We used some Darice Heart stickers in the dollar bin at Target.
Step 3. Pass them out and enjoy
It's not too late to put together some quick and easy David Tutera Celebrate cards for that special someone in your life!
Start with a Red Step One base.  Emboss a Step Two Zig Zag Edge sheet with an embossing folder of  your choice.  Then cut a piece from the Step Two Silver Metal embossed collection.  Mat it with a black sheet from the bulk cardstock collection.  Attach all to your card base.  Then place your sticker onto another piece from the black sheet (one sheet should be able to mat both of these).  Attach it to to your card.  Then pick two different size flowers from the Step three flowers collection.  Attach and add a large Rhinestone.
~~~~~~~~~~~~~~~~~
And next up Designer Jennifer Edwardson!
Double sided adhesive and 3D foam

Black journaling pen

OPTIONAL: Embossing machine &
folder
WE DO!
And since Valentine's Day is right around the corner, what better way to get ready in a flash then David Tutera Celebrate Cardmaking system. You can put these cards together a quickly and easily as 1-2-3. So if you are last minute, like me, then this system is perfect for you!
Designer Trine Brandt-Lassen created these for cards and tags in a flash!
Trined used the BACK of the Step 2 Silver embossed layer so it looks debossed.
And these are some of the brand new embellishments. Just pop these little postage stamp die cuts, sand and adhere!
Today is ALL about David Tutera Celebrate and DesignerJennifer Edwardson:
A7 Kraft cardstock card base from the

David Tutera Celebrate

collection

Glitter Silk Cardstock – bronzed

Whitewash Cardstock – Antique Vanity

Tim Holtz & Ranger Distress Collection – Barn Door

Sand It Gadget & Dust Buddy

American Crafts ribbon, misc. alphas
 ~~~~~~~~~~~~~~~~~~~~~~~~~~~~~~~~~
David
Tutera Celebrate Step 1 – A2 Kraft Smooth Cards & Kraft Envelopes
(DT-GX-7100-13)
David
Tutera Celebrate Step 2 – A2 Diecut Circle White (DT-GX-7200-27)
David
Tutera Celebrate Step 3 – 'love' chip shape
David
Tutera Celebrate Step 3 – flower dicut shapes and adhesive pearls
Double
sided adhesive and 3D foam
We have some fun and festive Valentine's Day home decor projects for you from Designer Mary Pat Siehl to share with you today that you are going to LOVE! Pun intended
~~~~~~~~~~~~~~~~~~~~~~~~~~~
I love Valentine's Day and I love to decorate my house to fit this holiday.  Core is really perfect for making all your home decor needs.  For my first project I made a message board.  In my kitchen I have an 8×10 photo frame and the glass functions as a dry erase board.  I love to leave messages to my kids and also make to do lists.  For my Valentine's Day message board I started off with a base of the Core Gemstones in Opal.  I then cut out 3 hears in ruby red and pink diamond.  I then ran them through my Cuttlebug embossing folders just to give them an embossed look.  I then cut out the xo in onyx cardstock.
Silhouette – basic heart, pacifico font
~~~~~~~~~~~~~~~~~~~~~~~~~~~~~~~~~~~
My next project is perfect for my mantel.  I found this frame on sale and thought it would be so fun to make my own journaling cards style photo frame.  I really got to have fun with my core for this project and really got to sand the cardstock.  I love the blackboard effect and made on box using the Core essentials Nightfall and sanded it to give the blackboard look. One of my favorite things about Core'dinations is that no matter what collection you use they all work together so well.  For this project I used papers from the Essentials, Tim Holtz Adirondack collection, and Glitter Silk!
Silhouette- Arial font, basic arrow, basic heartt
Thanks so much for joining me today.  I hope you have fun making your own home decor items!  Have a wonderful and crafty day!