EEEEEK! I love Halloween so much I can't stand it! So over the next few weeks we will be showcasing some Halloween projects for you. First up we have Ava Gavloski working her Core magic Halloween style
AND Ava totally works the Core Cuts. She used one of the diecuts from the Core Cuts pack, folded it in half and made a card out of it! BRILLIANT!
~~~~~~~~~~~~~~~~~
How magical are the Imaginisce glam rocks on this blackboard feel presentation? Top off your cards with a bit of May Arts ribbon and you have the upscale look of fashion on your cards.
Core Cuts, Core'dinations Cardstock
Shazam, Black Magic Core'dinations Cardstock
Sand It Set
Unity Stamp Co.,
May Arts Ribbon
Imaginisce, Glam Rocks rhinestuds 002272 4mm
Imaginisce, I-rock heat setting tool
Cuttlebug
Darice, Scrolls embossing folder
Clearsnap colorbox ink, blackbird
Tis the season upon us and what better way to celebrate and encourage the spirit of Halloween with some Halloween pictures which showcase Tim Holtz Kraft-Core Nostalgic cardstock collection.  This layout came together so easy with the Nostalgic cardstock collection.
The colors are so festive.  Sanding this kraft core give so much texture to the layout.
I have made a second page to complement the layout with a large pocket with tag's, so that additional photo's can be included.
I added a bit of coloured raffia and some Authentique pattern papers to bring out some color from the photo and all the elements showcase the happiness of the photo so well.
Hello, everyone!! Jill from Every Day is an Occasion back to share another project with you! Today, I have what I like to call "FairyWare"….a lot like "silverware", but for fairies. My son and daughter love Disney's fairy movies, so that is where this inspiration came from.  This idea is perfect for ANY kind of party…birthday…holidays and more!
FAIRYWARE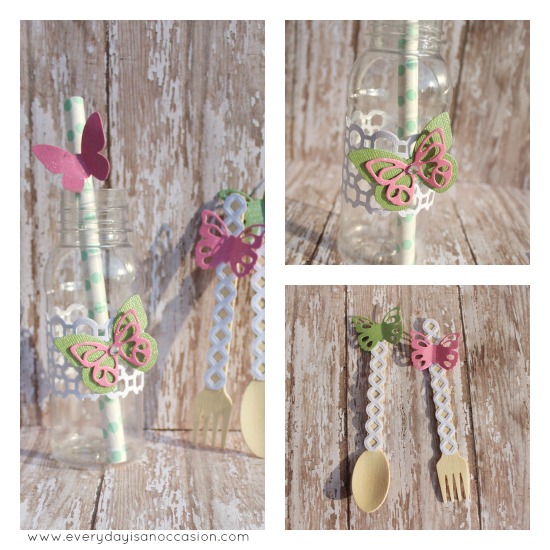 This is simple simple simple. All I did was take wooden silverware and decorate it with David Tutera's beautiful collections, the butterflies and borders pack. It is as simple as hot gluing them onto the silverware. Then I took a plastic bottle my kids had left over from their milk, took the wrapper off, washed it out and adhered David Tutera's butterflies and white lattice background. This set, unfortunately for my kids, had to be shipped off to HSN, but we will surely be making some more "fairyware" soon! Have a crafty day! 
Next up I have a Clean And Simple card to share with you. This card was created using David Tutera's line which is made from Coredinations Cardstock, just in case you didn't know. I love all different styles of card making, but with two small kids, lately I have been sticking with CAS. I think it is important to Thank people with a handwritten note. Today it is so easy to send a text message or email thanking someone, which I do, but my favorite is a handmade card.
Keep in mind this can be applied to invitations…Christmas cards..you name it!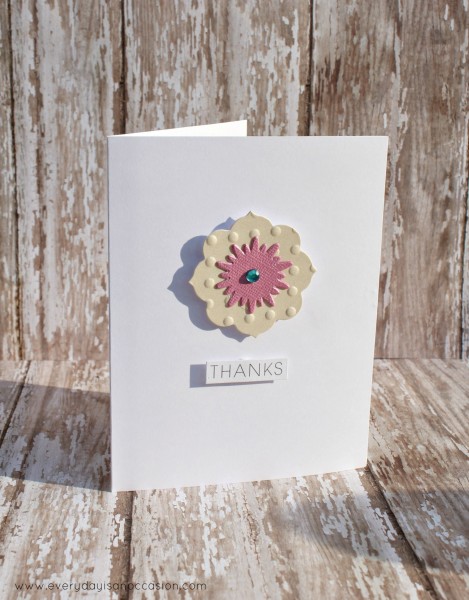 Sometimes I feel so rushed to make cards or I'll make one and the person doesn't seem to appreciate it the way I thought they would and then I feel like I wasted 2 hours of my life making a card they really don't care about. This card solves both of those problems. David's line is quick and simple. He has it laid out for you. Basically, you supply the adhesive and it takes 5 minutes  to make the card. I used David's white card base, flower pack and sentiments. All found here on his page exclusive ot our website.  Quick. Simple. Fabulous! Have a crafty day!
Fall is here and we are all about scarves..sweaters..all things warm including coffee!  Well, Suzanna really made this layout in July and it's of iced coffee but that's okay
 That allows me to  point out the fact that she used her brown journal marker right on her Core Amour…it's pre embossed but that's okay! Don't be afraid to embrace that texture and write right over it
And can we just talk about the perspective of that photo? What a beautiful shot.
Supplies:
Chocolate Box, Spotted, Core Amour
~~~~~~~~~~~~~~~~~~~~~~~~~~~~~~~~~~~~~~~~~~~
And next up we have a layout using loads of Core'dinations and some Graphic45 papers & stickers. What else  screams fall but picking currants?  Designer Shaunte Wadley adds so much gorgeous detail to this layout using her Lifestyle Crafts dies and Tim Holtz Kraft Core Shattered cardstock. The Graphic 45 are the perfect touch to add vintage  elements to this project.
And how about some Chocolate box for that title?
Jenni Bowlin Core Impressions for the background.
Whitewash for the butterfly accents.
Chocolate Box for the title.
Core Essentials for the flowers and journaling tag.
Tim Holtz Kraft Core Shattered for the leaf vines.
Graphic 45, stickers, patterned paper
Queen & Co bling.
Today we have some really great layouts from Designer Mary Pat Siehl. She always creates really well-balanced layouts and mixes and matches her Core! For the first layout she creates balance bu using circles and her Silhouette. For the second layout….check out how she works those Core TAGS! You are going to love love it.
~~~~~~~~~~~~~~~~~~~~~~~~~~~~
One of my favorite things about Core Cardstock is that it cuts beautifully in the Silhouette. For my layout I cut out the background using the white in the Nuetral collection. I then took my 1 inch punch and cut out 81 circles to fill the negative spaces. Core cardstock has so many colors to coordinate with your pattern paper so I punched 63 circles using the Core cardstock (some were embossed and I lighty sanded them and some I left with their solid color) and only 18 with pattern paper. I then matted my photo using my Core Cardstock that I scored and lightly sanded to frame the photo. Finally I scored the 12×12 sheet to frame the circle background.
elle's studio tags
paper- fancy pants
stickers- fancy pants
studio calico wood veneer and cork arrows
Scor Pal
sand it Gadget
Dust buddy
~~~~~~~~~~~~~~~~~~~~~
Core Cardstock is really amazing because you can do so many things with it.  I used the Core Essentials Snowflake cardstock and scored it to give it a slight frame.  Next I misted it lightly just to add a hint of color.  I then also stamped directly on it.  The cardstock is awesome for all these "On Trend" techniques.  I then made a banner with the different Core Tags.  I just love the different sizes and here I embossed all the tags with different embossing folders and then lightly sanded them.
paper- lily bee
die cut tags- elle's studio
flair- a flair for buttons
mist- heidi swapp
stamps- studio calico and american crafts
ink hero arts
wood veneer- freckled fawn
stickers- jillibean soup and little yellow bicycle
Today Ava Gavloski created an awesome tag that has a really masculine feel to it. I don't know about you but I could really use more of these for those last minute gifts for the men in my life!
I used the Darice Birch embossing folder to give some weathered board texture and the tearing of the Core'dination cardstock gives the feel of waves rolling to shore.
Vintage Collection Core'dination Cardstock
Darice, Birch 4.5×5.75 embossing folder
Sand It Set, Core'dinations
Imaginisce, Glam Rocks rhinestuds 002272 4mm
Imaginisce, I-rock heat setting tool
Inspired by Stamping, Ahoy, Matey
ClearSnap, Colorbox Black Ink
         Cuttlebug
Helmar Quick-fix Permanent Adhesive Runner & ZapDots
~~~~~~~~~~~~~~~~~~~~~~~~~~~~~~~~~~~~~~~~~~~~~~`
I heat embossed the balloon using my Darice heat tool. I laid down the TCW stencil and used Ferro from Viva with a putty knife on top and smoothed it over … a technique I learned from CHA!  The ferro is charcoal color and I got it from Hobby Lobby.  I wish computers would allow you to touch the card bc the ferro makes the card 3d almost because it dries hard.  It's like a putty paste . It seriously is THE COOLEST stuff!! 
Our Hot Topics feature the  greatest tips about using Core and all the latest news about contests and giveaways. If you are here today then you must be receiving our BRAND NEW Hard Core Crafter newsletter. We are hope you are enjoying it so far!
So what is the tip this month?  CHALKBOARD!
Chalkboard projects are all  the rage so keep reading to discover how you can use our Black Magic cardstock to add interest to these projects like this layout from Special Projects Team Member Leica Forrest:
Tip 1.) Make it look like it's really chalk by using the Outlining technique. New to outlining? All you do is take some removable adhesive and put your chipboard letters on your craft mat and then sand over it. You can check out the Technique Video HERE.  Lecia used this technique for the "FAMILY" title and then outlined it with her white marker.
Tip 2.) Sand punched pieces and layer them on your layout base so it looks like it is chalk. See that scalloped piece above the Family tile?  Leica punched first, sanded and then adhered it. It looks just like a colored piece of chalkboard! She used the same technique for the banner along the bottom of the photo.  The yellow and blue look JUST like chalk but all she did was and the cardstock so the colored Core comes through. It's that easy!
Tip 3.)  Use your white gel pen or marker on the Black Magic Cardstock just as you would with any other cardstock. Highlight the title…add some journaling….doodle…whatever you want! Looks awesome, don't you think?  Lecia used this technique along the right hand side of the layout for her journaling.
Tip 4.) Use white embossing powders on your Black Magic Cardstock.  The white embossing powder looks just like writing on the chalkboard itself. Clare then sanded the remaining parts of the card to really emphasize the look and feel of a real chalkboard.
Tip 5.) Find stamps and other products to core'dinate with your Black Magic, like our team members have done below, to maximize it's potential. White or opaque heat embossing is a GREAT idea. With Core's heavy weight it stands up to heat embossing beautifully.
Tip 6.) Don't be afraid to keep is simple. Yes, the above layout has a lot of detail. You don't always need to do all of those layers. Designer Tracy Gruber's example below is a sample. Just some stamping and then background sanding is all you need.
The key is  sanding with the Sand it Gadget.
And we have MORE examples for you.  First up we have Designer Vivian Keh. P.S. Don't forget ALL of our speciality collections come in 6×6 packs which are PERFECT for cardmaking! Vivian used a mix of stamping with her Hampton Art stamps, embossing and sanding:
And a close up:  see how the sanding looks like chalk with the colored core?  BRILLIANT!
Debbie Standard did a TON of sanding on her card and looks fabulous! She used the outlining technique (sanding OVER chipboard) for the title and then used her white gel  pen to outline the letters so they could really stand out like Tip 3.
Tracy Gruber created a simple card for our next example as we referenced in Tip 6 — keeping it simple.  She used some cute Lawn Fawn Stamps, (heat) embossed, added the scored frame and then did some sanding in the background as well. Easy BUT it looks like much, much more.
And next is a card created by Design Team Member Clare Buswell. Clare did many of the same techniques that the other designers  some White (heat) embossing with this super cute stamp from The Craft's Meow then sanded the areas of the cut out.
See how Clare used some of the Black Magic with the purple base  (Whammy) and then used some Black Magic with the White Core where she stamped and then sanded (Abracadabra)? That adds to the element of different colored chalks.
Follow The Craft's Meow on Facebook for more cool ideas with stamps!
We hope you enjoyed these Core Tips and look forward to see what you can do with your Black Magic cardstock!