Debbie Standard
My name is Debbie Standard. I have been scrapping for about 15 years now. I am a wife, mother to four, step-mother to two more, grandmother to 11 and have a great-granddaughter by my husband's oldest grandchild. To keep myself in scrapping supplies I work as a Critical Care Nurse in the Surgical/Trauma ICU in a level one trauma center in San Antonio, Texas. I have been doing this for about 18 years now. I am only working part-time now and that gives me more time to spend doing the things I love to do – scrapping, crocheting, running, kayaking and biking. We live on three acres near the Guadalupe River where we built our dream home. I have been published in most all of the US scrapping magazines. I love creating both cards and layouts and luckily have a lot of kids and grand-kids to use for subjects. I have met so many wonderful people through the scrap world who have become my long distance friends. I am on a few more card Design Teams as well so get to spread the Core'dination's around. I am thrilled to be a part of this creative team. Core'dination's products are just amazing and I can't imagine using any other cardstock. There is such a huge selection of products and they are always coming out with something new and different – makes me want to scrap all the time. I am so honored to work with this talented group of women – they are such an inspiration and Core'dination's staff is just the best!
Check out my blog here: http://debbiestandard.blogspot.com/
Jennifer Edwardson
My name is Jennifer Edwardson…..I began scrapbooking shortly after the birth of my daughter in 2000 and never looked back. I've been creative my whole life and loved back to school shopping the most….all the paper and crayons and color – love, love loved it !!   After I 'grew up', got married and had my two fabulous kids I decided it'd be cool to open a business, so I did…….and have had my own successful LSS since 2006.
I have extensive instruction and design experience that has allowed me to travel and share my passion with many.  I have had my work featured on manufacturers blogs as a Guest Designer, created projects for CHA, am an American Crafts Certified Instructor and am a current member of the Bella Blvd. Design Team.
When I am not running the day to day operations of my business or designing a fun new workshop to teach, you can find me spending time with my husband, Scott, children Emma (11) and Alex (7), our crazy 100 pound puppy and our horses on Vancouver Island, British Columbia, Canada !!
My name is Kerri Smith. I am wifey to my retired Air Force husband, mommy to two beautiful little girls and a life-long crafter. I was born and raised in Southern California, but currently reside in Vegas Baby! Crafting is my passion. I would eat, sleep, and breath it if I could. I am always on the lookout for a new project to work on. I would call my style a little cutesy, a little shabby chic, and a lot of fun. I hope you enjoy my creations and will visit me often for lots of crafty inspiration.
How much to you love yellow and gray?  It's hot hot hot right now!!! And it really is a gorgeous color palette for spring.
Design Team Member Melissa Oliveira and what is more perfect than using some Tim Holtz Core'dinations Cardstock!? Available in the Distress and Adirondack color, they are the perfect staple in any paper crafters collection!
Melissa also used cardstock from the Cut and Emboss Tim Holtz/Sizzix series for the smaller, embossed pieces. Get out those Sizzix folders!  Don't they look awesome?
Make sure you check out the Cut and Emboss series here!
Are you ready for what we have up our sleeves for CHA next week?  Look out winter CHA 2012! And make sure you come see us at Booth #1901. We would love to see you and you can check out these…………..
Tim Holtz/Sizzix cut and emboss series!
Assorted packs of the popular Tim Holtz/Ranger Distress and Tim Holtz Kraft-Core papers now available in new sizes. Cardstock is pre-cut to use with your favorite Sizzix die-cuts and embossing folders. No waste!!!
New Collection packs. Same great Core Essentials colors but we have grouped them in awesome collection packs by pastels, darks, brights, neutrals, and brights. AND do you see those two little Spotted Collection packs?  Those are available in 6×6 !!! Look out cardmakers! You are going to LOVE these and they look awesome on layouts, too.
We also have some assorted packs sized specifically to cut and emboss! Not just our Tim Holtz Kraft Core but our Core Essentials, Gemstones, Glitter Silk and Core Couture have all been precut to 4.25″ x 5.5″ to make embossing and die cutting easy! 15 collection packs to choose from!!!!!!!!!!!
Happy Monday!
We are here with some more Tim Holtz Kraft-Core projects for you today from the Nostalgic Kraft-Core cardstock.
Have you heard about the give-a-way here?
HURRY HURRY and sign up now. This give-a-way won't last forever  so don't hesitate!
Today we have a layout for you from Design Team Member Debbie Standard.  How much do you LOVE that purple Kraft Core background?  This paper pack is PERFECT for any project!   Debbie paired the bright blues and purples of this pack with other fabulous Tim Holtz embellishments and Ranger Distress inks.
HAVE YOU SEEN THE NEWS?
We are at it again. YES, we are giving away more Core'dinations Cardstock!
WE ARE GIVING AWAY 50 OF THESE! Plus three lucky winners will get a signed copy from Tim himself!
CLICK HERE to enter to win.
Curious what to do with your Kraft Core? We have tons and tons of inspiration coming for you and we are kicking it off with a great tutorial for you from Designer April Derrick. April is our in house Tim Holtz guru. She uses color washes and distress inks beautifully and  this layout is no exception. We hope you can find some cool techniques to use on your craft projects from this tutorial today.
Supply List:
- Cardstock: Core'dinations / Tim Holtz Craft Core Nostalgic Collection
- Patterned Paper: 7gypsies
- Color Wash: Ranger Adirondack in Red Pepper
- Pens: Staedtler Triplus Fineliners
- Film Strip Tape, Tissue Tape, Mini Staples: Tim Holtz
– Metal Clip: 7gypsies
- Sparkly Brad: Paper Studio
- Distress Ink: Ranger
- Other: White Office Tag, Black Sewing Thread
Step 1 – Spray 3 to 4 squirts of Color Wash on a craft mat.
Step 2 – Dip a paintbrush into water and then swirl your color wash around with your paintbrush creating a small puddle of paint.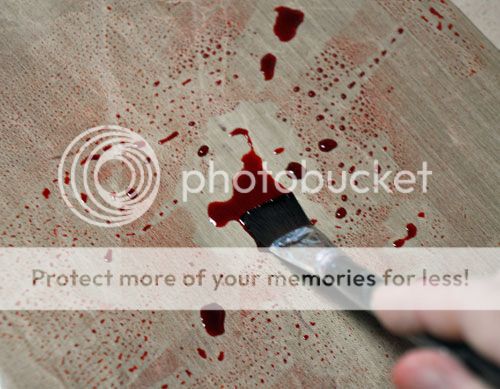 Step 3 – Start painting your cardstock. You can paint as little or as much as you like, depending on how much of the cardstock you want to cover.
Step 4 – With every layer of color wash paint you add, the colors will get deeper and darker. If you think it's too dark you can swipe a paper towel across it while it's still wet. You will probably need to add more color mist and water during the painting process depending on how much paint you use.
* Note}: I always like to leave the "Logo strip" along the bottom of the cardstock on until I have finished the painting process! Then I cut it off right before I get ready to sand and set it aside to use later.
Step 5-Grab your Core'dinations Sand it Gadget and sand away! On this particular layout, I chose to sand the edges of the cardstock sheet and also various areas towards the top of the sheet where my paint was a little lighter. This resulted in a really cool texture effect!
Step 6 – Grab your color wash and spray a couple of mists onto your cardstock. (I personally like to choose 2-3 areas to mist. I don't want it to overwhelm my page and it also helps if you have an idea of where your picture is going to be placed so you can spray the areas you know will not be covered up.)
Step 7 – Hold the cap of the color wash bottle and squeeze. Large drops will fall out of the bottom of the tube. I like to call this Cap Dropping. It's an easy way to get big drops, if you don't want larger drops than simply skip this step.
Now remember how I said I save my "Logo Strips" to use later? Well here's what I did with my leftover strip!
I cut the strip in different sections and sizes. This way I ended up with some of the painted portion without words, and the others I just flipped over to use the kraft core side without writing.
Then I simply adhered the small strips of cardstock along the top portion of my layout in a collage like fashion. I even turned up a couple of the edges of the kraft strips so that a little of the red painted side would show. I completed this look by sewing over my paper strips, but you could also create a faux stitch using pens!
Here is what it looks like almost done. You just need to embellish and you are read to go!