Hello! Jill from Every Day is an Occasion  here to share a kid's craft with you today! We are going to make bunny hats! Get excited! They are super simple! When I was a first grade teacher, my students LOVED making hats for any occasion. So, now that I have my own kids I had to make the hats with them, especially now that my daughter is BIG into dress-up clothes.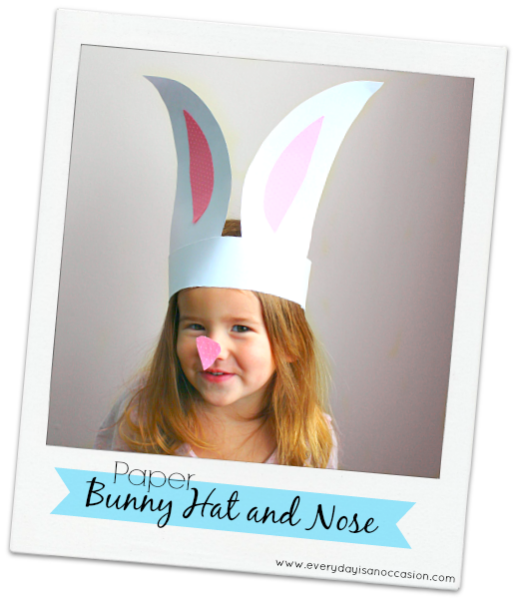 I know they have those $1 bunny ears out there made of fabric, but these are really fun to make to help keep your kids busy on those freezing snow days we've had! My daughter had a blast making these and especially wearing them! Now, I know you may be thinking, "She's two. How did she make those?" Well, she was mostly the assistant. In my humble opinion, I believe that getting kids helping at a young age helps them feel confident with Arts and Crafts.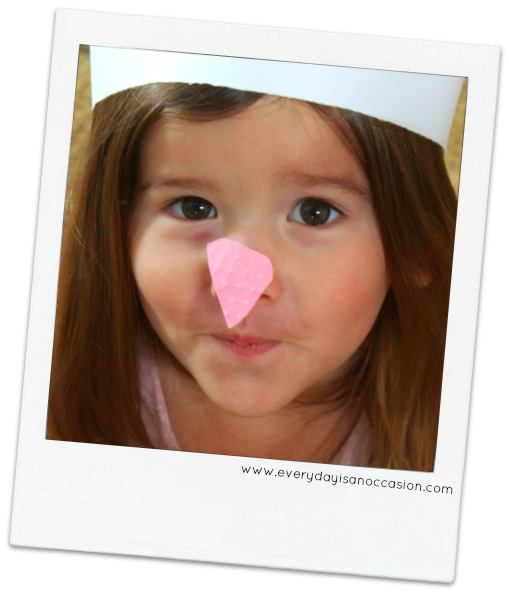 How to make Paper Bunny Hats and Noses:
Materials:
4 pieces of 8 1/2 x11 White Core 110lbs
1 piece Pink from Core Essentials Pastels
Swiss Dots Embossing Folder or any dotted embossing folder
Cuttlebug or your choice of embossing machine
Ear Template- hand draw or use the one below
Xyron Double sided tape
Steps:
1. Draw a bunny ear on the 8 1/2 x 11 piece of White Core. Cut out and use as your template for the White Core. This does not have to be perfect, it's just for fun! Trace onto two pieces of the White Core and cut out.
2. Draw a similar shape but smaller on the white paper. Cut out and use as your template. These do not have to be perfect. It's just for fun! Then trace onto the Pink Core and cut out.
3. Take one piece of 8 1/2 x 11 White Core and fold in half, hot dog style, then fold again so you have 4 pieces. Cut these out. Tape together measuring your child's head. This will be the head band.
4. Put Pink Core into Swiss Dots Embossing folder and then sand the dots.
5. Tape the Pink Core onto the inside of the bunny ears.
6. Tape the bottom of the bunny ears to the headband. *Quick Tip* If you roll the bunny ears up and let it go. It will help make the ears come forward for a cute look.
7. Use scotch tape to put the bunny nose on your child's nose.
8. Enjoy!
Here are the templates I used below in case you want to use them. Just right click on the image and save to your computer and then print.
Hi there, Core'dinations friends. Vivian Keh here today with a Clean and Simple card for St. Patty's Day. Most of my projects are usually anything but CAS, but I think it's very important to stretch one's crafty muscles now and then. It gives me an opportunity to appreciate the skills of folks who design in styles other than mine as well as a chance to see if it's time to venture into new crafty territory.
For my card, I started out with a bright and happy hue from our Core'dinations "Vintage" Collection, plus a great cutting file for my Silhouette Cameo, #25132 by Sweet Afton. This cutting file has three great borders, including horseshoes and fun St. Patty's text in addition to the pretty clover strand you see here. I adore accentuating edges of my Core'dinations Cardstock with a delicate sanding of the edges. With these more intricate die-cuts, I do the sanding with a light hand so as not to tear any of the stems.
Have I shared with you how much I adore my Xyron X Sticker Maker? A crafty friend online introduced me to this tool awhile back, and it now sits on my craft table at all times, making adhering strips like these a complete breeze.
My die-cuts went onto a background of Creme Brulee from our Graphic 45 Signature Series. I love this particular cream because it's very fresh. For a bit of shine, I added some Glossy Accents from Ranger to the clover strip and some text that was also die-cut from my Silhouette, file #39508 by Jamie Koay.
And a few gems from my stash to liven up the white space a little bit but stay within the world of CAS. I rounded the top corner of my cream piece and my green base in order to bring the eye upward. Thanks so much for visiting with me here today!
SUPPLIES:
Core'dinations: Vintage  Collection, Graphic 45 Signature Series, Sand-It Gadget, Dust Buddy
Silhouette: File #25132 by Sweet Afton, File #39508 by Jamie Koay
Xyron: X Sticker Maker
Ranger: Glossy Accents
Self-adhesive Gems
We R Memory Keepers: Corner Chomper
We have a fun treat for you!  Merry Christmas! Happy New year!  
How much do you love Kraft-Core? Well we have a treat for YOU…HURRY you only have until Sunday. Click on the image and then enter to WIN!
~~~~~~~~~~~~~~~~~~~~~~~~~~~~~~~~~~~~~~~~~~~~`
How about some inspiration from our Design Team using this fabulous line of Core'dinations!
First up we have a layout from Kate Nolan-Denham.Looks so cool, doesn't it?  Loving the red and green she used here for a cute Christmas layout:
And next up some projects from Debbie Standard using the Shattered cardstock.  Love how she used the doilies on this layout and all that embossing and sanding is INCREDIBLE! You can use your Kraft-Core as is or play with it…sky is the limit.
And it works GREAT for cards, too!  Debbeie added a touch of stamping with one of our Smooth Tags (they are SO great for stamping).
Thank you Thank you Thank you so much for all of your hard work.
We will be updating this post as the designers choose their winners so stay close!
Please email CoreDT@coredinations.com with your full name, address AND phone number with the challenge you won in the title (For example: Suzanna's Challenge). You have have ONE week from the day we post on the Core Blog to claim your prize. Please allow for 4-6 weeks for shipping and processing.
Winners updated!
Friday, November 1st
Ava Gavloski Wine Box Challenge –> Prize is Vintage Collection Pack
Winner is Elizabeth Parham http://imakecardsforyou.blogspot.ca/2013/11/hard-core-crop.html
Suzanna Lee- Christmas Challenge –> Prize is Neutrals Collection Pack
Winner is Louise  http://www.scrapbook.com/galleries/94915/view/4065753/-1/0/2.html

Kate Nolan-Denham  Stamped tags Challenge –> Prize is Black Magic Collection Pack
Winner is Pamela Haskinhttp://www.cottagebelow.com/2013/11/christmas-tags.html 
Margie Higuchi  Banner Challenge –> Jenni Bowlin Core Impressions Prize Pack
Winner is Linda Knox http://dyeandpigment.blogspot.com/2013/11/coredinations-banner-challenge.html
Ellen Sosnoski's  Handmade Element Card Challenge –> Tim Holtz & Ranger Distress Collection Pack
Winner is  Tammy L http://tampatha.wordpress.com/2013/11/06/still-croppin/
Tami Mayberry: CAS card Challenge –> Clean & Simple Cards Book

Donna Phelan http://craftingbytheseashore.blogspot.com/2013/11/ho-ho-ho.html
~~~~~~~~~~~~~~~~~~~~~~~~~~~~~~~~~
Saturday, November 2nd
Jill Lebbin Kids Crafts Challenge–> Prize is Tim Holtz Kraft-Core Cardstock
Winner is Paperpapier http://www.flickr.com/photos/45751445@N06/10728288713/in/photostream/
Jennifer Edwardson David Tutera Celebrate Ornament Challenge –> Prize is Tim Holtz Seasonal Impressions Cardstock
Winner is Joy http://joyhager.blogspot.ca/2013/11/star-ornaments.html
Debbie  Standard – Thankful layout Challenge –> Whitewash Collection Pack –> Brights Collection Pack
Winner is Jill Rugg http://jrugg.blogspot.com/2013/11/thankful-for-you.html
Tracy Gruber Stamping & Core Challenge–> Prize is Darks Collection Pack
Winner is Cecilia Hsieh http://ceciliacards.blogspot.com.au/2013/10/just-note.html
Gail Linder – Patchwork inspired background Challenge –> Cosmo Cricket Core Impressions Cardstock
Winner is Heaney http://paperpapier.blogspot.com.au/2013/11/merry-christmas.html
Kerri Smith Creating with Tags Challenge –> Prize is Jenni Bowlin Everyday Core Impressions
Winner is Jackie Schachter  http://www.crafttimeandcupcakes.com/
Vivian Keh Gratitude Cards with and Autumn Palette –> Prize is Whitewash Collection Pack
Winner is Linda Knox http://dyeandpigment.blogspot.com/2013/11/coredinations-thankful.html
~~~~~~~~~~~~~~~~~~~
Sunday, November 3rd
Mary Pat Siehl gift Bag and Tag Challenge –> Prize is Chocolate Box Cardstock
Winner is Shona!
http://dogfurinmyglue.blogspot.com/2013/11/hard-core-crop-project-4.html

Jennifer Edwardson Core  Ornament Challenge –>Prize is Pastel Collection Pack
Winner is Linda http://dyeandpigment.blogspot.ca/2013/11/coredinations-christmas-ornament.html
Clare  Buswell- Quick and Easy Christmas cards –> Tim Holtz Kraft Kore Seasonal Impressions
Winner is Lynn Hardy http://thehardystamper.blogspot.co.uk/2013/11/coordinations-hard-core-crop-challenges.html
Theresa Kowalewski
Lynelle Jones
Amber Hannah
Mary Holshouser
COME ON DOWN! 
Congratulations Ladies…please read below to claim your prizes!
You will have one week to contact us to claim your prize.
Please allow 3-4 weeks for your prize to be processed and shipped. 
And don't forget we are cropping! So if you didn't see  your name above we are still giving away over $300 worth of Core'dinations Cardstock!!! Join us HERE to chat and see all the details HERE.
We are cropping our hearts out this weekend!  Here is your Master Challenge list. Please remember you MUST post your project to the appropriate designer's blog to be eligible.  Deadline is November 10th, 2013 midnight EST (New York Time).
Rules have been posted HERE so please reference them as well.  We will be updating these challenges every morning as they go live.  Please note we have some different time zones so be patient if you don't see it first thing in the  morning. AND we are chatting away over on the Hard Core Crop Facebook event page, too!
Please note even though some challenges may be linked, they won't go live until early that morning. And some of the girls on our team are new to Inlinz…if it is not  up don't worry. We will get them up or just post your links in the comments section of their blog. We use these so we can turn off the entry time at midnight on the due date.
~~~~~~~~~~~~~~~
Friday, November 1st
Ava Gavloski Wine Box Challenge –> Prize is Vintage Collection Pack
Suzanna Lee- Christmas Challenge –> Prize is Neutrals Collection Pack
Kate Nolan-Denham  Stamped tags Challenge –> Prize is Black Magic Collection Pack
Margie Higuchi  Banner Challenge –> Jenni Bowlin Core Impressions Prize Pack
Ellen Sosnoski's  Handmade Element Card Challenge –> Tim Holtz & Ranger Distress Collection Pack
Tami Mayberry: CAS card Challenge –> Clean & Simple Cards Book
~~~~~~~~~~~~~~~~~~~~~~~~~~~~~~~~~
Saturday, November 2nd
Jill Lebbin Kids Crafts Challenge–> Prize is Tim Holtz Kraft-Core Cardstock
Jennifer Edwardson David Tutera Celebrate Ornament Challenge –> Prize is Tim Holtz Seasonal Impressions Cardstock
Debbie  Standard – Thankful layout Challenge –> Whitewash Collection Pack –> Brights Collection Pack
Tracy Gruber Stamping & Core Challenge–> Prize is Darks Collection Pack
Gail Linder – Patchwork inspired background Challenge –> Cosmo Cricket Core Impressions Cardstock
Kerri Smith Creating with Tags Challenge –> Prize is Jenni Bowlin Everyday Core Impressions
Vivian Keh Gratitude Cards with and Autumn Palette –> Prize is Whitewash Collection Pack
~~~~~~~~~~~~~~~~~~~
Sunday, November 3rd
Mary Pat Siehl gift Bag and Tag Challenge –> Prize is Chocolate Box Cardstock
Jennifer Edwardson Core  Ornament Challenge –>Prize is Pastel Collection Pack
Clare  Buswell- Quick and Easy Christmas cards –> Tim Holtz Kraft Kore Seasonal Impressions