I'm a huge fan of shaped cards and with a little playing you can create a shaped card out of nearly any shape you want.  Today I am going to share a fun sunglasses shaped card.
"My Dad Rocks" Sunglasses Card Supplies:
White Pen
Electronic Die Cutting Machine
Star Metal Dies
Step 1: Use an electronic cutting maching to cut out a sunglasses card.  To make a shape into a card you should: Mirror the image above the original and then weld the top edges together.
Technique Tip: Core'dinations cardstock cuts beautifully on the Silhouette Cameo. If you notice in my picture below my edges are a little rough!  To avoid that make sure to do the following settings: Set your blade at 4 (I had it set at 2 here before I realized it was too late), your speed at 3, thickness at 33, and set it to Double-Cut.  This will give you a clean cut.  But if you goof up like me and forget to change your blade to the right setting, a little sanding with our Sand-it Gadget will take care of the rough edges!
Step 2: Use the lens space to trace and cut out some lenses on the Metallic Silver paper.  Cut them out and emboss them.
Step 3: Add the lenses to the card and attach a sentiment at the top.  I used this cut file for my sentiment.
Step 4:  Add some finishing touches, a couple of stars, some white outlining, and you are done!
It's all ready to add a fun message inside to Dad!
Ever since I got my hands on the various pieces from the Party Mixers line, there has been no turning back.  We've shared a variety of ideas with you on how to use them in paper crafting already, today I am going to show you how fabulous they work for a layout!
Supplies Used:
Orange & Yellow Embroidery Floss
Enamel Dots in coordinating Colors
Electronic Die Cut Machine
Step 1: Cut your title out using a cut file (You Are My Sunshine) and use the negative space of your white cardstock.  Back it with different cardstocks from the Brights paper pad.  Matte your picture and also add that to the base.
Technique Tip: Core'dinations cardstock cuts great on the Silhouette Cameo.  Set your blade at 4, speed at 3, thickness at 33, and set it to double cut.  That has worked every time for me – even with the textured cardstock!
Step 2: Start layering Paper Pops to create interest behind and around the picture.  Top with a Rosette that you will turn into a sunshine.  You can use foam adhesive behind some of them and outline the pops or  with black if you want to add some extra pop them!
Step 3: Do long stitches from the sun outward to look like sun rays.
Step 4: Add a tag under the picture, fabric tape to the top and bottom of the layout, and enamel dots throughout as your finishing touch.
Add a fun and colorful pop to your party with our brand new Party Mixers line! Mix and match the Paper Flowers and Rosettes to create custom photo backdrops, garland signs, home decor and more.
Follow along to see the new line in action!
Paper Rosettes:
Party Mixers Paper Rosettes are easy to make and fun to create!  A unique pin assembly system makes it quick and easy to assemble for your next party or home decor project.  Mix and match colors, patterns and sizes for a custom look.
Get creative with the paper rosettes to create…
Photo booth backdrops!
Home decor!
Gift wrapping, and more!
We even have mini Rosette Garland Kits that you can use to create garland signs, decorations, cards and gifts!
Accent the centers of the Rosettes with Paper Pops. . . a creative die cut embellishment!
Paper Pops:
Party Mixers Paper Pops are printed die cut accents perfect for any type of paper crafting project. A variety of sizes, patterns, sentiments and icons give you a large variety to choose from. With 6 different color collections and 113 pieces in each pack, the possibilities are endless!
Add to the paper Rosette centers for a custom look, use as an embellishment in your scrapbooks or on your cards.  The double sided Paper Pops are perfect for cupcake toppers or sewn together to make a banner. One of the sizes even works great with mason jars!
Check out this fun and cohesive themed layout using Paper Pops. Gorgeous!
Paper Flowers:
Party Mixers Paper Flowers are perfect for adding a pretty handmade touch to any project.  Flower kits are pre-die cut petals ready to assemble.  Mix and match different colors of Flowers with paper Rosettes for a beautiful party backdrop or home decor project.
Look for the Party Mixers line in your local Joann Fabric & Craft Stores and online retailers. Stay tuned for more Party Mixers project inspiration on the blog!
One of the things I love about creating box cards is that they also make great party table decor.  Since they are 3D they can add a little something special to your Super Bowl spread.  Using Core'dinations cardstock allows you to tailor the colors to your favorite team.  You can guess from mine which team is our household favorite.
Football Box Card Supplies:
Step 1: Use a die cutting machine to cut your pieces out.  Having trouble with the texture and getting a clean cut?  Here's how I ensure a clean cut on my Silhouette machine:  Set the actual blade at 4, the speed at 3, and the thickness at 33.  Also set it to double cut.  I have had zero issues cutting my Core Cardstock this way!
Step 2: Assemble the card base and add Polka Dot Pops to base.
Step 3: Assemble the various Football pieces to decorate it.
Hello! Jill from Every Day is an Occasion  here to share a kid's craft with you today! We are going to make bunny hats! Get excited! They are super simple! When I was a first grade teacher, my students LOVED making hats for any occasion. So, now that I have my own kids I had to make the hats with them, especially now that my daughter is BIG into dress-up clothes.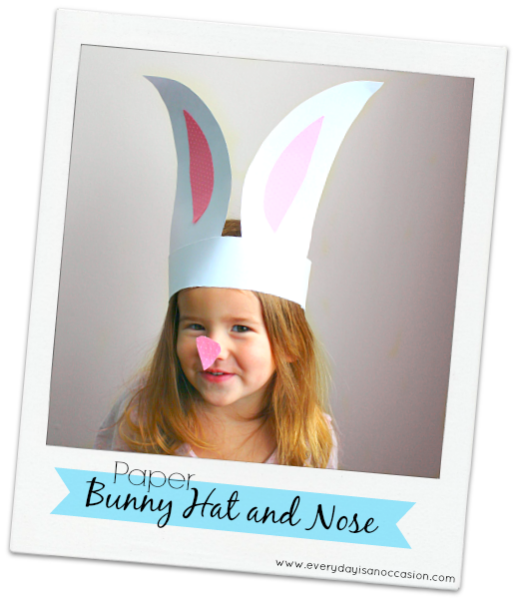 I know they have those $1 bunny ears out there made of fabric, but these are really fun to make to help keep your kids busy on those freezing snow days we've had! My daughter had a blast making these and especially wearing them! Now, I know you may be thinking, "She's two. How did she make those?" Well, she was mostly the assistant. In my humble opinion, I believe that getting kids helping at a young age helps them feel confident with Arts and Crafts.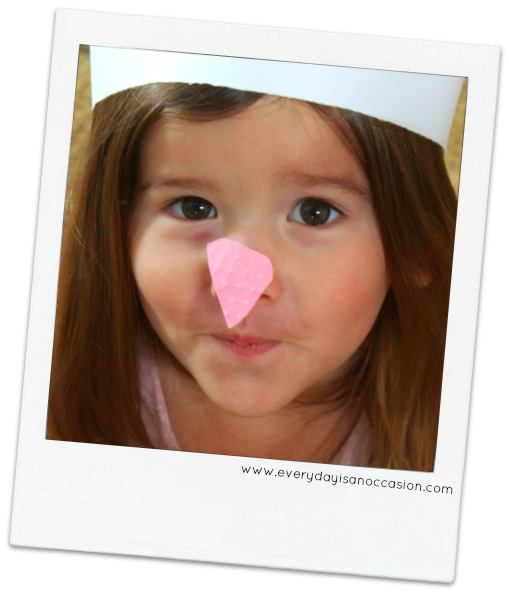 How to make Paper Bunny Hats and Noses:
Materials:
4 pieces of 8 1/2 x11 White Core 110lbs
1 piece Pink from Core Essentials Pastels
Swiss Dots Embossing Folder or any dotted embossing folder
Cuttlebug or your choice of embossing machine
Ear Template- hand draw or use the one below
Xyron Double sided tape
Steps:
1. Draw a bunny ear on the 8 1/2 x 11 piece of White Core. Cut out and use as your template for the White Core. This does not have to be perfect, it's just for fun! Trace onto two pieces of the White Core and cut out.
2. Draw a similar shape but smaller on the white paper. Cut out and use as your template. These do not have to be perfect. It's just for fun! Then trace onto the Pink Core and cut out.
3. Take one piece of 8 1/2 x 11 White Core and fold in half, hot dog style, then fold again so you have 4 pieces. Cut these out. Tape together measuring your child's head. This will be the head band.
4. Put Pink Core into Swiss Dots Embossing folder and then sand the dots.
5. Tape the Pink Core onto the inside of the bunny ears.
6. Tape the bottom of the bunny ears to the headband. *Quick Tip* If you roll the bunny ears up and let it go. It will help make the ears come forward for a cute look.
7. Use scotch tape to put the bunny nose on your child's nose.
8. Enjoy!
Here are the templates I used below in case you want to use them. Just right click on the image and save to your computer and then print.
Hi there, Core'dinations friends. Vivian Keh here today with a Clean and Simple card for St. Patty's Day. Most of my projects are usually anything but CAS, but I think it's very important to stretch one's crafty muscles now and then. It gives me an opportunity to appreciate the skills of folks who design in styles other than mine as well as a chance to see if it's time to venture into new crafty territory.
For my card, I started out with a bright and happy hue from our Core'dinations "Vintage" Collection, plus a great cutting file for my Silhouette Cameo, #25132 by Sweet Afton. This cutting file has three great borders, including horseshoes and fun St. Patty's text in addition to the pretty clover strand you see here. I adore accentuating edges of my Core'dinations Cardstock with a delicate sanding of the edges. With these more intricate die-cuts, I do the sanding with a light hand so as not to tear any of the stems.
Have I shared with you how much I adore my Xyron X Sticker Maker? A crafty friend online introduced me to this tool awhile back, and it now sits on my craft table at all times, making adhering strips like these a complete breeze.
My die-cuts went onto a background of Creme Brulee from our Graphic 45 Signature Series. I love this particular cream because it's very fresh. For a bit of shine, I added some Glossy Accents from Ranger to the clover strip and some text that was also die-cut from my Silhouette, file #39508 by Jamie Koay.
And a few gems from my stash to liven up the white space a little bit but stay within the world of CAS. I rounded the top corner of my cream piece and my green base in order to bring the eye upward. Thanks so much for visiting with me here today!
SUPPLIES:
Core'dinations: Vintage  Collection, Graphic 45 Signature Series, Sand-It Gadget, Dust Buddy
Silhouette: File #25132 by Sweet Afton, File #39508 by Jamie Koay
Xyron: X Sticker Maker
Ranger: Glossy Accents
Self-adhesive Gems
We R Memory Keepers: Corner Chomper