Happy Monday!
We are here with some more Tim Holtz Kraft-Core projects for you today from the Nostalgic Kraft-Core cardstock.
Have you heard about the give-a-way here?
HURRY HURRY and sign up now. This give-a-way won't last forever  so don't hesitate!
Today we have a layout for you from Design Team Member Debbie Standard.  How much do you LOVE that purple Kraft Core background?  This paper pack is PERFECT for any project!   Debbie paired the bright blues and purples of this pack with other fabulous Tim Holtz embellishments and Ranger Distress inks.
HAVE YOU SEEN THE NEWS?
We are at it again. YES, we are giving away more Core'dinations Cardstock!
WE ARE GIVING AWAY 50 OF THESE! Plus three lucky winners will get a signed copy from Tim himself!
CLICK HERE to enter to win.
Curious what to do with your Kraft Core? We have tons and tons of inspiration coming for you and we are kicking it off with a great tutorial for you from Designer April Derrick. April is our in house Tim Holtz guru. She uses color washes and distress inks beautifully and  this layout is no exception. We hope you can find some cool techniques to use on your craft projects from this tutorial today.
Supply List:
- Cardstock: Core'dinations / Tim Holtz Craft Core Nostalgic Collection
- Patterned Paper: 7gypsies
- Color Wash: Ranger Adirondack in Red Pepper
- Pens: Staedtler Triplus Fineliners
- Film Strip Tape, Tissue Tape, Mini Staples: Tim Holtz
– Metal Clip: 7gypsies
- Sparkly Brad: Paper Studio
- Distress Ink: Ranger
- Other: White Office Tag, Black Sewing Thread
Step 1 – Spray 3 to 4 squirts of Color Wash on a craft mat.
Step 2 – Dip a paintbrush into water and then swirl your color wash around with your paintbrush creating a small puddle of paint.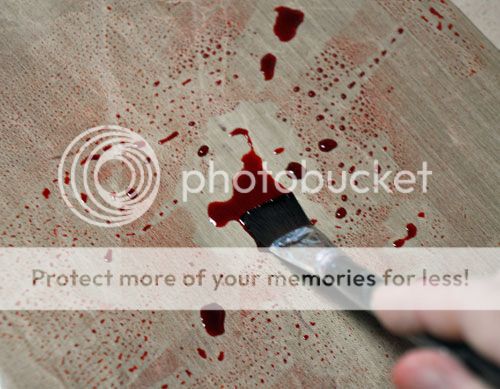 Step 3 – Start painting your cardstock. You can paint as little or as much as you like, depending on how much of the cardstock you want to cover.
Step 4 – With every layer of color wash paint you add, the colors will get deeper and darker. If you think it's too dark you can swipe a paper towel across it while it's still wet. You will probably need to add more color mist and water during the painting process depending on how much paint you use.
* Note}: I always like to leave the "Logo strip" along the bottom of the cardstock on until I have finished the painting process! Then I cut it off right before I get ready to sand and set it aside to use later.
Step 5-Grab your Core'dinations Sand it Gadget and sand away! On this particular layout, I chose to sand the edges of the cardstock sheet and also various areas towards the top of the sheet where my paint was a little lighter. This resulted in a really cool texture effect!
Step 6 – Grab your color wash and spray a couple of mists onto your cardstock. (I personally like to choose 2-3 areas to mist. I don't want it to overwhelm my page and it also helps if you have an idea of where your picture is going to be placed so you can spray the areas you know will not be covered up.)
Step 7 – Hold the cap of the color wash bottle and squeeze. Large drops will fall out of the bottom of the tube. I like to call this Cap Dropping. It's an easy way to get big drops, if you don't want larger drops than simply skip this step.
Now remember how I said I save my "Logo Strips" to use later? Well here's what I did with my leftover strip!
I cut the strip in different sections and sizes. This way I ended up with some of the painted portion without words, and the others I just flipped over to use the kraft core side without writing.
Then I simply adhered the small strips of cardstock along the top portion of my layout in a collage like fashion. I even turned up a couple of the edges of the kraft strips so that a little of the red painted side would show. I completed this look by sewing over my paper strips, but you could also create a faux stitch using pens!
Here is what it looks like almost done. You just need to embellish and you are read to go!
Looking for ways to use our Tim Holtz Kraft-Core collection?
Tim Holtz and Core'dinations collaborate once again and introduced this rustic blend of colors on natural kraft cardstock.
This pack is available in a 24 assorted pack  and individual 12×12 sheets.  It looks beautiful sanded, distressed or leave it as is.
Here are some designs to help inspire you.
Designer Shaunte Wadley
Designer Debbie Standard
Did you know that Core'dinations has three amazing teachers? This wonderful team of industry leading designers will be creating quarterly classes JUST for the Core blog and your inspiration!
We are working on an exclusive section of our website just for them so stay tuned for more details on that SOON!
Today have a gorgeous candle created by Core Teacher Cari Locken. For more of Cari's projects check out her blog here. This would make a gorgeous housewarming present over the holidays. You can use this color palette or even change it up with some reds and greens for Christmas or an color palette for that special occasion.
Instructions for "Fall is in the Air" Candle Decoration
Supplies needed:
Core'dination Colorcore cardstock:
Graphic 45 Signature Series – Heritage Kraft GX-3100-09
Brownie 1440 CD040
Coconut Cream 1380 C020
Cardinal 420 OG020
Tank 430 OG030
Autumn VC440
Other tools:
Paper trimmer
Stylus (or scoring board)
Paper crimper
Twine
Dymo labeler
Cricut Expressions or die-cut machine
Mickey & Friends & Stretch Your Imagination cartridges
Candle
Adhesives (tape runner, double sided tape, pop dots)
Step 1: Base
1. Cut a piece of Heritage Kraft to 2 1/2"x 10".  Run the cardstock through your Fiskars paper crimper so that the lines are going vertical when it is put on the candle.
2.  Gently sand the cardstock with the Sand It Gadget over the corrugated lines. Clean off with the Dust Buddy.
3. Wrap around the candle and adhere it place (the ends will overlap slighty).
Step 2: Label strips
1. Cut two small strips of Brownie to approx. 3/8" x 12".
2. Place a strip of cardstock through the Dymo Labeler and "type" the words that you want on your strips of cardstock.  Repeat this process with the other strip of cardstock.
3. Gently sand the words with the Sand it Gadget and clean off with the Dust Buddy.
4. Adhere one strip along the top edge of the base and the other strip along the bottom edge of the base. Trim ends as necessary
Step 3: Creating the leaves and acorns
1. Using the Cricut Expression (or other die-cut machine) and the Mickey Mouse & Friends cartridge cut leaves like this:
<chip-s> Shadow:Base/Icon @ 2 1/2" from Cardinal 2 times.
<chip-s> Shadow:Base/Icon @ 2 1/2" from Tank 2 times.3.
<chip-s> Shadow:Base/Icon @ 2 1/2" from Autumn 2 times.
<Squirl> Layers @ 1 1/2" from Coconut Cream and then again from Brownie.
and repeat again two more times at 1" from Coconut Cream & Brownie.
2. Now cut the acorns using Stretch Your Imagination cartridge:
3. Take the leaves and use a stylus and the cutting channel of your paper trimmer (or a scoreboard) and make some scored lines on the backside of the cardstock resembling the "veins" on the leaves.
4. Carefully sand the embossed lines with a Sand it Gadget and clean off with the Dust Buddy.
Step 4: Assembly
1. Cluster the leaves together in groups of 3 and adhere to the base of the candle. One near the top and one cluster near the bottom edge.
2. Tie some string around the upper edge of the base cardstock (just below the word strip).
3. Adhere the acorns in a cluster in the center of the leaves and use a pop dot to adhere the larger one.
And one more shot of the finished project…
Check it out!!!
We are excited to introduce Core'dinations new collaboration with Pink Paislee.
4 Designs
5 Colors
20 gorgeous pieces of cardstock designed specifically to Core'dinate with Pink Paislee's BRAND new Nantucket line!
Stay tuned for some projects!
Just wanted to share another Kraft-Core Project with you today from Design Team Coordinator
Make sure you check out that cute little owl Sarah made out of the Kraft-Core! This cardstock is so versatile.
You are going to love it!   These are brand new colors from Tim Holtz and Core'dinations, too!
Are you seeing spots???
Core'dinations is!  We are seeing spots on our BRAND NEW spotted sandable cardstock.
Two DIFFERENT collections, named Jillian and Tillie, offer TWO sizes of embossed cardstock that are perfect for any crafting project.
Both Assorted Packs come with two each of 15 sheets of assorted colors  OR you can get the bulk pack with one color of each (20 sheets).
This is a MUST have for any paper crafter. Perfect for cards or layouts!
Design Team Call
Do you love crafting with Core'dinations ColorCore Cardstock? Do the terms "sand it, tear it, emboss it and antique it" get your brain fired up into a creative frenzy? This could be the design team call you have been waiting for.
Core'dinations is looking for  8 to 10 design team members to help show off the many wonderful techniques that can be done with their ColorCore Cardstock. Term will run for one year; May 2011 to April  2012.
Design Team Requirements:
- 3 projects each month which primarily feature Core'dinations ColorCore Cardstocks with supply lists so that they can be featured on the Core'dinations' ColorCore Cardstock blog.
- Occasional projects which involve product exchange with other manufacturers (e.g., Jillibean Soup, Helmar, Fiskars, My Stamp Box).
- Regular project submissions to magazines for publication purposes.
- Promoting Core'dinations ColorCore Cardstock projects, giveaways and blog swaps on personal blogs.
Application Process:
- Step One: Design and then post three projects in one posting on your personal blog on or before Friday, April 15th at 4:00pm EST. These projects may include layouts, cards, altered items, and other such paper crafts and should focus on the use of Core'dinations ColorCore Cardstock. Entitle the blog posting "My Core'dinations Creative Frenzy". Feel free to include step out photos or step-by-step instructions of any techniques that you used that you feel need highlighting.
- Step Two: Send us an email with a link to this exact blog posting to  coredt@coredinations.com. Please ensure the link is to "My Core'dinations Creative Frenzy" posting and not just a link to your blog. It makes it much easier to find, especially if you post frequently on your blog. Please include in your email your name, mailing address, and phone number. You may also include a resume of your publications and current design team obligations (if applicable).
- If you have any questions about the application process and/or design team requirements, be sure to post them on the Core'dinations' Facebook page as they may be questions that several applicants would like answered or email Sarah at  coredt@coredinations.com
EDITED: We would prefer to see new projects but if you have something really special that you have already made with Core'dinations we'd love to see that too. And International applicants are welcome to apply.
Design Team Perks:
- FREE Core'dinations ColorCore Cardstock and tools (of course).
- Payment for printed magazine publication, catalogues, and CHA assignments.
- Access to a private design team message board where we share challenges, techniques and publications calls.
-  Additional product due to product exchange with other manufacturers.
Core'dinations has team spirit! We've teamed up with other manufacturers to show you how our products "core'dinate" together. Check them out by clicking on the logos below and let us know what you think!

To visit Jillibean Soup on the web, click here.
To visit My Little Shoebox on the web, click here.
To visit Spellbinders on the web, click here.
We recently ran an advertisement for a ColorCore Cardstock giveaway in Cards, Simply Hand Made, and Scrapbook Trends magazine and the response was amazing! The following lucky crafters won over $200 worth of our ColorCore Cardstock!
Andi Condit
Kim Page
Deb Long
Mary Popa
Julie Odil
Gini Cagle
Janet Ball
Dona Blackman
Brenda Davis
Lorie Bradberry
Kris Bolin
Megan Speicher
Jeanette Via
Sabine Edelmann
Donna J Ross
Kim Jacobs
Christine Moore
Patricia Swift
Dianna
Taryn Williams
Congratulations to the winners and THANK YOU to everyone who entered!