Hi Everyone! Mary Pat Siehl here! I LOVE to make winter cards and with Core'dinations cardstock they are just so easy and so darn cute!
For this card I started with some Core Essentials Pastels and embossed it and then lightly sanded it.  I love making snow banks and with this card I wanted a little bling so I tore some Core Couture Glitter.  I stamped my sentiment directly on the cardstock.  I then stamped my winter image on the 110 lb. smooth Core'dinations cardstock and colored the image using my Spectrum Noir markers.  This new cardstock is so PERFECT for stamping and coloring!  I pop dotted the image on the snow banks.
stamps- Some Odd Girl
markers- Spectrum Noir
Sizzix embossing folders
Sand it
Dust Buddy
ink- Hero Arts. Memento
Hello
For this card I started with my Core'dinations cardstock and embossed it.  I then added some Perfect Pearls dots to add just a hint more snow.  I used the Core'dinations Neutral cardstock to make my tree and snow banks. For my tree I cut the cardstock using the Silhouette and then sanded it just to give it that distressed look.  I stamped my bird image on the 110 lb. smooth Core cardstock and cut it out and pop dotted it on a branch.  Finally, I stamped the sentiment.
stamps- Paper Smooches
markers- Spectrum Noir
Sizzix embossing folders
Sand it
Dust Buddy
ink- Hero Arts. Memento
Perfect Pearls
Let's Chill
Once again I started with some Core'dinations Pastel cardstock.  I heat embossed various snowflakes and then added some Perfect Pearls dots as well.  I created the snow banks using the Core Essentials.  I tore the cardstock to give it that great look.  I then stamped, colored and cut out some snowmen using the 110 lb. smooth cardstock. I have to say this cardstock totally ROCKS if you are a stamper and alcohol marker user!
stamps- The Alley Way Stamps
markers- Spectrum Noir
Sand it
Dust Buddy
ink- Hero Arts. Memento
Perfect Pearls
….that is with our CORE IMPRESSIONS! Debbie Standard is rocking the layouts for us today. ENJOY!!!!
~~~~~~~~~~~~~~~~~~~~~~
Creating with the Core Impressions line is SO MUCH fun! For this page I wanted an embossed background in a soft color so I chose a sheet from the Pink Paisley collection as my base which I sanded with my Sand It Gadget and then dusted with my Dust Buddy. Then I just went through my scraps (and yes I keep all reusable Core'dination's scraps) and picked colors from the basic core colors that went with my photo and background paper.  To tie them all together I used a neutral beige to back each square.  I embossed each square with Darice embossing folders, sanded them and then matted them with the Neutral beige.  I added my title and some embellishments both hand made and pre-made to compete the page. The beautiful girls are my daughter (left) and her bff.
Supply List:
Pink Paislee Core Impressions
Core Basic Colors – a variety
Sand it Gadget
Dust Buddy
Cuttlebug
Darice Embossing folders:  1218-28, 1215-62, 1215-61, 1216-68, 1216-64, 1217-59, 1215-60
Spellbinder's Die:  S4-328 Foliage,S5-050 Rose Creations, andS5-114 Spectacular Spin
AND another layout from Debbie Standard working that Core Impressions…this time the Cosmo Cricket Woodgrain cardstock.  Debbie uses these for her CSI case files. The colors are always amazing!
The cool thing about Core Impressions, in addition to the fact they come embossed, is that you can add layers and layers of sanding and inking and sewing like Debbie did here:
Ink:  Tim Holtz
Stamps:  Fancy Pants, Cornish Heritage Farms
Flowers:  Prima
Papers:  Webster's Pages
Lace:  Webster's Pages
Brads:  My Mind's Eye
Rubons:  Basic Grey
Yep, you guessed it! We have some SNOW inspiration for you because I am sure a lot of us in the States have TONS and TONS of snow layouts. Even those of us who never get snow!
Kim Moreno has too amazing layouts for us today. Kim has a way with Core! She scors, tears, sands, embosses like no other!
~~~~~~~~~~~~~~~~~~~~~~~
To look at this page just makes me smile. I wanted to just get a quick picture of all the kids in their redneck snow gear and somehow it turned into them all pelting me with snowballs and then taking off running laughing all the way! Oh the turds conspired against me! lol I laid my photos out in the series of the raid going down. By the way these pictures were all taken and edited on my iphone!
I backed the photos with red cardstock and tore along the bottom edge to reveal the color core of the red cardstock. I then backed that with the Whitewash cardstock. I used my ScorPal to dry emboss the lines across the top and sanded it slightly to reveal the dark blue core. I then adhere the Whitewash cardstock along the bottom of the red mat and tore along the edge. I did this three times to give a bit of a snowpile sort of look. I then added die cut snowflakes, gems, and a chipboard title to complete my layout.
ONE amazing Monday and THREE incredible layouts from Gail Linder!
~~~~~~~~~~~~~~~~~~~~~~~~~~~~~~~~~~~~~~~~~~~~~~
Sweet Delight Layout
I have a secret to share today. Sometimes I scraplift my own layouts! Gasp!
Seriously, if you're ever "stuck" for ideas, just choose an older layout of your own that you loved and scraplift it using new products or techniques!
That's exactly what I did for today's layout.
I knew I wanted to create bright, fun blocks at the top of the layout and I wanted to use Core cardstock (of course) showing a couple of techniques.
I cut 10 squares of cardstock (in 6 different colours) that were 2″x2″. After finding the arrangement that I was happy with I simply when from square to square, embellishing slightly.
Some of the techniques I used include:
Embossing (you could also try de-bossing)
Sanding and inking
Adding die cuts (some raised on pop dots)
Punching out a shape from the square, using the negative space
Punching a circle 'notch' from the corner to add in a circular embellishment
I kept them quite simple as I wanted to fabulous colours to stand out!
And take a look where my journaling is hidden in this one:
The photo panel lifts up to reveal journaling underneath! I just folded a piece of white core cardstock to be the 'flap'.
You can actually see the original layout that inspired this one on my blog here. I hope I've inspired you to look back at your older layouts for inspiration with fresh eyes!
Supply List – Gail January Project #2 – Sweet Delight Layout
Core Cardstock:
Snowflake (neutrals)
Navy (darks)
Love Potion & Tulip (brights)
Sugar'n'spice (pastels)
Tumbled Glass & Shabby Shutters (Distress)
Sand It Gadget
Dust Buddy
Big Shot
Lifestyle Crafts embossing folder
SSS, MFT & Avery Elle dies
Martha Stewart butterfly punch
Silhouette Cameo
Feathers cutting file
~~~~~~~~~~~~~~~~~~~~~~~~~
One Little Word Layout
Do you follow the One Little Word concept? Although I'm a little late sharing my One Little Word for 2014, I have had it chosen since the end of last year, or rather, it came to me as per usual! Give.
I decided to create a layout for my word, using a phone selfie of myself (it's the only recent photo I could find of me!).
I created the background to this layout by overlapping pieces of Core'dinations cardstock in pink and aqua with a few scraps of patterned paper. The card was cut at an angle (alternating directions) and I started from the bottom and worked my way up!
I gave all pieces of cardstock a quick sand to reveal a bit of the lighter core, for more dimension.
A couple more things to note:
The title was cut using my Cameo. The word 'give' was cut out of Black Magic card (with a pink core) so when the edges had a light sand, they had a bit of pink showing to coordinate with the rest of the layout!
I didn't think my photos and title stood out enough on the busier background so I again used my Cameo to cut the circle design out of simple white cardstock to layer beneath! I love that effect and think it's something I'll be doing again and again!
I didn't want to cover up any more of the background with a journaling blog and knew I had a bit to say about my OLW. An easy solution? I journalled on a white core tag, slipped it into a glassine bag and adhered it behind my photos. Love me some hidden journaling!
If you are interested in reading about why I chose this particular word, and more about my personal OLW journey, please visit my blog here!
I hope I've inspired you today!
Supplies:
Core Cardstock:
Snowflake (neutrals)
Reflecting Pool, Sugar'n'Spice & Scotch (pastels)
Tanzanite (Gemstones)
Hex (Black Magic)
Spring Green (G45 Signature Series)
Worn Lipstick (Tim Holtz Distress)
Sand It Gadget
Dust Buddy
White Core Tag
Big Shot
Spellbinders 'Asters & Poppies' die
SSS heart die
Silhouette Cameo
Thirsty Script & Georgia fonts
Circle Background cutting file
Crazy Layout
Hello! I have another fun and colorful layout to share today! Can you tell I love putting together awesome color combinations with my Core'dinations cardstock? For this layout, I was inspired by a card I saw around the web that had strips of washi tape on the background. I tried to re-create the look with strips of embossed card.
I wanted the colors to "pop" so I used the reverse of a Kraft Core cardstock for a neutral kraft background. Then I chose six bright colors for my strips and got to work adding some texture to each strip.
You can see in the detail photos that a couple of strips are embossed and sanded to reveal the core. A few other strips I added some lines and borders simply using my Scor-Pal: a criss-cross, stripes and an outline.
Supplies:
Tim Holtz Kraft Core (reverse side)
Core Essentials – Fuschia Fizz, St Valentino
Neutrals – Snowflake
Brights – Atoll, Aqua
Tillie Dot – Tulip
Distress – Tumbled Glass
Adirondack – Purple Twilight
Sand It Gadget
Dust Buddy
Scor-pal
Big Shot
Lifestyle Crafts embossing folder
PTI border die
Spellbinders speech bubble die
Silhouette Cameo
Thirsty Script font
So we have been snowed in for the last few days and our kids parties won't be happening until Monday so this is GREAT for a last minute Valentine this weekend!
~~~~~~~~~~~~~~~~~~~~~~~~~~~~~~~~~
Hi there! Jill from http://everydayisanoccasion.com here to share a fun Valentine project you can do with your kids. If your kids like to paint like mine do then this project will be right up their alley!
Kids Core Valentines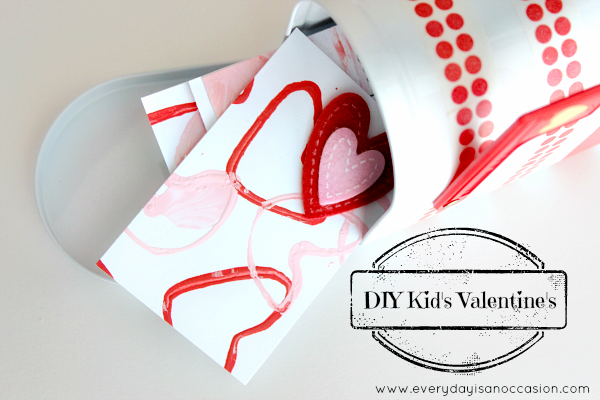 This project occupied my kids for quite some time and it is a project you don't have to hover over them. They can do it themselves. My children are 4 and 2 and so I love finding projects like this!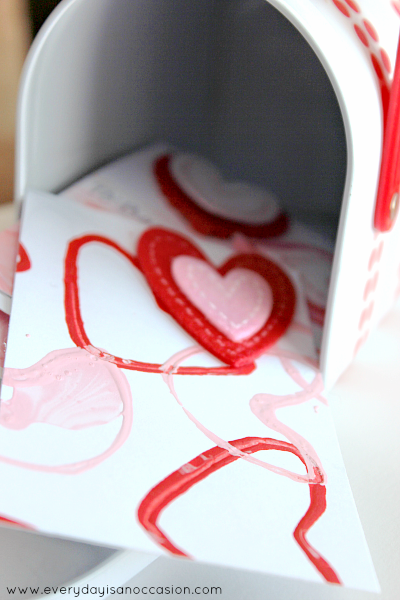 Front: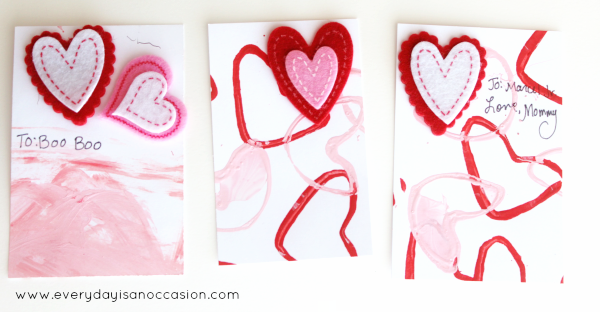 Back: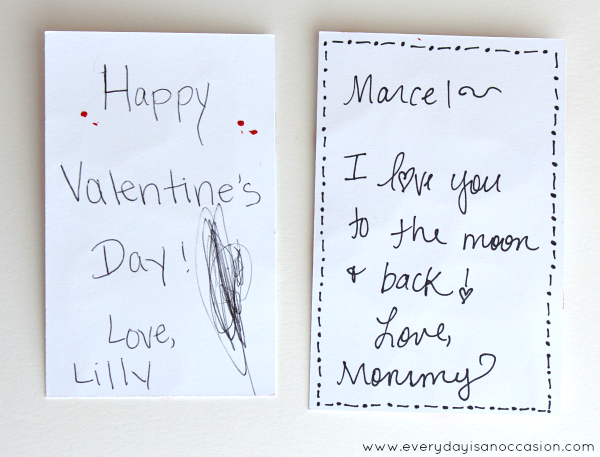 How to Make Core'dinations Valentines

Materials: 110 lb White Core'dinations Cardstock, Toilet paper tube, and paint
Step 1. Fold Toilet paper tube to look like a heart and dip into paint
Step 2. Allow paint to dry and then cut up and embellish. We used some Darice Heart stickers in the dollar bin at Target.
Step 3. Pass them out and enjoy