We have some fun and festive Valentine's Day home decor projects for you from Designer Mary Pat Siehl to share with you today that you are going to LOVE! Pun intended
~~~~~~~~~~~~~~~~~~~~~~~~~~~
I love Valentine's Day and I love to decorate my house to fit this holiday.  Core is really perfect for making all your home decor needs.  For my first project I made a message board.  In my kitchen I have an 8×10 photo frame and the glass functions as a dry erase board.  I love to leave messages to my kids and also make to do lists.  For my Valentine's Day message board I started off with a base of the Core Gemstones in Opal.  I then cut out 3 hears in ruby red and pink diamond.  I then ran them through my Cuttlebug embossing folders just to give them an embossed look.  I then cut out the xo in onyx cardstock.
Silhouette – basic heart, pacifico font
~~~~~~~~~~~~~~~~~~~~~~~~~~~~~~~~~~~
My next project is perfect for my mantel.  I found this frame on sale and thought it would be so fun to make my own journaling cards style photo frame.  I really got to have fun with my core for this project and really got to sand the cardstock.  I love the blackboard effect and made on box using the Core essentials Nightfall and sanded it to give the blackboard look. One of my favorite things about Core'dinations is that no matter what collection you use they all work together so well.  For this project I used papers from the Essentials, Tim Holtz Adirondack collection, and Glitter Silk!
Silhouette- Arial font, basic arrow, basic heartt
Thanks so much for joining me today.  I hope you have fun making your own home decor items!  Have a wonderful and crafty day!
First up we have Designer Vivian Keh with a few cards that are all about LOVE just in time for that very special Valentine's Day coming up this week!
~~~~~~~~~~~~~~~~~~~~~
Hello, friends! Vivian Keh here today to share with you Valentine's Day cards that whip up really fast and are great if you have some mass producing to do for this special holiday.
These small cards were die-cut using the lovely Core'dinations' Core Impressions Basic Grey "Ornate" Collection. These pretty pastels are pre-embossed with feminine patterns, so all you have to do to reveal the texture is swipe the surface with your Sand-It Gadget.
The pretty scalloped edges and perfect cuts are thanks to the Sizzix "Card, Mini Heart" #658478 Bigz Die. One pass cut out the card base as well as all the pretty shapes. Since the die is of the sturdy Bigz type, you can cut several sheets of your Core with one pass of your manual die-cut machine and save loads of time!
A little distress ink accentuated the pretty edges, and the cards were finished off with some pearl and button embellishments.
Thank you for visiting with me here on the Core'dinations blog. Hope my project has inspired your Valentine's crafting!
SUPPLIES:
Core'dinations – Core Impressions Basic Grey "Ornate" Collection, Vanilla Creme Core Essentials, Sand-It Gadget, Dust Buddy
Sizzix – "Card, Mini Heart" #658478 Bigz Die
Viva Decor – pearl pen
Ranger – Vintage Photo Distress Ink
Prima Marketing – wooden buttons
Hemptique – fine hemp string
Vivian Keh here again to share with you a bit of my love for the softer and subtler Coredinations hues – creams, greys, neutrals – we have such a beautiful and abundant range of these colors available. I've been experimenting with our unique color core, sanding and layering pieces of a single hue to create interesting patterns and textures.
For my card project today, I first die-cut beautiful hearts using Core'dinations "Pumice Stone" from the Tim Holtz Distress Collection and a Sizzix "Hearts, True Affections"#658923 die. Sanding the edges of the die-cut pieces brought out the pretty curves in these hearts and added interest to my background.
I paper punched and sanded several pretty blossoms using my favorite Fiskars floral punch with "Spun Sugar," also from the Tim Holtz Distress Collection. These were all glued to another piece from the same Sizzix die-cut.
Little dots of liquid pearls added a special touch.
This one will be for my guy.
I love how the mini heart wreath turned out!
Just in case you were curious,"Per sempre," means forever in Italian.
Thanks so much for visiting with me here at the Core'dinations blog.
SUPPLIES:
Core'dinations – "Pumice Stone" and "Spun Sugar," Tim Holtz Distress Collection; Vanilla Cream Core Essentials, Sand-It Gadget, Dust Buddy
Sizzix – "Hearts, True Affections"#658923 die
Xyron – X Sticker Machine
Viva Decor – pearl penMemento – Espresso dye ink
Studio G – Alphabet stamps
~~~~~~~~~~~~~~~~~~~~~~~~~~~
And we aren't done yet!!!!! Designer Kim Moreno always makes the CUTEST  A1 size cards!
I used my ScorPal to create the frame around my card. I then punched several hearts in a variety of Valentines colors and slightly sanded each to reveal the colored core. I then strung them along the twine across the top of my card. I added jewels and chipboard to complete this quick and easy Valentines card. Would be fun to drop in the kids lunch or leave for the hubby!
We have THE best Glitter Cardstock out there. It cuts beautifully, embosses…you name it! From our Gemstones cardstock to the Glitter Silk and Core Couture...You will love it.  AND it is the perfect cardstock for all of your glittery and shiney needs for this Valentine's Day. I mean, you need something shimmery on those projects, right?  That's what it's all about!
First up Designer Debbie Standard  creates tons of layers using some Spellbinder's Die cuts, embossing and, well, just Debbie's Core'dinations magic!
OH and don't forget Core Tags and some May Arts ribbon!
~~~~~~~~~~~~~~~~~~~~~~~~~~~~~
And next up some cards from Designer Clare Buswell! Get ready to SWOOOOON!
Silhouette files – (2 Scalloped Hearts #38258, Border Hearts #24381, With Love title word art #46238), My Heart stamp set from Waltzingmouse Stamps, Memento Luxe Love Letter, sequins, baker's twine, corner rounder, Ranger glossy accents, silicone glue, Silhouette Portrait.
Make card from cardstock. Cover front with Fuchsia Fizz and sand edges. Cut rectangle of Core Couture Glitter and adhere to card front. Using Silhouette machine cut heart border and heart with sentiment. Cut hearts from border and adhere to background. Add heart with silicone glue and glossy accents on sentiment to finish.
How much do you LOVE our Black Tie Core Couture…again bits and bits of glitter and it barely sheds!!!
Silhouette files - Hearts and words #53851, Border Hearts #24381, Ranger glossy accents, silicone glue, Silhouette Portrait.
Who is ready for some Valentines Inspo?  We are gearing up for week FULL of amazing projects from our Design Team just for YOU!
These are all quick and easy ideas that you can do in no time for that sweet someone in your life! Let's start it off with Clare Buswell….
Cut Silhouette files from Fuchsia Fizz and white Core. Emboss envelopes with Rosa folder, sand using Sand-It Gadget. Assemble and stamp sentiment and hearts. Add baker's twine as closure for envelopes.
How cute are those interlocking hearts?
Core'dinations – Fuchsia Fizz, Core Essentials Neutrals, Sand-It Gadget and Dust Buddy.
Silhouette files – Card Interlocking Lace Heart and Envelope Set #53860, Silhouette Portrait, Cutttlebug Anna Griffin embossing folder Rosa, Big Shot, Memento Luxe Love Letter, Waltzingmouse Stamps – My Heart, Nordic Winter stamp sets, baker's twine.
And Clare isn't done yet!
Hello!! Jill from Every Day is an Occasion here to share a fun Kids Craft & Core  project with you! Do any of you have the winter blahs? This sweet little treat container can cheer anyone up!! It would be a fun gift to give or a favor for a winter birthday party!
Snowball Treat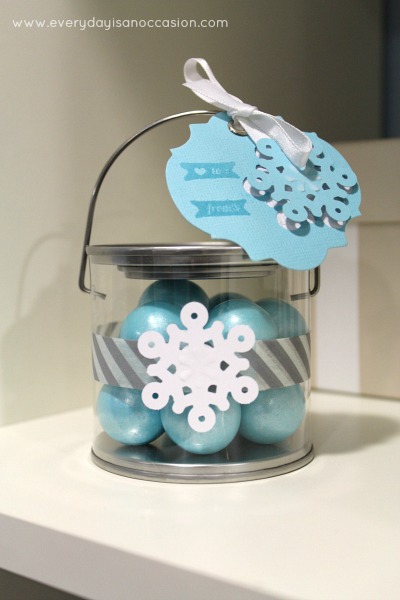 Steps:
1. Put gumballs into pail.
2. Wrap washi tape around pail.
3. Punch snowflakes out of white cardstock.
4. Punch a snowflake out of blue tag and adhere white cardstock behind. Use foam adhesive to pop snowflake up.
5. Sand snowflake with Sand It Gadget…my kids favorite part!!
6. Tie tag on pail
7. Enjoy!!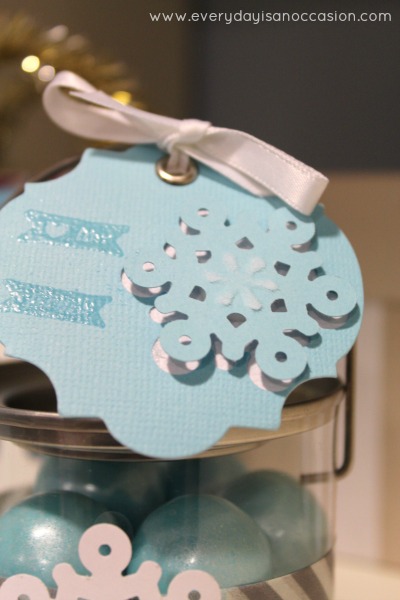 Materials:
White 110 cardstock Core'dinations
Core Sand it Gadget
Darice Washi Striped Tape http://www.darice.com/store/details/catalog/wholesale-memory-embellish-washi-paper-tape/1217-96
Marrvy Snowflake Punch
Gumballs http://www.darice.com/store/details/catalog/wholesale-party-gumballs-and-sixlets/sw15002
See Thru Pail with lid http://www.darice.com/store/details/catalog/wholesale-memory-scrapbooking-storage/1212-96
Foam Adhesive
Ribbon