Hi Everyone! We have a special treat this week…we are sponsoring the Cupcake Inspiration blog so if you are looking to win a Core'dinations prize pack head over there for you chance to not only be inspired but win some core!
Make sure you check out their RULES section here.  You only have one week to participate so hurry!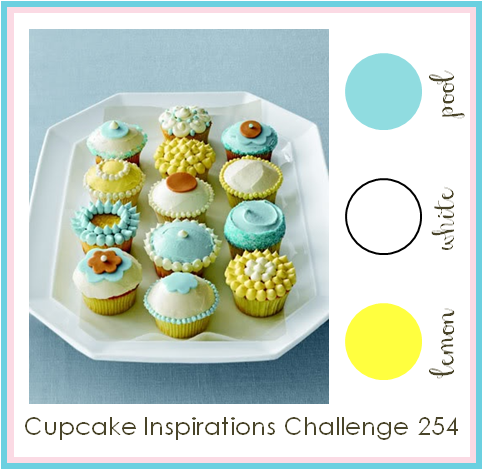 Our Design Team was busy, too!
Kate Nolan-Denham
Ava Gavloski
Debbie Standard
Happy Saturday! We have a bonus post for you today. For some reason I missed this when doing our St Paddy's day layouts but it is too fabulous not to share.
The great thing about our Cardstock, and I know I sound like a broken record, but you can create a monochromatic layout so easy with just some simple embossing like Kate Nolan-Denham did here:
~~~~~~~~~~~~~~~~~~
When you hear the saying "go green" I am sure you don't think of creating a monochromatic layout using only cardstock, but I sure did! I went green with Envy Core'dinations Cardstock.  By using techniques such as embossing, crinkling, sanding and a little bit of paint, I was able to add interest and dimension to my layout without adding another color.
I don't know how she does it but Debbie Standard creats layout after layout and they are ALL amazing AND they showcase Core like no other…ENJOY!
~~~~~~~~~
When I saw these adorable pictures of little Gavin reading I immediately thought of the Cosmo Cricket Neutral collection for my background papers. Gavin adores books and will hunt them out to sit and read and be read to.  I added some Darice Washi tape to create a frame and also along the top of my page. I created the worm and books with a die cut from my Silhouette. I also used some Tim Holtz Distress Stain on my background and some Galatos to create the dribbles on the page.
Basic Core – Red
Darice Washi tape
Patterned Paper:  My Mind's Eye, Graphic 45
Gelatos:  Faber-Castell
Embellishments:  Graphic 45, Recollections, Heidi Swapp (arrow)
Ink:  Tim Holtz Distress Stains
Hangers:  Tim Holtz
String & Washi Tape:  Queen & Co.
Sand It Gadget
Dust Buddy
Silhouette
 ~~~~~~~~~~~~~~~~~~~~~~~~~
Got these adorable photos of my daughter's bff's baby, Gavin and decided to scrap them in a grid design using only the colors in his clothes.  I Cut a border and then cut inside the border to form the outside of my frame.  Then cut strips 1/4″ wide to use as the center strips in my grid.  Then I chose two colors that matched his clothes and embossed them with different embossing folders.  I attached some ribbon around the top one and then used my scraps (I'm all about using scraps!) to make the flowers and hearts to embellish the embossed sections.  I sprayed the flowers and spin using the Mister Huey's mist before added the brads.
Cuttlebug Embossing Machine
Embossing Folders:  Darice (hearts), Lifestyle Crafts
Spellbinder's Die:  Aster Flower Topper (S5-102)Spectacular Spin (S5-114)
Martha Stewart heart punch
Brads:  My Mind's Eye
Mister Huey's Mists – Blizzard
~~~~~~~~~~~~~~~~~~~~~~~~
I loved this picture of my son, Jason, and his girlfriend, Maria, taken during an outing to Fredericksburg.  They love having me scrap pages and are getting where they are constantly sending me pictures to scrap (gotta love that after fighting to get pictures of this boy for years!!!)   I went for the 6 X 6 packs to create this and picked out colors from both the Darks and the Neutrals packages.  I first used a die cut to cut out the hexagons and then used different embossing folders to emboss each one with.  Then I sanded them and dusted them off and adhered them to my page.  Then I used my Silhouette to cut some swirls and the hearts and some Spellbinder's die's to cut the flowers and the leaves.  As I've said before when you cut something delicate like leaves or swirls – run it through your Xyron machine and while it's still on the wax paper – sand it – it's alot easier not to tear it that way.
Cuttlebug Embossing Machine
Embossing folders:  Darice, Lifestyle Crafts, Cuttlebug
Silhouette Die Cuts
Spellbinder's Die Cuts:  Aster Flower Topper (S5-102), Foliage (S44-328); Rose CreationsS5-050)
Mister Huey's Mist – Blizzard
My Mind's Eye brads
Queen & Co Pearls
Another project I wanted to complete before the baby was born are some pin-on ribbons to give the the new big sister and brother when they come to visit in hospital! Core'dinations cardstock was perfect as it's sturdy enough for the project, as I *hope* to add these to their scrapbook albums eventually.
First up: for the big sister and of course it had to be pink!
Lots of layers! Some were punched, some were cut with my Cameo electonic cutting machine and the "ribbons" hanging down the bottom were simply handcut.
You can see I varied the textures, using some Jillian Dot embossed cardstock and for the heart, I couldn't go past the subtle glitter of the Core Couture cardstock.
I used the heavy weight 110lb smooth white cardstock to print the labels and cut them into the banner shape.
And here is big brother's.I kept to the same design but switched the colors:
You can see the dimension in the bottom layer in the close up photo below. For this I simply cut some strips and folded them before adhering them, alternating the colours.
I snapped this photo on quickly while I was assembling the ribbons, just to give you an idea of the different layers and how they all came together.
Finally, I adhered a pin back (bought from my local craft supply store) to the back of the ribbon so they can wear them proudly!
Supply List :
Core Cardstock:
Spun Sugar, Tumbled Glass, Scattered Straw, Worn Lipstick (Tim Holtz Distress)
Stiletto, Blue Diamonds (Core Couture Glitter)
Aqueduct, Jaybird (Jillian Dot Spotted)
110lb White Premium Cardstock
Sand It Gadget
Dust Buddy
Big Shot
Spellbinders dies: Standard Circles Sml & Big Scalloped Circles
Silhouette Cameo
Cut Files: Prize Ribbons and Heart
Hi Everyone! Gail Lindner here…. I had a simple design in mind using ONLY Core'dinations cardstock and looked to Pinterest for some fun color combinations! I came up with four combinatons and made several of each in one big creating session!
I cut the sentiment "Thanks" out using my Silhouette Cameo but wanted it to stand out from the background. I saw the trick of cutting out several and layering them during some blog hopping and it really was a quick way of adding dimension that you can see in the following close up photo.
Because the writing is quite detailed and fine, using pop dots would not only be time consuming but would also not be sturdy enough. I simply cut multiple words out of a full sheet of white cardstock and ended up adhering four layers to give it enough dimension.
I've also used techniques such as embossing, sanding, distressing and folding to add interest and dimension.
It sure feels good to have a nice collection of thank you cards handy again!
Supply List – Gail February Project #3 – Thank You Cards
Core Cardstock:
Pool, Lemonade, Stonewashed, Sunset Orange (Tim Holtz Adirondack)
Snowflake, Cityscape (Neutrals)
Navy (Darks)
Rusty Hinge, Tumbled Glass (Tim Holtz Distress)
Spring Green (Graphic 45)
Aruba (Pastels)
110lb White Premium Cardstock
Sand It Gadget
Dust Buddy
Big Shot
Lifestyle Crafts Embossing Folder
Silhouette Cameo
Thirsy Script Font
~~~~~~~~~~~~~~~~~~~~~~~~~~~~~~~~~~~~~~~~~~~~~~~~
It's Gail here again!  I'm putting some creative energy to work to create some layouts and things for our sweet baby #3. Here's a layout documenting some thoughts on late pregnancy, using one of my favourite color combinations of Core cardstock!
For this layout, I started with the idea of placing different colored squares of Core'dinations cardstock over my background, varying the size and texture of each one.
I started by just cutting some squares in various sizes and playing with the placement. You can see I've created a few visual triangles to balance the layout – mainly with the three squares of the navy and light pink cardstock.
You can see a couple of fun embossing folders that I've used on the squares! As usual, a quick sand to reveal the core brings them to life!
For the title and accents on my layout, I put my Silhouette Cameo cutter to good use and cut a variety of hearts and arrows in the same colours as the squares and scattered them, raising some on pop dots.
My title was also cut with the Cameo using my favorite font: Thirsty Script. You'll find it works wonderfully with the Core cardstock!
Supply List – Gail February Project #1 – Almost Layout
Core Cardstock:
Snowflake, French Roast (neutrals)
Navy (darks)
Love Potion (brights)
Spun Sugar (Tim Holtz &Ranger Distress cardstock)
Sand It Gadget
Dust Buddy
Big Shot
Cuttlebug & Darice embossing folders
Silhouette Cameo
Cut Files: Arrows, 8 Thin Arrows, Echo Park Heart
Thirsty Script font