I mean..seriously?  How cute are these??!??!? Keep on reading on how to make these little cuties. They are perfect for Spring! And the button embossing folder is too perfect!
Cut files from cardstock using Silhouettte Portrait. Use paper crimper on roofs and sand using Sand It Gadget. Emboss main sections of bird houses using the button box embossing folder, sand using Sand It Gadget and wipe with Dust Buddy.
Assemble each bird house, thread ribbon through roof and glue roof in position. Roll piece of Core cardstock tightly to make peg for perch and place in position, to finish.
And a close up:
Other: Silhouette Portrait, Silhouette cut files (#44005, #44006), Crafters Companion Embossalicious 8×8 Embossing Folder Button Box, Spellbinders Grand Calibur, pink grosgrain ribbon, paper crimper.
With Core'dinations, it's all about the technique! The beauty of Core'dinations IS, the core. The core of the paper, getting to the core of the matter. You can do so much with it!
Emboss it, crimp it, sand it and run it through your label machine it! These are the things I have done on this layout. If you haven't already visited, be sure to check out the technique videos on the Core blog. There are many more techniques to see there too!
Crimp it! Running your Core'dinations cardstock through a crimper with some sanding provides not only a neat texture but a striped effect depending upon the color core you reveal with your sanding.
Sand it! I used the Spotted Tillie cardstock to create my own Lego bricks! Cut each brick to size using your paper trimmer and sand! Dead easy!!
Label it! I created the sub title of my layout by running an appropriate sized strip of cardstock through my label maker and sanded it! Simple yet so effective!
Hello! Jill from Every Day is an Occasion  here to share a kid's craft with you today! We are going to make bunny hats! Get excited! They are super simple! When I was a first grade teacher, my students LOVED making hats for any occasion. So, now that I have my own kids I had to make the hats with them, especially now that my daughter is BIG into dress-up clothes.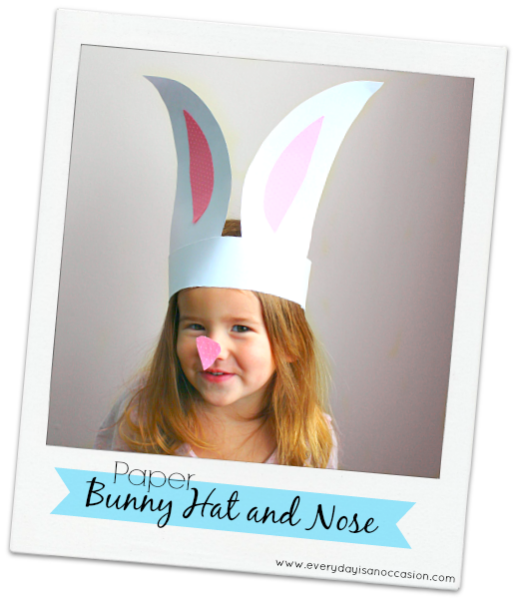 I know they have those $1 bunny ears out there made of fabric, but these are really fun to make to help keep your kids busy on those freezing snow days we've had! My daughter had a blast making these and especially wearing them! Now, I know you may be thinking, "She's two. How did she make those?" Well, she was mostly the assistant. In my humble opinion, I believe that getting kids helping at a young age helps them feel confident with Arts and Crafts.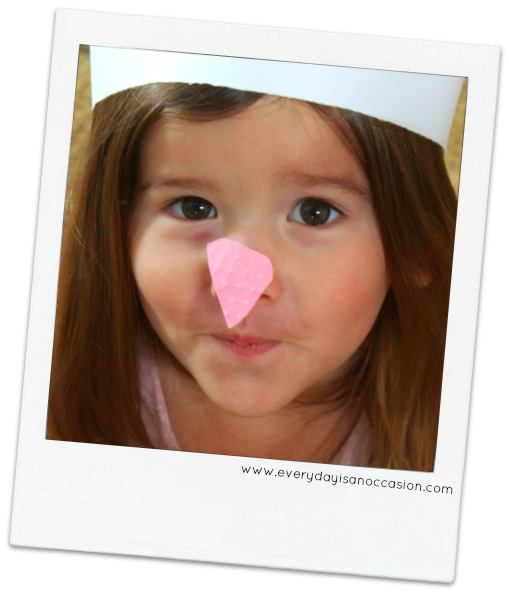 How to make Paper Bunny Hats and Noses:
Materials:
4 pieces of 8 1/2 x11 White Core 110lbs
1 piece Pink from Core Essentials Pastels
Swiss Dots Embossing Folder or any dotted embossing folder
Cuttlebug or your choice of embossing machine
Ear Template- hand draw or use the one below
Xyron Double sided tape
Steps:
1. Draw a bunny ear on the 8 1/2 x 11 piece of White Core. Cut out and use as your template for the White Core. This does not have to be perfect, it's just for fun! Trace onto two pieces of the White Core and cut out.
2. Draw a similar shape but smaller on the white paper. Cut out and use as your template. These do not have to be perfect. It's just for fun! Then trace onto the Pink Core and cut out.
3. Take one piece of 8 1/2 x 11 White Core and fold in half, hot dog style, then fold again so you have 4 pieces. Cut these out. Tape together measuring your child's head. This will be the head band.
4. Put Pink Core into Swiss Dots Embossing folder and then sand the dots.
5. Tape the Pink Core onto the inside of the bunny ears.
6. Tape the bottom of the bunny ears to the headband. *Quick Tip* If you roll the bunny ears up and let it go. It will help make the ears come forward for a cute look.
7. Use scotch tape to put the bunny nose on your child's nose.
8. Enjoy!
Here are the templates I used below in case you want to use them. Just right click on the image and save to your computer and then print.
I don't know how she does it but Debbie Standard uses ALL Core'dinations on her layouts.  The amount of detail is amazing and how she mixes and matches our different lines of Core is incredible! Grab a cup of coffee and sit back and get ready to be inspired!
~~~~~~~~~~~~~~~~~~~~~~
I loved this sketch over at Page Drafts and knew exactly what picture I wanted to use with it.  Love how the Tim Holtz Shattered collection gives you such great background even if you don't do anything to it – it already has a great look.  Love that I can do a layout and never touch any patterned paper.
American Craft Chipboard letters
Number Stickers:  Crate Paper
Buttons- stash
Button (seriously)  Crate Paper
Chipboard Speech Bubble: October Afternoon
Rub On:  October Afternoon
Cuttlebug Embossing Machine
Embossing Folders:  Darice, Cuttlebug
Letter Stickers:  Jenni Bowlin
Adhesive:  Sookwang, Tombow Foam tabs and Glue Dots
Die Cuts"  Spellbinder's circle die
Sand It Gadget
Dust Buddy
~~~~~~~~~~~~~~
Start with a Core Impressions base so you don't have to emboss it on your own.  Then use the Tim Holtz/Sizzix 12X 2 strips and emboss.   The Core tags are so easy to use and add to your page.
I created the flower with Spellbinder's dies and some Mr Huey's spritz.  I love how the flowers look when they have been sanded and sprayed – my new favorite thing to do!
Cuttlebug Embossing machine
Embossing Folders:  Cuttlebug- Anna Griffin, Cuttlebug
Spellbinder's Dies:  Rose dies, Foliage Dies, Aster Flowers
Pearls:  Queen & Co.
Dust Buddy
Sand It Gadget
Brads:  My Mind's Eye
Letter Stickers:  Tim Holtz
Mist:  Mister Hueys Shine
My Mind's Eye Brads
Silhouette Cameo Die for title
Photo by Inbloom photography
~~~~~~~~~~~~~~~~~~~~~
Next up a layout using tons of Core and a few embellishments:
Sand It Gadget
Dust Buddy
Silhouette Cameo Die for title
Bo Bunny Stickers
My Mind's Eye Brads
Wood Veneer:  Gossamer Blue
Photos by: Inbloom photograph
Today we have some cards from Debbie Standard for Mother's Day.
I love using my Xyron adhesive runner for these delicate swirls so that I can sand them. Simply cut your swirl from your die cutting machine and then run it through your Xyron adhesive runner. Before you take it off the paper you can sand it without risking tearing it apart.
Supplies:
Core Basics Snowflake
Core Essentials Darks
Cuttlebug Embossing Machine
Embossing Folders: Darice, Cuttlebug
Dust Buddy
Sand It Gadget
Spellbinder's Die: Rose Creations and Daisy Heads
Mister Huey Mist – Shine
My Mind's Eye Brad
Dynamics Rose Die cut, scallop die cut
David Tutera tag
Smooches Stamp
Suink Ink
Sewing Machine
Queen & Co. Rhinestones
American Crafts Tiny flowers
Ribbon: Stash
David Tutera Sentiment Tag
Xyron Adhesive
Fiskars tool
Silhouette Die Cutting Machine
~~~~~~~~~~~~~~~~~
I love using  Silhouette cuts for quick and easy cards like this one.Add a little pink under the die cut out sentiment to make it pop.
After cutting the flowers from a Spellbinder's die, I curled them over a Fiskar's tool and sprayed them with Mister Huey's shine mist.
Supplies:
Core Essentials Pastels
Cuttlebug Embossing Machine
Embossing Folders: Darice
Dust Buddy
Sand It Gadget
Spellbinder's Die: Rose Creations
Mister Huey Mist – Shine
My Mind's Eye Bradd
Queen & Co. Twine
Xyron Adhesive
Fiskars tool
Silhouette Die Cutting Machine
All you need is two kinds of cardstock for this card and lots of layers! Embossing, sanding and die cuts make it looks so easy!
And a close up of that detail:
Supplies:
Core Essentials Pastels
Cuttlebug Embossing Machine
Embossing Folders: Darice
Dust Buddy
Sand It Gadget
TomBow Foam Tabs
Spellbinder's Die: Rose Creations
Mister Huey Mist – Shine
My Mind's Eye Brad
Queen & Co. Rhinestones
Embossing Folders: Cuttlebug
David Tutera Sentiment Tag
Spellbinder's Die Cut: Fancy Tags Three
Sewing Machine
Xyron Adhesive
Fiskars tool
Silhouette Die Cutting Machine