WE are a bit early posting this but we thought since some people may be off due to the Holidays that you could get a jump start for January!
All entries are due by January 31st either link to this post or posted on Facebook. Please note:  due to CHA falling at this time, we may be delayed in posting a winner until the 2nd week in February.
Are you on Pinterest?  Make sure you follow us if you are. We loooooooooove pinning!
Today's layout is from Designer Ellen Sosnoski. I used Vintage Cardstock and Cosmo Cricket Core Impressions for this layout and lots of layering! Love love to layer as much Core as I possibly can!
The little hearts are a Cuttlbug die…I use this one all the time! And the flower is cut from some May Arts ribbon.
Remember you must use Core'dinations Cardstock on  your project. Cards, layouts…anything will do just make sure you use some Core and you know how we love techniques
Due by January 31st, 2012 link to THIS post or on our Facebook page.
Good Morning!
I know a lot  of us in the states are hunkering down with our turkeys and families getting ready for Thanksgiving tomorrow. That means a lot of us will be off for a very long weekend.
What better way to start off that weekend with a MONSTER GIVE-A-WAY?!
We are giving away 50 Tim Holtz Kraft Core packs and THREE lucky winners will receive a SIGNED copy from Tim Holtz himself.
Don't miss out! CLICK HERE to sign up to win win win!
Today it is all about Fall. Don't forget about our November Colour Lover's Challenge. Working on this project would be a great way to start off that long weekend, wouldn't it?
Design Team Member Lydia Jackson created this beautiful layout using this month's colour palette.
The palette …
And Lydia's design…
Gorgeous. Love the mix of Vintage and Core Essentials cardstock and how Lydia used the backside of the lattice print from the Pink Paislee Core Impressions line.  Don't be afraid to mix your own embossing folders and the Core Impressions line like Lydia did here. Looks BeauTiFul!
In case you missed Monday's post here is the introduction to this month's Core Colour Lover's Challenge!
Here is the inspiration piece. These muted fall tones are just GorgeOus! Remember, you have until the end of the month to get your projects linked or posted to our Facebook page.
Design Team Member Kim Jeffress created this beautiful layout for us using  some of the Tillie dot cardstock.  You must get some of this for your scrapbooking stash. It is the perfect go to cardstock for any project.
Have a GREAT week everyone!
And don't forget to mark your calendars……….
So we have LOADS of winners to announce!
There is no better way to start a week than to win some Core, right?
We have our October Colour Challenge Winner….
drum roll please………….
Amy at PluckingDaisies.com made this…..
SO COOL!
CORE ON A PUMPKIN! LOVE IT!
Amy email ellen_sosnoski@coredinations.com with name, address and phone (if international).
Next up are the Graphic 45 Winners!!!
From the blog …..
Denise Bryant
Great layouts! I love the colors one the circus page! The dance page is lovely.
And our FAcebook Winner is….
It's so much fun waking up the computer each morning to see what your dt members have created to delight the senses!
Winners make sure you email Ellen_Sosnoski@coredinations.com with your name, address and phone number (if you are international).
SOOOOOOOOOOOOOOOO…
ready for next month's Colour Palette for the Colour Lover's Challenge?!??!!?!?
Make sure you post your entries on Facebook or link back to this post for a chance to win.
AND, yes ONE more thing…
MARK YOU CALENDARS!!!
Goooood Saturday Morning!
We are are here bringing you some Core'dinations and Glue Arts projects again today and this is IT! So leave so make sure you leave comments for your chance to win win win!

Make sure you head over to the Glue Arts blog for some awesome projects from their Design Team. They are also introducing a new product, Glue Glider Pro PLUS and they are doing 10 days of give-a-ways over there!!! And they have a GrEaT Facebook page, too, make sure you head over there as well for daily inspiration.
And, YES, we are giving away ANOTHER pack of Core for one lucky winner that posts here on the blog this week!!!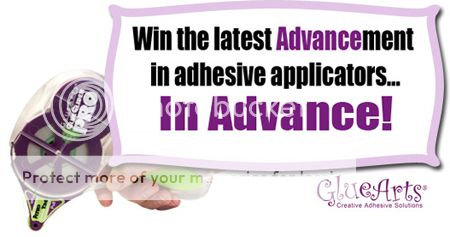 Today we have a Thanksgiving Day wreath from Designer Ellen Sosnoski.
There are only a few easy steps for this easy project. First,  wrap burlap (from MME) around a wooden base. I am using an old "O"  that I bought to alter for my son's room. The intention was for us to do it together but he didn't find it as exciting as I did so we are using it for a Fall Wreath today with some Tim Holtz Kraft-Core and Sizzix dies.
You may need to play with it a bit to make sure the end is on the back. Use your Glue Arts Square Adhesives to attach. They worked perfectly!
I used about the Adhesive Squares to attached the leaves…
I just love this piece of Kraft-Core. It is so soft and subtle and it just looked perfect on the spool. Again, use an adhesive Glue Square here….
And a close up of the leaves. They were embossed, then spritzed with some Tattered Angels Glimmer Mists and then sanded. To get them to stand up, I used the 3D UCut it squares.
We cannot wait to see what you create with Core'dinations Color Core Cardstock and Glue Arts!
Thank you Thank you for  a fantastic week. Please make sure you stop over at Glue Arts and give them a big shout out.
Come back Monday for some Canadian Thanksgiving ideas and some winners!