And onto the Wall!
Yes, you heard us right…today we have a fun project for you that takes Core'dinations off the page and will help you stay organized. It doesn't get any better than that, does it?
Design Team Member Char Dobson created this wipe board using  loads of Core, including one of my favorites, the Cosmo Cricket neutrals collection pack. The teal in this collection is such a gorgeous color and you can never have too many circles!
Don't forget your Sand It Gadget to get that perfect sanded look.  We hope you are inspired to take your Core off the page!
What a great way to stay organized AND it looks awesome, too!
Boy it just sneaks up on you, doesn't it?
AND so does the end of the month!
With that comes a close to our February Colour Lover's Challenge!
Don't forget to post your projects here or link on Facebook for the chance to win an awesome prize pack of Core!
Here is our inspiration piece found here on Pinterest:
And if you are on Pinterest make sure you follow Core'dinations!
And here is a layout from Design Team Member Debbie Standard:
Make sure you check out the awesome Cosmo Cricket Core Impressions, embossing and all that Gorgeous sanding!!!!!
WE are a bit early posting this but we thought since some people may be off due to the Holidays that you could get a jump start for January!
All entries are due by January 31st either link to this post or posted on Facebook. Please note:  due to CHA falling at this time, we may be delayed in posting a winner until the 2nd week in February.
Are you on Pinterest?  Make sure you follow us if you are. We loooooooooove pinning!
Today's layout is from Designer Ellen Sosnoski. I used Vintage Cardstock and Cosmo Cricket Core Impressions for this layout and lots of layering! Love love to layer as much Core as I possibly can!
The little hearts are a Cuttlbug die…I use this one all the time! And the flower is cut from some May Arts ribbon.
Remember you must use Core'dinations Cardstock on  your project. Cards, layouts…anything will do just make sure you use some Core and you know how we love techniques
Due by January 31st, 2012 link to THIS post or on our Facebook page.
We have some fun tips from Design Team Member Melissa Oliveira.
Even though these layouts have a summer theme to them doesn't mean you can't use these tips for any project.
First up Melissa stamped on her Whitewash for this journaling. If you have used our cardstock before, you know it gets a bit dusty  when you sand it. First up, you really should have a Sand it Gadget to make your sanding easy. After that, you want to use our Dust Buddy.
The Dust Buddy is a unique cloth that does many things, including cleaning the sanding residue so your adhesives can stick better. One additional thing it does is make your stamped images crisper and cleaner as seen on Melissa's layout here. If you sanded this Whitewash and didn't use a Dust Buddy,  the stamped imaged wouldn't be as great.  So make sure you tell your favorite Core'dinations Cardstock retailer to get some Dust Buddies. They go a long way, too!
And here is another example of a layout where Melissa stamped over some Graphic 45 Core Impressions. And of course, how cool are those torn waves in the Whitewash????
Goooood Wednesday Morning!
We are are here bringing you some Core'dinations and Glue Arts projects again today and all week long!

Make sure you head over to the Glue Arts blog for some awesome projects from their Design Team. They are also introducing a new product, Glue Glider Pro PLUS and they are doing 10 days of give-a-ways over there!!! And they have a GrEaT Facebook page, too, make sure you head over there as well for daily inspiration.
And, YES, we are giving away ANOTHER pack of Core for one lucky winner that posts here on the blog this week!!!
AND we want you to shout out how much you love Glue Arts & Core!!! Head over to the Glue Arts Facebook page and tell them what your FAVORITE Glue Arts Adhesive is and ONE lucky winner will win some Core goodies in addition to what we are giving away on the blog!!!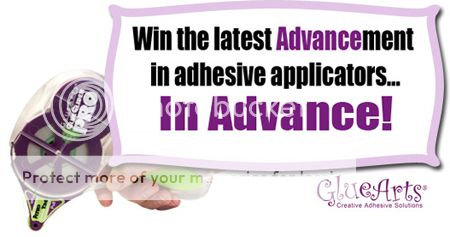 First up we have a layout from Design Team Member Melissa Oliveira featuring tons of Tim Holtz Adirondack, Pink Paislee core Impressions, Cosmo Cricket Core Impressions, Jenni Bowlin Whitewash along with Glue Arts Glue Glider Pro, Raisen's, U Cut It  3D Adhesive foam.
See the torn/ruffled cardstock?  You need a really great adhesive to make sure the Cosmo Cricket Core Impressions (pink ) will adhere to that ruffle and Glue Arts is perfect.
Next up we have a Design Team Member Debbie Standard with another layout. That Cosmo Cricket Woodgrain looks amazing as a background. Who needs patterned paper??   Debbie used the Glider Pro and the Adhesive Squares from Glue Arts. Must haves for any crafter!
GOOOOOOOOOOOOOOD Morning!
We have a project for you today featuring Paper Trunk goodies and Core'dinations Cardstock.
Make sure you head over to their blog for some more GREAT ideas and inspiration.
AND DON'T FORGET.. we are giving away some Cardstock to one lucky person. So leave a comment on any post you see with Paper Trunk (here at our blog) for a chance to win!!!  (Please note  prize will not be mailed until after the 12th of September due to us being at an event out of the country).
So today we have a fun layout from Design Team Member April Derrick. April uses bits and pieces of Paper Trunk patterned paper  to from this layout in addition to that super cool doodle frame.  Looks so cool against the sanded Tillie Cardstock from the NEW Spotted Collection! Make sure you check out all of the great colors. You cannot go wrong with the two great designs.