Good Morning!!! Tami Mayberry here with you today to share a new project I recently created for my home. I love this calendar because it can be used year after year and matches my decor perfectly. It's super easy to make. Keep reading to find out more!
Wood Block Calendar Supplies:
Darice Unfinished Wood Block Calendar
Fancy Pants Designs mini alphabet stickers
DecoArt Americana Decor Chalky Finish paint (rouge)
DecoArt Americana dark brown creme wax
Sizzix dies: Framelits Squares (#657565), Tim Holtz Block Talk Capital Alphabet (#658563)
Paint brushes
DecoArt Americana matte Decoupage glue
Instructions:
Step 1: Begin with wood block calendar set.
Step 2: Paint calendar base using chalky finish paint; set aside to dry.
Step 3: Find die that measures the same size as wooden blocks.
Step 4: Cut 12 squares from Core'dinations Tim Holtz Nostalgic Collection Kraft Core cardstock.
Step 5: Adhere squares to blocks using decoupage glue; sand using Core'dinations Sand-It Gadget.
*Tip: Core'dinations Tim Holtz Kraft Core Nostalgic Collection works great with wood products such as this. When sanded it gives a distressed look that matched perfectly.
Step  6: Die-cut two sets of numbers from Core'dinations Tim Holtz Nostalgic Collection Kraft Core  cardstock. Adhere to blocks and seal using decoupage medium. Note: One block should have the numbers 0,1,2,7,8,9 and the second block should have the numbers 1-6.
Step 7: Cut 3 pieces of Core'dinations Tim Holtz Nostalgic Collection Kraft Core cardstock the same width as month blocks. Wrap around block; adhere in place. Sand edges using Core'dinations Sand-It Gadget.  Attach alphabet stickers to spell all 12 months; sand as desired.
Step 8:  Coat painted base with creme wax according to mfg instructions.
Step 9: Reassemble calendar and there you have it!
If red/blue isn't your color of choice it can easily be changed to match any decor. You can also drill a small hole in the top and make it dual-use as a note/photo holder!!
~Tami
Well…as a cake topper!  Jill has some great birthday ideas for you today.
Hi everyone! Jill from Every Day is an Occasion back to share another project with you. Today I am sharing the cake topper I made for my son's birthday. He turned four this year. He loves cooking and baking, so we decided we would make the cake together. He picked out the kind of cake he wanted, the frosting, and of course what he wanted on top of the cake. This summer we have spent a lot of time at our lake cottage. He absolutely loves it up there. One of the highlights for him is to look at all the animals while we are on the pontoon boat. He especially loves it when we find turtles. So this year we decided a turtle themed cake would be fun.
Turtle Themed Birthday Cake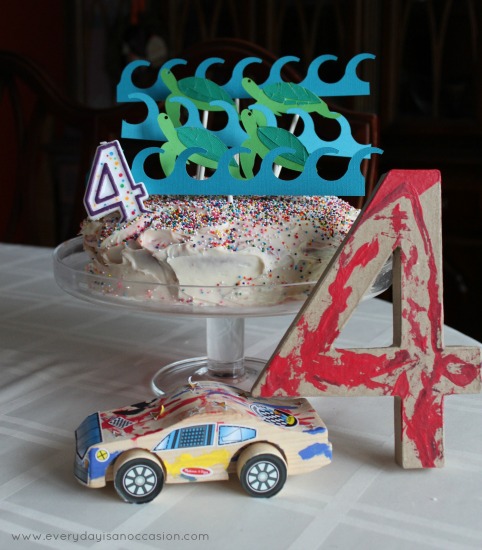 You may notice a random car in the picture…he painted that car and asked for it to be in the picturebecause he wanted to remember he painted that on his birthday.
I love Core'dinations Brights Paper Pack. I use it all.the.time! It is my second go to…my first go to favorite is Core'dinations white in the neutral pack…I know I'm weird! lol
Anyways, the turtles and waves were both made using the Brights pack. So go get yourself some and thank me later:)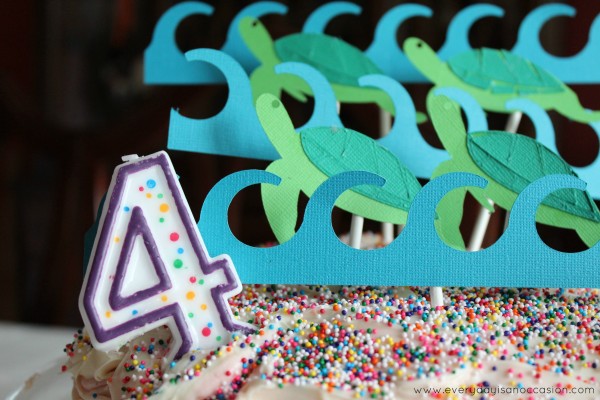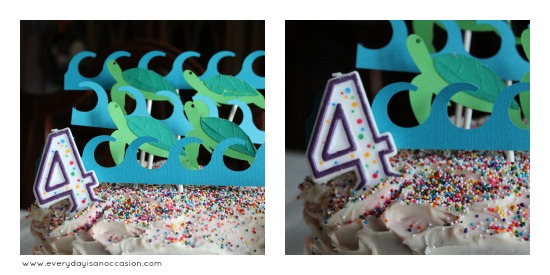 Next up I'm sharing a project I made for my mom. I keep making cards for her that she absolutely adores and doesn't want to throw away…this is where I blush and come up with a solution…..
Card Holder and Scalloped Card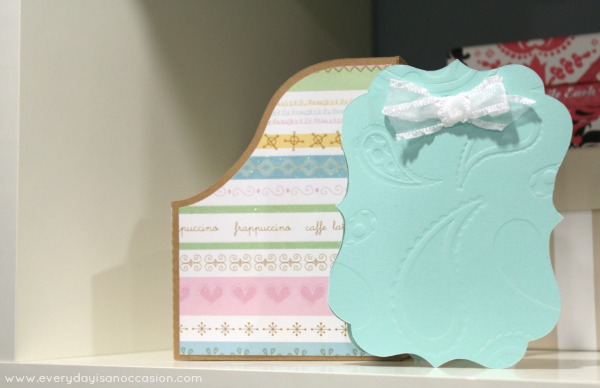 When I first got my Design Team box from Core'dinations, this SUPER CUTE Fancy Pants Core paper was inside. This paper was my mom's absolute favorite! I knew when her birthday rolled around, what I would be using to create her card! She doesn't like really fancy things. She is more of a clean and simple gal so I used the backside of the cardstock.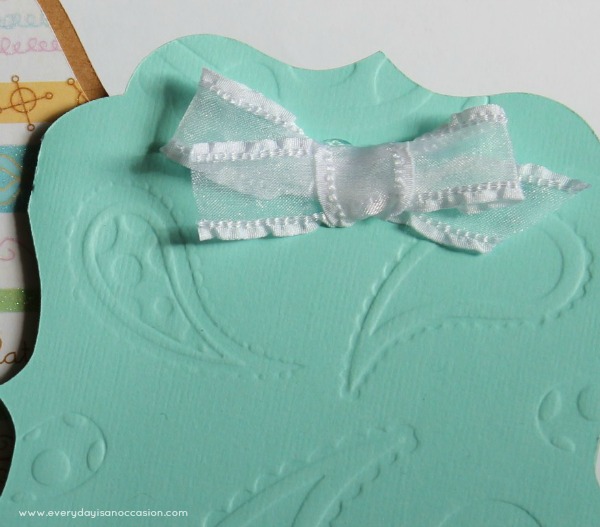 Then when she said she needed a place to put all the cards I was making her, the Tim Holtz Kraft Core paper stuck out to me because on one side it is a kraft color and on the other side it is colored. I think it is so perfect because no matter which side you look at the paper it is beautiful!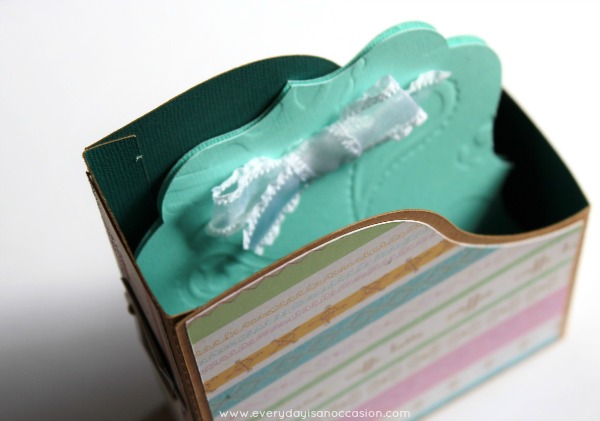 Materials
Card Base: Fancy Pants Coredinations paper
Ribbon: May Arts
Silhouette Cameo
Card Holder: Tim Holtz Kraft Core 
For more details on how I created these two projects, come visit me at Every Day is an Occasion.
Thanks for stopping by and checking out my project.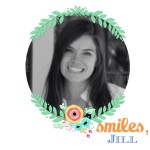 –
We have three gorgeous layouts from the amazing Debbie Standard!
Debbie creates the most amazing projects…so much detail and SO MUCH CORE!  She really demonstrates the entire concept of, ahem, not needing any patterned paper.  You can do it!
I love using the White Wash collection – there's just so many uses for it.  For my page here I  sanded over the entire sheet so some of the blue tones would come through and then up under the title area I put a piece of cloud chipboard and sanded over it in several different places to simulate the sky and clouds in that area of my page.  Then I had two small embossing folders and I used some of the bright cardstock which perfectly matched the little dress and embossed and sanded two small squares.  I then used the same paper and scored it around the area of my embossed piece to create little frames.  To make the embossed piece stand out I backed it with white.  The leaves were all created on my Silhouette machine.  As long as you can run these through your Xyron you can sand these delicate pieces before taking them off the backing and applying them to your page.  The flowers are all cut with Spellbinder's Dies.  Then I  lightly sanded them – you have to be really careful doing this as they are delicate – I find it works best to put my finger in the middle of the flower and then lightly sand the edges of the petals.  The larger the flower the easier it is to sand.  Then I rolled the petals over my paper piercer and sprayed them with some Maya Road mist.  I continued to encourage the edges to curl after misting.  After they were dry I added some My Mind's Eye brads.  This adorable little subject is my sister's bff's granddaughter, Bridgette.
Supply List:
Whitewash cardstock
Core Brights
Sand it Gadget
Dust Buddy
Cuttlebug
Silhouette Cameo
Spellbinders Dies – Rose Creations
Embossing Folders:  Sizzix, Cuttlebug
Xyron
My Mind's Eye Brads
Scor it
D'eja Views Clear Word Stickers
I just love the dotted collection – both of them – one has larger dots and one smaller.  It even comes in the 6 X 6 too!  For this I started with a sheet of the blue in the Jillian collection.  First I scored a frame around the entire sheet and then I sanded only inside my frame.  Then I cut a piece from the Tillie collection in a lighter shade of blue and attached it to top of my page.  I then used a sheet of Core Impressions Fancy Pants collection which I sanded and then just cut out the frame from.  I made my clouds using a die cut and then cutting it from a sheet of White Wash – these make the best clouds – you can sand them letting the blue come through and they really look like clouds!  Then using some of the smooth tags I used one for my title tying a May Arts ribbon around it and another for my journaling.  The adorable little subject is my daughter's bff's baby – so love that she got these monthly stickers so she can record a picture every month for me!
Supply List:
WhiteWash Collection
Jillian Dots Collection
Tillie Dots Collection
Core Pastels collection
Core Impressions Fancy Pants collection
Core Smooth tags
Sand It Gadget
Dust Buddy
Martha Stewart Punch
Tags:  October Afternoon, My Mind's Eye
Chipboard:  Basic Grey
Hellicopter:  Best Creations
D'eja Views Clear Word Stickers
Ribbon:  May Arts

I saw this wedding photo and immediately knew I would be jumping into my Core Amour collection for this one.  I also used some of the Core Pastels which were the colors of her wedding.  This particular Amour sheet only requires that you sand across the works.  Then I misted it.  I used my  Silhouette to cut some swirls which I layered down the side of the page.  I then used a Martha Stewart punch and placed a small pink ribbon over it.  The photo itself I first matted with black, then with pink and then which yellow white I tore around .  The flowers and butterfly all came from die cuts which I cut, sanded and then sprayed with Maya Road spray.  I let them dry and then put them together and attached to my page.  I added some little tiny die cut tags and some prima leaves.  
Supply List:
Core Onyx Amour Collection
Core Pastels collection
Spellbinder's Rose Creations Die, and tags CD003
My Mind's Eye Brads
Maya Road Mist
D'eja Views Clear Word Stickers
Sand It Gadget
Dust Buddy
Silhouette Cameo
Xyron
Ribbon:  Stash
Envelope:  Stash
Bling:  Queen & Co.
Leaves:  Prima
Before we get started today we have a quick update on the Northrige winners. They have been picked and emails will go out shortly! So  stay close to your inbox and we will post names soon, too.
Today we have a layout from Designer Debbie Standard featuring some Core Amour.  Sand the white wash and the black core comes through…it's so cool! Debbie accented it with blues and yellows from the Spotted Collection. Love that pop of color, don't you?
And how about pairing that Spotted Cardstock with some Fancy Pants Core Impressions? Mixing and matching our different collections is so much fun!  Add some of your own embossing like Debbie did here with the Whitewash strip and who needs patterned paper?
Card Design Team call update:  We are still narrowing down entries.  We are HOPING to have a decision by the end of the week.
This is not an easy process and something we don't take lightly so we appreciate your patience!
It is going to be GREAT! We always have such a GREAT time doing our cross promotions!
So here is a little taste of some of the Petaloo flowers created specifically to match our papers!!! How much do you love the fact that you have everything that will core'dinate at your finger tips?  It makes creating easy AND beautiful!
Melissa used a bunch of Scrapbook Adhesives by 3L on this layout, too!  She used the Dodz to adhere the flowers (once these guys go down they aren't going anywhere!) and some of the 3D foam adhesive for the hand cut flowers that she alternated with the Petaloo flowers. Did you know those hand cut flowers are from our Jillibean Soup Core Impressions pack? Melissa also used some Vintage cardstock (green) and Fancy Pants Core Impressions (yellow) and Core Essentials (pink).
Here is a close up of the Whitewash hearts and the 3d Foam adhesive on the flowers.
Can you believe we are in August already?!
For a lot of us, it is Summer and it's winding down quickly!
Today we have some fun, summery layouts from Design Team Member Debbie Standard featuring some BasicGrey Core Impressions (green) and some Vintage Cardstock for the background.
Debbie used some more BasicGrey Core Impressions on this layout in addtion to some Fancy Pants Core Impressions.
Don't be afraid to mix and match your Core Impressions for some great contrasting prints.  It's just like patterned paper! Add some bits and pieces of Jillibean Soup, Bella Blvd, May Arts Ribbon, Spellbinder's Dies and you have a fun, summer layout.
Oh and there is that Cloud Embossing folder from Darice! We are loving that one
Don't forget about our CARD DESIGN TEAM CALL!!!!!!!!!!!!!!!