Yipppppeeeeee!
It's Friday today and we have some fun finds for you today.
~~~~~~~~~~~~~~~~~~~~~~~~~~~~~~~~~~~~~~~~~~~~~~~~~~~~~
First up is a layout from  Sheri Twing's , well, speaking of FIRSTS…this is  FIRST time Sheri used Core'dinations! Can you believe that? The thing that caught our eye about this layout is the subtle sanding on the Black Magic in the upper left hand corner and the complimentary spritzing down at the bottom. The two different techniques play so well off of each other, don't you think?
Thanks, Sheri!!!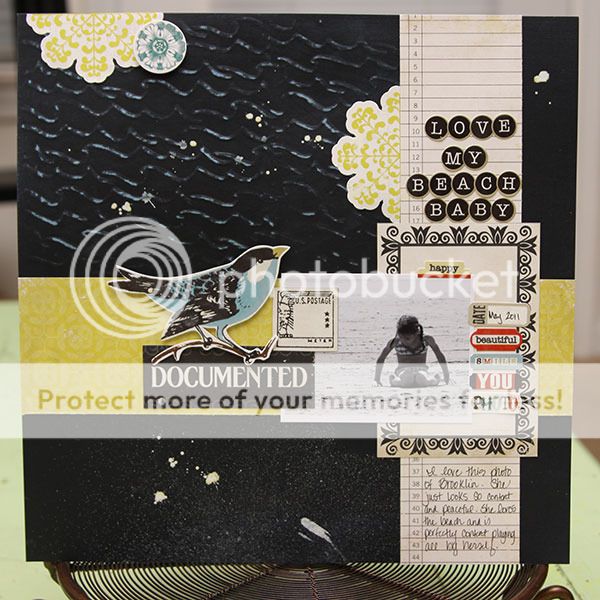 Other supplies used:
Mr. Huey's spritz, Echo Park for the Record.
~~~~~~~~~~~~~~~~~~~~~~~~~~~~~~~~~~~~~~~~~~~~~~~~~~~~~~~~~~~
And next up is a fun layout from Amy Teets from their first snow. How cool is it that she turned the Cosmo Cricket Woodgrain Core Impressions on it's side! Such an awesome look and so simple!
Thanks, Amy!!!
And a close up of  that FABuLous woodgrain!
Other Supplies used:
Creative Imaginations- Beloved by IOD, The Robins Nest silver dew drops, Magistical Memories- Nesting Circles chipboard, Sew Easy- Misty Morn, Elle's Studio- Vintage Winter Flashcard, Jenni Bowlin- Vintage Style buttons, Helmar Adhesive Runner, 450 Adhesive and Zapdots.
What could be better than Spring? Today we have a few projects from our Design Team that celebrate the joys of being outdoors as we enjoy this beautiful weather.
But before we get started….just a friendly reminder that….
TOMORROW IS THE LAST DAY FOR DESIGN TEAM SUBMISSION! YOU HAVE UNTIL 4 PM EST TO GET THEM IN. CLICK HERE FOR MORE DETAILS.
First up we have the cutest layout from Design Team Member Heather Bowser. From the clouds to the stitched raindrops…it doesn't get much cuter than this!   And it's ALL cardstock! Heather mixed and matched FOUR different kinds of Core:  Core Couture, Pearls, Core Essentials, and Stacy Julian Core Impressions on this layout.
And next up is a layout from Design Team Member Kandis Smith using Core Essentials and Cosmo Cricket Core Impressions.
How great does that stamp look on the Core Impressions woodgrain?
It's Glitter Silk!   Have you seen our NEW Glitter Silk paper that debuted at CHA this winter?  It is awesome!!! If you haven't asked your favorite retailer to get, you should!
It is smooth like silk….meaning it cuts like butter. NO tearing in your paper trimmer, NO destroying your favorite scissors. Smooth as SILK!
AND it looks gorgeous paired with our other shimmery paper lines like Gemstones and Core Couture as seen in this layout by Design Team Member Heather Bowser. Notice she cut hers with a die cut machine?
Other Core'dinations used on this layout: Stacy Julian Core Impressions and Core Essentials.
And Glitter Silk is paired with some more Core Couture and Core Essentials on a card by Design Team Member Ellen Sosnoski:
Preferred Partner Supplies: Spellbinders, Sizzix and Fiskars.
Have a GREAT week!
Are you ready for some Maya Road and Core'dinations inspiration???  WE ARE! If you have been to one of our Blog Swaps before than sit back, relax, grab some coffee and be inspired!
If this is your first time here, the rules are simple. There aren't any! We just give you as much inspiration in one week as we possibly can using our favorite cardstock, Core'dinations and  lots of Maya Road goodies…chipboard, rubons, mists, mini albums and more! And don't forget to leave comments ALL WEEK LONG for the chance to win a Core'dinations Prize Pack.  And you may see some more inspiration (and chances to win ;)) over on our Facebook page.
Make  sure you head over to the Maya Road blog for some more AmaZing Inspiration this week, too!
So…..are you ready????   To kick off this week, we have an awesome mini book from Design Team Member Lydia Jackson using Core Essentials, Chocolate Box and Whitewash Core'dinations Cardstock.  Can you guess how many Maya Road goodies are in this album???
Remember this Tutorial for making Core'sages?
Other Supplies used: Jillibean Soup, Helmar Adhesives, Fiskars.
Don't forget to leave a comment here by Friday, March 18th to be entered to win one of our AwEsoME prize packages!!!  See you tomorrow for some more Maya Road inspiration.
Good Morning Everyone! It is gearing up to be a terrific Tuesday, isn't it?  We are gearing up for some more snow here on the East Coast. What does the weather look like in your area? I know when we get ready for a snow storm in our household we stock up on hot chocolate, pizza and adhesive!
So today we have a few things to share with you…FIRST is our winner from last week's Helmar Blog Swap. We hope you guys had fun, we sure did AND rumor has it we will be doing it again.
We had over 400  posts from last week so THANK YOU THANK YOU THANK YOU! Our random winner for the Core'dinations cardstock goodies is from the first day of our the blog swap………….
Tracey says:
Beautiful card Cari. It is a good card to start the week. The red envelope is great as well. The Couture cardstock is so pretty.
CONGRATULATIONS!!!
With that announcement and the pending snow looming over us here on the East Coast, we have a beautiful card from Melissa Oliveira. Remember Day 8 of the 12 Days of Techniques featuring how to use your label maker?  (Don't forget to check out the video if you missed it) .  Love the combination of Core Essentials and Whitewash on this card!
And a close-up:
Other supplies:
Embossing by Provocraft, Queen & Co. Pearls.
We had a great week of Helmar and Core'dinations Teaming up for some fabulous inspiration!!!!  Make sure you head over to their blog, too. The Helmar blog is jam packed with inspiration this week!!! We are by no means done featuring projects using these great adhesives so make sure you stop by for more in the future. AND today is the LAST day to comment to win some of our fabulous cardstock. You can comment every day for more chances to win.
AND they have an awesome  Facebook Page . P.S. tell them thanks for a fabulous week!  AND CHECK  IT OUT!!! HELMAR IS OFFERING A CHANCE TO WIN, TOO!!!
Today is our grande finale…it's kinda like a fireworks show. So keep scrolling for some awesome designs using Core'dinations and Helmar Adhesives!  Can you tell our Design team likes the Zap Dots from Helmar? If you haven't used them YOU MUST! They should be a staple in every crafter's collection.
We will start off from a gorgeous layout from Design Team member Cari Locken featuring an awesome mix of our different collections. She included the Core Amour Onyx Collection, Cosmo Cricket Core Impressions, Vintage and Core Jenni Bowlin Impressions.
Here is a close-up of how Cari cut the Jenni Bowlin letters from the alpha cardstock and raised them with the Helmar Zap dots:
Next up Design team member Sarah Hodginkson has some super cute invites with Helmar Zap dots, tape runner and SRM STickers and Core Essentials Cardstock:
A super cool layout from Design Team Member Hera Frei (even thought it's about getting stuck in a Hurricane!). Hera adhered the clouds in various layers with Helmar Zap dots and used her Helmar Tape Runner. Also Hera used the  Core Impressions for the clouds. SO easy…just punch them out and they are embossed and ready to go!
And a card from Design Team member Ellen Sosnoski using some, yep! You guessed it…Helmar Zap dots on the sentiment and 450 Quick Dry Adhesive for the tag and ribbon (also a mix of Vintage Cardstock and Jenni Bowlin Core Impressions):
We will choose a random winner from all the comments this weekend. Thanks so much!