Today we have some  projects our team created with their kids! Crafting is so much fun especially when you can do it with your kids.
First up we have Designer Heather Ann Kaesgan. She made a some wall art with her son. Her son just LOVED the doggie accents with the Imaginisce Good Dog line. He sanded the canvas using his Sand it Gadget after gluing down some Vintage Cardstock…PS KIDS LOVE OUR SAND IT GADGET! It is easy for them to hold onto and, of course, sanding is so much fun! And when they clean off the paper with the Dust Buddy it's like magic!
~~~~~~~~~~~~~~~~~~~~~~~~~~~~~~~~~~~~~~~~~
Next we have Jill Lebbin…..
Hello Everyone! Jill from Every Day is an Occasion back with another project for you!   Today I have a Hot Air Balloon Card. We gave this card to my sweet cousin, who turned 17 this year. I have to tell you, I cannot take complete credit for this card. My son actually assisted me in making this card. He helped pick out the colors, stamp the background, and use the hot air balloon dies. He is such a big helper!
Hot Air Balloon Birthday Card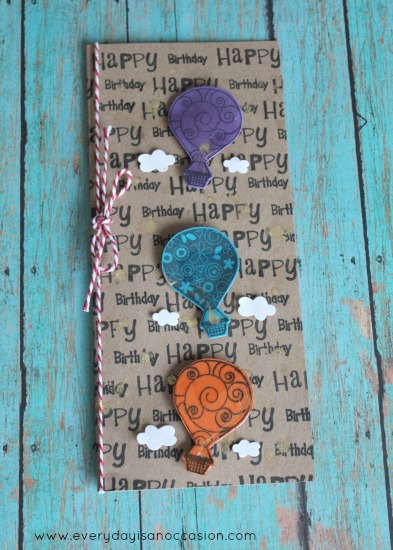 For this card I used Tim Holtz Kraft  Core, Brights Pack, and Neutral Pack of Core'dinations paper. Like I always say, the brights and white are my go to paper packs. I am very impressed with the way that they take stamps. I even put glossy accents on top of the balloons that I had popped up with foam adhesive. The paper held up very well. It did not tear. I sprayed some Colorshine on the paper too, just to give it extra excitement.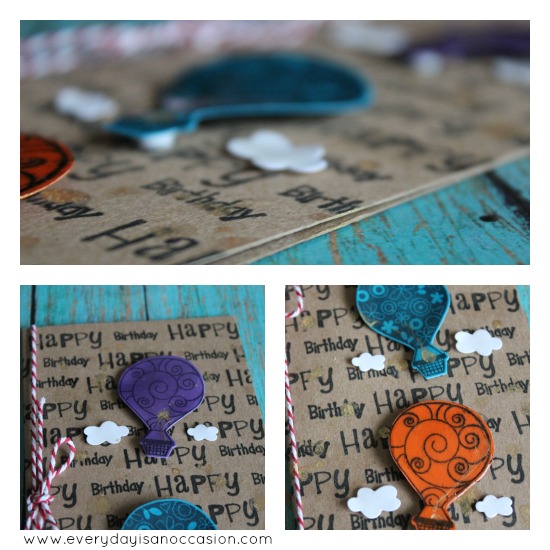 Thanks for stopping by today and checking out my..I mean..my son's and my hot air balloon card!
Have a SUPER fun day!!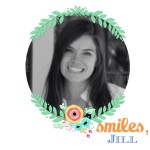 What else could you possible need?  Tracy Gruber is working colors, patterns and so much more today!
First up a very fun and festive card…but keep scrolling down…there's a great layout, too!
I love to find new techniques to use with my Core!  For this card, I used a Studio Calico mask and put it behind my piece of Core card stock.  I then sanded with the Sand It Gadget until the design started to show.  Pretty cool, huh?  Then, I cut some stars and then added the  white shape with the Paper Smooches sentiment. Next up some May Arts ribbon and Imaginisce Glam Rocks finish off this card perfeclty!
Supplies:
-May Arts Ribbon
-Imaginisce Glam Rocks and I-Rock
-Paper Smooches Word Salad
-Tuxedo Black Memento Ink
-Spellbinder's Label 4 die
-Memory Box Cosmic Star Set
-Studio Calico Mask
~~~~~~~~~~~~~~~~~~~~~~~~~~~~~~~~~~
The best part about scrapping with Core'dinations card stock is the ability to use different techniques to create unique layouts.  On the dark pink base, I simply used the Sand It Gadget to sand three different areas for a distress look.  It adds a different element to your layout that is really easy to do!  I then used a piece of light pink Spotted Tillie Dot and sanded it to make the polka dots "pop."  The last technique I used was crumpling up a piece of White Wash card stock, flattening it out, and then sanding it.  This allows the Sand It Gadget to hit the creased spots and the background color to show through.
Supplies:
-Studio Calico Star Wood Veneers
-May Arts Ribbon
-Sand It Gadget
-Dust Buddy
-Jillibean Soup "hello" sticker
-My Mind's Eye chipboard stickers
-The Twinery twine
-Xyron Mega Runner
Today we have some projects from Designer Mary Pat Siehl for all those back to school ideas!
School is starting for us this month and due to the fact that I am a teacher I am always working on my son's first day of school.  Since I am not there when he wakes up I always put a little something special on the breakfast table for him.  This year I made a card for his first day of school using the amazing Core cardstock.  I used my silhouette to cut out the apple parts.  For my cardstock I used the Brights collection and the Tim Holtz Adirondak collection.  For my base I used Snowflake.  I cut the apple out twice and glued it together to form the actual card.  After cutting out the apple pieces I embossed them using a variety of embossing folders.  I then lightly sanded them to expose the inner core!  Next, I used a smooth Core Tag and cut it down just a bit and stamped my sentiment and tied on the stem using some yummy twine.  Finally I added some bling to make it looks like some apple seeds.  I think my son is going to love this!
Supplies:
twine- the stringery
stamps- Paper Trey ink
ink- Hero arts, Jenni Bowlin
bling- Hero Arts
~~~~~~~~~~~~~~~~~~~~~~~
And speaking of school projects. Mary Pat creates these large envelope layouts for all of her kids school years. How cool is that?  It's a great way to store their report cards, schedules, and all the other things that they get throughout the year that they might want to save and have to look back on one day.
To see the video on how to create this check out our Facebook Page HERE! Or on her YouTube page…it's awesome!
Sorry I am a little late today, the flu bug has hit our home and today hasn't been so much fun. Thank goodness it's today and not next week when our kids go back to school.
So what is on the agenda for today?  First we have a giveaway!!! Does that word ever get old? LOL! May Arts, our absolutely go to ribbon around here, is celebrating so check out how to win HERE!
Next up we have Designer Kim Moreno with a  ffew gorgeous gorgeous gorgeous layouts!
To create the hearts in the background of my layout I placed a chipboard heart behind my cardstock and slightly sanded over the top making sure to get the edges well so the heart would show clearly (the outlining technique).
I the layered the pre-embossed Spotted purple cardstock and the cuttlebug embossed grey paper to create my layout. I added white spotted cardstock and instead of inking the raised dots I simply rubbed them along the black cardstock and it picked up the "leftover" dust and colored the white spotted cardstock nicely. 
I then added my stickers and embellishments to complete my layout!
Supplies:
Cardstock: Core'dinations (Spotted- Forge me not, BlackMagic- protect, Core Essentials- Argos, Snowflake)
Chipboard: Heidi Swapp (arrows), American Crafts (letters), Magistical Memories (heart used to sand)
Stickers: Jillibean Soup
Flowers: Creative Charms
Jewels: Queen & Co
Washi Tape: K&Co (black dot), scroll (unknown)
Cuttlebug machine and embossing folders.
~~~~~~~~~~~~~~~~~~~~~~
Summer Lovin' layout using loads and loads of Imaginisce goodies!
And a close up:
Using my scorpal I embossed the lines around the edge of my layout to frame the whole layout I then sanded the lines and the edge of my paper rather roughly tearing some of the edges to reveal the color core of the cardstock. I backed my photo in patterened paper and vintage cardstock tearing along the bottom to reveal the core. I also traced on the back of the vintage yellow cardstock and tore the pieces of the sunshine out and sanded the edges slightly to create the sunshine piece.
Supplies:
Cardstock: Core'dinations (Autumn & Lemonade- Vintage Collection), (Nassau Blue, Snowflake, & Sutter Butter- Core Essentials collection)
Patterned paper/ sticker/ die cuts: Imaginisce
Adhesive: Zapdots by Helmar
Tool: ScorPal
Anyone up for some winners????????
First up let me show you this awesome pool party that Heather Kaegsen put together using loads of Core and Imaginisce goodies! How stinkin' cute is this??? That is one party I want to go to for sure!
We sure are!  We have a big list for you today because we have our week with Imaginisce Winner and our 10k Likes Facebook Celebration Winnners!  If you don't like us on Facebook you should. We do fun stuff over there, too!
So first up…our random winner from this week with Imaginisce is…..
Christi Conley said…
Never really thought I "needed" an I-Rock – now I know I need it – I have never seen the raindrops
Christi, email Ellen_Sosnoski@coredinations.com with your name, address, country and phone number with "Imaginisce Winner" in the subject line.
and make sure you head over to the Imaginisce blog to see who won their giveaway.
~~~~~~~~~~~~~~~~~~~~~~~~~~~~~
Next up is our list of winners for the $100 prize packs of Core, Cardmaps Vol. 3, May Arts Ribbon, Xyron goodies AND Stampendous stamp set.  PLEASE check your in box and junk mail if you see your name below. Please note that we are sending to the email you used to enter.  Winners have 7 days to respond with their information. If we don't hear from you we will pick other winners. Prizes will be sent once we hear from all the winners so please allow three to four weeks for processing and delivery.
Emails were successfully delivered so they should be in your inbox or check your junk folder. The subject line reads, " Congratulations! You've won a $100 Prize Pack from Core'dinations!" Please follow the directions in the email carefully.
We are updating the list as we go…the names in RED we still need to hear from so if you know them let us know!
Donna L. United States
Terri  M. United States
Colleen F. United States
Kathy G. Canada
Angel C. United States
 Janet C. United States
Sylvia S.  United States
 Diana F. United States
Cheryl D. Canada
 Susie H. United States
Today is the last day for hopping. We will pick winners tomorrow so make sure you make your rounds today!
 Our team had so much fun we have an extra layout for you from Designer Shaunte Wadley. I think Imaginisce goes with every single Core collection!
We sure you hope you had fun this week and learned some great tips for your Core and Imaginsice stashes.   Here is today's list. Make sure you hit all  of them for more chances to WIN!
Today's List:
Core Designers:
Clare Buswell 
Gail Linder 
Jennifer Edwardson 
Imaginisce Designers
Adora Concepcion
Sara Zenger 
Suzanna Lee 
hmmmm….you might see this along the way!
Did someone say prizes?  Look what is up for grabs? We will be posting winners on Friday!
From Imaginisce:
If you missed yesterday here you go:
Core Designers:
Ellen Sosnoski
Kim Moreno
Jill Lebbin
Imaginisce Designers:
Fleur Smith
Marcia Dehn-Nix
Apryl Holland
Mary Pat Siehl