One of the great things about Core is that you can mix and match ALL of our lines together SEAMLESSLY!  This first card by Designer Suzanna Lee mixes Core'dinations lines and the David Tutera Celebrate layers to make the CUTEST card! Please, two different sized googley eyes?  How ca-ute is that?!???!?!
Here are some tidbits from Suzanna regarding these projects:
One of the many amazing things about Coredinations is the texture you can create.The embossability of Core made it possible to create a whole beach scene; the waves below from Glitter Silk, the sunny sky from David Tutera layers and the clouds from good ol Snowflake. The Glitter Silk creates a lovely glimmer of sun reflecting off the waves! I prefer to stamp on a solid cardstock and find that the tags are the perfect size for that very purpose.
Supply List:
Coredinations Nightfall cardstock
Coredinations Glitter Silk 6×6 pad
David Tutera Celebrate A2/A6 Layers
Embossing Folder: Darice
Stamps: Rubbersoul, Papertrey Ink, EK Success
Ink: StazOn
Punches: Fiskars
Twine: The Twinery
~~~~~~~~~~~~~~~~~~~~~~~~~~~~~~
And next up a black and yellow card…one of my FAVE color combos!!! AND the Darice honeycomb/hexagon embosing folder is too perfect for this theme.
This card is inspired by the bee stamp. Browsing the aisles of the store, this stamp caught my eye and screamed, take me home with you! (Ever have that happen to you?!). Emboss some Core for a subtle hive for her to buzz around and you have an adorable card!
Supply List:
Nightfall cardstock
CoreCards – Brights
Core Essentials – Dark
Sand it Gadget
Dust Buddy
Embossing Folder: Darice
Stamp: Recollections
Ink: VersaFine
Font: AltlastGreeting
Ribbon: May Arts
Vellum: PaperSource
Twine: The Twinery
~~~~~~~~~~~~~~~~~~~~~~~~~~~~~~~~~
And a layout using some super cool techniques! Paper tearing…inking the Spotted Cardstock..Suzanna really works it here!
One of the tag lines for Core-dinations is Tear it and that's what I challenged myself to do with this layout. I have a tearing phobia… I like things nice and neat and clean. There is nothing neat about tearing… I get in a quiet panic just at the thought of tearing. Sound familiar? Well, take a deep breath and do as I did, remind yourself that you have a thousand more pieces of paper in your stash and it's okay of you "mess it up". Though if you think about it, you can't really mess it up. Tearing is tearing and it's supposed to look that way! Right? Another nifty little thing I did with this layout is paint. Actually I used a brayer to roll paint onto the Spotted Jillian dot for a multi-color effect. Amazing what you can do with Core!!!
Here is  close up of that inking on the white Spotted Cardstock!
And some lovely embossing details….
Supply List:
Spotted Jillian Dot
Tim Holtz/Ranger Distress
Whitewash
Core Impressions; Basic Grey Whimsy
Core Impressions; Cardinal Buttercup
Core Tag Pastel
Core Essentials Pastel
Core Impressions Mini's; My Mind's Eye Lost & Found Labels Collection
Sand it Gadget
Dust Buddy
Embossing Folder: Cuttlebug
Die: Memory Box
Twine: The Twinery
Chipboard, Stickers and Washi: My Mind's Eye
Decorative Bag: Fancy Pants
Punches: Martha Stewart/EK Success
Letter Stickers: American Crafts
Hope you are ready for a GREAT weekend! Today we have some great layouts from Designer Mary Pat Siehl.  Here is a littl bit about these projects from Mary herself.
I love trying new techniques and Core Cardstock is just so perfect for everything. I love how it handles the different types of medium. For my project I first sanded the Spotted Cardstock. I then applied a light amount of paint. I then tore the cardstock to expose the Core. I then cut several embellishments using my Silhouette out of the Core and I lightly sanded them. ( I don't know about you but I love making my own embellies!). Finally I added some of the new Smooth Core Tags. I am really addicted them right now!
Supply list:
Cardstock- Tim Hotlz Distress Collection, Spotted 12×12
Tags- Core Smooth Tags
paper- Fancy Pants
Die Cut Tags- Elle's Studio
wood veneer- freckled fawn
Misc. Paint
Sewing Machine
Silhouette
Sand It
Dust Buddy
And another layout working that Cosmo Cricket Core Impressions….
One of the things I love about Core Cardstock is that no matter what type of  Core cardstock you are using they all work together so nicely.  In this layout I used some of the Core Impressions mixed with some Core that I embossed myself.  I love how it looks all sanded.  The cardstock is so perfect for the base and main focus of your layout!
 Supply list:
paper- American Crafts, Elle's Studio
Vellum – American Crafts
flair- a flair for buttons
twine- the stringery
wood veneer- studio calico and freckled fawn
alphabet stickers- jillibean soup and Glitz
Silhouette
Embossing folder- cuttlebug
Sand it
Dust Buddy
Card Design Team call update:  We are still narrowing down entries.  We are HOPING to have a decision by the end of the week.
This is not an easy process and something we don't take lightly so we appreciate your patience!
It is going to be GREAT! We always have such a GREAT time doing our cross promotions!
So here is a little taste of some of the Petaloo flowers created specifically to match our papers!!! How much do you love the fact that you have everything that will core'dinate at your finger tips?  It makes creating easy AND beautiful!
Melissa used a bunch of Scrapbook Adhesives by 3L on this layout, too!  She used the Dodz to adhere the flowers (once these guys go down they aren't going anywhere!) and some of the 3D foam adhesive for the hand cut flowers that she alternated with the Petaloo flowers. Did you know those hand cut flowers are from our Jillibean Soup Core Impressions pack? Melissa also used some Vintage cardstock (green) and Fancy Pants Core Impressions (yellow) and Core Essentials (pink).
Here is a close up of the Whitewash hearts and the 3d Foam adhesive on the flowers.
Can you believe we are in August already?!
For a lot of us, it is Summer and it's winding down quickly!
Today we have some fun, summery layouts from Design Team Member Debbie Standard featuring some BasicGrey Core Impressions (green) and some Vintage Cardstock for the background.
Debbie used some more BasicGrey Core Impressions on this layout in addtion to some Fancy Pants Core Impressions.
Don't be afraid to mix and match your Core Impressions for some great contrasting prints.  It's just like patterned paper! Add some bits and pieces of Jillibean Soup, Bella Blvd, May Arts Ribbon, Spellbinder's Dies and you have a fun, summer layout.
Oh and there is that Cloud Embossing folder from Darice! We are loving that one
Don't forget about our CARD DESIGN TEAM CALL!!!!!!!!!!!!!!!
So I hope you have loads of good things to do this weekend! And if  you are crafting, I hope it's gonna be with some Core.
Need some inspiration?  Don't forget about our Hard Core Crafter program! We just loaded some new videos just in time for the weekend for you to get crafty. Join or Login in here. You don't want to miss out on exclusive videos AND giveaways!!!
Today we have some super cute mini's from Design Team Member Leica Forrest. using some Jillibean Soup Core Impressions.
The Jenni Bowlin Mini Calendar papers are the perfect fit for the front page of this album, don't you think???
SHE SCORS!
Well…not the scoring you might see at a football game…but the FUN kind of SCORING! We highlighted scoring yesterday on the blog and I just happen to come across a few more amazing examples of how to SCOR with CORE
We love love to scor here at Core. If you haven't scor'd before than PLEASE check out our Technique Videos here. LOADS of inspiration and REMEMBER to scor from the BACK of your Core so when you sand the front with your Sand It Gadget, that gorgeous core shines through.
First up we have a layout from Design Team Member Lydia Jackson. Lydia created her own design here just by scoring! You can create a patchwork design like this and the outline around the layout to frame it, too. SO easy yet SO much impact.
Lydia used Tim Holtz Kraft Core as her base and some Core Essentials and added some great details from Jillibean Soup.
And design Team Member Melissa Oliveira used this month's Colour Lover's Inspiration palette for this layout. See how Melissa used scoring to frame the layers of the layout? Gorgeous gorgeous! I cannot  tell you how easy this technique is and how much impact it can have on your layouts with Core'dinatons Colorcore Cardstock!
Here is a little about scoring from Melissa, "Scoring is my favorite way to add some extra visual interest without added bulk or additional layers."  I AGREE, do you?
And Melissa used her Petaloo flowers that match Core PERFECTLY!!!!!!!!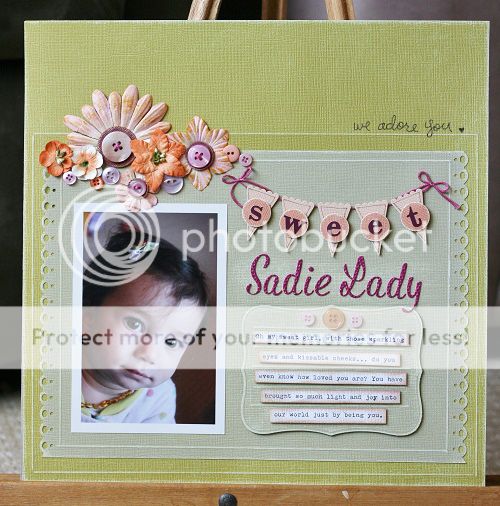 And a Spellbinder's Die for the shape…