Today we have some more Peachy Keen Colour Challenge inspiration for you!
If you haven't seen the July Challenge make sure you check it out here. You have until July 27th to enter for the chance to win some fabulous Core goodies!  Make sure you link us up on that post or link us on Facebook.
All you need to do is use this color palette as your inspiration. Again, there are more deets on the original post….
Design Team Member Brianne Nevill shares this fun layout with us today.  You have to check out all of the fun details.
The misting….the covered frames with the Core Essentials….the strip of Jillibean Soup Core Impressions along the left side of the page (p.s. it's the perfect match for this challenge!!!!)  and …. how cool does Core'dinations Cardstock look with some mists?????
And some close ups????  YES PLEASE!
Here is one of the frames covered in cardstock and the Core Essentials covered in mists:
YES! I said Winner(s)!
We couldn't pick just one so we picked TWO!!!
First up is Irit Shalom. Irit submitted two fabulous entries with some fun journaling and cool techniques and here they are:
Some awesome Basic Grey Core Impressions on this layout. Love it paired with all of the vertical strips of cardstock and ribbon. AND, yes! We would love to go to that Cherry Festival! Sounds amazing.
Love love all the Jillibean Soup Core Impressions on this layout and how Irit sanded the "18" with the Core Impressions. And those layered journaling spots are the best!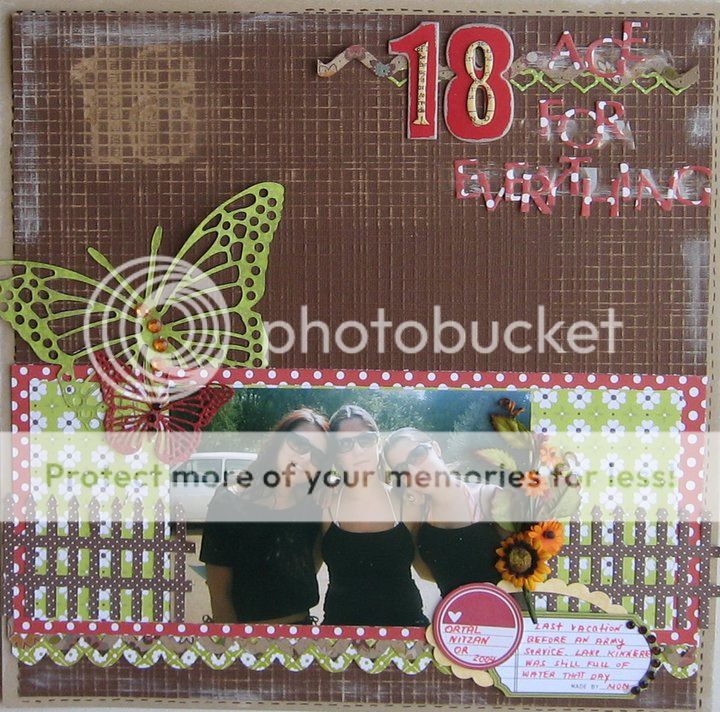 And Sherry Coogan submitted this layout where she etched in the embossed woodgrain on the Chocolate Box like a REAL Tree!!!!
Such a cool idea!!!
Make sure you check out how Sherry mixed handwriting with tiny alphas for her journaling.
Thank you thank you so much for all the entries!!! We will be doing challenges every month so stay tuned for the 1st of July for details for the July challenge.
Winners can you please email your address and phone number (for international entries) to  ellen_sosnoski@coredinations.com.
Have a GREAT week!
This week we are celebrating Fathers and Family here on the blog!
We are kicking it off with two layouts from Debbie Standard. Debbie packs her layouts FULL of  amazing details so grab your coffee and be ready to get inspired!
For this first layout, Debbie sanded a sheet of My Mind's Eye Core Impressions.  It looks beautiful with the bright blue embossed Core Essentials.  And check out the fun details from the 4×6″ mini My Mind's Eye collection pack!  They go perfectly together. And of course those fun photos of the kids playing around  with their Dad. They just make you smile!
Next up, Debbie shares with us another layout about family. For this layout Debbie scored her Whitewash background . Such an easy and quick way to make your own background!
The flowers are stamped. All you need to do is turn your Core'dinations over and stamp on the backside for a nice, smooth finish.
AND…yes, there is more!  Debbie printed her clouds from her computer using a digital image directly on some Whitewash and the sanded.
We are! Here are some Fabulous Friday Finds from the Design Team to get you inspired and create this weekend!
WE love using our Core Essentials, it's pretty much a go to for any project we use. Is it an essential in your scrap booking stash???
Yipee! The sun is out and has been for a few days. It is still cold here on the East Coast but there are some signs of Spring (even though we did get snow this week). I was just over at Design Team Member Linda Beeson's blog the other week and saw this gorgeous photo!   If you have never been to her blog, you should. Not only does Linda have gorgeous Core'dinations creations but she has beautiful photos as well.
And she has  funny cards 😉  Check out the beautiful Gemstones cardstock on this card, too, it looks fabulous embossed!
Here is a  card with a Beautiful Color combo that is fresh and bright, just perfect for Spring using some Core'dinations Core Essentials and gorgeous papers from one of our preferred partners, Imaginisce, from Design Team Member Cari Locken:
And Kim Moreno used FRESH and NEW some NEW Jillibean Soup! Isn't it delicious with Core'dinations???
Have a GREAT weekend!
Are you ready for some Maya Road and Core'dinations inspiration???  WE ARE! If you have been to one of our Blog Swaps before than sit back, relax, grab some coffee and be inspired!
If this is your first time here, the rules are simple. There aren't any! We just give you as much inspiration in one week as we possibly can using our favorite cardstock, Core'dinations and  lots of Maya Road goodies…chipboard, rubons, mists, mini albums and more! And don't forget to leave comments ALL WEEK LONG for the chance to win a Core'dinations Prize Pack.  And you may see some more inspiration (and chances to win ;)) over on our Facebook page.
Make  sure you head over to the Maya Road blog for some more AmaZing Inspiration this week, too!
So…..are you ready????   To kick off this week, we have an awesome mini book from Design Team Member Lydia Jackson using Core Essentials, Chocolate Box and Whitewash Core'dinations Cardstock.  Can you guess how many Maya Road goodies are in this album???
Remember this Tutorial for making Core'sages?
Other Supplies used: Jillibean Soup, Helmar Adhesives, Fiskars.
Don't forget to leave a comment here by Friday, March 18th to be entered to win one of our AwEsoME prize packages!!!  See you tomorrow for some more Maya Road inspiration.
Here on the Core blog! We are celebrating brown and blue today! This color has really turned into somewhat of a classic these days and can be a go to color combination for any occasion.  Check out these two very different themed layouts from our Design Team using the same color combo.
A Sporty layout from Design Team Member Hera Frei using some Cosmo Cricket Core Impressions and Gemstones Cardstock:
And a festive layout from Design Team Member Paula Gilarde using some Jillibean Soup Core Impressions:
Have a colorful day!!!