What better way to celebrate a day of love with a fabulous class???
Speaking of classes! OUR BRAND NEW CORE TEACHER PAGE is up! How cool is that? Make sure you check it out because we have an amazing team of teachers that will design classes just for you!  What is a Core Teacher exactly?  Well, they can design classes just for you! If you are a retailer wanting to do a Core Class but not sure how to get started or just need an idea this fabulous team is just for YOU.  Stay tuned for more projects from them on our site under the
We have a special treat for you today from Design Team Member Lydia Jackson. Lydia is teaching a class at Scrapbookin' Adventures in Canada as a Guest Designer on February 22!  Here are some sneaks for the class! I spy hearts….Tim Holtz Kraft Core….Jillibean Soup = L.O.V.E!
If you are in the area make sure you sign up. Limited seats are being offered!
Happy Friday!
Don't forget…we will be here tomorrow and Sunday, too!
From now until Christmas Eve we are showcasing our Design Team's Favorite cardstock. Each designer picked a few of their favorite lines and created some gorgeous projects for you showcasing why they love it so much.
Then, on that day, just by commenting on that post, you have the chance to win! AND some days we might be showcasing more than one line … like today!
Here is how it works:
1.) We post every day. The following day we pick a winner and then start over so keep coming back!
2.) You have all day and night to post. Yes, you heard me! You can win up until the next day when I pick a winner when I get up. We want our international fans to be able to win and they are normally sleeping now
3.) Want additional chances to win?  Comment on Facebook and share the excitement on your blogs! If you share on your blog, come back here and link us up. Remember, you can do it every day for more chances to win!
WE  ARE WORKING OUR WAY TO 5000 FANS! CAN YOU HELP US GET THERE? LIKE US ON FACEBOOK IF YOU DON'T ALREADY! TELL YOU FRIENDS…FAMILY…EVERYONE! WE DO GIVEAWAY OVER THERE, TOO
4.) Please note: we will not be shipping to winners until January due to the Holidays. Winners must email ellen_sosnoski@coredinations.com to claim prize. Please include "Favorite Things" in the email title and name, address, and phone number if international.
Who wants a winner??? Yesterday's winner of the  Tim Holtz Adirondack Collection pack is….
Cute layouts. That sister love one is so darn cute. What a great choice for a favorite the Tim Holtz Adirondack Cardstock. It would be a fun one to work with.
So….ready for some inspiration and give-a-ways????
Today is all about Core'dinatons SPOTTED Collections.
This is one of our most versatile collections today. The Tillie spots are bigger and perfect for layouts and the Jillian spots are a bit smaller and closer together and are great for layouts and cardmakers, too. Just what every paper crafter needs in their day-to-day supplies.
First up we have Design Team Member Lydia Jackson with some Jillian AND Tillie cardstock on one layout and she used some patterned paper from our friends over at Jilliebean Soup.
And this is what we are talking about when we say this cardstock is versatile.
Check out this layout from Design Team Member Kim Jeffress…different color palette yet SAME GREAT cardstock and gorgeous,gorgeous layout.
And anyone have any guesses as to what patterned paper Kim used on that layout?
Yep, you guessed it. PINK PAISLEE. Why am I asking?
BECAUSE WE HAVE TWO GIVEAWAYS TODAY! Yes, you heard me right. TWO!
We have a Pink Paislee Core Impressions cardstock collection pack to giveaway today, too!
YIPPPPPEEEEEEEEEE!!!
Here is a layout from Design Team Member Debbie Standard using some Pink Paislee Core Impressions:
See you tomorrow. We will be here all weekend long!!!
Did you know that Core'dinations has a three amazing teachers that will design classes specifically for  your store?
We sure do! And today we have one of those talented ladies sharing some holiday inspiration for you.
So if you are looking for some GREAT holiday gift giving ideas, you are in the right place.
Kimber McGray, one of our talented Core Teachers,  created this Holiday wine topper for us today.  This is SUPER easy and totally festive.  She used a mix of Core products including Tim Holtz Kraft Core and Gemstones (in opal)  for the base. Notice the faux stitching along the edges?
Speaking of Tim Holtz Kraft-Core…… CLICK HERE for our HUGE giveaway!!!
You could easily create these for your Holiday parties this December! Make a wreath, cut out some snowflakes…sky is the limit!
And here is a close-up for you….
1.  Using the Silhouette die-cutting machine, cut a 3"x 7 1/2" bottle hanger from Vanilla Cream Core Essentials Cardstock. Faux stitch around the edges with a black pen.
2.  Using the Silhouette die-cutting machine, cut a4" x 2" leaf from No 11 (green) Tim Holtz Kraft Core cardstock. Adhere to the bottle hanger and tie a 6" piece of twine around the stem.
3.  Cut a 6" x 1 3/4" piece of No 6 (yellow) Tim Holtz Kraft Core cardstock. With scissors, trim 'V's' on each end. Adhere to the bottle hanger below the leaf.
4. Adhere alphas to spell 'THANKS' on the yellow banner.
How fun is this card?  This would be great with some holly or circles to make a wreath for Christmas.  The great thing about these classes are that the are super versatile.  You can make them our own and reuse the ideas OVER and OVER again!
1.  Cut the Vanilla Cream cardstock to 5 1/2" x 8" and fold in half to create a 5 1/2" x 4 1/4" card base.
2. Place the front of the card in the embossing folder and run through the Cuttlebug to press the design on the cardstock.
3.  Create the picture frame from a 3 1/4" x 4" piece of Snowflake cardstock. Cut out a 2 1/2" x 2 1/2" square from the upper portion and discard. Wrap a 24" piece of twine around the picture frame a few times and tie into a bow. Adhere to the front of the card on an angle.
4. Using the Silhouette die-cutting machine, cut a different shaped leaves approx. 1 1/2" from No 6, No 7, & No 11 (yellow, orange & green) Tim Holtz Kraft Core cardstock. Adhere to the center of the picture frame to form a wreath shape. Add a few gems to the leaves.
5. Add the brown mini alpha stickers to the picture frame to spell out your sentiment
Stay tuned for our Core Teacher page on the website soon!
Today we have some more Peachy Keen Colour Challenge inspiration for you!
If you haven't seen the July Challenge make sure you check it out here. You have until July 27th to enter for the chance to win some fabulous Core goodies!  Make sure you link us up on that post or link us on Facebook.
All you need to do is use this color palette as your inspiration. Again, there are more deets on the original post….
Design Team Member Brianne Nevill shares this fun layout with us today.  You have to check out all of the fun details.
The misting….the covered frames with the Core Essentials….the strip of Jillibean Soup Core Impressions along the left side of the page (p.s. it's the perfect match for this challenge!!!!)  and …. how cool does Core'dinations Cardstock look with some mists?????
And some close ups????  YES PLEASE!
Here is one of the frames covered in cardstock and the Core Essentials covered in mists:
YES! I said Winner(s)!
We couldn't pick just one so we picked TWO!!!
First up is Irit Shalom. Irit submitted two fabulous entries with some fun journaling and cool techniques and here they are:
Some awesome Basic Grey Core Impressions on this layout. Love it paired with all of the vertical strips of cardstock and ribbon. AND, yes! We would love to go to that Cherry Festival! Sounds amazing.
Love love all the Jillibean Soup Core Impressions on this layout and how Irit sanded the "18″ with the Core Impressions. And those layered journaling spots are the best!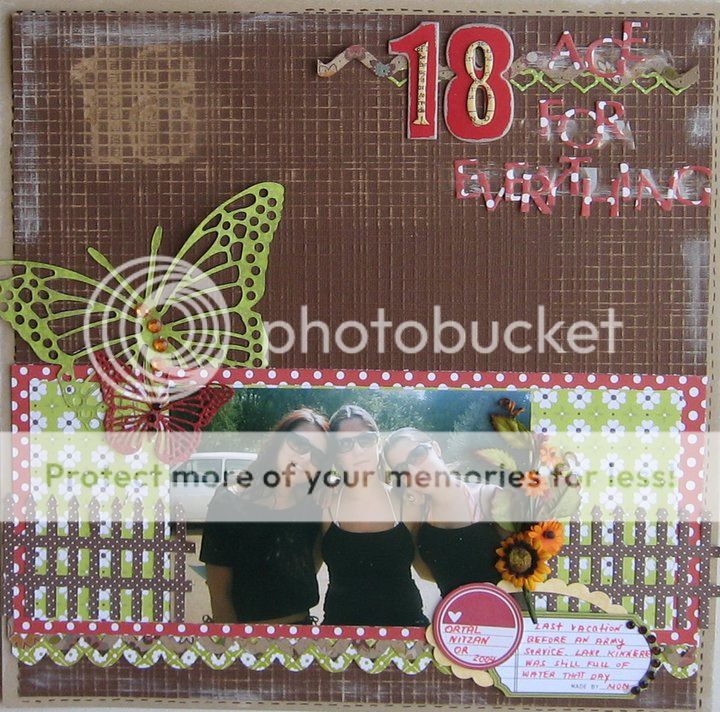 And Sherry Coogan submitted this layout where she etched in the embossed woodgrain on the Chocolate Box like a REAL Tree!!!!
Such a cool idea!!!
Make sure you check out how Sherry mixed handwriting with tiny alphas for her journaling.
Thank you thank you so much for all the entries!!! We will be doing challenges every month so stay tuned for the 1st of July for details for the July challenge.
Winners can you please email your address and phone number (for international entries) to  ellen_sosnoski@coredinations.com.
Have a GREAT week!