First up we have a gingerbread card from Designer Vivina Keh. Keep reading because this isn't the gingerbread you were thinking of
Vivian Keh here today to share with you a card which uses a technique I came up with awhile back which I call the "Gingerbread" technique.  Perhaps a Hard Core video tutorial is in store for you sharing this really easy technique!  In conjunction with Core'dinations ColorCore Cardstock that has been sanded, the patterns really pop off your papercrafted projects!
LOOK at that GORGEOUS Marvy Uchida punch!
Marvy Uchida – Floral Paper Punch
Really Reasonable Ribbon – Twine
Hampton Art – Stamp
Tombow – Stamp Runner
~~~~~~~~~~~~~~~~~~~~~~~~~~~~~~~~~~~~
Next up some cards from Designer Clare Buswell! She gives us some AWESOME step by step instructions:
Other: Corner rounder, Spellbinders Grommet Tags, Big Shot, Jet Black Archival Ink (Ranger), Distress Inks – Antique Linen, Scattered Straw, Vintage Photo and Walnut Stain, red twine, brads, foam pads, twine, Potted Garden stamp set from The Craft's Meow, sewing machine, embossing folder Anna Griffin Poppy Cuttlebug, Distress Markers – Barn Door, Fired Brick, Crushed Olive, Tumbled Glass, Broken China.
And one more from Clare!
What else could you possible need?  Tracy Gruber is working colors, patterns and so much more today!
First up a very fun and festive card…but keep scrolling down…there's a great layout, too!
I love to find new techniques to use with my Core!  For this card, I used a Studio Calico mask and put it behind my piece of Core card stock.  I then sanded with the Sand It Gadget until the design started to show.  Pretty cool, huh?  Then, I cut some stars and then added the  white shape with the Paper Smooches sentiment. Next up some May Arts ribbon and Imaginisce Glam Rocks finish off this card perfeclty!
-May Arts Ribbon
-Imaginisce Glam Rocks and I-Rock
-Paper Smooches Word Salad
-Tuxedo Black Memento Ink
-Spellbinder's Label 4 die
-Memory Box Cosmic Star Set
-Studio Calico Mask
~~~~~~~~~~~~~~~~~~~~~~~~~~~~~~~~~~
The best part about scrapping with Core'dinations card stock is the ability to use different techniques to create unique layouts.  On the dark pink base, I simply used the Sand It Gadget to sand three different areas for a distress look.  It adds a different element to your layout that is really easy to do!  I then used a piece of light pink Spotted Tillie Dot and sanded it to make the polka dots "pop."  The last technique I used was crumpling up a piece of White Wash card stock, flattening it out, and then sanding it.  This allows the Sand It Gadget to hit the creased spots and the background color to show through.
-Studio Calico Star Wood Veneers
-May Arts Ribbon
-Sand It Gadget
-Dust Buddy
-Jillibean Soup "hello" sticker
-My Mind's Eye chipboard stickers
-The Twinery twine
-Xyron Mega Runner
Well…as a cake topper!  Jill has some great birthday ideas for you today.
Hi everyone! Jill from Every Day is an Occasion back to share another project with you. Today I am sharing the cake topper I made for my son's birthday. He turned four this year. He loves cooking and baking, so we decided we would make the cake together. He picked out the kind of cake he wanted, the frosting, and of course what he wanted on top of the cake. This summer we have spent a lot of time at our lake cottage. He absolutely loves it up there. One of the highlights for him is to look at all the animals while we are on the pontoon boat. He especially loves it when we find turtles. So this year we decided a turtle themed cake would be fun.
Turtle Themed Birthday Cake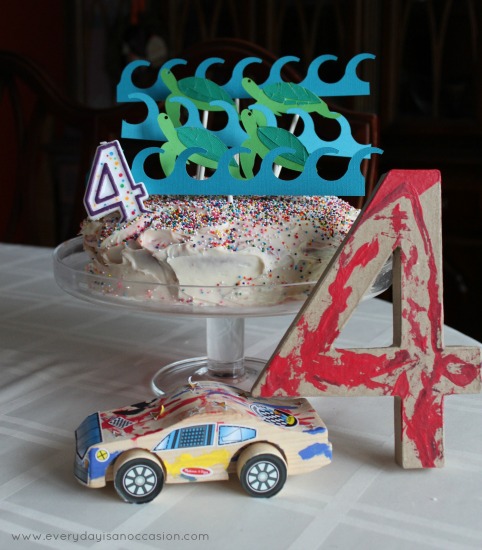 You may notice a random car in the picture…he painted that car and asked for it to be in the picturebecause he wanted to remember he painted that on his birthday.
I love Core'dinations Brights Paper Pack. I use it all.the.time! It is my second go to…my first go to favorite is Core'dinations white in the neutral pack…I know I'm weird! lol
Anyways, the turtles and waves were both made using the Brights pack. So go get yourself some and thank me later:)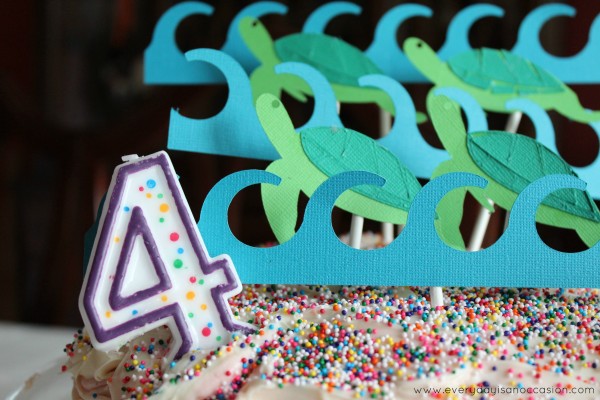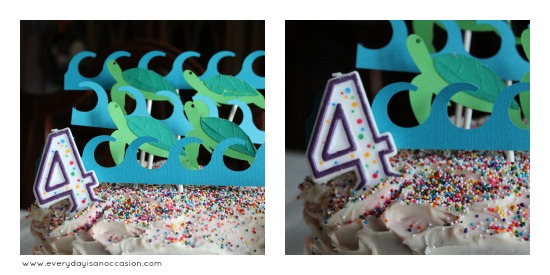 Next up I'm sharing a project I made for my mom. I keep making cards for her that she absolutely adores and doesn't want to throw away…this is where I blush and come up with a solution…..
Card Holder and Scalloped Card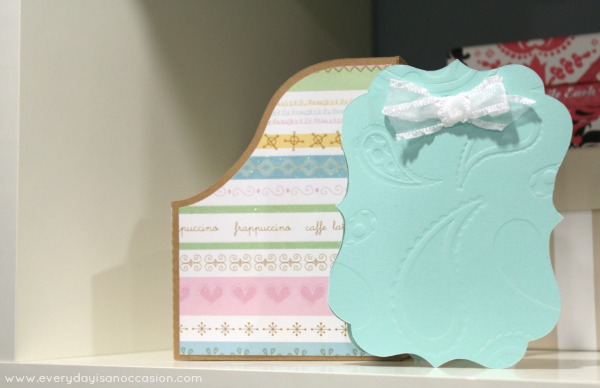 When I first got my Design Team box from Core'dinations, this SUPER CUTE Fancy Pants Core paper was inside. This paper was my mom's absolute favorite! I knew when her birthday rolled around, what I would be using to create her card! She doesn't like really fancy things. She is more of a clean and simple gal so I used the backside of the cardstock.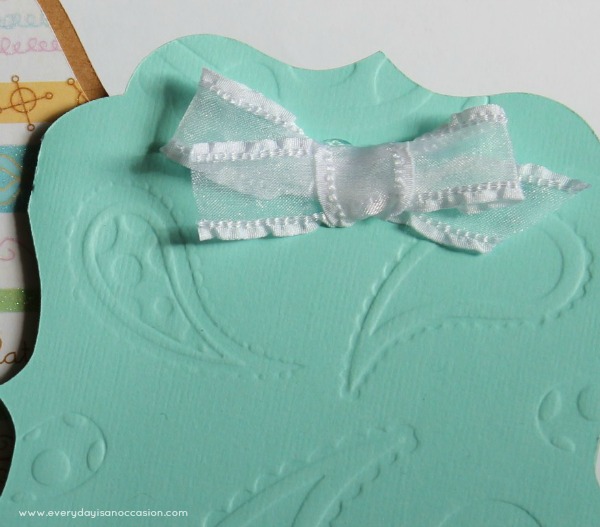 Then when she said she needed a place to put all the cards I was making her, the Tim Holtz Kraft Core paper stuck out to me because on one side it is a kraft color and on the other side it is colored. I think it is so perfect because no matter which side you look at the paper it is beautiful!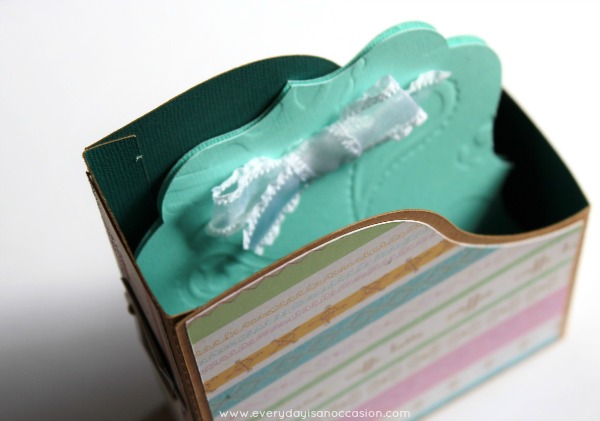 Materials
Card Base: Fancy Pants Coredinations paper
Ribbon: May Arts
Silhouette Cameo
Card Holder: Tim Holtz Kraft Core 
For more details on how I created these two projects, come visit me at Every Day is an Occasion.
Thanks for stopping by and checking out my project.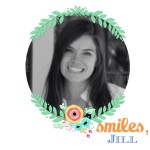 –
Sorry I am a little late today, the flu bug has hit our home and today hasn't been so much fun. Thank goodness it's today and not next week when our kids go back to school.
So what is on the agenda for today?  First we have a giveaway!!! Does that word ever get old? LOL! May Arts, our absolutely go to ribbon around here, is celebrating so check out how to win HERE!
Next up we have Designer Kim Moreno with a  ffew gorgeous gorgeous gorgeous layouts!
To create the hearts in the background of my layout I placed a chipboard heart behind my cardstock and slightly sanded over the top making sure to get the edges well so the heart would show clearly (the outlining technique).
I the layered the pre-embossed Spotted purple cardstock and the cuttlebug embossed grey paper to create my layout. I added white spotted cardstock and instead of inking the raised dots I simply rubbed them along the black cardstock and it picked up the "leftover" dust and colored the white spotted cardstock nicely. 
I then added my stickers and embellishments to complete my layout!
Supplies:
Cardstock: Core'dinations (Spotted- Forge me not, BlackMagic- protect, Core Essentials- Argos, Snowflake)
Chipboard: Heidi Swapp (arrows), American Crafts (letters), Magistical Memories (heart used to sand)
Stickers: Jillibean Soup
Flowers: Creative Charms
Jewels: Queen & Co
Washi Tape: K&Co (black dot), scroll (unknown)
Cuttlebug machine and embossing folders.
~~~~~~~~~~~~~~~~~~~~~~
Summer Lovin' layout using loads and loads of Imaginisce goodies!
And a close up:
Using my scorpal I embossed the lines around the edge of my layout to frame the whole layout I then sanded the lines and the edge of my paper rather roughly tearing some of the edges to reveal the color core of the cardstock. I backed my photo in patterened paper and vintage cardstock tearing along the bottom to reveal the core. I also traced on the back of the vintage yellow cardstock and tore the pieces of the sunshine out and sanded the edges slightly to create the sunshine piece.
Supplies:
Cardstock: Core'dinations (Autumn & Lemonade- Vintage Collection), (Nassau Blue, Snowflake, & Sutter Butter- Core Essentials collection)
Patterned paper/ sticker/ die cuts: Imaginisce
Adhesive: Zapdots by Helmar
Tool: ScorPal
We are here hopping again all week long! So if you didn't see your name on our winner list last week, you still have a chance to win. Just comment on the Designer blogs from both companies for a chance to win.
Don't forget to LIKE our Facebook pages! We have addtional content over there we don't always share here.
Core Facebook and Tombow Facebook
Here is the Lineup for Wednesday:
Jennie
Mary Pat Siehl
Vivian Keh 
Debbie Standard
Kate Nolan-Denham 

If you get lost just come back here or head over to the Tombow blog.
And a look at what is up for grabs from Core (win this by commenting on the Core blogs.)
Subject to availability. Winner will be notified if we are out of stock of anything.
And from Tombow you can win (win this by commenting on Tombow blog and designer blogs)
Tombow prize will include:
· New Power Tabs 
· New Foam Tabs
· New Fastener Tabs 
· Mono Glue Pen
If you missed yesterday here you go. Hurry up because we will be picking winners Friday the 16th!
Tuesday:

Tracy Gruber
Suzanna Lee 
Jill Lebbin
And Today we have a project for from Designer Shaunte Wadley!
She made this super cute box featuring LOADS of Core'dinations and Tombow. In order to make a project like this that is completely out of cardstock, you need some good adhesive!
Shaunte used Lifestyle Crafts for her dies (flowers, bird, letters).
Supplies:
Darice Embossing folder