Today we have some wonderful projects from Design Team Member Char Dobson…ENJOY!
Double page layouts=Double the FUN! I think you will agree when you see these fun layouts.
Lots of Pink Paislee Core Impressions….cutting and sanding that honeycomb pattern is too much fun!
Loads of Queen & Co. goodies on here from our friends!  And love how Char worked her Fiskars paper crimper and then sanded the Core Essentials!
OOOOOOH!!!!!
And some BasicGrey Core Impressions. Just love the pink and green combo from the Whimsy pack! :):):)
And one more day closer to National Scrapbook Day!!!
Got plans???  I suggest you stay close 😉
We thought it would only be fitting to say Thank YOU to all of the scrapbookers, cardmakers, and crafters out there that make weekends like this possible. You guys ROCK!
So here is a little something from Design Team Member Kim Jeffress using some  gorgeous Pink Paislee Core Impressions and NEW some Spotted 6×6 cardstock for this gorgeous gift bag. I bet you wish you were on the receiving end of this!  And don't forget to come back tomorrow to see what we have planned!!!!!!!!!!!
Gorgeous sanding…….
Please note that all emails have gone out to the winners of our April Grand Prize.
Not sure about you but I always feel as if I need a baby gift these days!
And what better way to whip one up than with a brown bag and some Pink Paislee Core Impressions?  Design Team Member Char Dobson created this super cute bag with some Pink Paislee Nantucket papers and Core Impressions and her Cricut. If you don't have the Wrap  it Up cartridge, no worries! You can use any die cutting machine or even hand cut these details with a pattern.
Don't forget about our Hard Core Crafter program!
Are you Hard Core?
Do you love tearing, sanding and ripping Core'dinations ColorCore Cardstock EVERY chance you get???
Than we are looking for YOU!
We have been working behind the scenes creating a super cool program that is designed to give our Hard Core Crafters exclusive benefits.
Want to know more?  Than keep reading…..
By signing up to be a Hard Core Crafter, you will be automatically entered to win fabulous PRIZES, view NEW product releases and watch EXCLUSIVE videos with unique product tips and technique ideas.  All of this was designed just for you, our Hard Core Crafters!
Our designers have created fabulous videos that will inspire you at the click of your mouse.
Ready to sign up?  It's EASY and 
IT IS FREE!
. See the video player to the right of this blog post?  You can click on that or click
here
to sign up.
And the more people that sign up, the more we giveaway so tell your friends!
AND you can start watching the EXCLUSIVE videos immediately!
Just a reminder …Don't forget about our Core Colour Challenge!
Only nine days left to get those entries in and a Core pack of cardstock is up for grabs!!! More details here.
Today we have some fun layouts from Design Team Member Melissa Oliveira.
Melissa works the 8.5×11″! check out the tone on tone embossed hears!!!! LOVE!!!
Here is a little bit about this layout from Melissa, "the embossed hearts were cut from the left over strip from trimming the background to a 8 1/2 x 11 size. I just embossed, sanded, and popped them up with foam tape for a little added dimension. I sanded then inked the Jenni Bowlin butterfly Core Impressions that is behind the title work. I really like the way the sanded areas take to the ranger distress inks."
And speaking of love…..
How sweet is this?  That chevron Pink Paislee Core Impressions is too perfect! SO many great details, don't you think? Melissa used her BasicGrey embossing folders for the hearts.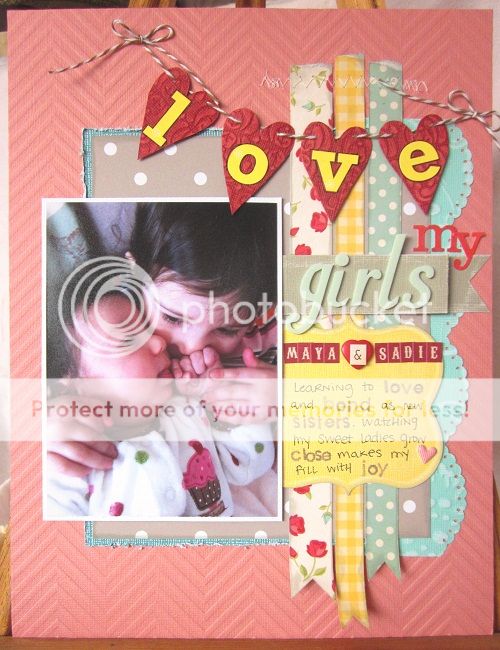 Before we get started, don't forget to sign up for our NEW Hard Core Crafter program! Details are here.
You will get access to tons of giveaways….EXCLUSIVE videos….and it is FREE!!!!
The more people that sign up…the more we giveaway!!!!
So how about some more Valentine's Inspo for today?  What about a Card from Design Team Member Kim Jeffress?
Okay. How much do you love how Kim used the negative image of the punched heart and used the tone on tone with the Pink Paislee Core Impressions. GorGeOuS!!! Pink and yellow is so fabulous and that touch of May Arts Ribbon is just perfect.
Happy Valentine's Day!
Nothing is more dreamy and feels like a Fairy Tale than some Graphic 45!
Today we have a beautiful altered box from Design Team Member Leica Forrest. The great thing about this project is that Lecia used the Graphic45 Signature Series cardstock (the dark green) because it is designed to match Graphic45 papers perfectly. AND she mixed in some Pink Paislee Core Impressions. Don't be afraid to mix it up a bit!
And a close up detail…