Before we get started, don't forget to sign up for our NEW Hard Core Crafter program! Details are here.
You will get access to tons of giveaways….EXCLUSIVE videos….and it is FREE!!!!
The more people that sign up…the more we giveaway!!!!
So how about some more Valentine's Inspo for today?  What about a Card from Design Team Member Kim Jeffress?
Okay. How much do you love how Kim used the negative image of the punched heart and used the tone on tone with the Pink Paislee Core Impressions. GorGeOuS!!! Pink and yellow is so fabulous and that touch of May Arts Ribbon is just perfect.
Happy Valentine's Day!
Nothing is more dreamy and feels like a Fairy Tale than some Graphic 45!
Today we have a beautiful altered box from Design Team Member Leica Forrest. The great thing about this project is that Lecia used the Graphic45 Signature Series cardstock (the dark green) because it is designed to match Graphic45 papers perfectly. AND she mixed in some Pink Paislee Core Impressions. Don't be afraid to mix it up a bit!
And a close up detail…
We would like to extend our sincerest apologies to the winners of our Tim Holtz Kraft Core giveaway. We had a programming glitch which prevented the shipping addresses of the winners from being collected. The good news is that we've found the problem, it is fixed, and all future giveaways will work very smoothly.
To show how much we appreciate everyone's patience, we are doing ANOTHER giveaway! We have THREE SIGNED Tim Holtz Kraft Core packs ready to give away to our Facebook fans. So if you aren't a Facebook fan, LIKE US NOW! Tell your friends and hurry!!! We'll be picking our 3 random winners on January 10th.
So who is in the Valentine's Day mode yet?  Anyone?  Well, we wanted to give you some inspiration so when you are ready it's here.
There is nothing better than some Glitter Silk for Valentine's Day projects!
Design Team Member April Derrick created this beautiful card using Glitter Silk and Pink Paislee Core Impressions. April sanded the Core Impressions and then used her Ranger Inks. Don't forget to use a Dust Buddy before you do this so the ink blends better. So many great details on one card!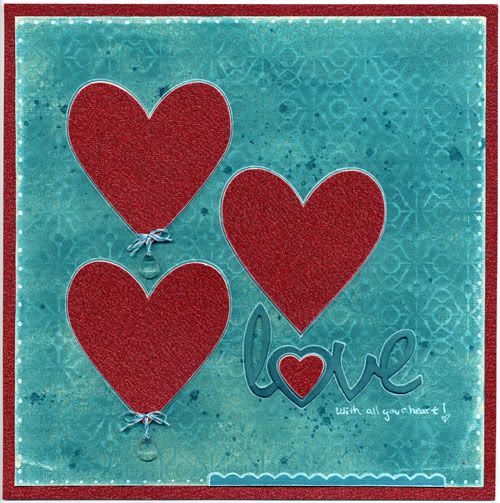 Happy Friday!
Don't forget…we will be here tomorrow and Sunday, too!
From now until Christmas Eve we are showcasing our Design Team's Favorite cardstock. Each designer picked a few of their favorite lines and created some gorgeous projects for you showcasing why they love it so much.
Then, on that day, just by commenting on that post, you have the chance to win! AND some days we might be showcasing more than one line … like today!
Here is how it works:
1.) We post every day. The following day we pick a winner and then start over so keep coming back!
2.) You have all day and night to post. Yes, you heard me! You can win up until the next day when I pick a winner when I get up. We want our international fans to be able to win and they are normally sleeping now
3.) Want additional chances to win?  Comment on Facebook and share the excitement on your blogs! If you share on your blog, come back here and link us up. Remember, you can do it every day for more chances to win!
WE  ARE WORKING OUR WAY TO 5000 FANS! CAN YOU HELP US GET THERE? LIKE US ON FACEBOOK IF YOU DON'T ALREADY! TELL YOU FRIENDS…FAMILY…EVERYONE! WE DO GIVEAWAY OVER THERE, TOO
4.) Please note: we will not be shipping to winners until January due to the Holidays. Winners must email ellen_sosnoski@coredinations.com to claim prize. Please include "Favorite Things" in the email title and name, address, and phone number if international.
Who wants a winner??? Yesterday's winner of the  Tim Holtz Adirondack Collection pack is….
Cute layouts. That sister love one is so darn cute. What a great choice for a favorite the Tim Holtz Adirondack Cardstock. It would be a fun one to work with.
So….ready for some inspiration and give-a-ways????
Today is all about Core'dinatons SPOTTED Collections.
This is one of our most versatile collections today. The Tillie spots are bigger and perfect for layouts and the Jillian spots are a bit smaller and closer together and are great for layouts and cardmakers, too. Just what every paper crafter needs in their day-to-day supplies.
First up we have Design Team Member Lydia Jackson with some Jillian AND Tillie cardstock on one layout and she used some patterned paper from our friends over at Jilliebean Soup.
And this is what we are talking about when we say this cardstock is versatile.
Check out this layout from Design Team Member Kim Jeffress…different color palette yet SAME GREAT cardstock and gorgeous,gorgeous layout.
And anyone have any guesses as to what patterned paper Kim used on that layout?
Yep, you guessed it. PINK PAISLEE. Why am I asking?
BECAUSE WE HAVE TWO GIVEAWAYS TODAY! Yes, you heard me right. TWO!
We have a Pink Paislee Core Impressions cardstock collection pack to giveaway today, too!
YIPPPPPEEEEEEEEEE!!!
Here is a layout from Design Team Member Debbie Standard using some Pink Paislee Core Impressions:
See you tomorrow. We will be here all weekend long!!!
Want to make these cool leaves?  Well then make sure you enter to win our Tim Holtz Kraft Core give-a-way!!! This contest only runs until DECEMBER 6th so don't wait.
Good Morning!
I know a lot  of us in the states are hunkering down with our turkeys and families getting ready for Thanksgiving tomorrow. That means a lot of us will be off for a very long weekend.
What better way to start off that weekend with a MONSTER GIVE-A-WAY?!
We are giving away 50 Tim Holtz Kraft Core packs and THREE lucky winners will receive a SIGNED copy from Tim Holtz himself.
Don't miss out! CLICK HERE to sign up to win win win!
Today it is all about Fall. Don't forget about our November Colour Lover's Challenge. Working on this project would be a great way to start off that long weekend, wouldn't it?
Design Team Member Lydia Jackson created this beautiful layout using this month's colour palette.
The palette …
And Lydia's design…
Gorgeous. Love the mix of Vintage and Core Essentials cardstock and how Lydia used the backside of the lattice print from the Pink Paislee Core Impressions line.  Don't be afraid to mix your own embossing folders and the Core Impressions line like Lydia did here. Looks BeauTiFul!