Today's Tutorial is from Design Team Member Kim Jefress…..
AND she used Septembers Colour Inspiration  Challenge!
MY COLOUR BOOK
My two year old son is having trouble remembering his colours. I decided to make a mini album for him using some Core'dinations cardstock, embossing folders and chipboard.
1.Choose a pre made mini album, measure the size of each page and then cut your CORE cardstock in your chosen colours to size. Mark with a pencil where the holes are and using a hole punch,  punch some holes for the rings to thread through.
2. From the same sheets of coloured cardstock, cut pieces to fit into embossing folders you have, then emboss each coloured card with a different folder.
3.Using your sand it tool or sand paper, sand the embossed design on each piece of embossed cardstock.
4.Cover your album with PVA glue or craft glue and lay down your cardstock pieces from step 1. Smooth out with your fingers.
5. Now glue down your co ordinating embossed pieces the same way.
6. Choose some chipboard pieces and decorate each one to suit the colours of your pages. I have used, glimmer mist, paint, glitter and ink.
7. Using strong adhesive glue the chipboard onto each page, Type or write out a matching sentence for each colour, print trim and add to each page.
8. Use buttons and letter stickers to create your cover and then put your book together and you are done!
Here are some of the inside pages….GORGEOUS!!!!
And here are Kim's cuties looking at this amazing book!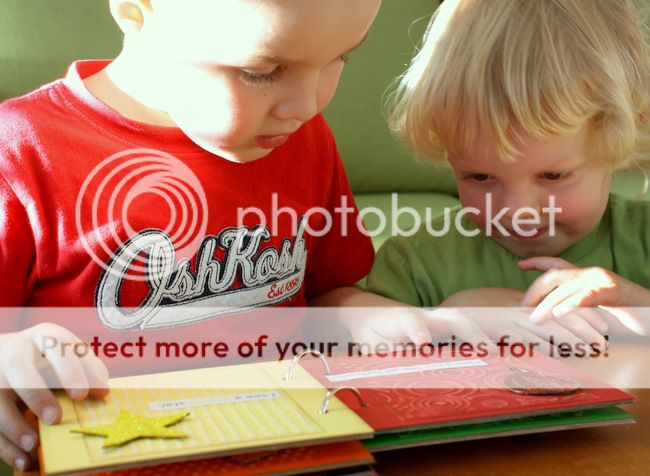 The answer is….
IT'S NEVER TOO MUCH!!!
Every month we challenge our designers to create something special and this month it was to emboss!
You know how much we love to emboss and sand here. And if you need some tips make sure you check out our videos here.
Design Team Member Lydia Jackson ran with this challenge and created this cool layout that uses
30 DIFFERENT EMBOSSING FOLDERS!!! Can you beat that? We would love to see you try!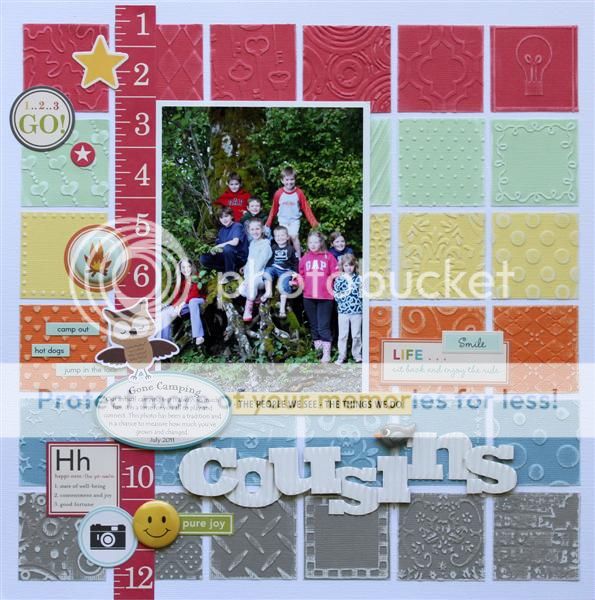 Have you heard?
Kraft-Core!!!
Design Team Coordinator Sarah Hodginkson created this awesome card showcasing
how wonderful it embosses, sands and tears. Classic Core features with a Kraft twist.
This entire card is from  Kraft-Core! And Sarah used Tim Holtz Sizzix folders for the embossing.
Have a great week AND we have more new releases for you SOON!
Here in the States we are CeLeBraTiNg the Fourth of July, our Independence Day.
We are kicking off this week with a fabulous layout from April Derrick using the Fabulous Jenni Bowlin Core Impressions. Don't you love how April used the large scalloped sheet? Fabulous!  And that strip of photos???? Love it!
And Debbie Standard created this gorgeous card using stamps and Core'dinations. The Woodgrain Embossing folder from Tim Holtz is perfect for the background for the cute little birdhouse.
Beautiful!
Have a wonderful Holiday and be safe!
First up..don't forget to check out our June Challenge!!!
All you need to do is journal and show us a fun Hard Core technique and you can get up to TWO chances to win!!
Check out details here.
Today we have some GORGEOUS creations to share with you from some of our Hard Core fans! We love love love seeing Core in action and these layouts are no exception.
First up we have a layout from Ann Sigga using Basic Grey Core Impressions.  Here is a little bit about the layout from Anna,
"My older girl making her first cairn (rock pile) at
Laufskálavarda with the help of her grandma.When passing
Laufskálavarda for the first time, legend has it that if you add to a
rock pile then you are blessed with luck on the journey.
And some details about the techniques from Anna,
"Core'diantions cardstock is one of my favesand I absolutely
love the embossed CS.  You can really make a layout pop using those
beautiful patterns – and the sanding part is kinda fun. (We totally agree!)

I wanted to be able to transfer the texture of the lave rocks onto the
layout without losing that pink flowery feel. And the Basic Grey
Core'dinations cardstock was just perfect. I sanded the CS lightly
with my sanding block and voila – my background was perfectly pretty!"
And next up we have a layout from Anna-Karin Evaldsson.
Here are a few details that Anna-Karin shared with us about the techniques on this layout,
"A sheet of Core'dinations cardstock was cut into squares, embossed with patterns that worked well with the theme of the layout and sanded. They were adhered to black cardstock and then stitched together. I really like the tone on tone and textured effect. Two of the flowers were also dry embossed and then inked. The flower, alphabet and quote were white embossed on vellum. I had some fun with shrink plastic and stamped the little man, the telephone and the number strip on white shrink plastic. I also used a normal sized impression of the phone (symbolising that he can talk to his Godparents any time). The title was stamped with Distress Ink on sticky back canvas. The journaling is on the tag behind the photo and is about my sister and her DH being godparents to our little boy, and what that means, for instance that they will always listen and try to help. The Dymo text translates: 'Always there for you'.
Supplies:
Supply list: Core'dinations cardstock; Cuttlebug and Sizzix embossing folders; Hero Arts stamps: Vintage,  Plaid Person, Playful letters; Darkroom Door quote stamp; Stamper's Anonymous flower and alphabet stamp; Stazon Black ink; Ranger Distress Ink Pumice Stone and Seafoam White Embossing powder; Paperbag Studios number stamp; Dymo tape; BasicGrey patterned paper; Prima flowers; vellum; Tim Holtz Sizzix tag die; Panduro velvet hearts; Reprint trim; lace; mini stapler; tiny button.
Thank you so much for sharing your creations with us!!! We love to see what our Hard Core fans are doing with Core'dinations.
Did you see yesterday's post?
Make sure you check out the journaling challenge! AND throw in an uber cool Core technique and you get TWO chances to win!!!
Today we have some inspirational cards from Kandis Smith. Kandis always makes the most beautiful cards.
For the first card, Kandis used the Provocraft Diamond Plate and her Cuttlebug to create the subtle but perfect background.  LOVE the gray.
And how about some Tim Holtz Inspiration? The rich, earthy tones from the Tim Holtz/Ranger collections are perfect for those Father's Day projects. And don't forget those awesome Tim Holtz/Ranger Sizzix dies for your embossing machines. They add the perfect touch to this amazing cardstock collection!
It's Glitter Silk!   Have you seen our NEW Glitter Silk paper that debuted at CHA this winter?  It is awesome!!! If you haven't asked your favorite retailer to get, you should!
It is smooth like silk….meaning it cuts like butter. NO tearing in your paper trimmer, NO destroying your favorite scissors. Smooth as SILK!
AND it looks gorgeous paired with our other shimmery paper lines like Gemstones and Core Couture as seen in this layout by Design Team Member Heather Bowser. Notice she cut hers with a die cut machine?
Other Core'dinations used on this layout: Stacy Julian Core Impressions and Core Essentials.
And Glitter Silk is paired with some more Core Couture and Core Essentials on a card by Design Team Member Ellen Sosnoski:
Preferred Partner Supplies: Spellbinders, Sizzix and Fiskars.
Have a GREAT week!
For some Chocolate?  Chocolate Box that is….
Today we are sharing some layouts from our Design Team featuring our Chocolate Box line.
Firs up is a layout from Design Team Member Debbie Standard. Debbie used Chocolate Box as the base of her layout here.  Debbie used Chocolate Box with a blue core and sanded the scored frame to accent the blues throughout the layout.  Also note on both of these layouts the hearts at the bottom of the page!
Other Supplies used: Jenni Bowlin Core Impressions, Core Essentials Cardstocks.
This layout is from Design Team Member Cari Locken.  Brown looks GREAT with everything! The colors on this layout are gorgeous…blues…reds…greens and Cari anchors this layout with some Vintage cardstock as the base and uses the Mint Chocolate Chip Chocolate Box to accent the green. Remember: all of our lines Core'dinate! So the green in the Core of the Chocolate box core'dinates perfectly with the green from the Core Essentials. Isn't that great? Makes matching colors for your project so easy.
Other Supplies used: myStampBOX stamps; Stacy Julian Core Impressions (red) and Cosmo Cricket Core Impressions.
Yes, you heard us correctly! We have ANOTHER chance for you to win some more of our BRAND NEW never seen before Cardstock.
Do you like to tear, rip, sand, crinkle AND Ink??? You have come to the right place.
This time we have teamed up with Tim Holtz for exclusive cardstock packs that core'dinate with the Tim Holtz & Ranger Distress and Adirondack collections!
(Click  on the image to take you to the contest. Contest runs until January 28th, 2011)
Here are a few projects our Design Team created using these exclusive colors and other Tim Holtz Products:
Linda Beeson paired her cardstock with some Tim Holtz stamps, Sizzix folders and grungeboard. Notice the distressing on the cardstock after Linda embossed it:
Kim Moreno used Adage Tickets and Memo Pins for this card.
And Debbie Standard created this beautiful card with more Tim Holtz Sizzix dies and a memo pin.
Don't they Core'dinate beautifully?
Don't forget, you have until tonight (January 21st) to enter our first contest.
We are gearing up to share some new releases with you this week and next week featuring for CHA. Make sure you enter our Contest at the end of this post. Just click on the image. You only have until this Friday, January 21st to enter!!!
Today we have some cards to share to hold you over until we get up our sneaks….
If this card doesn't get you ready to start your week than I don't know what will! Just an inspirational card from Design Team Member Debbie Standard featuring Core Amour Onyx.
From Design Team Member Kimber McGray featuring some tearing and sanding and Jillibean Soup:
And this soft color palette is just perfect for baby cards or any all occasion card you need. Design Team Member Paula Gilarde paired these colors some SRM Sticker Sentiments and added texture with a Tim Holtz Sizzix Folder.
Don't forget to enter below………..

<p style="text-align: