First up we have a gingerbread card from Designer Vivina Keh. Keep reading because this isn't the gingerbread you were thinking of
Vivian Keh here today to share with you a card which uses a technique I came up with awhile back which I call the "Gingerbread" technique.  Perhaps a Hard Core video tutorial is in store for you sharing this really easy technique!  In conjunction with Core'dinations ColorCore Cardstock that has been sanded, the patterns really pop off your papercrafted projects!
LOOK at that GORGEOUS Marvy Uchida punch!
Marvy Uchida – Floral Paper Punch
Really Reasonable Ribbon – Twine
Hampton Art – Stamp
Tombow – Stamp Runner
~~~~~~~~~~~~~~~~~~~~~~~~~~~~~~~~~~~~
Next up some cards from Designer Clare Buswell! She gives us some AWESOME step by step instructions:
Other: Corner rounder, Spellbinders Grommet Tags, Big Shot, Jet Black Archival Ink (Ranger), Distress Inks – Antique Linen, Scattered Straw, Vintage Photo and Walnut Stain, red twine, brads, foam pads, twine, Potted Garden stamp set from The Craft's Meow, sewing machine, embossing folder Anna Griffin Poppy Cuttlebug, Distress Markers – Barn Door, Fired Brick, Crushed Olive, Tumbled Glass, Broken China.
And one more from Clare!
Hello, Core friends! Vivian Keh here with an accordion mini album that I made for one of my three closest high school friends, all of whom were able to visit me recently for an amazing reunion, just as we all hit the big Four Oh! I crafted this album to house small photos from our long weekend together, using a monochromatic palette, which is extra fun with all the lovely tones and tints of cardstock that Core'dinations has available! 
Check out the Core Essentials part of the website for color families so you can create your very own monochromatic look like this!
There's some die-cutting, dry embossing, stamping, and of course my current favorite – tearing!
A distressed crumpled look is so so easy with Core!
Layer your scalloped edges for a "gingerbread" look! Ya know, like the roofs of gingerbread houses..cute, huh?!??!
Core'dinations -
Sizzix – "Mariposa" bigz die, embossing folders
Tim Holtz – tiny attacher
EK Success – floral punch, circle punch
Memento – Dye ink
Gems
Decorative Brads
~~~~~~~~~~~~~~~~~~~~~~~~~~~~~~~~~~~~~~
Next up a layout….. How cool are those torn squares?!?!
And yeah for the cool embossed punches from Marvy Uchida!!!  How cool are those torn squares?  First layer the torn paper on some scrap paper and adhere.  Then cut out any shape you like and you have your very own embellishment!
SUPPLIES:
Core'dinations -
Sizzix – Sizzlit "Typeset" Alphabet Strip Die
The Paper Studio – Self-adhesive pearls
Today we have some  projects our team created with their kids! Crafting is so much fun especially when you can do it with your kids.
First up we have Designer Heather Ann Kaesgan. She made a some wall art with her son. Her son just LOVED the doggie accents with the Imaginisce Good Dog line. He sanded the canvas using his Sand it Gadget after gluing down some Vintage Cardstock…PS KIDS LOVE OUR SAND IT GADGET! It is easy for them to hold onto and, of course, sanding is so much fun! And when they clean off the paper with the Dust Buddy it's like magic!
~~~~~~~~~~~~~~~~~~~~~~~~~~~~~~~~~~~~~~~~~
Next we have Jill Lebbin…..
Hello Everyone! Jill from Every Day is an Occasion back with another project for you!   Today I have a Hot Air Balloon Card. We gave this card to my sweet cousin, who turned 17 this year. I have to tell you, I cannot take complete credit for this card. My son actually assisted me in making this card. He helped pick out the colors, stamp the background, and use the hot air balloon dies. He is such a big helper!
Hot Air Balloon Birthday Card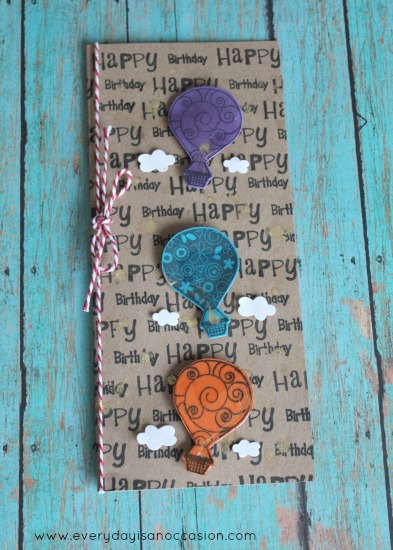 For this card I used Tim Holtz Kraft  Core, Brights Pack, and Neutral Pack of Core'dinations paper. Like I always say, the brights and white are my go to paper packs. I am very impressed with the way that they take stamps. I even put glossy accents on top of the balloons that I had popped up with foam adhesive. The paper held up very well. It did not tear. I sprayed some Colorshine on the paper too, just to give it extra excitement.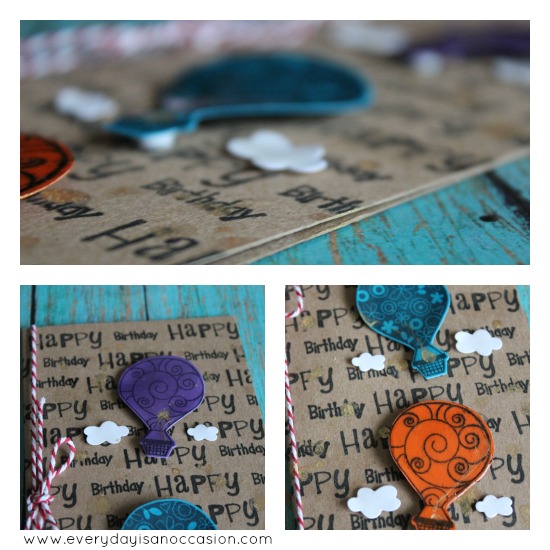 Thanks for stopping by today and checking out my..I mean..my son's and my hot air balloon card!
Have a SUPER fun day!!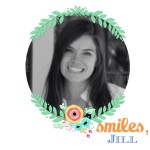 Well…as a cake topper!  Jill has some great birthday ideas for you today.
Hi everyone! Jill from Every Day is an Occasion back to share another project with you. Today I am sharing the cake topper I made for my son's birthday. He turned four this year. He loves cooking and baking, so we decided we would make the cake together. He picked out the kind of cake he wanted, the frosting, and of course what he wanted on top of the cake. This summer we have spent a lot of time at our lake cottage. He absolutely loves it up there. One of the highlights for him is to look at all the animals while we are on the pontoon boat. He especially loves it when we find turtles. So this year we decided a turtle themed cake would be fun.
Turtle Themed Birthday Cake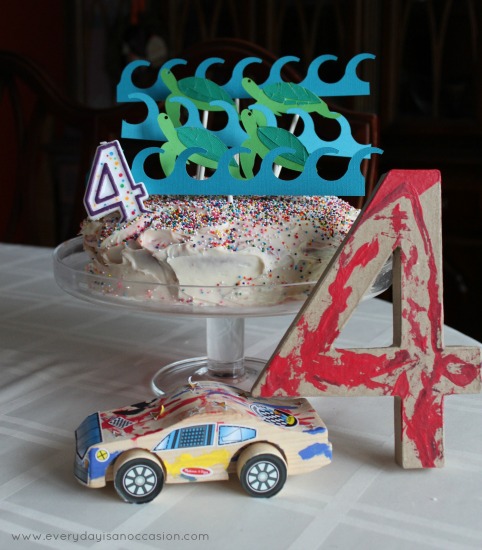 You may notice a random car in the picture…he painted that car and asked for it to be in the picturebecause he wanted to remember he painted that on his birthday.
I love Core'dinations Brights Paper Pack. I use it all.the.time! It is my second go to…my first go to favorite is Core'dinations white in the neutral pack…I know I'm weird! lol
Anyways, the turtles and waves were both made using the Brights pack. So go get yourself some and thank me later:)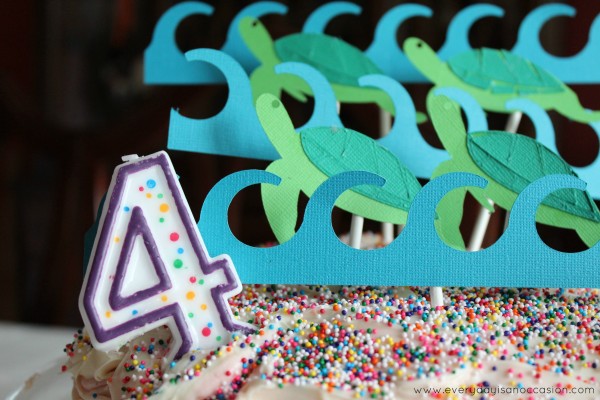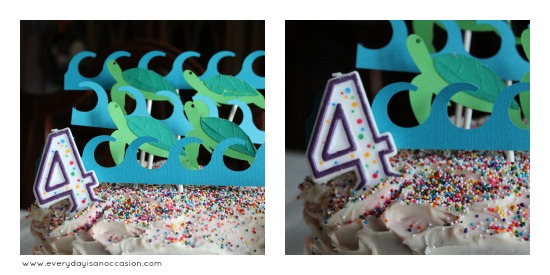 Next up I'm sharing a project I made for my mom. I keep making cards for her that she absolutely adores and doesn't want to throw away…this is where I blush and come up with a solution…..
Card Holder and Scalloped Card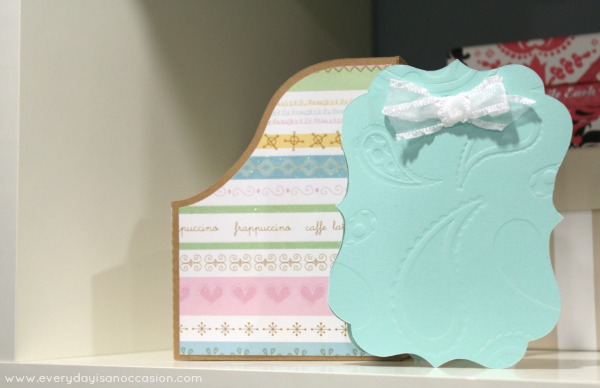 When I first got my Design Team box from Core'dinations, this SUPER CUTE Fancy Pants Core paper was inside. This paper was my mom's absolute favorite! I knew when her birthday rolled around, what I would be using to create her card! She doesn't like really fancy things. She is more of a clean and simple gal so I used the backside of the cardstock.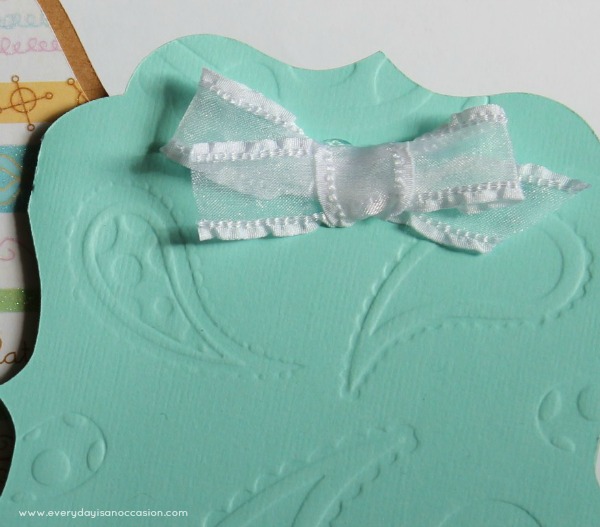 Then when she said she needed a place to put all the cards I was making her, the Tim Holtz Kraft Core paper stuck out to me because on one side it is a kraft color and on the other side it is colored. I think it is so perfect because no matter which side you look at the paper it is beautiful!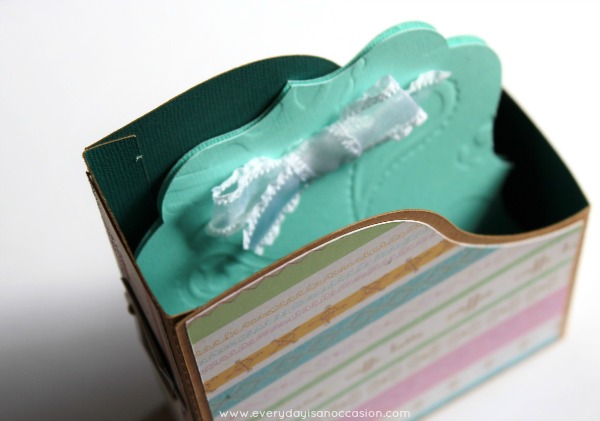 Materials
Card Base: Fancy Pants Coredinations paper
Ribbon: May Arts
Silhouette Cameo
Card Holder: Tim Holtz Kraft Core 
For more details on how I created these two projects, come visit me at Every Day is an Occasion.
Thanks for stopping by and checking out my project.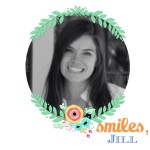 –
We are here hopping again all week long! So if you didn't see your name on our winner list last week, you still have a chance to win. Just comment on the Designer blogs from both companies for a chance to win.
Don't forget to LIKE our Facebook pages! We have addtional content over there we don't always share here.
Core Facebook and Tombow Facebook
Here is the Lineup for Wednesday:
Jennie
Mary Pat Siehl
Vivian Keh 
Debbie Standard
Kate Nolan-Denham 

If you get lost just come back here or head over to the Tombow blog.
And a look at what is up for grabs from Core (win this by commenting on the Core blogs.)
Subject to availability. Winner will be notified if we are out of stock of anything.
And from Tombow you can win (win this by commenting on Tombow blog and designer blogs)
Tombow prize will include:
· New Power Tabs 
· New Foam Tabs
· New Fastener Tabs 
· Mono Glue Pen
If you missed yesterday here you go. Hurry up because we will be picking winners Friday the 16th!
Tuesday:

Tracy Gruber
Suzanna Lee 
Jill Lebbin
And Today we have a project for from Designer Shaunte Wadley!
She made this super cute box featuring LOADS of Core'dinations and Tombow. In order to make a project like this that is completely out of cardstock, you need some good adhesive!
Shaunte used Lifestyle Crafts for her dies (flowers, bird, letters).
Supplies:
Darice Embossing folder