Today we have a super "krafty" layout from designer Kate Nolan-Denham.
I am having a great love of all things Kraft lately and I find myself reaching for the Tim Holtz Kraft-Core all the time . The sweet layout of my grandson I am sharing today is chock-full of this line!
I sanded the background cardstock, Kraft-Core Nostalgic Collection No.10, using my Sand it Gadget to give it a bit of an aged look.  To create the rulered mat, I embossed a piece of Kraft-Core Nostalgic Collection No.6, with Darice 12″ ruler embossing folders. After fussy cutting out each ruler, I inked them with Distress Ink and added them to a 9″x 8″ mat of Kraft-Core Nostalgic Collection No. 23.
The title work is die cut from Kraft-Core Nostalgic Collection No.21 and distressed a bit with the Sandit Gadget.  Of course, I always use the Dust Buddy everytime I sand.  The photo mat and die punched hearts are made from scraps of Core'dinations papers I had in my stash.  Got to love stash!
Core'dinations Supplies:
Tim Holtz Kraft-Core Nostalgic Collection
Tim Holtz & Ranger Distress Collection
Sandit Gadget
Dust Buddy
Other Supplies:
Darice Ruler Embossing Folder
Tim Holtz Distress Ink
Pebbles Paper
EK Success Punches
Dienamic Dies
Want2Scrap Bling
Helmar ZapDots & Premium Craft Glue
And ..the GREAT thing about Kraft Core is you can use a little or a lot!  Check out Clare Buswell's card here using all kinds of Core'dinations Cardstock including a paper ruffle flower from Kraft Core.  You can mix & match Core beautifully, don't you think? Add some of the Tim Holtz Ranger Distress collection, too!
Check out more of Clare's paper ruffles HERE. Gorgeous!
 And just love love how she stamped on the Whitewash Cardstock.
Who loves 8.5×11″ layouts?  I DO I DO!  First up we have THE COOLEST layout from Designer Suzanna Lee!  I know I am going to try this for sure. She has a GREAT Tip for you today for our Tuesday Tip of the week.
Using embossed Core for a background is one of my favorite things to do with Core. It adds so much texture and visual interest to a layout. As I don't have a larger die cut machine to run my folders through, I cut the paper then  run each half of the paper through my Big Shot. You can barely tell that it's a sheet of paper cut into two pieces! The tone on tone chevrons create an interesting subtle background.
Love this texture! This looks like the cardstock came this way, doesn't it?
Dust Buddy
Sand It Gadget
Embossing Folder: Cuttlebug
Dies: Die-Namics, DoCrafts, Die-Versions
Stamp: Lawn Fawn
Ink: VersaFine
Patterned Paper: American Crafts
~~~~~~~~~~~~~~~~~~~~~~~~~~~~~~~~~~~
When pondering what to use for my layouts, I typically grab my colors from the colors in the picture. This picture of the Centre Pompidou in Paris, France was taken in panoramic mode with my iPhone. It has a hints of red from the underside of the escalators that I wanted to make stand out a little bit so I chose the similar hues in both pre-embossed and "plain" cardstock. There is nothing plain about Core however!! The Kraft Core that I used to cut the title tied together the browns and reds perfectly!
We are here having fun this week with Couture Creations. It's no secret that Core'dinations ColorCore Cardstock looks fabulous with dies and embossing folder especially when you sand, sand, sand!  Couture Creations is  an Australian owneda & loved brand, Couture Creations is the culmination of 20 years experience in the scrapbooking industry. From its final inception in 2010, Couture Creations has been devoted to producing expertly designed, high quality products overseen by veteran designers & crafters for a result that is both simple and elegant.
Make sure you head over to their BLOG, PINTEREST, FACEBOOK pages to find out all the other chances you can win. Here is a sneak of what is going on over there today.  Please keep in mind we are in two different time zones so in case we are off on our times bit please forgive us.   We are getting our coffee ready when they are getting ready for bed.
We have some gorgeous projects for you today! Three very different takes on what you can do with Core'dinations and Couture Creations projects.  Mixed Media and a CAS card…something for everyone.
First up Designer Ava Gavloski. She is the queen of texture! She always is inspired by life and created this mixed media canvas for us today. Here is a little bit about this project from Ava….Recently, I visited the Royal Botanical Gardens in Hamilton, Ontario, Canada ( www.rbg.ca).  That visit inspired me to create my Core'dinations Couture Creations canvas.    There is a plant at the rock garden  called a Helleborus that likes the shade and the young leaves of the plant look like a pale mint green flower which eventually become the leaves of the plant.
I folded tissue paper making  a stack of 4 sheets for each of the 3 flowers die cutting with  the Couture Creations Doily die.  Keeping the tissue paper stacked together after removing from the die, fold the flower in half and half again and hot glue the edges as you shape the doily flower.  Spray with your favorite re-inker/water mixture  and dry.
And a close up of that gorgeous Fantasia Doily Die from Couture Creations:
Then the fun part of this project was selecting the various green co-ordinating colors from the Core'dinations collections that harmonize with each other.  Core'dinations collections sing in harmony on this organic canvas.
Once the color tones were selected the Couture Creations Embossing folders were perfect for this organic rock garden inspired canvas.  Emboss, sand and tear the Core'dinations embossed papers and layer onto your canvas.  Apply the Gel medium to hold all the elements in place and sprinkle with the beads and sequins while the gel is still wet. Love the grass chipboard pieces by ScrapMatts.
It's all about texture…
Core'dinations, Tim Holtz Adirondack, Willow and Meadow green
Core'dinations, Tim Holtz Distress, Old Paper, Peeled Paint and Crushed Olive
Sand it Gadget
Dust Buddy
ScrapMatts chipboard
Cuttlebug
Ranger Distress re-inker, peeled paint green
Golden Gel Mediums, High Solid Gel (Matte) and Hot Glue
Canvas, Cheesecloth, seed beads, beads, sequins, colored wire
~~~~~~~~~~~~~~~~~~~~~~~~~~~~~~~~~
Next up we have Designer Jill Lebbin. Mint green is  SO in right now and I just love love this color combo!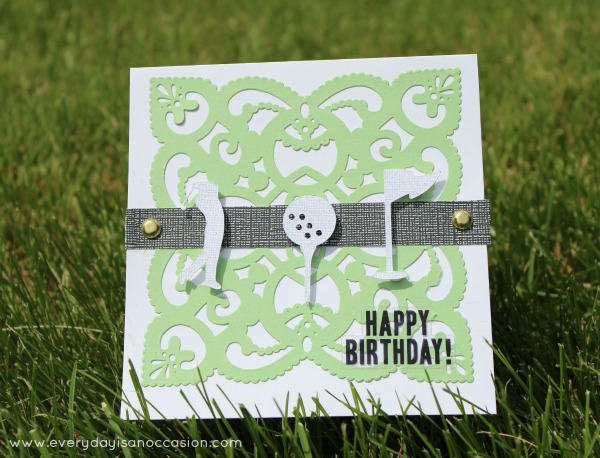 And we are looooving the 3D Foam Adhesive from Couture Creations! Check out this great detailed shot from Jill showing all that dimension: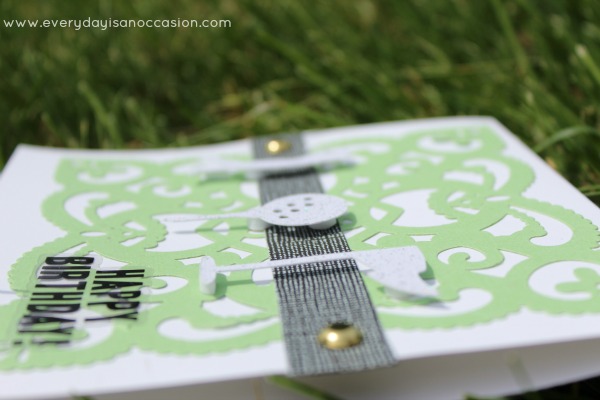 Materials:
Core'dinations- Vintage Collection (Black and Green), Glitter Silk 6×6 pad
Couture Creations: Fantasia Collection- Tatted Lace
Misc. Brads
Couture Creations Foam Adhesive
…..with Vivian Keh!
In order to create the luxurious feeling in this card project, I turned to the beautiful pearlescent hues of our Gemstones collection.  While the sheen on the die-cut rosebuds showcases the elegance of the Gemstones cardstock as is, I dry embossed a bit of Sapphire colored cardstock, sanded  and distressed the raised surfaces with Distress Ink to infuse my card with a sense of nostalgia.
Ah…you can never have too many close-ups, right? Here is a shot of the inking on the embossed Gemstones cardstock.
Gemstones does NOT have a sandable finish like our Specialty collections so when you sand, you will lose the sheen. This is a GREAT alternative…sand it so you loose the smooth finish and your ink will be more intense.
Really Reasonable Ribbon – Metallic String Iridescent
And another card for you!
I love the organic patterns in every sheet of our "Shattered" Collection.  For this card, I kept a rustic, muted palette, creating very easy blooms by paper-punching and sanding petal shapes from a sheet of Shattered cardstock, taking advantage of the kraft backsides for some interesting variation in my blooms.
Not sure about you but wedding season is in full swing for us in the summer and today Designer Gail Linder has some gorgeous engagement cards for you today.  Gail mixes and matches our cardstock brilliantly! Glitter Silk and Chocolate Box?  Fabulous!
Here is a little bit about these gorgeous cards from Gail:
I've had a couple of family members announce engagements recently so I created a couple of cards to celebrate the good news! I started by choosing a gorgeous card from the Chocolate Box collection and cutting a couple of designs out from my Cameo. In the end I settled on the fun sunburst and polaroid and went from there!
For the blue card, I chose the background from the Gemstone collection as the gave it an elegant feel. I've embossed the background and adhered my sanded polaroid over the top with pop dots, adding some patterned paper and a red Gemstone card underneath the cut out pieces.
Similarly, behind the sanded sunburst (be careful sanding the fine frame) I used a pink Glittersilk card to add a bit of elegance. The leaves were die cut from Gemstone cardstock also and the project was completed with the fun pink flower!
So there you have two card designs, made into elegant engagement cards by using specialty cardstock but imagine the same designs in different colors for any occasion!
Glittersilk 6×6 cardstock
Chocolate Box cardstock
Core Bookmark
Sand It Gadget
Dust Buddy
Cameo
Hero Arts Stamp
Ranger Distress Inks
PTI leaf die
Manor House flower
queen& Co Pearls
Chocolate Box cardstock
Core Bookmark
Sand It Gadges
Dust Buddy
Cameo
Cuttlebug embossing folder
Big Shot
Hero Arts Stamp
Ranger Distress Inks
flowers