Many card makers are also scrapbookers and I decided to take some of the new patterned cards and create a layout instead.  I started with a brown Core'dinations cardstock base and layered a white spotted piece slightly smaller on top.
I chose the colors of cards I wanted to use and made a border punched mat for my photos first. Once i had this all in place I started punching shapes from the card bases.  I used a couple different sizes of scalloped circle punched and then a tiny circle punch too.
I gently sanded the edges of these and then layered them on top of each other using 3D foam throughout the layout, trimming a few to a straight edge here and there as well.
I added a layered card sentiment as the title and some typewriter journaling to complete this one of Em and one of her closest girlfriends on her 13th birthday !!
David Tutera Celebrate A2 Assorted Patterned Bold Cards & Envelopes
David Tutera Celebrate Happy Birthday Layered Sentiments
David Tutera CelebrateBaby Girl Embellishment Kit
Core Essentials: French Roast, Izmir Purple
Spotted Jillian Dot: Snowflake
Sand It Gadget
Dust Buddy
Other: Xyron and American Crafts adhesive
Hi! Jill from Every Day is an Occasion here to share a kid's Craft project with you. Today I'm sharing how I made puppets for the story, Brown Bear Brown Bear What Do You See ?  featuring tons of Core'dinations Cardstock including the Brown Bear as the focal point made out of Chocolate Box cardstock!
Brown Bear Brown Bear What Do You See Puppets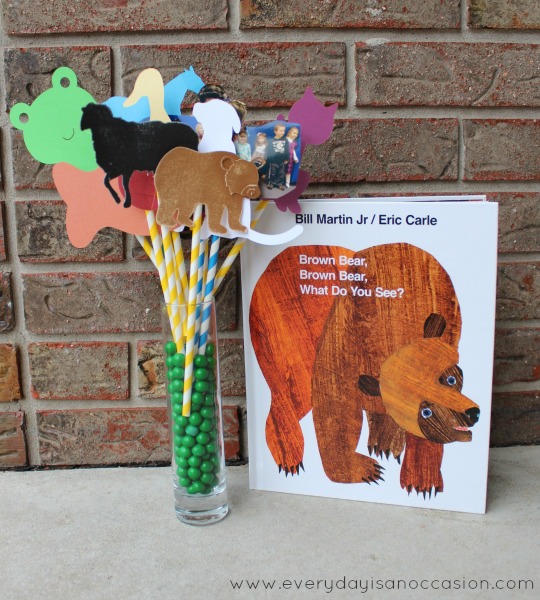 I used to teach first grade and my students LOVED reading this book. It's a great book because it's repetitive and kids can pick up on how to read it pretty quickly! My son memorized this book when he was 2 1/2 and now being 4 he likes to "read" it to his little sister. I thought it would be really fun for him to use these puppets in his puppet theater and create a puppet show for his little sister to watch.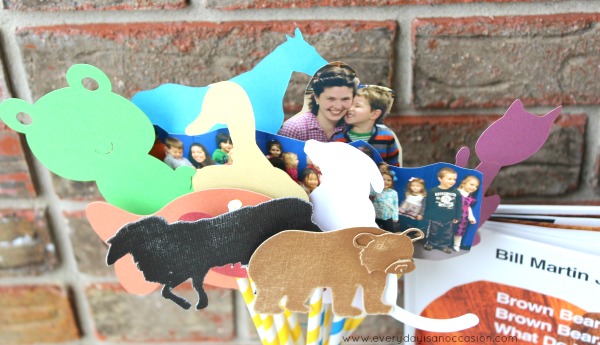 To create the puppets, I used Chocolate Box , Core Basics , 110 lb White Premium Cardstock, straws, and photos. I  cut out the animals using my Silhouette. They might not be the exact same shape as the animals in the book, but at least they are the same animals. At the end of the story, there is a Teacher and Students part. I used photos that I had taken in my son's class. All the animals and photos I adhered to straws using hot glue. The bear I assembled using Xyron Glue Dots and Xyron Glue Stick.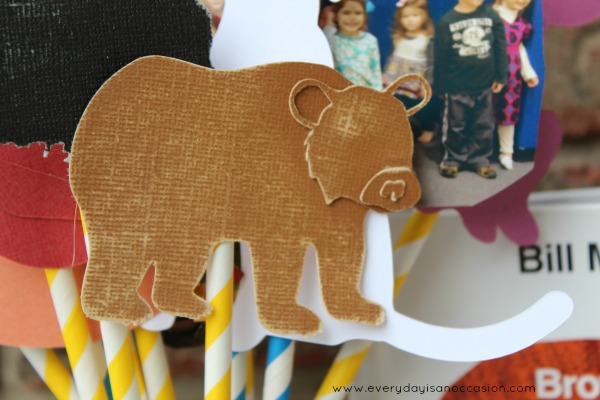 I love the way this brown bear looks sanded! I used the Chocolate Box  and sanded away! I love how the sanding gives him so much dimension.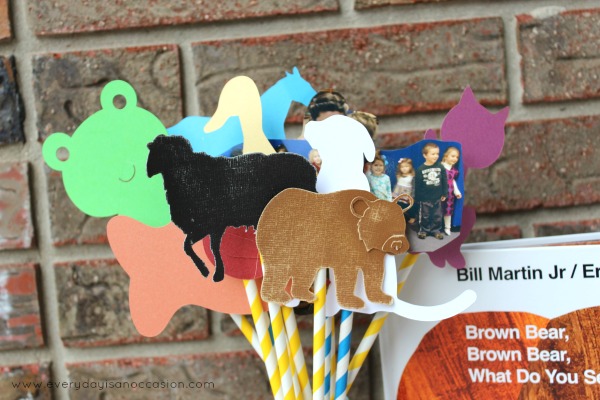 Core Tip: Use the backsides! The great thing about the Chocolate Box Pack is that it gives you so many options. You can sand away like I did on the bear or you can flip over the colors and use the colored side on the back!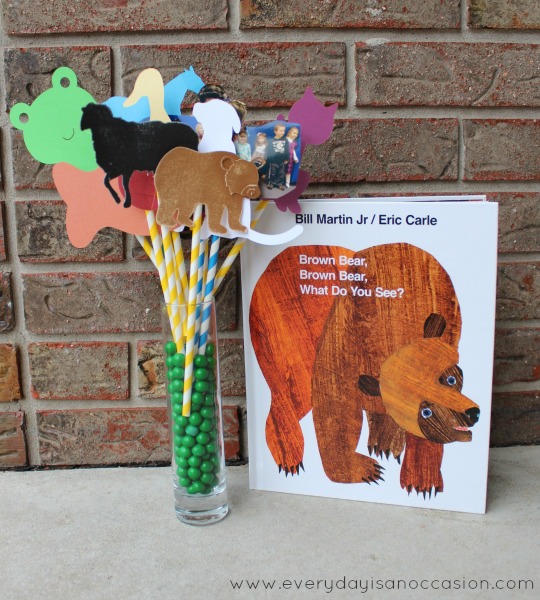 This was such a fun project and I cannot wait to give it to my son and watch his puppet show!!
Hello! Jill from Every Day is an Occasion  here to share a kid's craft with you today! We are going to make bunny hats! Get excited! They are super simple! When I was a first grade teacher, my students LOVED making hats for any occasion. So, now that I have my own kids I had to make the hats with them, especially now that my daughter is BIG into dress-up clothes.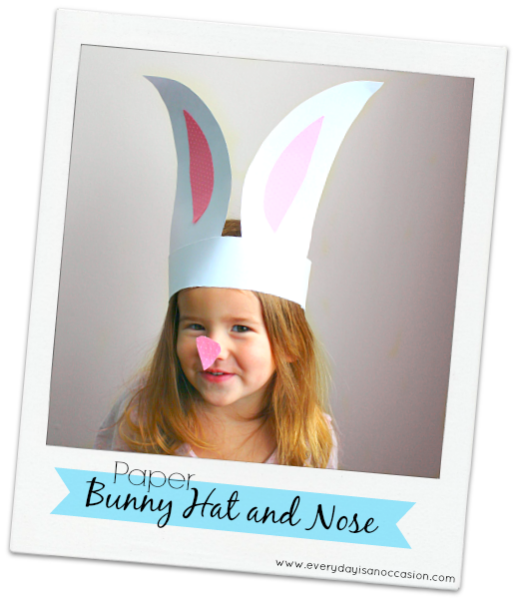 I know they have those $1 bunny ears out there made of fabric, but these are really fun to make to help keep your kids busy on those freezing snow days we've had! My daughter had a blast making these and especially wearing them! Now, I know you may be thinking, "She's two. How did she make those?" Well, she was mostly the assistant. In my humble opinion, I believe that getting kids helping at a young age helps them feel confident with Arts and Crafts.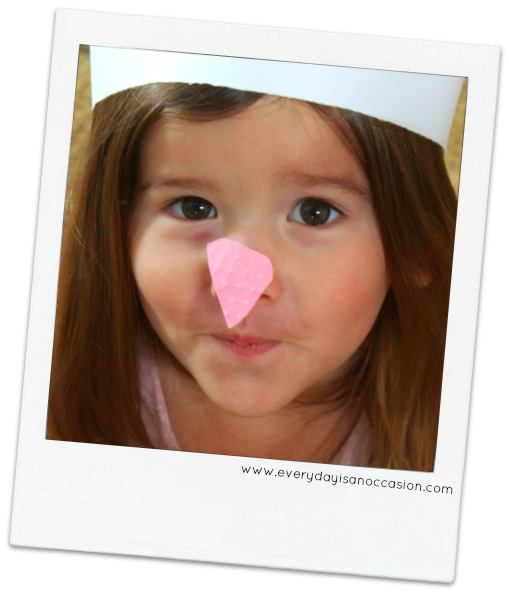 How to make Paper Bunny Hats and Noses:
Materials:
4 pieces of 8 1/2 x11 White Core 110lbs
1 piece Pink from Core Essentials Pastels
Swiss Dots Embossing Folder or any dotted embossing folder
Cuttlebug or your choice of embossing machine
Ear Template- hand draw or use the one below
Xyron Double sided tape
Steps:
1. Draw a bunny ear on the 8 1/2 x 11 piece of White Core. Cut out and use as your template for the White Core. This does not have to be perfect, it's just for fun! Trace onto two pieces of the White Core and cut out.
2. Draw a similar shape but smaller on the white paper. Cut out and use as your template. These do not have to be perfect. It's just for fun! Then trace onto the Pink Core and cut out.
3. Take one piece of 8 1/2 x 11 White Core and fold in half, hot dog style, then fold again so you have 4 pieces. Cut these out. Tape together measuring your child's head. This will be the head band.
4. Put Pink Core into Swiss Dots Embossing folder and then sand the dots.
5. Tape the Pink Core onto the inside of the bunny ears.
6. Tape the bottom of the bunny ears to the headband. *Quick Tip* If you roll the bunny ears up and let it go. It will help make the ears come forward for a cute look.
7. Use scotch tape to put the bunny nose on your child's nose.
8. Enjoy!
Here are the templates I used below in case you want to use them. Just right click on the image and save to your computer and then print.
And a close up of that embossing and sanding detail:
Cuttlebug
Cuttlebug embossing folder
Tim Holtz Ink Walnut Stain
Tattered Angels – Pearl Shimmer Mist
Spellbinder's Die Cut – Rose Creations S5-050
Ribbon:  Stash
Brads:  My Mind's Eye
Leaves:  Silhouette Cameo die cut
Cameo die cutting machine
Sand it Gadget
Dust Buddy
Xyron machine
And a close up:
Cuttlebug
Cuttlebug embossing folder
Tim Holtz Ink Walnut Stain
Tattered Angels – Pearl Shimmer Mist
Die Namics Die Cut- royal rolled rose and mini rolled rose
Ribbon:  Stash
Sentiment:  David Tutura
Leaves:  Cameo die cut
Cameo die cutting machine
Sand it Gadget
Dust Buddy
Xyron Sticker machine
So who was cropping with us this weekend????? We are having so much fun make sure you come chat with us here 🙂
Such a beautiful time of year and we are soaking it in on the Core Blog today with some fabulous Fall inspiration pieces!  If you were cropping with us then you saw this GORGEOUS card from Vivian Keh that is all about autumn colors! Make sure you check out her challenge and blog HERE for more amazing details!
What screams autumn color tones better than our Chocolate Box and Vintage Cardstock?  Heather Anne Kaesgan used both on this card for us today.
Creating with Core is easy! For this card,  Heather embosed the word "Hello" along the bottom and then added circles and Marvy Uchida punched flowers in the middle.  Did you know these Marvy punches actually punch the flowers with embossed designs? SO COOL!   Finish of your card with some May Arts ribbon and you are done! It's all about sanding, sanding, sanding! So get out that Sand It Gadget and have some fun.
And next up a card from Tracy Gruber.  I LOVE how she mixed in some Black Magic for her fall themed card.
I love the fall season because there are so many gorgeous colors and fun fall activities!  Picking out the perfect pumpkin is always a great time, even when you are 23 ; )  I cut out the pumpkin on my card from the Simply Charmed Cricut cartridge at 3 inches.  I used card stock from the Core'dinations Neutrals, Brights, Darks, and Pastels for it.  For my background, I used Black Magic with an orange background.  I sanded it with the Sand It Gadget to reveal the orange through the black.  I added some stitching and natural twine to complete my card!
-Echo Park The Apothecary Emporium 6×6 paper pad
-My Craft Spot Happy Fall! stamp set
-May Arts twine
-Cuttlebug Seeing Spots embossing folder
-Simply Charmed Cricut cartridge
-Tuxedo Black Memento Ink
-Xyron Foam Tabs
Happy Tuesday everyone!
We have a HUGE giveaway for you! How exciting is this?
All you need to do is LIKE both Core'dinations and Couture Creations on Facebook (giving our friends over there shout out would be nice, too 😉 and then click HERE to enter to win! That's it! We are giving away FOUR prizes of $50 FULL of products from both companies. You don't want to miss this!
~~~~~~~~~~~~~~~~~~~~~
And who's ready for some projects from Design Team Member Kim Moreno??? I don't think there is one project on here where Kim doesn't work her  ScorPal. Scoring is a GREAT and EASY way to add accents to projects. From creating a unique frame around your projects to adding journal lines and even making your own patterns….you name it! You can do it with Core'dinations!!
LOVE the outlining technique for the title!
Cardstock Sticker: Crate Paper
Foam letter stickers: American Crafts
Tool: ScorPal
~~~~~~~~~~~~~~~~~~~~~~~
And a few cards…Kim can really work her card magic. All you need is some Core and a few accents and, "Voila!" You have some gorgeous cards for any occasion.
I know we shared this card on Facebook already but with the upcoming Holiday, I wanted to make sure everyone got a chance to see it. Repeating the same shape in different colors and lines of Core'dinations looks amazing! AND it's quick and easy. You just grab some scraps, run them through your embossing machine…adhere…and that's it!
I used the ScorPal to create the border around the edge of my card and sanded it slightly to reveal the kraft core of the paper. I then ran the papers through my Cuttlebug to emboss the leaves… sanded each of them and cut them out. I used the 250 to adhere the leaves down and then used the glue dots to keep the sentiment block down- I wanted it to be a bit more tacky since it was going over the twine.
Core'dinations: Tim Holtz Kraft Core, Tim Holtz Shattered, Vintage Collection
Twine: Twinery
Embossing: Cuttelbug folder and machine
Adhesive: Xyron High Tack Adhesive Dots, 250 machine, Mega Runner
Tool: ScorPal
Stamp: Lawn Fawn
Ink: Clearsnap
~~~~~~~~~~~~~~~~~~~~~~~~~~~~~~~~~~
And another cute  card…I just love these little square cards!  Scoring is the perfect accent, too. Here is how she did it:
I used my scor pal to make the lines around the edge of the card. I then ran the pink paper through my cuttlebug and sanded the sentiment slightly to reveal the colored core of the pink paper. I then backed it in patterned paper twice and adhered to the center of card and added jewels and felt embellishment to finish.
Felt embellishment: Maya Road
Patterned Paper: Crate Paper
Tool: Scor-Pal