Many card makers are also scrapbookers and I decided to take some of the new patterned cards and create a layout instead.  I started with a brown Core'dinations cardstock base and layered a white spotted piece slightly smaller on top.
I chose the colors of cards I wanted to use and made a border punched mat for my photos first. Once i had this all in place I started punching shapes from the card bases.  I used a couple different sizes of scalloped circle punched and then a tiny circle punch too.
I gently sanded the edges of these and then layered them on top of each other using 3D foam throughout the layout, trimming a few to a straight edge here and there as well.
I added a layered card sentiment as the title and some typewriter journaling to complete this one of Em and one of her closest girlfriends on her 13th birthday !!
David Tutera Celebrate A2 Assorted Patterned Bold Cards & Envelopes
David Tutera Celebrate Happy Birthday Layered Sentiments
David Tutera CelebrateBaby Girl Embellishment Kit
Core Essentials: French Roast, Izmir Purple
Spotted Jillian Dot: Snowflake
Sand It Gadget
Dust Buddy
Other: Xyron and American Crafts adhesive
Happy 4th Card by Suzanna Lee
Supplies:
Black Magic, Core Essentials, Core Basics - 110lb White,  Bust Buddy , Sand It Gadget
David Tutera: White Smooth Cards & Envelopes – Size A2; DT-GX-7500-05
Darice Embossing "masks", Die – Lifestyle Crafts, Embossing Folder – Tim Holtz
Patterened Paper – Pebbles Inc, Letter Roller Stamp – Pebbles Inc, Buttons – Michael's
Stickles – Tim Holtz
 I used Darice's embossing folder "mask" to create this special cut out instead of using one of your sandwich plates, you can select areas that you don't emboss.
To the left is the sandwich (minus the paper) and to your right is the resulting effect. I chose to "fill" the hole with another piece of embossed BlackMagic that I cut using the embossing mask to trace the oval. The result is less raised as you put embossed cardstock on flat cardstock (as opposed to two layers of embossed paper).
There is a lot of depth to this card with the fireworks really coming at you! I only adhered the center of the die cut firework sprays thus enabling me to use my finger nail to curl out the "arms". A little Stickles adds to festivities!
~~~~~~~~~~~~~~~~~~~~~~~~
Happy 4th card by Debbie Standard
1.  Start by cutting hexagons with your hexagon die cut and your embossing machine.
2.  Take your hexagons and using about three different embossing folders emboss your hexagons.  Then you will sand them with your Sand It Gadget and dust them off with your Dust Buddy.
3.  Run all your hexagons through your Xyron machine and place on your white card base.
4.  Tie ribbon below your hexagons and add a tag with your sentiment.
Hi! Jill from Every Day is an Occasion here to share a kid's Craft project with you. Today I'm sharing how I made puppets for the story, Brown Bear Brown Bear What Do You See ?  featuring tons of Core'dinations Cardstock including the Brown Bear as the focal point made out of Chocolate Box cardstock!
Brown Bear Brown Bear What Do You See Puppets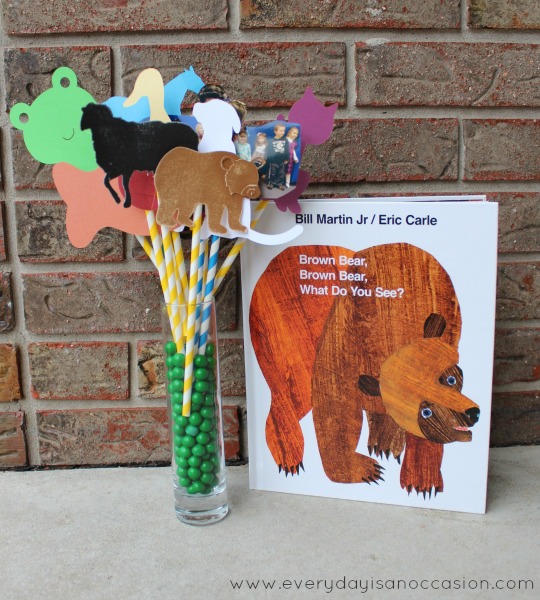 I used to teach first grade and my students LOVED reading this book. It's a great book because it's repetitive and kids can pick up on how to read it pretty quickly! My son memorized this book when he was 2 1/2 and now being 4 he likes to "read" it to his little sister. I thought it would be really fun for him to use these puppets in his puppet theater and create a puppet show for his little sister to watch.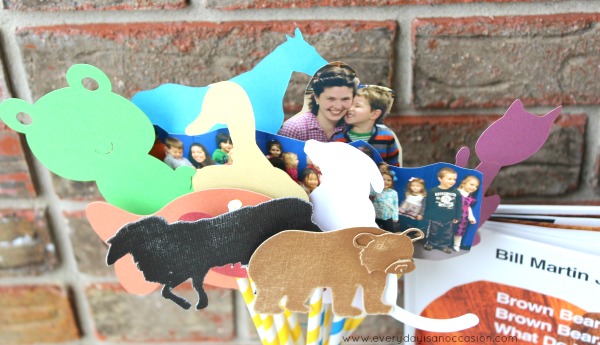 To create the puppets, I used Chocolate Box , Core Basics , 110 lb White Premium Cardstock, straws, and photos. I  cut out the animals using my Silhouette. They might not be the exact same shape as the animals in the book, but at least they are the same animals. At the end of the story, there is a Teacher and Students part. I used photos that I had taken in my son's class. All the animals and photos I adhered to straws using hot glue. The bear I assembled using Xyron Glue Dots and Xyron Glue Stick.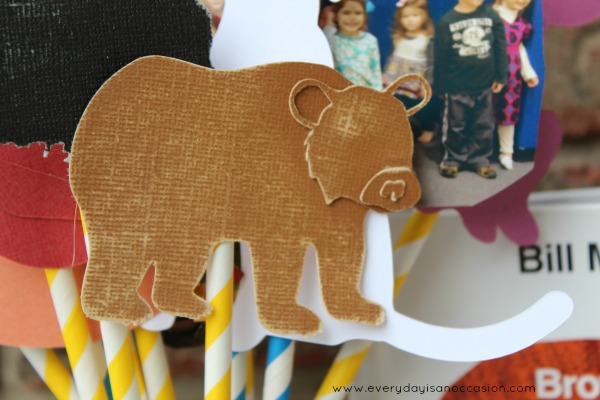 I love the way this brown bear looks sanded! I used the Chocolate Box  and sanded away! I love how the sanding gives him so much dimension.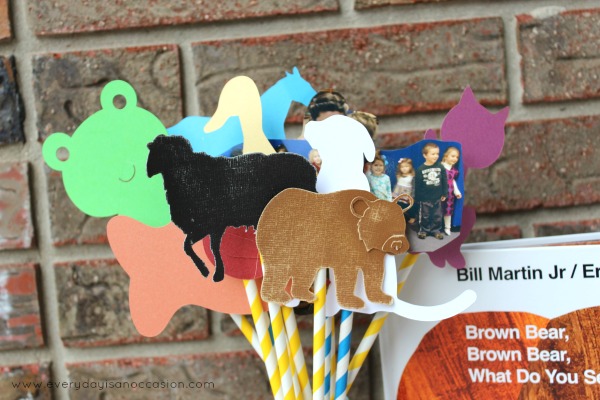 Core Tip: Use the backsides! The great thing about the Chocolate Box Pack is that it gives you so many options. You can sand away like I did on the bear or you can flip over the colors and use the colored side on the back!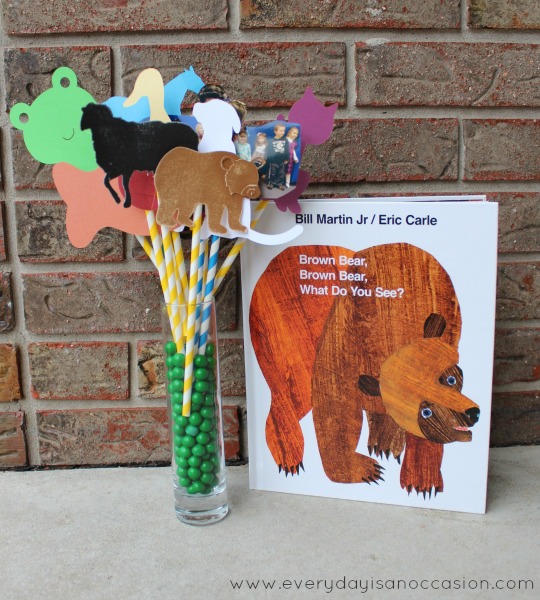 This was such a fun project and I cannot wait to give it to my son and watch his puppet show!!
I don't know about you but we are gearing up for the end of school here. With only less then two weeks left, I need to get busy on some gifts for my kid's teachers and we hope you have been enjoying the ideas so far this week! You can easily incorporate these with layouts, cards or any paper crafting project.
I love a good gift bag and Debbie Standard as one for us today but that's not the focal point. She created her own award ribbon using some Spellbinders Scalloped Circle dies! Just die cut them with an embossing machine and then cut them into pieces. Sand and then adhere them in a circular pattern, add some banner strips and you are done!
Jillibean Soup letter stickers
May Arts Ribbon
Spellbinder's Die Cut – S4-124 – large scalloped circles
Cuttlebug Embossing machine
Cuttlebug Embossing folder – numbers
Xyron 250
Xyron Mega Runner
We have another super cute Thank You Teacher idea from Debbie Standard. This David Tutera Laser Cut Favor Box is the PERFECT idea for a super quick gift. All you need to do is add some candy and fold the box on the pre-scored lines. Finish it off David Tutera Celebrate Tag and sentiment and you are done! I ALWAYS reach for a Core Tag when finishing off a gift whether is one of our Core Tags or David Tutera Celebrate tags. They are the finishing touch for any project and always look great with the silver grommet and sanding.
David Tutera Celebrate Brights Tags are sandable, color core tags that come with a metal grommet. There are 24 gorgeous tags in four different colors and 6 designs and it includes string!
Xyron Mega Runner
Today we have some gorgeous layouts from Debbie Standard!
We had a beautiful day for my mother's 87th birthday and afterwards while the girls were still dressed up we went around the corner from my house and had them pose in this beautiful field of blue bonnets (Texas is known for their  state flower)! My granddaughter was patient with me up to a point and then she spontaneously burst into some random poses – these were  my favorite!
3. I matted my photos with white and then added pink behind my photo strip.  I punched the edges with a Martha Stewart punch and then sanded them before adhering.
4.   I cut my flower and my title from my Silhouette ran the title through my Xyron machine and attached it.  Totally loved how these colors came out and reflected everything in my photos.
Sand It Gadget
Dust Buddy
Cuttlebug embossing machine
Embossing Folder:  Spellbinders
Martha Stewart Punch
Silhouette Cameo
Silhouette Die Cuts – Title and flower
My Mind's Eye Brad
Teresa Collins Enamel dots
My Mind's Eye Tags
Xyron 250
Xyron Mega Runner
Glue Dots
~~~~~~~~~~~~~~~~~~~~~~~~~
1. Sand the BasicGrey Core Impressions and adhere together with Washi tape.
2. Then I cut and matted my photos on a sheet of white and then backed it with a bright blue and attached it.
3. Next, I cut my title and my balloons from a Silhouette die, ran them through my Xyron 250, sanded them lightly and adhered them to my page.
6. Add some Queens & Co. twine for  balloon strings.
Supplies:
Glitz Washi tape
Sand It Gadget
Dust Buddy
Cuttlebug Embossing Machine
Embossing folders:  Darice
Silhouette Cameo
Silhouette die cuts (balloons and title)
Queen & Co. twine
Xyron 250
Xyron Mega Runner
Glue Dots
Paper Studio letter stickers