Wahoooooo!!!!!
We are hopping all week long featuring Holiday projects with our friends at Tombow. We hope that we can inspire you to create your own handmade gifts or even start scrapping those Christmas photos from last year (I know I need to).  Here is the list for today:
Monday
Tombow: http://blog.tombowusa.com/
Debbie: http://debbiedee.blogspot.com/
Clare Buswell http://clare-buswell.blogspot.com
Gail Lindner http://www.gaillindner.typepad.com/
Jennifer Edwardson http://3dfoamandasandingblock.blogspot.com/
Core'dinations: http://www.coredinations.com/index.php/cat…scrapbook-blog/
Here are a few sneaks of what you will see along the way! Yipeeeeeeeeeeeeeeeeeeeeeeee!
Oooooh…..aaaaaaaaah…..
And…..
And, of course, we have some Core up for grabs! Comment to win all week long  for a chance to win a  Tim Holtz & Ranger Distress  collection pack and a Sand it Set. Leave a comment letting us know something you learned along the way and we will pick winner Friday afternoon. AND don't forget to comment over on the Tombow blog for a chance to win some of their goodies, too!
Don't forget about the Tombow Facebook page and the Core page, too…you never know when giveaways pop up there!
Hi! Jill from Every Day is an Occasion back to share another Kids Core project with you! Today it's all about being grateful! This Grateful Journal can be used a couple of ways. The first way, which is how I'm going to be using it, is a mini album. Since November 1, I have been taking pictures of things I'm grateful for and posting them on Instagram. I am going to print the photos and then put them in this mini album. The second way could be used on Thanksgiving and to have everyone draw pictures or write on the page what they are Thankful for. Then at the Thanksgiving Table the journal can be read and you have a keepsake to look back on when your kids are older. Now these are just two ideas I came up with. I'm sure you have a great idea if these don't work for you!
Grateful Journal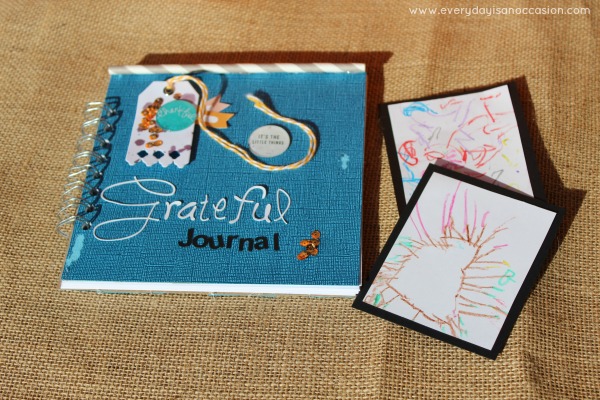 One thing is for sure, I love Core'dinations white core paper! The 12×12 and 110lb 8 1/2 x 11 packs are such an AMAZING quality of paper! I made this entire journal out of scratch and it's thanks to the white core! It is so super sturdy that I felt comfortable using it as all the album pages. To create the cover I actually used a cereal box and cut it to 6 1/2 x 6 1/2. I then used my Xyron Mega Runner to adhere the Vintage Core'dinations cardstock to the cardboard. To create the album pages, I just cut 15 white sheets down to 6 1/2 x 6 1/2. Then I used my cinch machine to bind all the pages together.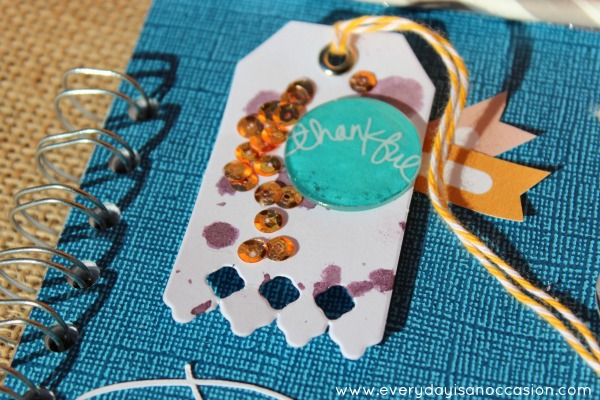 For the cover, I used Core tags along with some vintage sequins I was handed down from my Great Grandmother. I also used some Amethyst Colorshine. I attached some Hemptique Twine to my tag. I have to say though, my favorite thing is to print onto core. I used Shanna Noel's thankful prints and printed them onto my 8 1/2 x11 white core. Then I used my Epiphany Crafts Round 25 tool to punch them out and I put an acrylic sticker (they go with the round 25 tool) on top.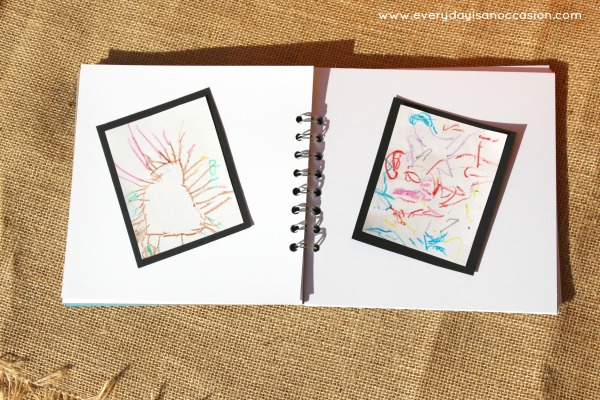 This is all great and grand you may be saying to yourself…but what you really want to know is how is this a kids craft? Well, let me tell youwhat we did… I talked to my kids (2 & 4) about being grateful or thankful. We have read many Thanksgiving books together and discussed what it means. Then I had my kids draw pictures about what they are thankful for. My 4 year old son (on the left) said he is thankful for "ALL the leaves". I said, "Oh you're thankful for leaves?" He said, "No, Mom… ALL the leaves" CUTE! My two year old daughter (on the right) said she is thankful for Daddy and she said Daddy has colorful hair. LOL! I am going to add these to my Instagram pictures. Once I have them printed I will have my kids help me create the layouts with photos of them and their drawings.
Have a great day! Smiles, Jill
You can Follow Jill on Instagram here and Core'dinations here!
Today we have designer Jill Lebbin with a super fun craft to do with your kiddos that is not only festive but cute! Who doesn't love teepees?!??!
Jill from Every Day is an Occasion here to share a Kids Core project with you today! My son, daughter and I made Tepees out of white Core! How cute are these?
Core Tepees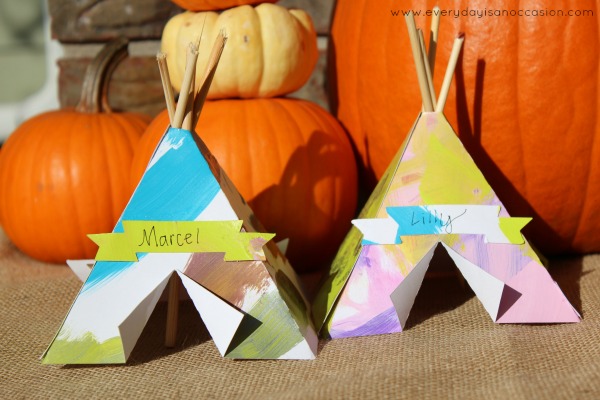 To create these tepees, I use Coredinations 12×12 white paper, this silhouette cut, Americana multi-surface paint, bamboo skewers, Elmers Craft Bond glue.
First, I had my kids paint the Core paper and we let it dry. Then, I put the paper through the silhouette cameo and cut it out using the this cut. If you don't have a Silhouette, you could cut four triangles and add little tabs (or a section to fold over so you can adhere them) to the triangles and glue the sides together. Then we cut bamboo skewers in half so they would fit in the opening. You can embellish these, stamp them or add litte name plates like I did. That's it!
I fond my inspiration from this blog, that artist that woman so you can check out and she has a downloadable pdf you can use to make these on your own for Thanksgivingif you don't have a Silhouette. We are going to use these tepees at our Thanksgiving table as place cards! So excited! My son had a blast putting this together!
Have a great day! Smiles, Jill
~~~~~~~~~~~~~~~~~~~~~~~~~~~~
And crafting with your kids doesn't have to be downloads. Simple handcut circles like this are all you need to make cute catepillars like this one from Heather Kaesgan. Her son LOVES to craft with her and this is the CUTEST! Right side, wrong side, stamping…anything goes with this!
Get that "Pin It" button ready! We have some AH-mazing Thanksgiving/Fall inspired table decor for you today featuring our Tim Holtz Shattered cardstock.
First up Designer Ava Gavloski created this amazing tablescape. How cool will this look on your Thanksgiving Day Table?
Autumn is a bouquet of colors which truly is magical to watch as you stroll down the country side roads and city parks.   The fresh cool air of autumn brings memories to warm everyone's heart. Designing with the Core'dinations Tim Holtz Shattered collection during this sunny day of Autumn has set the ambiance   for a thankful Thanksgiving.
Below you will see all the leaves that I distressed. 
a) This line you see the green leaves cut out straight up from the paper. B) this side presents the harvest orange, crumbled and sanded leaves green leaves were made by first crumbling the cardstock, sanding and then die cutting the leaves out. C) this line of leaves shows the differences from inked and die cut to crumbled and sanded before die cutting the leaves. D) this sample is taking the cherry bright cardstock , crumbled, sanded before die cutting.
And some close ups:
Look at all that gorgeous Shattered cardstock!
And one more of the distressed, crumpled leaves:
Supplies
Tim Holtz Shattered Collection Kraft Core, Sand It Set, Helmar, 450 Quick Dry Adhesive, Ranger Distress Ink, Ripe Persimmon , Procraft cuttlebug, Leaves die 37-1214, Thrift store:  candle, tray and candle holder
~~~~~~~~~~~~~~~~~~~~~~
Next a Fall themed topiary from Designer Shaunte Wadley! The large flower is just a scalloped shape piece of cardstock (you can use a die for this or a cutting machine) and then scored and folded.  For a similar project that I did for Christmas check out Debbie's Dares blog for more!
These are pretty easy to make. Just take 4 circles and cut off the bottoms to make a straight line (this is how they will stand up on their own). Scor down the middle and fold. Then adhere them back to back around a stick (I use kabob skewers that I cut down) to make the little pumpkings. Ink the edges so they really pop.
It is no surprise here that we love our Authentique papers! Today Jennifer Edwardson has whipped up some amazing cards for your inspiration. See what you can do with some David Tutera Celebrate Cardmaking system pieces and some gorgeous patterned paper? You can whip up TONS of cards is a short amount of time because all of the cardbases are premade, scored and folded for you.  So make sure you check out Step 1 HERE.
I love giving sets of gift cards for birthdays, thank you and hostess gifts so when I saw the cellection of Authentique product I got to work with I knew it would be perfect for this !!
The colors in 'Be(you)tiful' are gorgeous and they work so well with the Core'dinations cardstock.  I started all my cards using David Tutera Celebrate card bases.  I chose the pearl cardstock cards – they have become my new fave – love the shimmer !! The colors of these cards worked so well with the colors in the patterned paper ……
I chose a few complimentary pieces of cardstock and got to work.  On some cards I used embossing folders on the card base and others I embossed the cardstock and sanded and layered them mixed with the Authentique papers and die cuts …… I even had twine and sentiments in my studio to match !!
I was thrilled with being able to get a gorgeous set of (8) A2 sized cards using (1) 12 x 12 die cut sheet and a few pieces of patterned paper from a 6 x 6″ pad.  Add in the card bases and a few pieces of Core'dinations  cardstock and ta-da! 
This is a lovely gold pearl card base from the Pearls assorted pack.
And don't be afraid to emboss those card bases!
Authentique: 'Be(you)tiful' 6 x 6″ paper pad and 12 x 12″ die cut sheet
Sand It Gadget
Dust Buddy
Other – embossing folders, twine, gems, word stickers