Personally, I would ask Debbie Standard. She always creations beautiful layouts that not only showcase Core but they are full of amazing details, beautiful photos and over all well designed elements. What do you say we check out a few?
Flowers:  Reminisce, Prima, Petaloo
Bling:  Recollections; Prima, Queen & Co.
Word Stickers:  Little Yellow BIcycle
Silhouette
Tags:  My Mind's Eye
Tags:  My Mind's Eye
~~~~~~~~~~~~~~~~~~~~~~~~~~~~~~~~~~~~~~~~`
And next up another amazing layout. Check out the placement of the photos and just how balanced this amazing layout is!  The flowers move our eye around and  the hand cut details….
And don't forget we are still cropping away! TONS of time to get things done . Check out details Here:
Did you love the  projects yesterday featuring Heidi Swapp?If you missed yesterday's post please check it out here, you do not want to miss the gorgeous Mixed Media layouts featured yesterday. Also..we have a list of winners for you located on our Hot Topics page for you, too!
Today we have more Mixed Company projects for you from our designers including both layouts and cards. I hope you are ready to be inspired!  The color palette of the Mixed Media line is just so great…the pinks and blues and grays with the black accents are perfect for any occasion card or layout.   OH and don't miss Heidi Swapp's giveaway..the ENTIRE Mixed Media LINE!
Vivian Keh created a card and layout for us today. Mixing and matching the papers from the Mixed Media collection is easy. Add some hand cut details , stamping, and a gorgeous Moraccan diecut and you have one gorgeous card.
Vivian really plays on the horizontal and vertical lines on this card which make it so visually appealing. The more you look at it, the more  you see!   Notice the hearts on the stamped stentiment?  Yep, she stamped right on the Heidi Swapp patterend paper…loving that!
Such amazing detail!
Just love how the Mixed Company Bouquet patterned paper looks with the Moraccan shapes Vivian created out of  some Whitewash cardstock from her scraps from the card above! She used some super cool shapes from the Sizzix Thinlits Moraccan die to create her own background  for that gorgeous photo.  She keeps your eye moving around the layout with these shapes, some gems and the spots from the Heidi Swapp patterned paper.  A lot of time and love went in to this layout for sure!
And a gorgeous detail!
What an amazig looking detail…LOVING the white on Whitewash!
Here is a great detail that shows how Vivian mixed the Whitewash Core'dinations pieces with some of the patterned papers from the Mixed Media collection:
~~~~~~~~~~~~~~~~~~~~~~~~~~~~~
And who doesn't love circles, black and white contrasting colors and oodles of texture?  Shaunte Wadley worked her magic on this layout for sure! Shaunte says she raided her stash on this layout but you wouldn't know it. Mixing up embossing folders and patterned papers for the circles really adds to the interest of this layout. How did she make that circle pattern you ask? Silhouette Cameo with some gray Core Essentials..along with some Black Magic in the title. The background paper is Core Impressions from the Basic Grey Core Impressions line. Add a sprinkling of Queen & Co gemstones and washi tape and you've got yourself a great layout.
Silhouette Cuts used:
~~~~~~~~~~~~~~~~~~~~~~~~~~~~
And Mary Pat Siehl is working some Whitewash love, too! Mary Pat has a unique way of capturing everyday activities and making them look like so much fun!
I loved combining my Core cardstock with Heidi's wonderful pattern paper.  It proves once again that Core really is the best cardstock!  I first used a 12×12 template and sanded my Whitewash  Cardstock over it.  I love how the image is very light.  I also tore the cardstock to expose the darker core at the top.  Then I layered it on top of some of the awesome Mixed Media pattern paper!  The contrasting prints look great.  For my title  "today" I sanded my paper first and then sanded it before cutting it in the Silhouette (this helps with these delicate cuts).  This layout is a typical day after school- homework, computer games and outside play time.  I love our everyday life!
supply list
Core'dinations Vintage collection and Core Essentials Darks
~~~~~~~~~~~~~~~~~~~~~~~~~~~~~~~~
Happy Monday everyone!
Today we have two layouts from Designer Suzanna Lee using our Core Impressions.  The great thing about these lines is that you can sand them or not sand them. So we thought we would give you to examples  of each. The first one uses the BasicGrey Core Impression Whimsy collection not sanded. 
The fun thing about Core is you can sand some …and not sand others ..all in the same  layout like Suzanna did here. She sanded the tone on tone stars and scallop shape in red to make them pop off of each other and then left her Core Impressions as is. Don't forget to get out your Sand it Gadget when you decide to sand 😉 It's repositional sand paper pieces make it so easy to use!
Supply List:
Core Impressions:  BasicGrey
Coredinations Tim Holtz  Distress
~~~~~~~~~~~~~~~~~~~~~~~~~~~~~~~~~~~~
Core'dinations looks great cut in your Silhouette or any die cutting machine!
Love the bits of sanding….
Supply List:
Core Essentials: Darks
Core Impressions Basic Grey Whimsy
Tim Holtz/Ranger: Distress
12×12 Crabgrass
Whitewash 6×6 pad
Sand it Gadget
Dust Buddy
Patterned Paper and stickers: Pebbles
Decorative bag: Fancy Pants
Ink: Memento
Stamp: Cocoa Daisy
Wood pin:Little Yellow Bicycle
Wood Veneer: Studio Calico
Tag: Chic Tags
Die: Lifestyle Crafts
Dot: Q&Co
Every month we challenge our designers with something fun and this month it was all about monochromatic color schemes.
Did you get the August newsletter?  Well if you did then you got a FREE downloadable PDF from Designer Mary Pat Siehl featuring a quick "how to" on how to create EASY monochromatic looks with just embossing!  Core makes scrapbooking easy, don't you think? By being a Hard Core Crafter you are automatically signed up for our newsletter.
Our Design Team also did some for us today as well. As you can tell our team likes blue 🙂
First up Kate Nolan-Deham…Kate used a banner to really enhance her monochromatic color scheme. And how sweet is her Glitter Silk dress form that she embellished!
And look at all this texture from Designer Gail Linder??!?! LOVE how she chose to use some yellow…a color I think a lot of scrappers struggle with:
A super simple card from Designer Ava Gavloski…monochromatic doesn't need to be complicated….
 and one last card from Designer Heather Kaesgan…LOVE how she mixed in some Gemstones for her monochromatic look for that bit of shimmer….
Clare Buswell used our Core Amour Cardstock to create a unique monochromatic look:
And Tracy Gruber always creates the CUTEST cards….hippo-ray, LOL! So cuuuuute! And monochromatic doesn't need to be the exact same color. Tracy used different hues of purple for hers and added some Gemstones as well.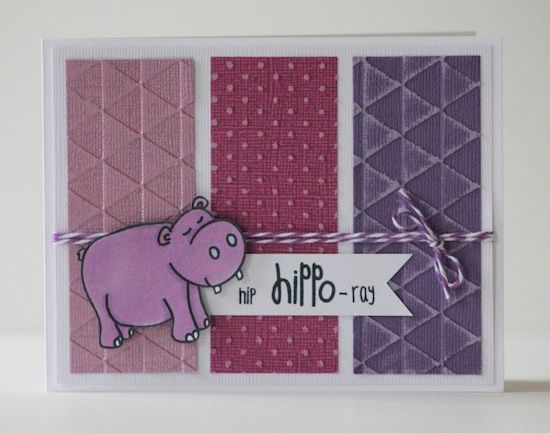 And how about a Pink Monochromatic layout from Designer Ava Gavloski? Look at all that gorgeous detail!  Using the BasicGrey Core Impressions for her base and then just adding fabulous bits and pieces in pink and white….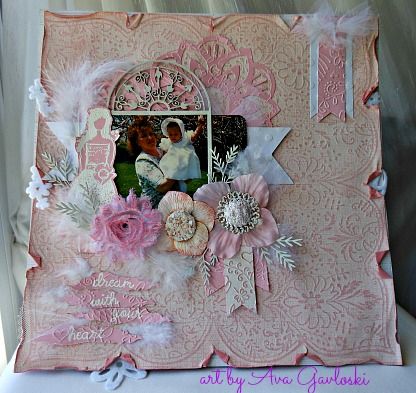 How we doing today??? I hope you are as excited as I am  for today's project from Designer Ava Gavloski. She created this gorgeous Calendar box using our BasicGrey Core Impression. WOWZA is it GORGEOUS!
It's all about texture.  The Card Keeper box is perfect for many filing options.  Today, I am sharing with you my file which helps me remember birthdays, anniversaries and events that are celebrated yearly.  You could change this file system by making tabs for the types of cards you have on hand.  (ie: Birthdays, Sympathy, Anniversary, Baby etc).
Core'dinations cardstock adds volume and texture to this card keeper project.   Layering this project with Graphic 45 pattern papers was a delight as the Bird Song collection matched perfectly with the Core'dinations Whitewash and Distress collection.
You can find the start up instructions to this project at Erica Cerwin's blog: http://pinkbuckaroodesigns.blogspot.ca/2012/06/stampin-celebration-june-blog-hop.html.  I adjusted the instructions a bit to fit my style of scrapping and my tip is to not glue the box together until you have the sides designed and glued down.  Enjoy!
Loving this back detail with the Couture Creations embossing folder…
 Core'dinations, Basic Grey, Ornate Whitewash Collection
Core'dinations, Tim Holtz Ranger Distress Collection, Tumbled Glass
Graphic 45, Bird Song Collection, Cherry Blossom
Couture Creations embossing folder-Fresh and Fun Collection, Smooch & Double Sided Tape
May Arts ribbon
Want2Scrap, Pink pearls
Tombow Adhesive
Sand it Gadget
Dust Buddy
Cuttlebug
Spellbinders, Bitty Blossoms
EK Success 3" Daisy punch, OTM Wooden this be Nice rub-on's
Tulle, Wire
We are here having fun this week with Couture Creations. It's no secret that Core'dinations ColorCore Cardstock looks fabulous with dies and embossing folder especially when you sand, sand, sand!  Couture Creations is  an Australian owneda & loved brand, Couture Creations is the culmination of 20 years experience in the scrapbooking industry. From its final inception in 2010, Couture Creations has been devoted to producing expertly designed, high quality products overseen by veteran designers & crafters for a result that is both simple and elegant.
Make sure you head over to their BLOG, PINTEREST, FACEBOOK pages to find out all the other chances you can win. Here is a sneak of what is going on over there today.  Please keep in mind we are in two different time zones so in case we are off on our times bit please forgive us.   We are getting our coffee ready when they are getting ready for bed.
We are happy that you hung in there with us this week that we shortned all of our posts into a few so it would be easier for our readers and not have to jump from post ot post. Sound good?  Oh and as a thank you we are offering ANOTHER giveaway so make sure you check THIS POST!!!!
First up Designer Kate Noal Denham explains how she created this gorgeous card using Couture Creations Doily dies and embossing folder from the Sweet Dreams collection:
Instructions: 
1)  Create a 4.5″x 6″ card base out of a piece of Cream Core'dinations Cardstock.
2)  Emboss a 4.25 x 5.5 piece of Blueberry cardstock from Coredinations Chocolate Box Collection with Couture Creations embossing folder.
3)  Trim embossed cardstock to 4″ x 5.5."
4)  Lightly sanded embossed image using the Sandit Gadget, so as the Blueberry color shows, and then clean the dust off using the Dust Buddy.
5)  Add VersaMark and sprinkle clear embossing powder over the entire 4″x5.5″ embossed paper.
6)  Heat embossing powder until a lovely sheen appears.
7)  Now add this piece of embossed Blueberry cardstock to the card base, leaving an even amount of matting on all sides.
8)  Die cut a piece of Rivulet from Core'dinations Vintage 6″x6″ Collection using  Couture Creations Doily Die.
And a close up of that fabulous sanding!!! :):):)
9)  Trim two sides of the die cut paper so that it is flush against the bottom right of the embossed paper on the card base.
10)  Before added the trimmed doily to the card, sand the edges a bit using the Sandit Gadget. Don't forget to use the Dust Buddy!
11)  Add foam dots to the backside of the doily (I used Helmar Zapdots) and place on the bottom right of the embossed paper.
      12) Punch a circle out of the Cream cardstock used to create the base.
  13) Trim two edges of the circle so that it is flush with the doily.  Add to the doily.
  14) Cut a one inch banner out of some more Blueberry Chocolate Box Cardstock.  Sand it a bit.
  15) Stamp sentiment on banner and adhere stamped banner to the bottom third of the doily/circle.
  16) Add a few pearls around the outside of the circle.
  17) Give to someone for their birthday!
 I really enjoyed using Couture Creations products with Core'dinations Cardstock!  The embossing folders are really crisp and the embossing really stands out on all the Core'dinations Cardstock.  The doily die is incredibly intricate, yet it cut through the hearty Core'dinations Cardstock like butter.  I look forward to playing with these product again!  ~Kate
~~~~~~~~~~~~~~~~~~~~~~~~~~~~~~~~~~~~~~~
Next up Designer Shaunte Wadley with fabulous pr0jects! Shaunte really works color combos that are just perfection!
Again…Couture Creations Fresh and Fun Embossing folders and Doily dies
 Core Essentials
The background is BasicGrey Core Impressions
Misc Buttons
Silhouette Cameo
And next up a super cute gift bag and card:
The topper is the Couture Creations die mounted on a circle and then folded in half to top the bag.
The gift card is embossed with the Couture Creations die from the Sweet Dreams embossing folder line.