Thursday Already?!
If you are just joining us this week we are kicking of December with BasicGrey!
If you haven't heard, we have a BasicGrey Core Impressions line that we just LOVE! There are TWO Core Impression packs in this line that are fabulous.  The Whimsy Collection is full of bright colors and whimsical patterns that match BasicGrey papers and embellishments. And the Ornate Collection has beautiful blues, greens and pinks that coordinate with BasicGrey papers and embellishments as well.  You will be seeing both of these collections in action this week along with LOADS of BasicGrey goodies, too!
Each pack has FOUR embossed patterns in FIVE colors totaling 20 unique sheets and we sell certain sheets individually as well.
And you know it wouldn't be complete if we didn't have a giveaway! We are giving away one of EACH of our BasicGrey Core Impressions lines!!!
You have a few ways to win this week.
1.) Leave a comment here on the Core blog all week long! Leave a comment everyday for up to FIVE chances to win!
2.) Head over to our Facebook page for another chance to win!
3.) Make your way over the BasicGrey blog for additionial chances to win, too!
AND don't forget to go to the BasicGrey Facebook page and tell them we sent you. You never know when there are goodies up for grabs!
Now are you ready for some inspiration?  Don't forget to click HERE to get see the gorgeous projects over at the BG Blog and more chances to win win win!
If you know anything about BasicGrey it's that their papers are full of gorgeous colors. Design Team member Lydia Jackson created a layout that showcases just that using some Picadilly. Lydia shows off on this layout that you can pair your BasicGrey with our other collections, too! Lydia used some Core Essentials and Jillian Spotted cardstock on this layout.
And do you love love love love Black Magic like we do?
Design Team Member Debbie Standard created this layout for us using the Black Magic Sarsaparilla cardstock from the Whimsy collection. Don't be afraid to pair the whimsical patters with the more ornate ones like Debbie did on this layout…it looks awesome!
We are so excited to be sharing this week of May Arts, Petaloo AND Core'dinations with you!
It is over  already?  That is how time flies around here especially when you are having fun and being inspired. We love Fridays around here, too! Why is that? Well, it's ANOTHER day to comment to win win win!
THREE awesome companies have come together to inspire you. And our teams have been working hard to create some festive projects for you, too. It's all about the Holidays. From Halloween to Thanksgiving and even Christmas…you will see festive projects to get those creative juices flowing and hopefully give you some ideas for this time of year.
And of course…there are give-a-ways!!! All three companies will giving away tons and tons of goodies this week so make sure you head over to the Petaloo Blog and May Arts Blog for details and inspirational projects. Don't forget about Facebook! Join us on our Facebook page here, the May Arts and Petaloo pages, too, for additional chances to win. Make sure you tell them we sent you!
Don't forget to comment all week long for a chance win a Core'dinations prize pack! And head over to our Facebook page…you never know when we offer up another chance to win.
Did you know that Core'dinations and Petaloo have a color matching program? We sure do! We did all the hard work so that you can easily match your favorite Core Colors with favorite Petaloo flowers. How easy is that???
Today we have a variety of projects for you.
First up Design Team Member Kim Jeffress with a gorgeous wall hanging. There is nothing like some warm fall colors to brighten up any room.
This project is the perfect example of the Core'dinations and Petaloo color matching program.
And how much do you love  the colors of this card from Design Team Member Char Dobson???  Gorgeous gorgeous! I just love Core. You know why?  Because you can emboss it on your own or use the Core Impressions like Char did on this card. She embossed a piece of Core Essentials in orange and then used a piece of BasicGrey in Mantis on the bottom.  Again…the flowers match perfectly!
And Design Team Member Melissa Oliveira has another fun Fall project for us. She altered a bucket she had lying around the house with some beautiful details. Melissa used her Spellbinders dies in addtion to May  Arts Ribbon and Petaloo flowers. The great thing about these flowers is that you can color them!  Melissa used Tim Holtz Distress ink on the flowers because they were a little bright for the  fall color scheme. Again, just perfect for ANY project.
And Design Team Member Leica Forrest created this soft and feminine layout for us today. Nothing screams little girl like pink , flowers and ribbon! The base is Pink Paislee Core Impressions.
Goooood Thursday Morning!
We are are here bringing you some Core'dinations and Glue Arts projects again today and all week long!

Make sure you head over to the Glue Arts blog for some awesome projects from their Design Team. They are also introducing a new product, Glue Glider Pro PLUS and they are doing 10 days of give-a-ways over there!!! And they have a GrEaT Facebook page, too, make sure you head over there as well for daily inspiration.
And, YES, we are giving away ANOTHER pack of Core for one lucky winner that posts here on the blog this week!!!
And make sure you head over to the Glue Arts Facebook page and tell them what your FAVORITE Glue Arts Adhesive is and tell them we sent you for  another chance to win. There are so many give-a-ways up for grabs right now there are going to be some lucky winners at the end of the week!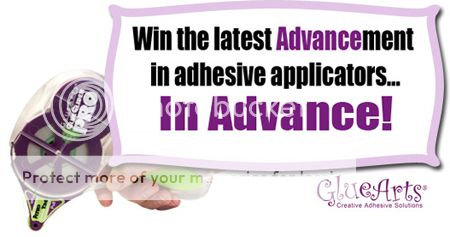 First up today, we have Design Team Member Andrea Amu with a gorgeous autumn inspired card featuring Core'dinations Tim Holtz Kraft-Core and Glue Arts GlueGlider PRO -used to attach ribbon to cardstock not sure if you have seen these before but they are the perfect width to adhere ribbon! GlueArts 3D Combo Pac Raise n's Adhesive Squares and U CUT IT Foam Adhesive-  Used to attach center bow to ribbon and to give dimension to the leaf accent.
Designer April Derrick created this layout for us today as well. She used her Glue Arts Adhesives to add new life to some old chipboard she had in her stash! She also used some BasicGrey Core Impressions…loooove this color combo for a fun wintery  themed layout!!!
Want to win some CORE?????????
BasicGrey Core Impressions that is…
Check out the BasicGrey blog today (you must comment over there for a chance to win by midnight MST)
GOOD LUCK!
See you tomorrow with some more inspiration!