Every month we challenge our designers with something fun and this month it was all about monochromatic color schemes.
Did you get the August newsletter?  Well if you did then you got a FREE downloadable PDF from Designer Mary Pat Siehl featuring a quick "how to" on how to create EASY monochromatic looks with just embossing!  Core makes scrapbooking easy, don't you think? By being a Hard Core Crafter you are automatically signed up for our newsletter.
Our Design Team also did some for us today as well. As you can tell our team likes blue 🙂
First up Kate Nolan-Deham…Kate used a banner to really enhance her monochromatic color scheme. And how sweet is her Glitter Silk dress form that she embellished!
And look at all this texture from Designer Gail Linder??!?! LOVE how she chose to use some yellow…a color I think a lot of scrappers struggle with:
A super simple card from Designer Ava Gavloski…monochromatic doesn't need to be complicated….
 and one last card from Designer Heather Kaesgan…LOVE how she mixed in some Gemstones for her monochromatic look for that bit of shimmer….
Clare Buswell used our Core Amour Cardstock to create a unique monochromatic look:
And Tracy Gruber always creates the CUTEST cards….hippo-ray, LOL! So cuuuuute! And monochromatic doesn't need to be the exact same color. Tracy used different hues of purple for hers and added some Gemstones as well.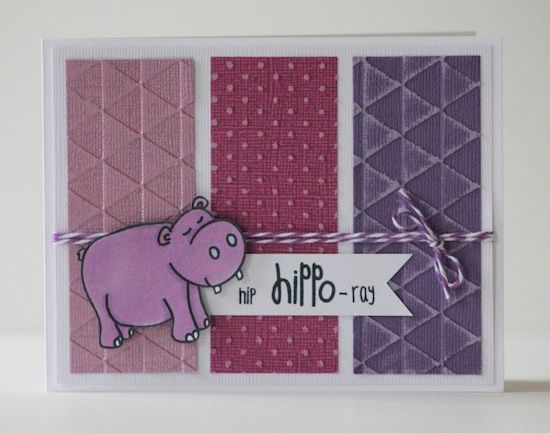 And how about a Pink Monochromatic layout from Designer Ava Gavloski? Look at all that gorgeous detail!  Using the BasicGrey Core Impressions for her base and then just adding fabulous bits and pieces in pink and white….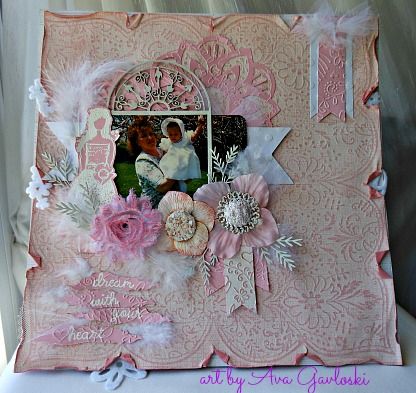 Happy Friday!
Today we have Kim Moreno!
Here is a little bit about Kim:
Hi y'all! My name is Kim Moreno and I am excited to once again be joining the Core team!
I am a mom of 5 kids ranging from 17 to 11 year old twins… 3 boys and 2 girls! You will see them show up all over the pages I create. I have been married for almost 20 years to my retired Air Force husband. I am currently living in a small town in Texas and my husband works out of town so all of the daily life activities (and there are many!) are left to me… so to say my world is a little busy would probably be an understatement! I also work part time as a preschool teacher at my church during the school year and I am the director for VBS for my church as well.
I have been scrapping for around 10 years now and have had the privelage to have been published in all the major magazines and have had several covers as well. I have worked for many popular manufacturers and kit clubs over the years. I enjoy scrapbooking and recording the everyday memories of my life. I am also a big cardmaker! I currently design for the Gossamer Blue kit club and PSA Essentials stamps.
Check out my blog here: http://www.livingthecircuslife.blogspot.com
And Kim gave us a description of super cool 8.5×11″ layout…keep reading!
I trimmed the Basic Grey Ornate paper to 8.5"x11 and sand it slightly. Then I used my Scor-Pal to emboss lines around the edge of my layout, then I sanded them slightly to stand out. I backed my photo in the white cardstock and then adhered it onto more Basic Grey Ornate paper and sanded it all and then tore the edge to reveal the pink core. I tore another piece and layered it behind the first torn piece for a fun look. I then punched several different sized circles from the Ornate collection and layered them around my layout and added different colored brads and letter stickers to complete my layout!
And some details…love this idea of  the circles and brads with the Core Impressions. No embossing needed!
Core'dintions Core Impressions- Basic Grey Ornate and Whimsy collections
Core'dinations Core Essentials (snowflake and french roast)
Simple Stories brads embellishments
Scor Pal
Jillibean Soup letter stickers
Marvy Uchida and Martha Stewart punches
~~~~~~~~~~~~~~~~~~~~~~~~~~~~~~~~~~~~~
How about a winner of the Darks Collection pack?
Welcome Vivian!! Beautiful layouts that brings your blooms to life. I so need to win this one, as I have an SD card full of flowers from Hawaii, Tennessee, and Nevada desert.
~~~~~~~~~~~~~~~~~~~~~~~~~~~~~~~
Speaking of supplies……who wants some Vintage Cardstock??? Comment to win win win!
Please note we will only be posting Monday through Friday. Winner this weekend will be posted on Tuesday due to the holiday weekend here in the States. Winner will win a pack of Core'dinations Cardstock. The cardstock pack may vary due to availability. Winners must email ellen_sosnoski@coredinations.com by June 7  to claim their prizes with the cardstock they won in the subject line.  Please include address and phone number in the email.

Happy National Scrapbooking Day!
We have NOT ONE but TWO awesome challenges for you: The first one is here (keep reading) and the SECOND is over at the BasicGrey blog! Design Team Melissa Oliveira created this gorgeous layout for us today using BasicGrey Indie Bloom and BasicGrey Core Impressions Ornate collection. BUT you need to head over to the BasicGrey blog to find out how you can WIN this collection AND the BasicGrey Core Impression Whimsy collection pack AND some goodies from them, too!
Please note that BG is posting challenges throughout the day and ours will not go up until 4 pm CST. So set that alarm!!!
Yes, you heard me right…TONS of giveaways today for the craftest day of the year 🙂
Here is a sneak of what you might find over there…
NOW …time for our Challenge to YOU!
We love LOVE love working with Core Impressions and we know you do, too. SO our challenge is to get out that Core Impressions and get to work. You may use any Core'dinations Core Impressions…new or old…doesn't matter!  We do ask this project is newly created for this challenge only because we are giving the random winner their choice of a Core Impressions pack! yep…you get to choose which one you want!  Just create a new layout using Core Impressions (it must be predominately in the layout), link it to this post or on our Facebook page by Wednesday May 9th and midnight your time (Winner will be posted Friday) to be eligible to win. We want to make sure you have time to complete all the awesome challenges going on this weekend! Prize subject to availability.
Here are a few of our favorite layouts from our Design Team using various Core Impressions:
Leica Forrest using Fancy Pants Core Impressions:
Char Dobson using Jenni Bowlin Red and Black:
Debbie Standard using Graphic 45:
Hmmmmm…what else….Lydia Jackson using some Pink Paislee Core Impressions…
You get the idea! Thank you so much for coming by today. Please head over to the BasicGrey blog and we cannot wait to see what you can do with some Core Impressions!!! The SKY is the limit! Remember the BasicGrey blog challenge is different than this one so you will need to go over there to see their challenge to be eligible to win AND if you complete our layout challenge, link it to THIS post or to our Facebook page.
AND if you aren't a Hard Core Crafter yet, you should be!!!
Check out our EXCLUSIVE videos here AND by signing up now, you are automatically entered to win awesome prizes!!!
Good Monday Morning!
This is going to be a GREAT week. We are here, kicking of December with BasicGrey!
If you haven't heard, we have a BasicGrey Core Impressions line that we just LOVE! There are TWO Core Impression packs in this line that are fabulous.  The Whimsy Collection is full of bright colors and whimsical patterns that match BasicGrey papers and embellishments. And the Ornate Collection has beautiful blues, greens and pinks that coordinate with BasicGrey papers and embellishments as well.  You will be seeing both of these collections in action this week along with LOADS of BasicGrey goodies, too!
Each pack has FOUR embossed patterns in FIVE colors totaling 20 unique sheets and we sell certain sheets individually as well.
And you know it wouldn't be complete if we didn't have a giveaway! We are giving away one of EACH of our BasicGrey Core Impressions lines!!!
You have a few ways to win this week.
1.) Leave a comment here on the Core blog all week long! Leave a comment everyday for up to FIVE chances to win!
2.) Head over to our Facebook page for another chance to win!
3.) Make your way over the BasicGrey blog for additionial chances to win, too!
Now are you ready for some inspiration?  Don't forget to click HERE to get see the gorgeous projects over at the BG Blog and more chances to win win win!
Today we are being inspired by Design Team Member Debbie Standard.
Let me tell you, when our team got a hold of this BasicGrey paper, they didn't hold back! Debbie has THREE layouts for us today!
For this first layout, Debbie used the Ornate collection and mixed it with some Tillie Spotted cardstock  (red).  She paired it with some Little Black Dress goodies from BasicGrey. Perfect for some Holiday layouts, don't you think?
And this Cherry Cordial in the Sarsaparilla from the Ornate collection is one of my FAVES! Love how Debbie used it on her layout here today.Don't be afraid to pair it with another graphic print like Debbie did here with the BasicGrey Herringbone patterned paper.
And back to the Ornate Collection. It's so elegant and perfect for any layout!
Want to win some CORE?????????
BasicGrey Core Impressions that is…
Check out the BasicGrey blog today (you must comment over there for a chance to win by midnight MST)
GOOD LUCK!
See you tomorrow with some more inspiration!