Step # 2  Spray your custom size card base Core'dinations Cardstock with a mixture of water and glycerin (16 to 1 parts)  roll cardstock suit lapels while cardstock is still damp.
Step # 3  Create your pocket embellishment, adhere to card, add brads and shirt to finish off your card.
At first glance this card appears to have a strip of twine across the front of the card.  After a closer look, you can see that Core'dinations Cardstock has been scored, which reveals the inner colored core that creates this "faux twine look".
Step # 2  Stamp and heat emboss sentiment onto card front.
Step # 3  Die cut star's, sand, layer and adhere onto card.
Step # 2: Die cut some leaf flourishes and sand them.
Step # 3: Emboss and thensand some lavender cardstock and punch out some petals to arrange into floral sprays to represent the wisteria branches.
Step # 4: Sand some lavender cardstock and die cut the title.
Step # 5: Starting with the double matted photo, adhere with foam tape to background page and add layers of embossed torn layers of cardstock.
Step #6: Continue to embellish layout with flourishes, floral sprays, ribbon and title.
There are a lot of High School graduations going on right now and  Kate Nolan Denham has a great layout to share with us today using school colors. With such a variety of different colors and kinds of cardstock to choose from, Core'dinations Cardstock can be your go to paper for any occasion!
On this layout, Kate does a great job working around that issue we always find when using Core and embossing folders…."how do I only use a 5×7″ folder on a 12″ layout?" She balances it perfectly with a 5×7″ photo and then, of course, sands!
~~~~~~~~~~~~~~~~~~~~~~~~
I did a lot of sanding with my Sand It Gadget.  I wanted the color core to really pop on the edges of the mats  where I embossed and scored.  It allowed me to add dimension without having to add more layers.
You can see how awesome the Core'dinations Color Core looks in this up close photo!
Other Supplies:
Fiskars Crimper
Scor-Pal
Spellbinders Nested Pennant Dies
Cuttlebug Embossing Folder
Jenni Bowlin Date Tag
Creative Memories Circle System
Stampin Up! Paper Shapers
American Crafts Thickers
Queen & Co. Pearls
Getting ready for the end of the school year means thanking those who have spent the year inspiring our little ones to learn.  Today Kate Nolan Denham is sharing a gift bag and card made with a variety Core'dinations Cardstock.
I decorated a simple kraft gift bag from Darice by creating a base designed to look similar to a chalk board.  The same base design was used for the thank you card.
The giant cardstock pencils on both the bag and card were scored, sanded and bent to give it the 3-D effect of a real pencil.
Other Supplies:
Darice Kraft Gift Bag
Scor Pal
Get out those stencils! We are working them today with Suzanna Lee and our 110 lb White Cardstock found in our Core Basics line.
If you're into mixed media and/or stamping and are looking for THE cardstock to use on your layouts or cards that doesn't warp, look no further! Core'dinations NEW 110lb premium cardstock is JUST what you're looking for! It is my go to cardstock!
The Tim Holtz floral mask was the perfect compliment to my Chinese New Year layout. I rubbed my VersaMark ink pad over the stencil and cardstock then liberally sprinkled clear embossing powder. After heat setting the powder, I layed down laters of color with my Gelatos. A spritz or two of water here and there, a finger that dragged the color around and the above is the finished effort. And most importantly, my paper stayed flat! Even with the heat gun! Amazing!
That little guy was also stamped on Core'dinations 110 lb white cardstock! Hand colored and fussy cut before being adhered to his life long background!
Supplies
Core Basics – 110lb Smooth White Cardstock
Stamps – Stampendous, Hero Arts, All Night Media
Font – AR Berkley
Mask – Tim Holtz
Gelatos – Faber Castell
Die – Lifestyle Crafts
Hi there! Jill from Every Day is an Occasion (http://everydayisanoccasion.com/) here to share a very colorful layout with you today! I normally do not make layouts as busy as this, but I wanted to step out of my comfort zone and go for it!
Colorful Core Layout

To create this layout, the first thing I did was take out my trusty 110lb 12×12 White Core. My favorite cardstock on the planet earth by the way! I had my son and daughter paint it with water colors they got with a coloring book. I wanted a random background and since they are always asking to paint, I thought this was the perfect opportunity. After the paper was dry, I trimmed 1/2 in. off each side and adhered it to the light blue Gemstones Core.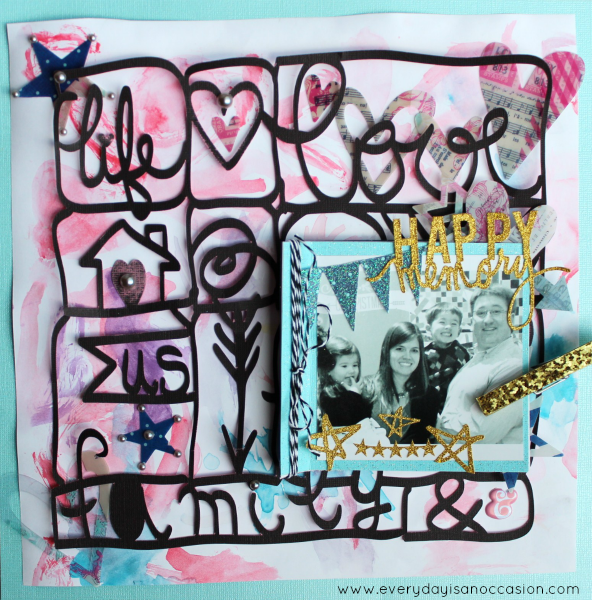 Then using Black Magic Core I cut out this shape with my Silhouette. How amazing is the Black Magic Core? After I cut out the shape the beautiful purpley color showed through on the edges as if I had inked the edges all the way around. Nope, I didn't, it's just the beautiful Black Magic core showing through! Then using my Sand It tool I sanded away on the hearts because I wanted the purple to show through. I chose the hearts to sand because I wanted to make a statement with them. You know, like when you were a kid and would make a heart as the dot for an "i" and then color it in. Did you do that? Maybe that was just me, but sanding those hearts reminded me of that. Seriously though, that is the great thing about the Black Magic Core, certain shapes can stand out simply by sanding them.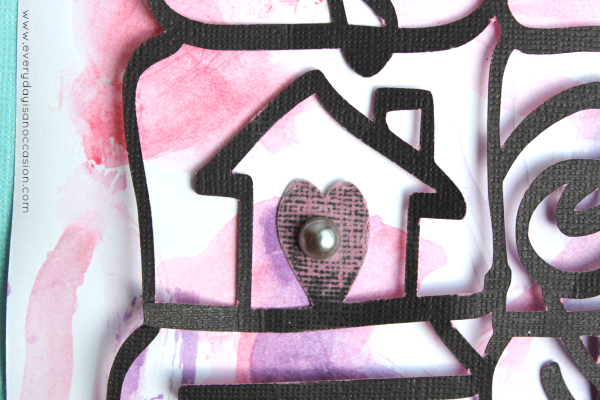 On this layout, I loved the fact that the core I used 6×6 Glitter Core to create the mini book on the album. I simply cut the pages down to 4×4 in. and stapled them together on the left hand side. I then took some We R Memory Keepers Sew easy twine and wrapped it around the book so you couldn't see the staples. I also stapled the book to the layout before I added the picture on the last page. Once I added the picture on the last, you couldn't see the staples anymore. I simply took a glitter clothespin I got from Michaels and used it to close the book. Below are the pages inside of the mini album. I used some Heidi Swapp Hello Today from Michaels to embellish the pages. I love using Core and Heidi Swapp products. They go perfectly together.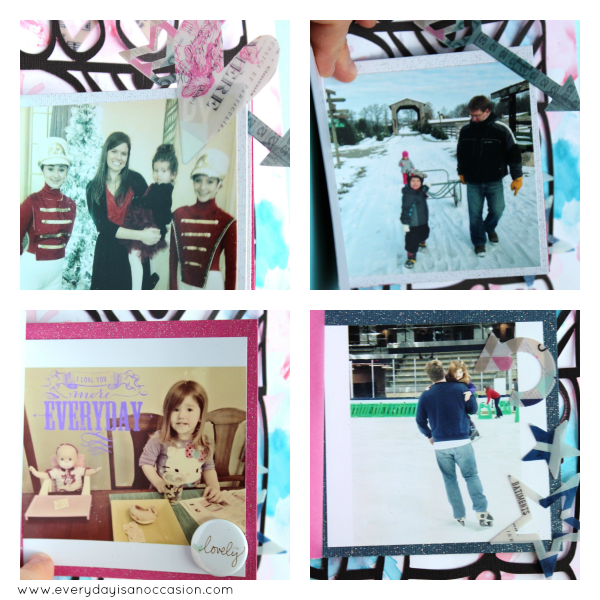 Below are some close ups of how nicely the Silhouette cut through the Black Magic Core and some Heidi Swapp embellishments.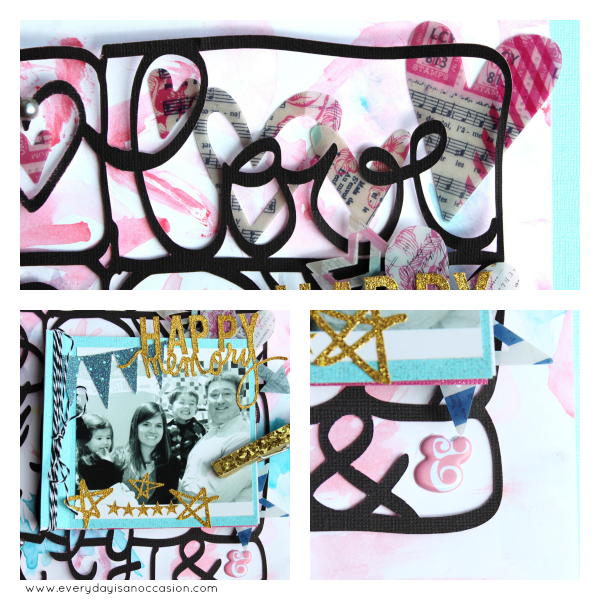 Thanks for stopping by today! Have a SUPER fun day!