Ask you will receive!!! We try and give you as many ideas and inspiration as we possibly can here on our blog so make sure you let us know if there is something you would like to see.
Yesterday  on Facebook we asked what you wanted to see on the blog today and we got a response for Scoring…Black Magic…
Design Team Member Leica Forrest created this layout that has all of the above and then some!!!
See the scored lines on the Black Magic cardstock base?  You can create ANY design you want! And if you need some tips on how to scor, check out our Technique Videos here. AND we have our Hard Core Crafter videos, too!!! Make sure you sign up to be a member to get exclusive videos, win prizes and more!
Leica also used some Spellbinders Dies to create the gorgeous scalloped circles. They look great with the different embossed designs! And Leica turned her Black Magic over and journaled (with journaling strips) to make sure the colors core'dinate perfectly!
How much did you LOVE yesterday's layouts from our Design Team?
REMEMBER…you can post on our blog here all week long for a chance to win. We will put all of the comments in random. org and pick one random winner from ALL the  blog posts ….  the more you comment the more you can WIN WIN WIN! AND we will pick one lucky winner from our Facebook page, too!
AND…yes there is more! Imaginisce is giving away goodies on their blog, too! Of course there is loads inspiration over on their blog as well. PLEASE head over to their Facebook page as well. If you don't like them, well you should! And if you already do…awesome! Tell them we said HI! Cannot wait to see how they work some Core!
Today we have layouts galore for you from our ever inspiring Design Team!
We got to play with the i-Rock.
And of course…we are showing off what it can do with some Core'dinations Cardstock!  A match made in heaven!
Check out how Design Team Member Shaunte Wadley made these cute little flowers with her Glam Rocks. Looks gorgeous with the Spotted Cardstock.
Design Team Member Debbie Standard created a gorgeous card for us today as well. It has a very different color palette showing how versatile the i-Rock can be. Looks gorgeous with the Black Magic Cardstock and matches our NEW Neutral color  palette from one of our BRAND new collections!
Since today is Monday we are here with Graphic 45! We have one of these awesome packs for grabs, too! Our Signature Series Cardstock...it's FabUlous! In the past we have teamed up with Graphic 45 for our Core Impressions and this past summer we debuted the Signature Series. Now you can get the gorgeous Graphic 45 designs on our cardstock AND their "signature" colors! So if you have loads of Graphic 45 sitting at home waiting to be used, this pack of cardstock will match perfectly.
AND of course we are giving one away here!!! Make sure you head over to the Graphic 45 Blog for more chances to win!
AND we always do a little something over on our Facebook page, too, so make sure you check in there often. Graphic 45 has a Facebook page so make sure you go over there and tell them how much you looooove them
:):)
We want you hear how excited you are!
Today we have some gorgeous projects for you! Let's Start off with a Layout from Design Team Member Shaunte Wadley. So many gorgeous gorgeous details!  Shaunte used loads of Graphic 45 products and anchored the layout  beautifully with some Core Impression in the Black Magic.  Hand cutting that Graphic 45 paper is TOO much fun! Don't be afraid to use metal accents on your layouts like Shaunte did here with the flowers from the Graphic 45 Staples.
Next up we have a mini album from Design Team Member  Lydia Jackson.  Lydia created this mini as a gift for a friend. What better way to share the Graphic 45 love than with the most important people in our lives?  It is the perfect way to preserve those memories.
There is that cool Door Knob from the Graphic 45 Staples collection. And the Graphic 45 Core Impressions Timeless Collection is, well, TIMELESS! It goes with so many different colors and we just love how Lydia paired it with the blue.
Scared you, didn't I?
Well, before we have some Halloween inspiration for you from Design Team Member Char Dobson we anted to let you know that Monday we are at it again with Graphic 45! We have one of these up for grabs, too! Our Signature Series Cardstock…it's FabUlous!
Now we are ready for some SUPER CUTE monsters from Design Team Member Char Dobson.
Core Essentials, Vintage, Whitewash, Black Magic
Other supplies: Cricut Mini Monsters, various embossing folders, googly eyes
Some more…cute cute cute cute!!!
We are so excited to be sharing this week of May Arts, Petaloo AND Core'dinations with you!
It is DAY FOUR already?  Can you believe that?  That is how time flies around here especially when you are having fun and being inspired. We love Thursdays around here, too!  Why is that?  Well,  it's ANOTHER day to comment to win win win!
THREE awesome  companies have come together to inspire you. And our teams have been working hard to create some festive projects for you, too. It's all about the Holidays. From Halloween to Thanksgiving and even Christmas…you will see festive projects to get those creative juices flowing and hopefully give you some ideas for this time of year.
And of course…there are give-a-ways!!! All three companies will giving away tons and tons of goodies this week so make sure you head over to the Petaloo Blog and May Arts Blog for details and inspirational projects. Don't forget about Facebook! Join us on our Facebook page here,  the May Arts and Petaloo pages, too, for additional chances to win. Make sure you tell them we sent you!
Don't forget to comment all week long for a chance win a Core'dinations prize pack! And head over to our Facebook page…you never know when we offer up another chance to win.
Did you know that Core'dinations and Petaloo have a color matching program?  We sure do!  We did all the hard work so that you can easily match your favorite Core Colors with favorite Petaloo flowers.   How easy is that???
Today we have a special treat for you from Design Team Member Andrea Amu. THIS is how you work Black Magic Cardstock. Just sayin'
And some close-ups. Add some Petaloo flowers and May Arts ribbon and you have a gorgeous project. Andrea also used a piece  of Tillie Spotted Core'dinations behind the frame.  For the floss-like fibers used in the button ties, Andrea pulled apart the May Arts cording… discarded the white fiber-fill from the inside and just used the flossy threads. COOL!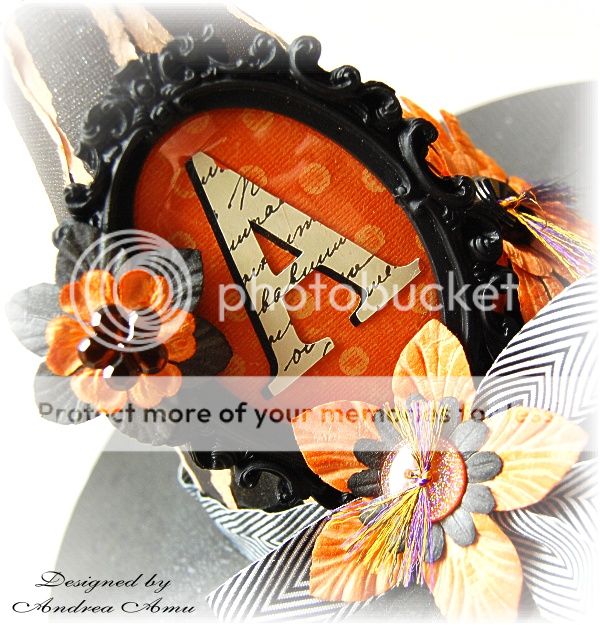 And one more…