Happy Teacher Appreciation Day! We are celebrating with a fabulous card from Mary Pat Siehl using tons of stamping, heat embossing and a touch of scoring for the frame around her card.
Black Magic makes the perfect chalkboard look, don't you think?  But don't forget! Our NEW Chalk Core will be shipping SOON to a local craft store near you!
Tell a teacher how much you care with a fabulous Core'dinations card!
Hi there! Jill from Every Day is an Occasion (http://everydayisanoccasion.com/) here to share a very colorful layout with you today! I normally do not make layouts as busy as this, but I wanted to step out of my comfort zone and go for it!
Colorful Core Layout

To create this layout, the first thing I did was take out my trusty 110lb 12×12 White Core. My favorite cardstock on the planet earth by the way! I had my son and daughter paint it with water colors they got with a coloring book. I wanted a random background and since they are always asking to paint, I thought this was the perfect opportunity. After the paper was dry, I trimmed 1/2 in. off each side and adhered it to the light blue Gemstones Core.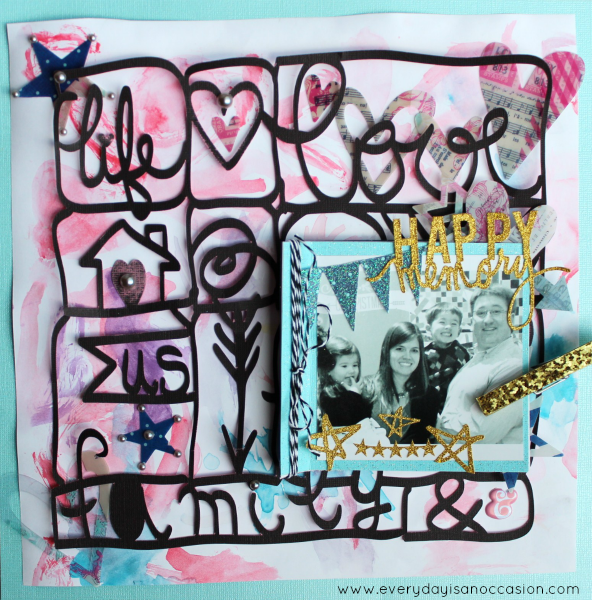 Then using Black Magic Core I cut out this shape with my Silhouette. How amazing is the Black Magic Core? After I cut out the shape the beautiful purpley color showed through on the edges as if I had inked the edges all the way around. Nope, I didn't, it's just the beautiful Black Magic core showing through! Then using my Sand It tool I sanded away on the hearts because I wanted the purple to show through. I chose the hearts to sand because I wanted to make a statement with them. You know, like when you were a kid and would make a heart as the dot for an "i" and then color it in. Did you do that? Maybe that was just me, but sanding those hearts reminded me of that. Seriously though, that is the great thing about the Black Magic Core, certain shapes can stand out simply by sanding them.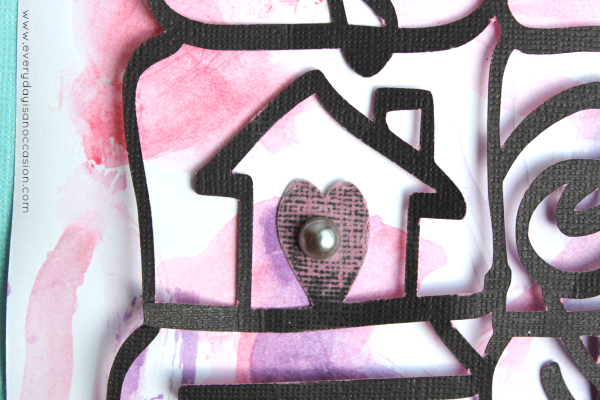 On this layout, I loved the fact that the core I used 6×6 Glitter Core to create the mini book on the album. I simply cut the pages down to 4×4 in. and stapled them together on the left hand side. I then took some We R Memory Keepers Sew easy twine and wrapped it around the book so you couldn't see the staples. I also stapled the book to the layout before I added the picture on the last page. Once I added the picture on the last, you couldn't see the staples anymore. I simply took a glitter clothespin I got from Michaels and used it to close the book. Below are the pages inside of the mini album. I used some Heidi Swapp Hello Today from Michaels to embellish the pages. I love using Core and Heidi Swapp products. They go perfectly together.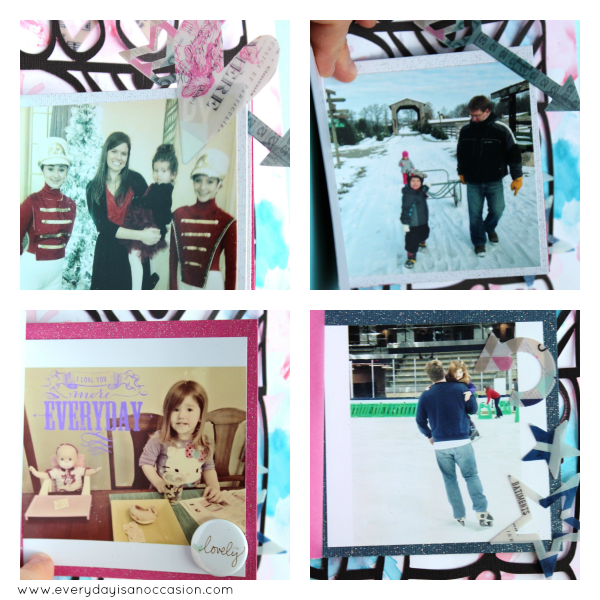 Below are some close ups of how nicely the Silhouette cut through the Black Magic Core and some Heidi Swapp embellishments.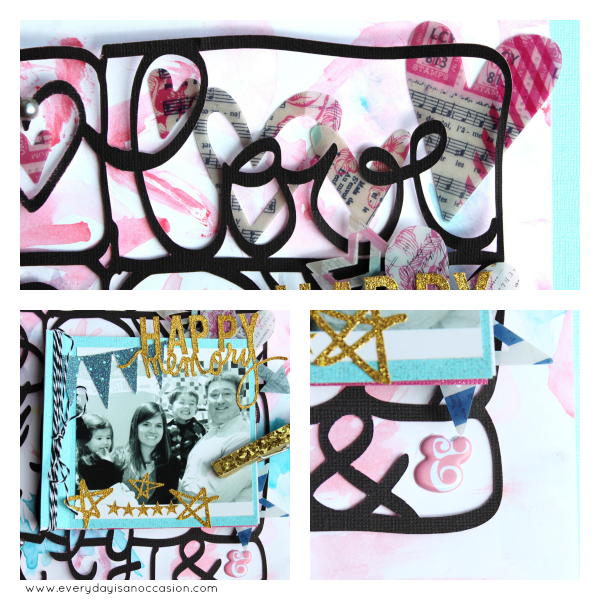 Thanks for stopping by today! Have a SUPER fun day!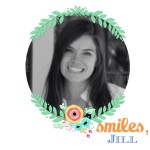 ~~~~~~~~~~~~~~~~~~~~~~~~~~~~
For this layout I had initially chosen a neutral pallete, but knew it was missing a pop of color.  I started by pulling in color through alternating layers of cardstock which I paper tore to show the colored core. I loved the pop of yellow from tearing the Black Magic so I found the perfect match of yellow in the Core Essentials Brights Collection and used that as my background paper.
Next time you need a pop of color in your paper project, try tearing your Core'dinations!
Core'dinations Supplies:
Core Essentials: Brights Collection
Core Essentials: Neutrals Collection
Other Supplies:
May Arts Ribbon
Jillibean Soup Alphas
Misc. Eyelets
American Crafts Jute
~~~~~~~~~~~~~~~~~~~~~~~~~~~~~~~
And Kim Moreno just uses a touch of tearing on her layout below. She does a great job mixing embossing, tearing, scoring ANd outlining on here. Again…don't be afraid to check out our technique videos for more ideas!
During the holidays I was finally able to my sisters kids and mine together for a group picture… it wasn't easy to get them all to smile and look at the camera but I managed to get one good shot in and just love it! I couldn't wait to print and scrap it!
I used my ScorPal tool to create the embossed lines around the edge of my layout. I like doing this because I feel like it frames my layouts well and I like the look.
I then placed a large chipboard star behind my layout where I wanted it and using my Sand It Gadget sanded over the top of the cardstock to reveal the star image below the cardsock. I trimmed different sized stars from cardstock and embossed and sanded them each and attached to my layout using pop dots to a few of them to give them more dimension. I used the star embossing folder to emboss a strip of gray cardstock and sanded it to reveal the lighter gray core the tore the edge of some green cardstock and made banners of each and adhered to my layout. I added the title to finish my layout.
Core'dination Dust Buddy
Coredinations Sand It Gadget
Cuttlebug embossing folder and machine.
Marvy Uchida star punch
ScorPal tool
 How fun is it to take a different perspective on things? I love how Designer Ava Gavloski does it…see that  hand-stamped image that Ava cut out?  It's a witch! How cool is that?  Ava just layers and layers and layers…it's amazing!!!
Helmar, Zap Dots, Acid Free, Super Tac glue
Sizzix, Embossing, Medallion
Clearsnap  Chunky Glitter, Surfacez, Berry Colorbox Ink
Gina K Stamps
May Arts Ribbon
Cuttlebug
~~~~~~~~~~~~~~~~~~~~~~~~~~~~~~~~~~~
And since we are living in color today…we have some gorgeous creations from designer Kate Nolan Denham, too!
Next time you are making a bright card, don't be afraid to pull out all kinds of Core'dinations Cardstock.  You are sure to find the perfect colors! 
Darice Embossing Folder
We R Memory Keepers Corner Punch
Jillibean Soup Alpha Stickers
Xyron & Helmar Adhesives
~~~~~~~~~~~~~~~~~~~~~~~~~~~~~~~~~~~~~~~`
And how about some Spotted on Dotted? Well..kind of! Kate mixes and matches our Spotted Carstock with some Cosmo Cricket Core Impressions! I am LOVING those arrows…
And don't forget! We are cropping FRIDAY! Check out the RULES HERE!
You came to the right place!
We have a HUGE giveaway for you! How exciting is this?
All you need to do is LIKE both Core'dinations and Couture Creations on Facebook (giving our friends over there shout out would be nice, too
and then click HERE to enter to win! That's it! We are giving away FOUR prizes of $50 FULL of products from both companies. You don't want to miss this!
OH and we have 0ur winner from last week with Authentique!!!!!
I just found this blog and I'm loving it! I love the way you use the cut out parts in the layouts – no waste!
Diane, email ellen_sosnoski@coredinations.com with your full name, address and phone number and BLACK MAGIC winner in the subject.
~~~~~~~~~~~~~~~~~~~~~~~~~~~~~~~~~~~~~~~~~~~~~~~~~~~~~~~~~
No I promised some Halloween goodies so here we go! First up Designer Vivian Keh with a cool card with some awesome Chalkboard technique!
Hello, Core fans!  Vivian Keh here to tell you I have been getting so much use out of my 6 x 6 pack of Black Magic!  Today I have a Halloween themed project that uses the Black Magic with lovely orange and green core, revealed with a nice dose of sanding.  In addition, there is a lot of stamping and fun embellishing with Liquid Pearls.
How awesome is this detail?????
And another of that awesome Black Magic and stamping:
Ranger – Liquid Pearls
~~~~~~~~~~~~~~~~~~~~~~~~~~~~
AND it wouldn't be Halloween without MORE Black Magic cardstock, right!???!??!? NExt up a card from Designer Clare Buswell and a little bit about how she created it:
Make card from cardstock. Emboss Black Magic cardstock, sand using Sand-It Gadget and wipe with Dust Buddy. Ink edges using Milled Lavender Distress Ink, adhere to card. Add patterned paper (Authentique Thrilling Collection) panel, ink edges and round bottom corners. Add ribbon, bow and twine. Adhere Authentique Thrilling Collection stickers to cardstock, ink edges and fussy cut, attach to card using foam pads. Adhere flower, twine and bottle, to finish. 
And a close-up of that gorgeous detail:
Authentique Thrilling Collection, Distress Inks (Milled Lavender, Antique Linen, Scattered Straw), Jet Black Ink Ranger, Craft Concepts Starry Night, Big Shot, flower from Wild Orchid Crafts, Purple ribbon May Arts, black seam binding, lavender twine, bottle embellishment, corner rounder, foam pads.
~~~~~~~~~~~~~~~~~~~~~~~~~~~
And let's switch it up a bit with a layout from Designer Mary Pat Siehl:
pattern paper, stickers- Bella Blvd.
twine- The stringery
Digi Cut Files- Some Odd Girl
Silhouette
Studio Calico Mist
All week long we are playing with Authentique papers! How awesome is that?
We have been busy this October for sure but before we get started a few things.  First up..winners from last week will be posted HERE torrow so please check back to see if you won. AND, next up, SAVE the date! In a few weeks we will be cropping ALL WEE LONG! Rules will be posted on October 28th so check back then for more details but challenges will be posted that first week in November.
Now on to this weeks festivities. First up we have Shaunte Wadley working some Pride layouts. I don't know about you but I JUST got my summer photos printed so I am going to be reaching for this paper pack for sure.  I just love how Shaunte works the 12×12 sticker sheet here with all the little bits you can make with them.  She creates her own little embellies al over the page with the tags and banners.  Layouts are easy with Core'dinations  and Authentique!
And when you are done here make sure you head over to the Authentique blog for inspiration and a giveaway, too!
Twine by David Tutera Celebrate
And nothing goes better with 4th of July projects than Tim Holtz Core Seasonal Impressions!  Again, Shaunte used the cardstock stickers for fun little elements all over the page
~~~~~~~~~~~~~~~~~~~~~~~~~~~~~~~~~~
~~~~~~~~~~~~~~~~~~~~~~~~~~~~~~~~~~
We are giving some away so comment here to win!