I mean..seriously?  How cute are these??!??!? Keep on reading on how to make these little cuties. They are perfect for Spring! And the button embossing folder is too perfect!
Cut files from cardstock using Silhouettte Portrait. Use paper crimper on roofs and sand using Sand It Gadget. Emboss main sections of bird houses using the button box embossing folder, sand using Sand It Gadget and wipe with Dust Buddy.
Assemble each bird house, thread ribbon through roof and glue roof in position. Roll piece of Core cardstock tightly to make peg for perch and place in position, to finish.
And a close up:
Other: Silhouette Portrait, Silhouette cut files (#44005, #44006), Crafters Companion Embossalicious 8×8 Embossing Folder Button Box, Spellbinders Grand Calibur, pink grosgrain ribbon, paper crimper.
Here at Core'dinations Cardstock we celebrate technique every day. If you haven't checked out our Technique Videos yet, please do HERE.
Today, Kate Nolan Denham shares a great layout with us that uses FIVE different techniques.
1.) Distress It: crumple your cardstock and sand it with your Sand it Gadget.
2.) Label It: Run a strip of cardstock through your label maker and sand it for easy journaling and titles. OR, like Kate did on this layout, make flags out of them!
3.) Emboss It: Use a standard embossing machine and fold and then just sand. Don't forget to wipe with your Dust Buddy!
4.) Corrugate it: Just take a paper crimper and run your cardstock through it and sand.
5.) Die Cut It:  Use a die cutting machine to cut shapes and titles and sand.
What else could you possible need?  Tracy Gruber is working colors, patterns and so much more today!
First up a very fun and festive card…but keep scrolling down…there's a great layout, too!
I love to find new techniques to use with my Core!  For this card, I used a Studio Calico mask and put it behind my piece of Core card stock.  I then sanded with the Sand It Gadget until the design started to show.  Pretty cool, huh?  Then, I cut some stars and then added the  white shape with the Paper Smooches sentiment. Next up some May Arts ribbon and Imaginisce Glam Rocks finish off this card perfeclty!
-May Arts Ribbon
-Imaginisce Glam Rocks and I-Rock
-Paper Smooches Word Salad
-Tuxedo Black Memento Ink
-Spellbinder's Label 4 die
-Memory Box Cosmic Star Set
-Studio Calico Mask
~~~~~~~~~~~~~~~~~~~~~~~~~~~~~~~~~~
The best part about scrapping with Core'dinations card stock is the ability to use different techniques to create unique layouts.  On the dark pink base, I simply used the Sand It Gadget to sand three different areas for a distress look.  It adds a different element to your layout that is really easy to do!  I then used a piece of light pink Spotted Tillie Dot and sanded it to make the polka dots "pop."  The last technique I used was crumpling up a piece of White Wash card stock, flattening it out, and then sanding it.  This allows the Sand It Gadget to hit the creased spots and the background color to show through.
-Studio Calico Star Wood Veneers
-May Arts Ribbon
-Sand It Gadget
-Dust Buddy
-Jillibean Soup "hello" sticker
-My Mind's Eye chipboard stickers
-The Twinery twine
-Xyron Mega Runner
Well…as a cake topper!  Jill has some great birthday ideas for you today.
Hi everyone! Jill from Every Day is an Occasion back to share another project with you. Today I am sharing the cake topper I made for my son's birthday. He turned four this year. He loves cooking and baking, so we decided we would make the cake together. He picked out the kind of cake he wanted, the frosting, and of course what he wanted on top of the cake. This summer we have spent a lot of time at our lake cottage. He absolutely loves it up there. One of the highlights for him is to look at all the animals while we are on the pontoon boat. He especially loves it when we find turtles. So this year we decided a turtle themed cake would be fun.
Turtle Themed Birthday Cake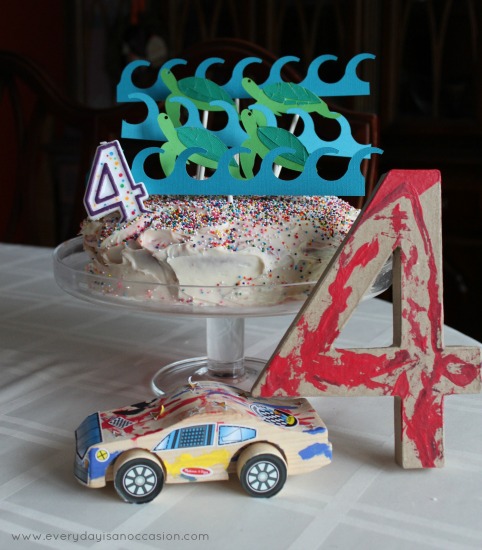 You may notice a random car in the picture…he painted that car and asked for it to be in the picturebecause he wanted to remember he painted that on his birthday.
I love Core'dinations Brights Paper Pack. I use it all.the.time! It is my second go to…my first go to favorite is Core'dinations white in the neutral pack…I know I'm weird! lol
Anyways, the turtles and waves were both made using the Brights pack. So go get yourself some and thank me later:)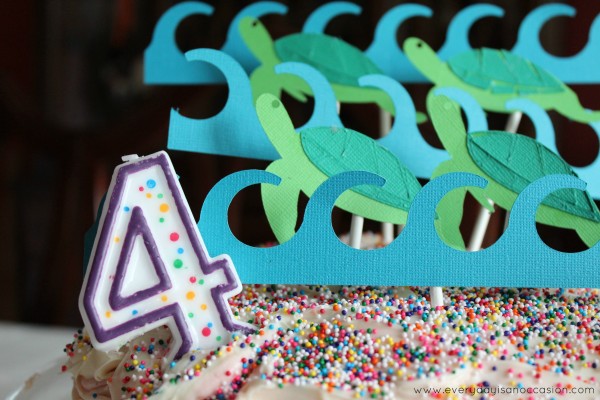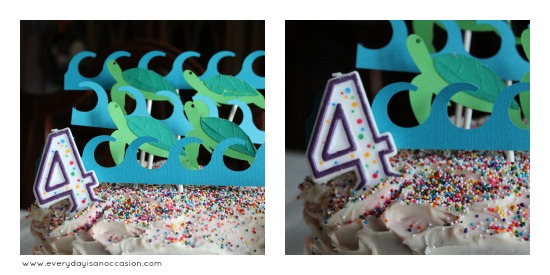 Next up I'm sharing a project I made for my mom. I keep making cards for her that she absolutely adores and doesn't want to throw away…this is where I blush and come up with a solution…..
Card Holder and Scalloped Card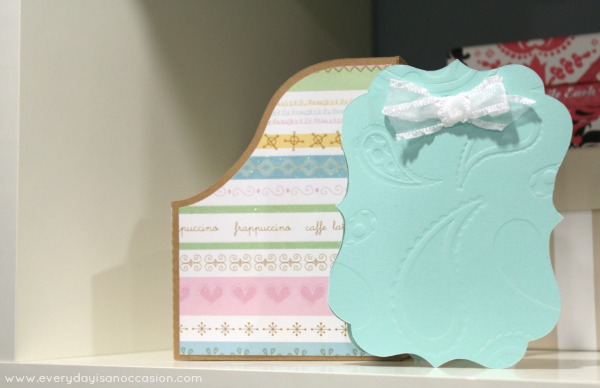 When I first got my Design Team box from Core'dinations, this SUPER CUTE Fancy Pants Core paper was inside. This paper was my mom's absolute favorite! I knew when her birthday rolled around, what I would be using to create her card! She doesn't like really fancy things. She is more of a clean and simple gal so I used the backside of the cardstock.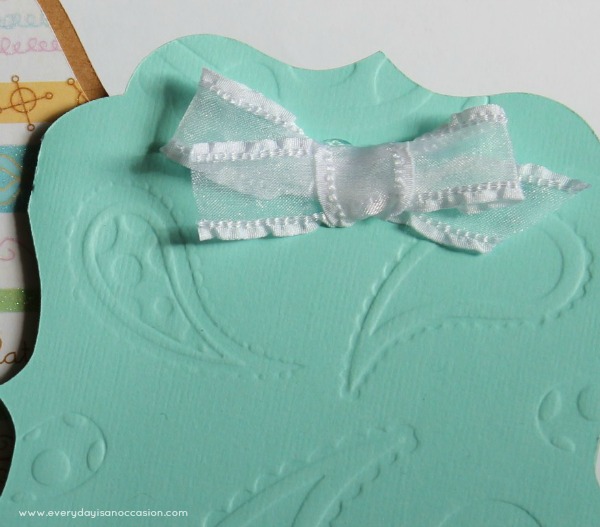 Then when she said she needed a place to put all the cards I was making her, the Tim Holtz Kraft Core paper stuck out to me because on one side it is a kraft color and on the other side it is colored. I think it is so perfect because no matter which side you look at the paper it is beautiful!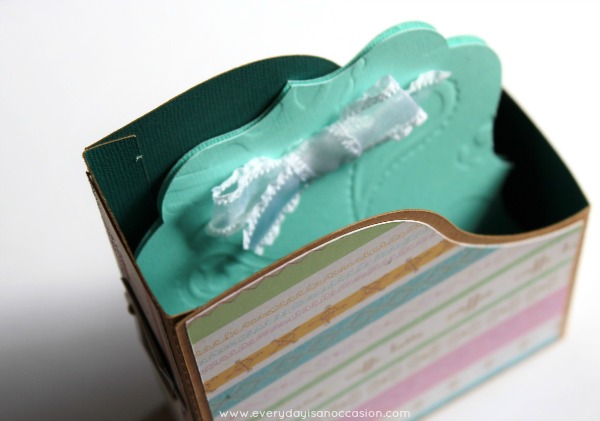 Materials
Card Base: Fancy Pants Coredinations paper
Ribbon: May Arts
Silhouette Cameo
Card Holder: Tim Holtz Kraft Core 
For more details on how I created these two projects, come visit me at Every Day is an Occasion.
Thanks for stopping by and checking out my project.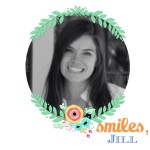 –
We have some fun projects for you today. Hope this weekend is a scrappy one! But first we want to make sure we see you back here Monday!
First a card from Designer Gail Linder:
How cute is all this detail? WOW!
And a layout from Designer Kate Nolan-Denham
Every month we challenge our designers to try new things. It might be a collection pack, techniques…something different just to get those creative juices flowing.  So for July, we challenged our designers to use the Brights Collection pack and to do some fussy cutting for some added interest. Cut those stamps…cut those embossed images…you name it the sky is the limit!
 The Brights collection pack is the PERFECT color palette for all your summer layouts and projects! Don't be afraid of those bright colors..embrace them!
First up we have a tutorial from Designer Kate Nolan-Denham on how she cut out some stamped images from her Brights Cardstock. This is a super easy way to create your own embellishments, don't you think?
Stamp directly on the Core texture side. Looks awesome!
LOVE that thick outlined image you get from the stamping…
And since circles seem to be a theme for a lot of our team right now, we thought we would share a layout from Design Team Member Gail Linder using our Brights Collection pack for this very challenge as well! Here is a little bit about this layout from Gail:
Core Brights – Tulip, Heartfelt
Core Neutrals – Chocolate Mocha
Core Pastels – Reflecting Pool, Scotch
Graphic 45 Signature Series – Precious Pink
Tim Holtz Distress Core – Spiced Marmalade
Sand It Gadget
Dust Buddy
Darice and Cuttlebug Embossing Folders
Big Shot
Silhouette Cameo and cutting files
Patterned paper
Okay, well, Gail didn't fussy cut her own details but you get the idea. We LOVE our Silhouette Cameo here at Core. There are so many amazing things you can do with it!
~~~~~~~~~~~~~~~~~~~~~~~~
And one from Design Team Member Debbie Standard. Debbie anchored her Brights Collection with some Whitewash. And how about all that embossing and sanding! Fabulous…every detail is just amazing!  Debbie combines multiple embossing folders form Darice, her Fiskars Paper crimper,  outlining on the layout base, die cuts….you name it!
Stay tuned for tomorrow for some more fun in the sun layouts with our Brights Collection pack!