Well…as a cake topper!  Jill has some great birthday ideas for you today.
Hi everyone! Jill from Every Day is an Occasion back to share another project with you. Today I am sharing the cake topper I made for my son's birthday. He turned four this year. He loves cooking and baking, so we decided we would make the cake together. He picked out the kind of cake he wanted, the frosting, and of course what he wanted on top of the cake. This summer we have spent a lot of time at our lake cottage. He absolutely loves it up there. One of the highlights for him is to look at all the animals while we are on the pontoon boat. He especially loves it when we find turtles. So this year we decided a turtle themed cake would be fun.
Turtle Themed Birthday Cake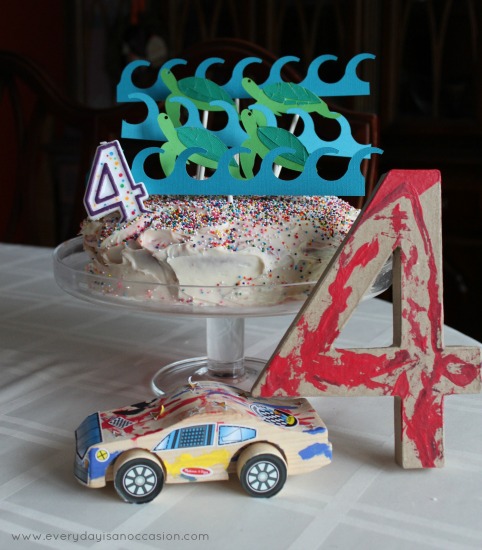 You may notice a random car in the picture…he painted that car and asked for it to be in the picturebecause he wanted to remember he painted that on his birthday.
I love Core'dinations Brights Paper Pack. I use it all.the.time! It is my second go to…my first go to favorite is Core'dinations white in the neutral pack…I know I'm weird! lol
Anyways, the turtles and waves were both made using the Brights pack. So go get yourself some and thank me later:)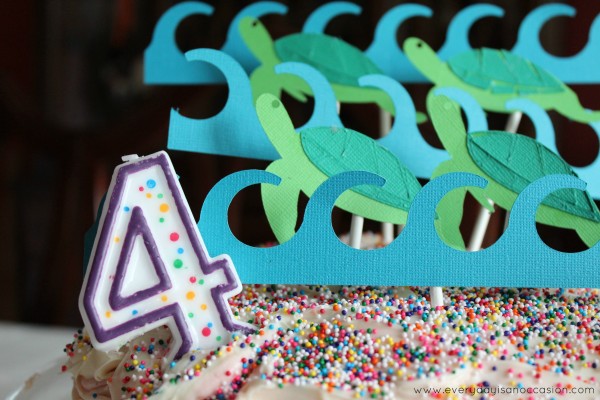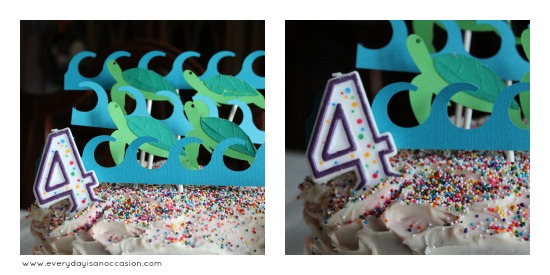 Next up I'm sharing a project I made for my mom. I keep making cards for her that she absolutely adores and doesn't want to throw away…this is where I blush and come up with a solution…..
Card Holder and Scalloped Card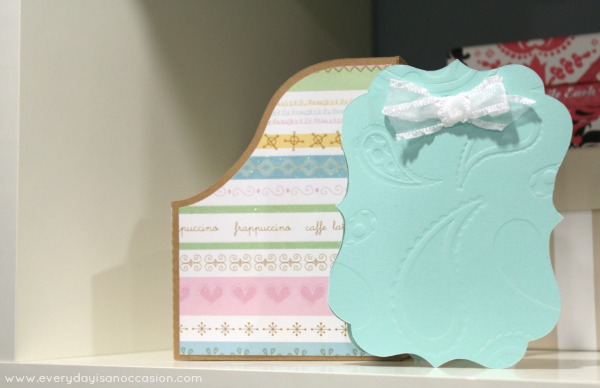 When I first got my Design Team box from Core'dinations, this SUPER CUTE Fancy Pants Core paper was inside. This paper was my mom's absolute favorite! I knew when her birthday rolled around, what I would be using to create her card! She doesn't like really fancy things. She is more of a clean and simple gal so I used the backside of the cardstock.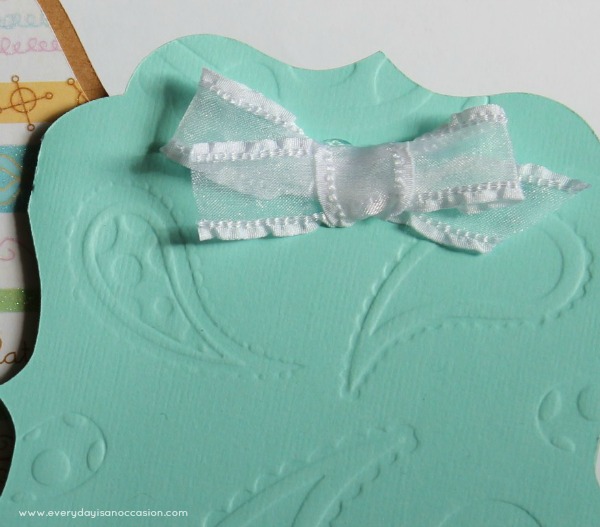 Then when she said she needed a place to put all the cards I was making her, the Tim Holtz Kraft Core paper stuck out to me because on one side it is a kraft color and on the other side it is colored. I think it is so perfect because no matter which side you look at the paper it is beautiful!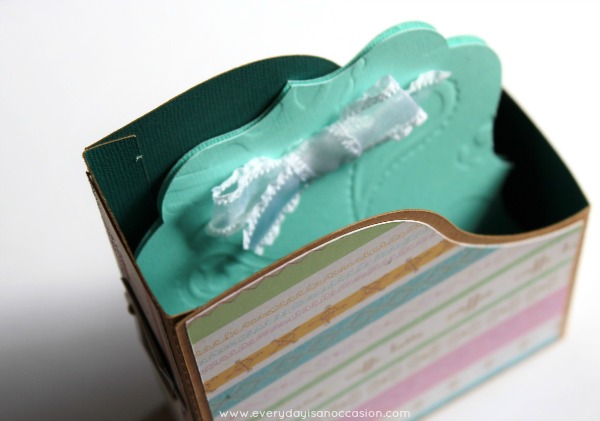 Materials
Card Base: Fancy Pants Coredinations paper
Ribbon: May Arts
Silhouette Cameo
Card Holder: Tim Holtz Kraft Core 
For more details on how I created these two projects, come visit me at Every Day is an Occasion.
Thanks for stopping by and checking out my project.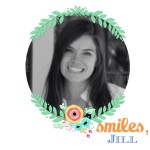 –
We have some fun projects for you today. Hope this weekend is a scrappy one! But first we want to make sure we see you back here Monday!
First a card from Designer Gail Linder:
How cute is all this detail? WOW!
And a layout from Designer Kate Nolan-Denham
Every month we challenge our designers to try new things. It might be a collection pack, techniques…something different just to get those creative juices flowing.  So for July, we challenged our designers to use the Brights Collection pack and to do some fussy cutting for some added interest. Cut those stamps…cut those embossed images…you name it the sky is the limit!
 The Brights collection pack is the PERFECT color palette for all your summer layouts and projects! Don't be afraid of those bright colors..embrace them!
First up we have a tutorial from Designer Kate Nolan-Denham on how she cut out some stamped images from her Brights Cardstock. This is a super easy way to create your own embellishments, don't you think?
Stamp directly on the Core texture side. Looks awesome!
LOVE that thick outlined image you get from the stamping…
And since circles seem to be a theme for a lot of our team right now, we thought we would share a layout from Design Team Member Gail Linder using our Brights Collection pack for this very challenge as well! Here is a little bit about this layout from Gail:
Core Brights – Tulip, Heartfelt
Core Neutrals – Chocolate Mocha
Core Pastels – Reflecting Pool, Scotch
Graphic 45 Signature Series – Precious Pink
Tim Holtz Distress Core – Spiced Marmalade
Sand It Gadget
Dust Buddy
Darice and Cuttlebug Embossing Folders
Big Shot
Silhouette Cameo and cutting files
Patterned paper
Okay, well, Gail didn't fussy cut her own details but you get the idea. We LOVE our Silhouette Cameo here at Core. There are so many amazing things you can do with it!
~~~~~~~~~~~~~~~~~~~~~~~~
And one from Design Team Member Debbie Standard. Debbie anchored her Brights Collection with some Whitewash. And how about all that embossing and sanding! Fabulous…every detail is just amazing!  Debbie combines multiple embossing folders form Darice, her Fiskars Paper crimper,  outlining on the layout base, die cuts….you name it!
Stay tuned for tomorrow for some more fun in the sun layouts with our Brights Collection pack!
One of the great things about Core is that you can mix and match ALL of our lines together SEAMLESSLY!  This first card by Designer Suzanna Lee mixes Core'dinations lines and the David Tutera Celebrate layers to make the CUTEST card! Please, two different sized googley eyes?  How ca-ute is that?!???!?!
Here are some tidbits from Suzanna regarding these projects:
Coredinations Nightfall cardstock
Coredinations Glitter Silk 6×6 pad
David Tutera Celebrate A2/A6 Layers
Embossing Folder: Darice
~~~~~~~~~~~~~~~~~~~~~~~~~~~~~~
And next up a black and yellow card…one of my FAVE color combos!!! AND the Darice honeycomb/hexagon embosing folder is too perfect for this theme.
~~~~~~~~~~~~~~~~~~~~~~~~~~~~~~~~~
And a layout using some super cool techniques! Paper tearing…inking the Spotted Cardstock..Suzanna really works it here!
We are here having fun this week with Couture Creations. It's no secret that Core'dinations ColorCore Cardstock looks fabulous with dies and embossing folder especially when you sand, sand, sand!  Couture Creations is  an Australian owneda & loved brand, Couture Creations is the culmination of 20 years experience in the scrapbooking industry. From its final inception in 2010, Couture Creations has been devoted to producing expertly designed, high quality products overseen by veteran designers & crafters for a result that is both simple and elegant.
Make sure you head over to their BLOG, PINTEREST, FACEBOOK pages to find out all the other chances you can win. Here is a sneak of what is going on over there today.  Please keep in mind we are in two different time zones so in case we are off on our times bit please forgive us.   We are getting our coffee ready when they are getting ready for bed.
AND we want to thank you for your patience with our website. I would like to say this is going to be a quick fix for us but we are still  having are changing servers/hosting companies so it's going to take some time to get it resolved.  If for any reason you come back and you can't get on just head over to our Facebook page…we are posting there so you don't miss anything!
And don't forget to enter to win win win!  You guys have been SO PATIENT with us that we are offering another giveaway! Comment on THIS blog post for a chance to win this!
Please allow 3-4 weeks for shipping. Products may vary due to availability but winner will be notified to choose a substitute. Winners have two weeks from  date chosen to respond to claim their prizes. Must be 18 to win.
AND we have our Rafflecopter giveway, too!!!!!!!!!!!!!!!!!!!!!!!!!
 First up we have Designer Clare Buswell with some really fabulous cards. Clare add so much detail to her cards…it's incredible!  For this first card, she did so much sanding. And she inked her yellow cardstock from the Pastel's pack with some brown ink after she sanded the embossed design. It really shows of the embossing, don't you think?
Sentiment Sticker – SRM Press, Bling from Want2Scrap, Ribbon May Arts, Big Shot, Memento Desert Sand ink
Supplies:
Core Essentials Brights
Core Essentials Neutrals
Sand It Gadget
Dust Buddy
~~~~~~~~~~~~~~~~~~~~~~~~~~~~~~~~~~~~~~~~~~~
Designer Vivian Keh used a super cool technique on this layout. Yes, I am sure you have seen rolled paper before but check out how fun it looks with torn Core???  We will have more on this to come soon ;)And the pocket she created with the Fantasia doily die is brilliannt!
SUPPLIES:
Core'dinations – "Snowflake" from Neutrals Collection, "Bordeaux" and "Antique Moss" from Graphic 45 Signature Series Collection, "Love Potion" from Brights Collection, Core Tags
Couture Creations – Doily Die
Hampton Art – Sentiment Stamp and Insect Stamps
Inkadinkado – Bird Stamp
Memento – Dye Inks
Really Reasonable Ribbon – Seam Binding and Organza
~~~~~~~~~~~~~~~~~~~~~~~~~~~~~~~~~~~~~
And here is Designer Tracy Gruber with a super cute card. LOVE this color combo so much!
-Core'dinations Brights, Darks, and Neutrals paper pads
-Core'dinations Black Magic 6×6 card stock pack
-Sand It Gadget
-Dust Buddy
-Lawn Fawn On The Mend stamp set
-Copics: C1, C3, C5, Y06, V12, V15
-May Arts Ribbon
-Tuxedo Black Memento Ink
~~~~~~~~~~~~~~~~~~~~~~~~~~~~~~~~~~~~~~~~~
 And a few very fabulous layouts from Designer Suzanna Lee:  Loving the mix of patterns with the Fancy Pants Core Impressions as the base.
Supply List:
Coredinations Whitewash
Coredinations Essentials Bright and Neutrals
Coredintations Tags Pastel
Coredinations Tim Holtx & Ranger Distress
Core Impressions: Fancy Pants
Coredinations Sand it Gadget
Coredinations Dust Buddy
Couture Creations Dream Embossing Folder
Couture Creations Very Flint Embossing Folder
Couture Creations Celestial Doily Die
Couture Creations Double sided tape
Candi: Craftwork Cards
Patterned Paper: Elle's Studio
Project Life cards
Chipboard: Fancy Pants
Twine: The Twinery
Silhouette Cameo
~~~~~~~~~~~~~~~~~~~~~~~~~~~~~~~~~~~~~
AND check this out! Suzanna embossed her flowers using the Dream Embossing folder and then cut them out and used them as embellishments on her layout. Clever AND CUTE..that's what we love about this partnership. So many easy things you can do with Core and Couture Creations products.
Supply List:
Coredinations Vintage 6×6 and 12×12
Coredinations Spotted Tillie Dot
Coredinations Super Assortment So Mod
Coredinations David Tutera Tags
Coredinations Sand it Gadget
Coredinations Dust Buddy
Couture Creations Dream Embossing Folder
Couture Creations Celestial Doily Die
Couture Creations Double sided tape
Letter Die: QuicKutz
Dimesional Stickers: Jolee's
Butterflies: Heidi Swapp
Stapler: Tim Holtz
Scor Pal
~~~~~~~~~~~~~~~~~~~~~~~~~~~~~~~~~~
Jennifer Edwards is up next with a great layout using impressions of the Fantasia Doily does. An other GREAT color combo!!!
White Wash  - Grandpa's Trunk, Grandma's Rocker
Dust Buddy
Naturals – Gibraltar, Nightfall
Couture Creations – 'Irish Dreams' Fantasia Collection, double sided tape 6mm x 50m
~~~~~~~~~~~~~~~~
And a layout from me, Ellen Sosnoski. I sanded over the Heart Nesting dies for a fun background for this summer fun layout:
Supplies:
Brights Collection pack
Vintage Cardstock
Core Couture (blue and yellow)
Tim Holtz Kraft Core
Queen & Co Washi Tape
Couture Creations pearls and Nesting Dies
May Arts Ribbon
~~~~~~~~~~~~~~~~~~~~~~~~~~~~~~~~~
That about does it for us for this week! Again, we thank you for your patience. We, too, are at the mercy of technology sometimes!