Tracy Lucky Card:
I'm getting into the St. Patrick's Day spirit by making a few cards! Green is my favorite color, so naturally I had a blast making these green-filled cards. My first card used a bit of embossing, sanding, coloring, and die-cutting. Start with a piece of green card stock from the Darks Essentials pad and emboss it with the Plaid Darice embossing folder. Then, sand over the embossed part with the Sand-It Gadget. Next, use the different colored green card stocks from the Vintage Collection, Brights Essentials pad, and Pastels Essentials Collection. Use the Lawn Fawn dies to die cut the letters out of the light green piece. Then, emboss that piece with the Swiss Dots embossing folder and sand over it with the Sand It Gadget. Behind the embossed letters, attach a small piece of Copper Shimmer Glitter Silk card stock. Adhere all of those layers together. Lastly, stamp and color the Paper Smooches image on a piece of the 110 lb. white card stock.
Supplies:
-Core'dinations Brights, Darks, and Pastels Essentials paper pads
-Core'dinations Vintage Collection
-Core'dinations Glitter Silk paper pad
-Core'dinations 110 lb. white card stock
-Sand It Gadget
-Dust Buddy
-Darice Plaid Background embossing folder
-Cuttlebug Swiss Dots embossing folder
-American Crafts Knock-Out border punch
-May Arts Natural twine
-Paper Smooches A Magical Spring stamp set
-Copic Markers: T8, E08, Y38, E00, G19
-Lawn Fawn Cole's ABC's dies
Tracy Lucky To Know You Card:
Start off with an A2 sized card base made with a piece of Tim Holtz Kraft Core. Usually I stray away from using a black card base, because you can't write on the inside of the card easily, but by using the Kraft Core card stock, the inside is now kraft. Next, emboss a piece of gray card stock with the chevron embossing folder and sand it with the Sand It Gadget. Cut the shamrock from the A Child's Year Cricut cartridge at 2.5." Emboss that with the Swiss Dots embossing folder and sand it with the Sand It Gadget. Then, use a piece of light green card stock from the Pastels Essentials pad and stamp the sentiment with black ink in the lower right hand corner. Use green chevron ribbon to tie a bow and attach the shamrock with Tombow 3D Foam Tabs.
Supplies:
-Core'dinations Neutrals, Darks, and Lights Essentials paper pads
-Core'dinations Tim Holtz Kraft Core
-Darice Chevron embossing folder
-Cuttlebug Swiss Dots Embossing Folder
-Sand It Gadget
-Dust Buddy
-May Arts Ribbon
-Paper Smooches A Magical Spring stamp set
-American Crafts Knock-Outs border punch
-A Child's Year Cricut cartridge
Tracy Shaker Rainbow Card:
Shaker cards are one of my most favorite cards to make. I had the perfect idea to make a cool shaker card for St. Patrick's Day with a pot of gold.
Supplies:
-Core'dinations Neutrals, Lights, and Darks Essentials paper pad
-Core'dinations Tim Holtz Distress Collection
-Darice Stars Asst. embossing folder
-Sand It Gadget
-Dust Buddy
-Spellbinder's Standard Circle Small
-Simply Charmed Cricut cartridge
-Gold Stickles
And we are so lucky because Tracy has a video for us today!!!!!
Wishing someone a Happy New Year is such a great way to kick off the year! Positive thoughts for a positive start to the new year!
Kate here today to share two bright and happy New Year's cards I made using Core'dination Cardstock.
Kicking it off with a BRIGHT card.  The 4.5″ x 6″ card base and all brightly colored layers were made from the Core Essentials Bright Collection.  I embossed the yellow layer with a chevron embossing folder by Darice.  While embossing, I placed a cardstock shim on top of the plate sandwich. When I ran  this through my Big Shot, the embossing cut through the paper just where the shim was placed.  
Supplies:
Darice Chevron Embossing Folder
Die-namics Alpha Dies
Xyron Adhesives
This picture perfect card whipped up in no time at all!  The 4.5″ x 6″ card base is Core'dinations Tulip Jillian Dot. I sanded the little dots with my Sand It Gadget.  The sentiment is printed on a scrap piece of Core'dinations Cardstock (pretty sure it is in the Neutral Collection).  Once printed, I tore the paper and added a bit of Chalking Ink to match the Tulip colored base.  
Supplies:
Core'dinations Smooth Stamping Paper
Unity Stamp Co.
Memento Ink
Quick Quotes Chalking Ink
Want2Scrap Pearls
Wishing you all a Happy and Healthy New Year! ~Kate
So who was cropping with us this weekend????? We are having so much fun make sure you come chat with us here
Such a beautiful time of year and we are soaking it in on the Core Blog today with some fabulous Fall inspiration pieces!  If you were cropping with us then you saw this GORGEOUS card from Vivian Keh that is all about autumn colors! Make sure you check out her challenge and blog HERE for more amazing details!
What screams autumn color tones better than our Chocolate Box and Vintage Cardstock?  Heather Anne Kaesgan used both on this card for us today.
Creating with Core is easy! For this card,  Heather embosed the word "Hello" along the bottom and then added circles and Marvy Uchida punched flowers in the middle.  Did you know these Marvy punches actually punch the flowers with embossed designs? SO COOL!   Finish of your card with some May Arts ribbon and you are done! It's all about sanding, sanding, sanding! So get out that Sand It Gadget and have some fun.
And next up a card from Tracy Gruber.  I LOVE how she mixed in some Black Magic for her fall themed card.
I love the fall season because there are so many gorgeous colors and fun fall activities!  Picking out the perfect pumpkin is always a great time, even when you are 23 ; )  I cut out the pumpkin on my card from the Simply Charmed Cricut cartridge at 3 inches.  I used card stock from the Core'dinations Neutrals, Brights, Darks, and Pastels for it.  For my background, I used Black Magic with an orange background.  I sanded it with the Sand It Gadget to reveal the orange through the black.  I added some stitching and natural twine to complete my card!
Supply List:
-Echo Park The Apothecary Emporium 6×6 paper pad
-My Craft Spot Happy Fall! stamp set
-May Arts twine
-Cuttlebug Seeing Spots embossing folder
-Simply Charmed Cricut cartridge
-Tuxedo Black Memento Ink
-Xyron Foam Tabs
Today we have some  projects our team created with their kids! Crafting is so much fun especially when you can do it with your kids.
First up we have Designer Heather Ann Kaesgan. She made a some wall art with her son. Her son just LOVED the doggie accents with the Imaginisce Good Dog line. He sanded the canvas using his Sand it Gadget after gluing down some Vintage Cardstock…PS KIDS LOVE OUR SAND IT GADGET! It is easy for them to hold onto and, of course, sanding is so much fun! And when they clean off the paper with the Dust Buddy it's like magic!
~~~~~~~~~~~~~~~~~~~~~~~~~~~~~~~~~~~~~~~~~
Next we have Jill Lebbin…..
Hello Everyone! Jill from Every Day is an Occasion back with another project for you!   Today I have a Hot Air Balloon Card. We gave this card to my sweet cousin, who turned 17 this year. I have to tell you, I cannot take complete credit for this card. My son actually assisted me in making this card. He helped pick out the colors, stamp the background, and use the hot air balloon dies. He is such a big helper!
Hot Air Balloon Birthday Card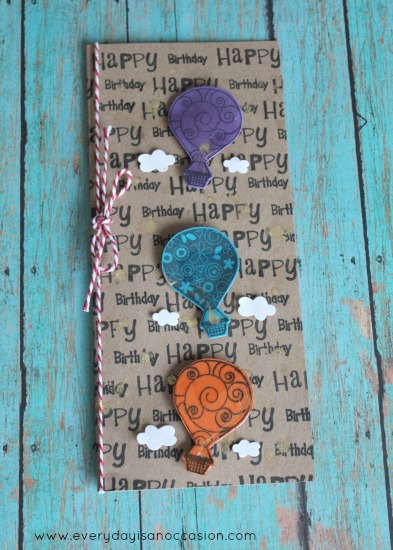 For this card I used Tim Holtz Kraft  Core, Brights Pack, and Neutral Pack of Core'dinations paper. Like I always say, the brights and white are my go to paper packs. I am very impressed with the way that they take stamps. I even put glossy accents on top of the balloons that I had popped up with foam adhesive. The paper held up very well. It did not tear. I sprayed some Colorshine on the paper too, just to give it extra excitement.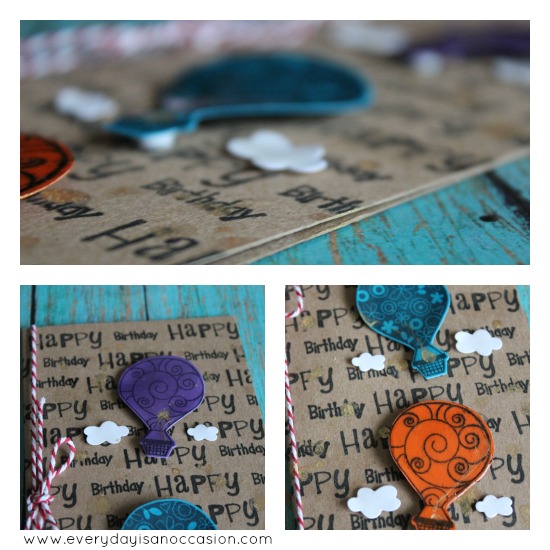 Thanks for stopping by today and checking out my..I mean..my son's and my hot air balloon card!
Have a SUPER fun day!!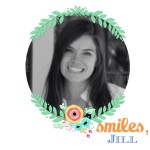 Welcome to the Core Tip of the Month! 
If you are here then you are receiving our BRAND NEW Hard Core Crafter newseltter! We hope you are enjoying it so far. Not on the list?  Sign up HERE !
This month we want to share some tips with you about designing  Ombre.
 It's so EASY with our Core Essentials color families like this layout using the Cobalt Blues.  From dark to the light the colors are:
Klondlike Blue, Evening Sky, Celestial and Blue Lilac. We sell all of our Core Essentials cardstock in open stock so ask your favorite retailer to get some of your favorite colors. And we have some in 8.5×11 as well!
Just emboss different patterns, add hand cut or punch embellishments and sand using your Sand It Gadget to create  texture.
Here is a layout from Tracy Gruber using the yellows from our Core Essentials Collection pads. They come in 12×12″ pads or 6×6″ pads.
Tracy only used three colors in her layout.  The darkest is from the Darks Collection pad, the middle one is from Brights Collection pad, and the lightest is from the Pastels paper pad.  She embossed each of the 1 inch circles with the Darice Circles embossing folder and sanded them with the Sand It Gadget.
Then, just add different embellishments from your stash and you are good  to go!