Hi Everyone! We have a special treat this week…we are sponsoring the Cupcake Inspiration blog so if you are looking to win a Core'dinations prize pack head over there for you chance to not only be inspired but win some core!
Make sure you check out their RULES section here.  You only have one week to participate so hurry!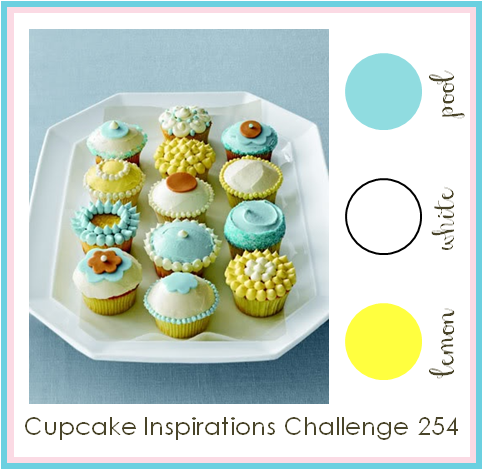 Our Design Team was busy, too!
Kate Nolan-Denham
Ava Gavloski
Debbie Standard
WE DO!
And since Valentine's Day is right around the corner, what better way to get ready in a flash then David Tutera Celebrate Cardmaking system. You can put these cards together a quickly and easily as 1-2-3. So if you are last minute, like me, then this system is perfect for you!
Designer Trine Brandt-Lassen created these for cards and tags in a flash!
Trined used the BACK of the Step 2 Silver embossed layer so it looks debossed.
And these are some of the brand new embellishments. Just pop these little postage stamp die cuts, sand and adhere!
~~~~~~~~~~~~~~~
Make stepper card from cardstock. Emboss Kraft-Core using Anna Griffin embossing folder, ink edges and adhere panels to facing sections. Add strip of embossed Kraft-Core across facing back panel. Die cut labels, stamp trees on large label and ink edges. Stamp trees, frame and sentiment on small label. Attach large label to back. Add seam binding to front section and add small label. Cut deer and trees using silhouette machine. Add trees to background using silicone glue. Add deer and smaller trees using silicone glue to front section, to finish.
 ~~~~~~~~~~~~~~~~~~~
Make stepper card from cardstock. Emboss Kraft-Core using mistletoe embossing folder,  ink edges and adhere panels to facing sections. Add strip of embossed Kraft-Core across facing back panel. Die cut label, stamp foliage on back label, ink edges and adhere with silicone glue. Die cut oval label, stamp frame and ink edges. Add ribbon and attach oval. Die cut foliage and adhere with silicone glue. Cut cardinal using silhouette machine, sand edges and attach to card using silicone glue, to finish.
If this was Facebook we would need a LOVE button for this post!
Make card from cardstock. Layer spotted cardstock onto pink cardstock, sew border using sewing machine. Emboss border on Core Tag, stamp sentiment and adhere to panel with foam pads. Attach twine and adhere panel to card. Add sequins. Die-cut layers of flowers, shape petals using rounded end of pen on a foam mat. Sand tips of petals. Ink centers of layers with Tattered Rose Distress Ink, layer petals together and glue. Cut leaf shapes from green Kraft-Core, score line in middle and pinch vein lines with needle nosed tweezers. Sand with Sand-It Gadget. Attach leaves and flower to card.
Swooooooooooooooon!
Day four means only one more day of this fun week..makes me sad!
We are here all week long with Lawn Fawn! Our team loves loves loves loves their stamps so much..make sure you head over to their site to do some shopping! From cards to layouts, we have it for you! Please make sure you head over to the Lawn Fawn blog for more inspiration AND their Facebook page as well. There is a stamp set up for grabs!
And don't forget…we have a prize up for grabs this week! Some Fancy Pants Core Impressions!
First up today we have a gorgeous card from Designer Clare Buswell and here is how she did it:
Make card from cardstock. Cover top half of card with blue Core'dinations cardstock, sand edges using Sand-It Gadget and wipe with Dust Buddy. Stamp sentiment. Stamp clouds onto Tillie dot cardstock, fussy cut and adhere to card. Stamp pinwheels, color with Distress Markers, fussy cut and attach to card. Repeat stamp flowers, color with Distress Markers, fussy cut, trim and adhere to card. Fold piece of green Core'dinations cardstock, fringe edge with scissors to create grass effect, emboss using Gridlock embossing folder, sand and adhere to card with foam tabs. Attach baker's twine, to finish.
Supplies:
And a card from Designer Debbie Standard featuring loads of Core and some of the cool background stamps from Lawn Fawn.
Some Tim Holtz Kraft Core and the sharp backdrops:
and using the interlocking backdrops  with some Chocolate Box…loooove the subtle look of this. Debbie added some May Arts ribbon to both of her cards and a David Tutera Celebrate cardmaking system  sentiment. These are GREAT if  you don't have  a sentiment stamp that fits your needs.
Next up a funky cool layout from Designer Ava Gavloski. LOVE how she created a layout and used the So much to say , You've Got Mail  sets in such a cool and unique way!
Supplies:
Jenni Bowlin Core Amour from  Core'dinations Cardstock
Sand It Set
Lawn Fawn, Dewey Decimal paper pack collection
Couture Creations, Doily die, Fantasia Collection Blossom
Imaginisce, I-rock heat setting tool, Glam rocks , Red 002988 2.5m 4 mm
The Crafter's Workshop Stencils, Cell Theory & Chicken Wire Reversed
Clearsnap Ink, Blackbird, Pepper and Cherry Ice Smooch Spritz
Cuttlebug
Well…as a cake topper!  Jill has some great birthday ideas for you today.
Hi everyone! Jill from Every Day is an Occasion back to share another project with you. Today I am sharing the cake topper I made for my son's birthday. He turned four this year. He loves cooking and baking, so we decided we would make the cake together. He picked out the kind of cake he wanted, the frosting, and of course what he wanted on top of the cake. This summer we have spent a lot of time at our lake cottage. He absolutely loves it up there. One of the highlights for him is to look at all the animals while we are on the pontoon boat. He especially loves it when we find turtles. So this year we decided a turtle themed cake would be fun.
Turtle Themed Birthday Cake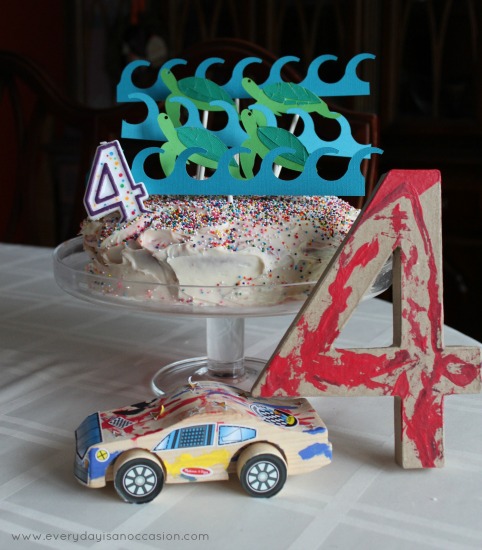 You may notice a random car in the picture…he painted that car and asked for it to be in the picturebecause he wanted to remember he painted that on his birthday.
I love Core'dinations Brights Paper Pack. I use it all.the.time! It is my second go to…my first go to favorite is Core'dinations white in the neutral pack…I know I'm weird! lol
Anyways, the turtles and waves were both made using the Brights pack. So go get yourself some and thank me later:)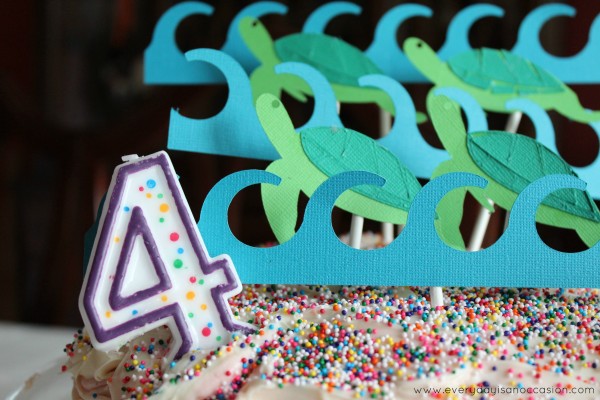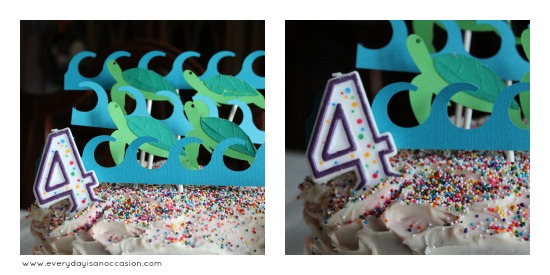 Next up I'm sharing a project I made for my mom. I keep making cards for her that she absolutely adores and doesn't want to throw away…this is where I blush and come up with a solution…..
Card Holder and Scalloped Card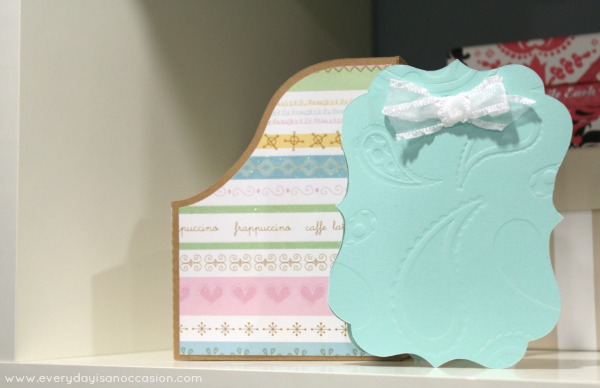 When I first got my Design Team box from Core'dinations, this SUPER CUTE Fancy Pants Core paper was inside. This paper was my mom's absolute favorite! I knew when her birthday rolled around, what I would be using to create her card! She doesn't like really fancy things. She is more of a clean and simple gal so I used the backside of the cardstock.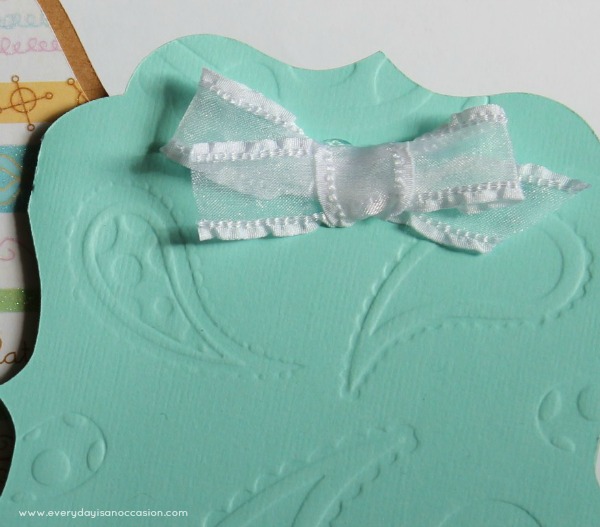 Then when she said she needed a place to put all the cards I was making her, the Tim Holtz Kraft Core paper stuck out to me because on one side it is a kraft color and on the other side it is colored. I think it is so perfect because no matter which side you look at the paper it is beautiful!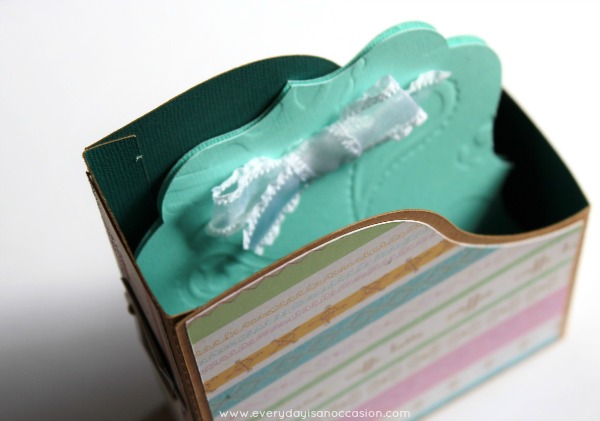 Materials
Card Base: Fancy Pants Coredinations paper
Ribbon: May Arts
Silhouette Cameo
Card Holder: Tim Holtz Kraft Core 
For more details on how I created these two projects, come visit me at Every Day is an Occasion.
Thanks for stopping by and checking out my project.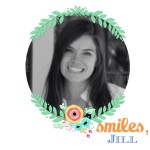 —