Create an easy birthday card with layers and a simple stamped sentiment for that special someone this Fall. Adding a touch of burlap and some  Petaloo flowers is the perfect touch to show someone you care without having to spend a lot of time.
Here's a video on how to re-create this card:
I'm trying to create more cards to keep on hand for the occasions that pop up! One of the cards that I'm always needing are the ones for the men in my life. I find that using Tim Holtz Kraft Core cardstock always gives a simple design a more masculine look.
Supplies:
Tim Holtz Kraft Core - No7, No11, No15, No18
Big Shot
Lifestyle Crafts embossing folder
Simon Says Stamp die
Winnie & Walter stamp
I've used the same embossing folder for each panel but some are embossed and some are debossed!
My other top cardmaking tip is to use a general sentiment such as 'for you' so the card can be used for a variety of occasions such as birthdays, Father's Day, thank you etc.
Gail Lindner
 Happy Teacher Appreciation Day! We are celebrating with a fabulous card from Mary Pat Siehl using tons of stamping, heat embossing and a touch of scoring for the frame around her card.
Black Magic makes the perfect chalkboard look, don't you think?  But don't forget! Our NEW Chalk Core will be shipping SOON to a local craft store near you!
Tell a teacher how much you care with a fabulous Core'dinations card!
Debbie Standard has some Easter cards for us today that she made in MINUTES with the David Tutera Celebrate cardmaking system.
Check out how to mix and match Step 1, 2 &3 steps to make fabulous cards in a flash!
Debbie used her scraps from one card to make a second one!
These A1 Glitter assorted cardbases make the CUTEST cards! The A1 size (3.475″x4.875) is just a tad smaller than the standard A2 size so it's perfect for gift bags or a card you need in a hurry.
Hi Everyone! Tracy Gruber here! Hopefully it's starting to feel like spring where you are!  I decided to create my own beautiful flowers out of Core'dinations card stock to get me in the mood for spring and summer.  Start out by cutting the hydrangea from the Walk In My Garden Cricut cartridge at 4 inches.  Next, emboss a piece of White Wash card stock with the Cloudy Sky embossing folder from Darice.  I de-embossed it and sanded it so the clouds stayed white and the sky became blue.  Then, tear two strips of brown card stock to create the "dirt" at the bottom on the card.  Use the Fiskar's grass border punch and Kraft Core card stock to create the grass that is behind the dirt.  Die cut the clouds from white card stock and stamp the sentiment on the medium cloud.  Adhere everything together for a fun card!
Supplies:
-Cricut Walk In My Garden cartridge
-Fiskars Grass Border Punch
-Memory Box Puffy Clouds die
-Lawn Fawn A Birdie Told Me stamp set
-Darice embossing folder
Happy Spring Card:
I love to create 3D flowers with my Core card stock.  After a little sanding, they start to look real!  Die cut the flowers using the Spellbinder's Rose Creations die.  Bend each flower petal and then sand each one with the Sand It Gadget.  I like to attach each flower layer together with a brad, but you could use whatever you want. For the card base, layer together a piece of yellow and dark purple card stock.  Sand the purple card stock to give it a distress look.  Attach a white Core Tag to the card base and stamp the sentiment.  Lastly, attach each flower and the leaves onto the card front.
Supplies:
- Lawn Fawn Jessie's ABC's stamp set
Welcome Card:
The ombre trend is hot right now and I love to use my Core card stock to create ombre backgrounds.  We have been having gorgeous sunsets lately, so I was inspired to create a card with a sunset that looks like it's on fire!  I tore strips of red, orange, and yellow card stock and attached them to a white card base.  I die cut the sky line with a Memory Box die and used Glitter Silk for the buildings windows.  The windows look like they are really lit up because of all of the sparkle from the Glitter Silk card stock!  I used the speech bubble die from Simon Says Stamp and stamped the Paper Smooches sentiment on it.
Supplies:
-Memory Box Cityscape Nightline
-Simon Says Stamp Talk Bubbles 2 die
-Paper Smooches Word Salad stamp set
Hi Everyone! We have a special treat this week…we are sponsoring the Cupcake Inspiration blog so if you are looking to win a Core'dinations prize pack head over there for you chance to not only be inspired but win some core!
Make sure you check out their RULES section here.  You only have one week to participate so hurry!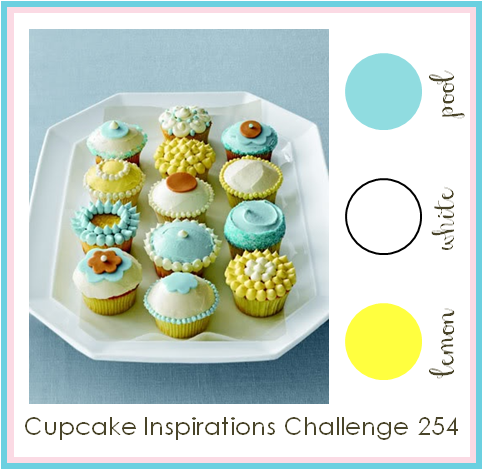 We have more inspiration for you from our team!
Suzanna Lee:
Tracy Gruber:
Mary Pat Siehl: