Hi Everyone! We have a special treat this week…we are sponsoring the Cupcake Inspiration blog so if you are looking to win a Core'dinations prize pack head over there for you chance to not only be inspired but win some core!
Make sure you check out their RULES section here.  You only have one week to participate so hurry!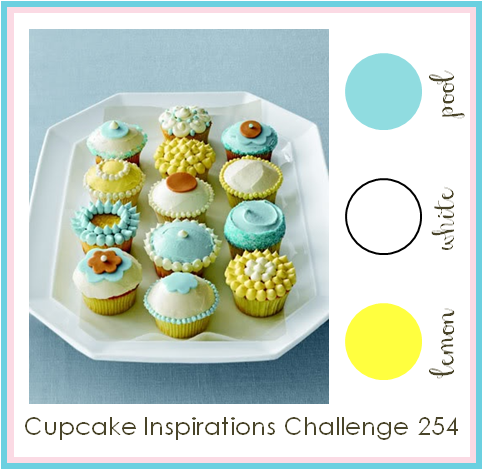 Our Design Team was busy, too!
Kate Nolan-Denham
Ava Gavloski
Debbie Standard
Wishing someone a Happy New Year is such a great way to kick off the year! Positive thoughts for a positive start to the new year!
Kate here today to share two bright and happy New Year's cards I made using Core'dination Cardstock.
Darice Chevron Embossing Folder
Die-namics Alpha Dies
Xyron Adhesives
Core'dinations Smooth Stamping Paper
Unity Stamp Co.
Memento Ink
Quick Quotes Chalking Ink
Want2Scrap Pearls
Hi Everyone!  Ellen here today with a Father's Day card I made…well two of them.  And they are very different!  I was inspired this week by two different things.
First up, I was working with some Couture Creations dies and after my cut I realized unfortunately that my sandwich was wrong. So it didn't cut all the way through. That happens to me from time to time and I just put them in my recycle bin. WEll not this this time! I thought…I can do something with that…and I did! You have to check out their Doily dies..they are AWESOME! And versatile….
There was no way I could cut this with craft knife because it was too detailed so I grabbed my Sand it Gadget and I sanded and sanded and sanded a bit more and the "etched" image created starts to pop off the card.  It's subtle but I think it works AND I saved some scraps
And next up I was in my inbox and the daily RSS feed from Scrapbook & Cards Today was there and I found this treat: Folded Shirt Card for Father's Day!
Aly Dosdal from the WRMK Design Team originally did the video so I had to try it out because I just KNEW that Core w0uld be awesome with this tutorial. I used Core Essentials for the shirt, Chocolate Box for the tie and background and a David Tutera Celebrate card for the base. I cannot get enough of these square cards!   For the original video check out the WRMK blog .
I gotta tell you…I did it on the FIRST try so it wasn't that hard. You will need your Scor-Pal or scoring tool of some sort.
And  here is the inside of the card. You can open it up and put something in there.
Sorry we are a bit late today…things have been crazy around here the last few weeks. It's all good though!
Now….on to the good stuff…..
Today we are saying hello  to Clare Buswell!
Here is a little bit about Clare:
Swoooooooooooooon!
Supplies:
Tim Holtz Kraft Core Nostalgic, Tim Holtz Distress Collection, The Whitewash Collection, Sand it Gadget, Dust Buddy, Big Shot, Spellbinders Tag Trio, Seeing Spots Embossing Folder ProvoCraft, Swiss Dots Embossing Folder ProvoCraft, Sweet Sentiments stamp The Craft's Meow, Onyx Black VersaFine Ink, Distress Ink – Antique Linen, teal satin ribbon, baker's twine.
I think it is only fitting that we giveaway some of that fabulous Tim Holtz Kraft Core, don't you?????
~~~~~~~~~~~~~~~~~~~~~~~~~~~~~~~~~~~~~~~~~~~~~~~~
AND the winner of the Spotted cardstock from yesterday is…………
~~~~~~~~~~~~~~~~~~~~~~~~~~~~~~~~~~~~~~~~~~~~~~~~~~~~~~~~~~~~~~~~~~~~~~~~~~~~~
OR NOT?!?!
This just makes me smile all over. Luckily I have a good bit 'o Irish in me but if you don't, than this is for YOU! Designer Shaunte Wadley created this card with so many details!  Pretty crafty how Shaunte used the washi tape and pins to make her own flags, don't  you think?   And a simple scalloped square out of the Spotted cardstock is a great place for the sentiment.  Embellish and you have a fabulous card that is perfect for any occasion! Don't forget to use those 6×6 paper packs for your cards, too, they are available in both Tillie and Jillian Spotted collections.
Supplies Shaunte used: Cut & Emboss  brights and Glitter Silk (title)
Other Supplies: Queen & Co. washi tape, May Arts ribbon, Darice Embossing Folder
Stay tuned for winners this week. We have a TON to get picked and posted so stay close! You don't want to miss your name up here for some fabulous cardstock or the issue of Cardmaps Vol. 3!
AND DON'T FORGET ABOUT OUR DESIGN TEAM CALL HERE!!!!!!!! ONLY TWO WEEKS LEFT TO ENTER!!!!
Sit back, grab that coffee and relax..we have a few updates for you today!
~~~~~~~~~~~~~~~~~~
FIRST up we will have a winner for you for the Sketch Challenge soon with all of these goings on  we are a bit behind.
Second…DESIGN TEAM CALL posted yesterday! Not sure if you know this but we have a Hot Topics section on our homepage right underneath the flash images (the images that rotate of the new products). We can tag things from our blog and other areas of the site there so that the important stuff stays in one place. Like contests, challenges, giveaways and, of course, Design Team calls!
THIRD ….we posted our winner of the year long sub to ScrapbookTrends on Facebook yesterday…the winner IS……Carol Casatelli Vivenzio!  I emailed you Carol so heads up on that inbox.
FOURTH…want a chance to win EVEN MORE CORE????  We are one of the sponsors of the Cupcake Inspiration blog two hundredth challenge  celebration! Click here for more details on how to win win win win! We are only one of the awesome companies that donated some prizes.
~~~~~~~~~~~~~~~~
Hmmmmm…I think that is for now!   So…last week on Facebook I said we would give you some St Patty's Day inspiration so let's do it! Thanks to Design Team Member Debbie Standard we have a great card for you today.
This Tuesday's  Tip is to break out that Glitter Silk for St Patty's Day. As you can see, we love our GS here ..it was great for Valentine's Day and we are STILL using it in March!
Gosh, it looks beautiful embossed, doesn't it? Pair it with some Core Couture and you have a festive card.