Hi all! Tami Mayberry here with you today to share a Clean and Simple (CAS) card design using Core'dinations products. Creation was fast and easy using Core'dinations Core Basics pre-made cards and finding the perfect envelope is never a problem because it's included as well!
CAS Mom Card Supplies:
3 orange enamel dots
Sizzix dies: Hearts #3 (#660273), 3/4″ Alphanumeric (#660056)
Sizzix Big Shot die-cutting machine
Scrapbook Adhesives by 3L®: adhesive foam squares, adhesive runner, adhesive sheets
Instructions:
Step 1: Adhere snowflake Spotted cardstock to card front; trim to fit.
Step 2: Die-cut large heart from Dark Pink Small Dot patterned paper; attach to card front using foam squares.
Step 3: Die-cut "MOM" from orange Core Essentials cardstock; adhere to card front.
Step 4: Embellish card front attaching enamel dots to embossed pattern as desired.
Tip: Tie everything together using a simple element such as the dot design in this card. Easily accomplished by combining the dot patterned paper with the embossed cardstock.
And there you have it! This card can easily be customized by changing the colors and sentiment to fit the occasion/recipient.
~Tami
Hi All! Tami Mayberry here with you again today to share another clean and simple card project great for any occasion.
Thinking of You Card Supplies:
Core'dinations vellum quotes
3 turquoise self-adhesive rhinestones
2 turquoise mini brads
Sizzix Dies: Calendar Months (#660104), Tim Holtz Mixed Media (#660220), Ornate Labels (#659711)
Scrapbook Adhesive by 3L® 3D Foam Squares
Tombow Mono adhesive
Step 1: Die-cut around desired vellum sentiment using Ornate Label die.
Step 2: Die-cut same size label from white cardstock. Attach vellum layer to cardstock label using brads.
Step 3: Using Calendar Months dies, die-cut three sets of  flower shapes from desired cardstock; sand top layers lightly as desired using Sand-It Gadget.
Step 4: Cut a 4 x 5 1/4-inch piece from green cardstock; die-cut Mixed Media shape from bottom left corner.
Step 5: Form a 4 1/4 x 5 1/2-inch card from smooth white cardstock; adhere die-cut pieces to card front, layering together as shown and using foam squares for flower layers.
~Tami
Hi all! Tami Mayberry here today to share some CAS cards that you can make in minutes using two Pop Dot card bases.
Pop Dot Card Supplies
2  contrasting Pop Dot card bases for each card
Gina K. Designs Simple Hearts stamp set
Clearsnap Beetle Black pigment ink pad
May Arts white ribbon
Sizzix Scallop Circle Framlits dies
Sizzix Big Shot die-cutting machine
Fiskars corner rounder
Adhesive foam dots
Paper adhesive
Step 1: Round bottom corners of both black dot and white dot cards.
Step 2: Trim 2-inches from bottom edge of white pop dot card base; adhere to black card base.
Step 3: Wrap front with ribbon.
Step 4: Stamp heart image onto inside of remaining piece of white dot card. Die-cut around image using scalloped circle die.
Step 5: Attach die-cut shape to card front using foam dots.
And you are done! Just 5 easy steps to a thoughtful handmade greeting.
~Tami
Ava  
here today to share some Spring cards with you today. Let's start with a Clean and Simple card.  With our pre-embossed cardstock, cards come together very quickly!
The Tim Holtz Kraft-Core Seasonal Impressions is a great pack of paper to create cards with.  Find the pre-printed sentiment on the cardstock sheet, size it to the greeting card size and you can make a quick card without touching any ink.
 Sand lightly with your Sand it Gadget and clean your sentiment using the Dust Buddy.
Punch out an embellishment using your
Marvy Uchida Clever Lever Silhouette and Embossing punch

,

SE-E02 Heart Butterfly and add a bit of ribbon. I punched my butterfly from the Spotted Collection, Jillian Vavavoom color.
Core'dinations Cardstock supplies:  Tim Holtz and Ranger Adirondack Collection, Stonewashed  Tim Holtz Kraft-Core Seasonal Impressions, Spring/Easter , Spotted Jillian Collection, Vavavoom; Sand it Gadget ,  Dust Buddy,
May Arts Ribbon, Helmar Adhesive.
~~~~~~~~~~~~~~~~~~~~~~~~~~~~~~~~~
Ava  
again here to share with you another  Spring card.  Spring brings thoughts of new buds and greenery and that is the sign we all look for to indicate the beginning of a wonderful time of year.  My CAS card has been embossed using the
Couture Creations

embossing

folderfrom the Fresh & Fun collection, Magical and Sizzix Flourish folder.
Gather some supplies and this CAS card will come together quickly.
 I used Core Essentials Pastels Collection pack for this card.  Embossed and lightly sanded with my Sand it Gadget. Gently dust off my sanded cardstock with my Dust Buddy and you will reveal the light tones of the inner core.
Stamp your sentiment and image onto a die cut label, adhere with some Helmar's Zap Dots onto the card to give some dimension to your card.  Embellish with some rhinestones and ribbon and your CAS card is ready to go.
Supplies:  Core'dinations Core Essentials Pastel Collection, http://www.coredinations.com/index.php/products/core-essentials/assorted-packs/, Sand it Gadget http://www.coredinations.com/index.php/products/tools/sand-it-gadget/, Dusty Buddy http://www.coredinations.com/index.php/products/tools/dust-buddy/, Embossing folders:  Sizzix and Couture Creations, May Arts Ribbon, Want2Scrap, Helmar Adhesives.
Hello, everyone!! Jill from Every Day is an Occasion back to share another project with you! Today, I have what I like to call "FairyWare"….a lot like "silverware", but for fairies. My son and daughter love Disney's fairy movies, so that is where this inspiration came from.  This idea is perfect for ANY kind of party…birthday…holidays and more!
FAIRYWARE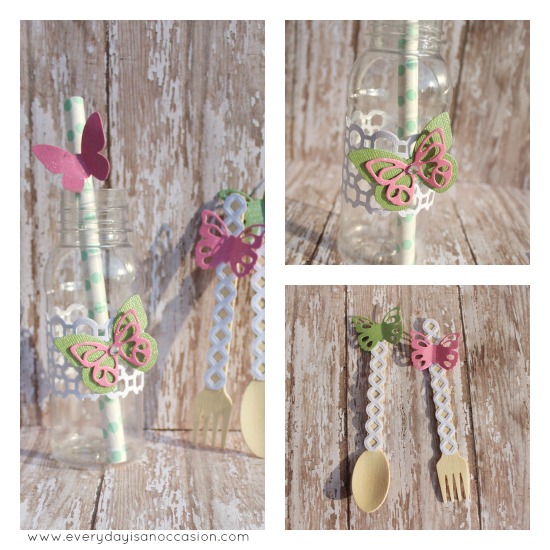 This is simple simple simple. All I did was take wooden silverware and decorate it with David Tutera's beautiful collections, the butterflies and borders pack. It is as simple as hot gluing them onto the silverware. Then I took a plastic bottle my kids had left over from their milk, took the wrapper off, washed it out and adhered David Tutera's butterflies and white lattice background. This set, unfortunately for my kids, had to be shipped off to HSN, but we will surely be making some more "fairyware" soon! Have a crafty day! 
Next up I have a Clean And Simple card to share with you. This card was created using David Tutera's line which is made from Coredinations Cardstock, just in case you didn't know. I love all different styles of card making, but with two small kids, lately I have been sticking with CAS. I think it is important to Thank people with a handwritten note. Today it is so easy to send a text message or email thanking someone, which I do, but my favorite is a handmade card.
Keep in mind this can be applied to invitations…Christmas cards..you name it!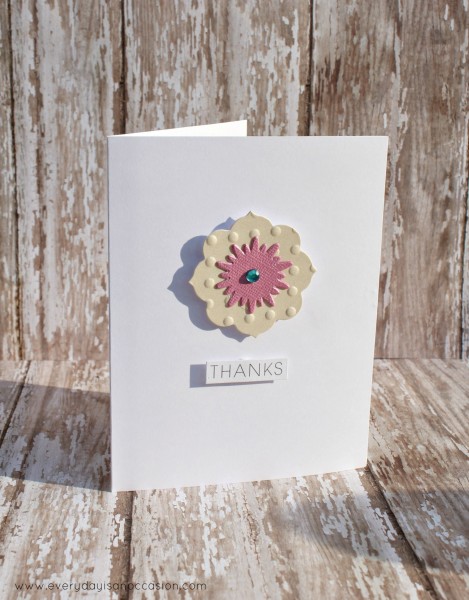 Sometimes I feel so rushed to make cards or I'll make one and the person doesn't seem to appreciate it the way I thought they would and then I feel like I wasted 2 hours of my life making a card they really don't care about. This card solves both of those problems. David's line is quick and simple. He has it laid out for you. Basically, you supply the adhesive and it takes 5 minutes  to make the card. I used David's white card base, flower pack and sentiments. All found here on his page exclusive ot our website.  Quick. Simple. Fabulous! Have a crafty day!