We have a special treat for you this weekend! While we were at CHA we had a really fun give-a-way. When you came to our booth you were given this very fun T-Shirt and entry form to win an awesome prize package from Core'dinations and our Core Impression partners. All you had to do was go to the co-branding companies of our Core Impression lines (Jenni Bowlin Studio, Jillibean Soup, My Mind's Eye, BasicGrey, Graphic 45, Cosmo Cricket and Fancy Pants Designs) with your T-Shirt on to get additional entries.  So not only did you get the chance to win some fun stuff, you got these great T-Shirts, too!
So…what's this Fabulous Friday all about???  This  weekend we are giving you the opportunity to win one of the T-Shirts! All you need to do is click on the link to the video here to see how to enter. GOOD LUCK!
We would also like to give a shout out to the winner of that very fun prize package at CHA ……
Scrappers and Stampers Delight!!! Stamper's Delight has an online store in addition to two brick and mortar stores so if you are in the area make sure you stop by and say hi!
www.ssdboise.com
http://ssdtwin.blogspot.com
www.scrapthatsmile.com
Here is a close-up of the front of the shirt…..make sure you watch the video though to see more and find out how to win.
Here is a link to our Facebook page in case you need it
We have a few more shots of our booth in CHA. Are you tired of them yet?  Tomorrow we have projects in store for you so no worries! We didn't forget about them. We still scrapbook around here
We got some request for some more Core Impressions shots and Tim Holtz, oh and the Glitter Wall (Stay tuned for that a bit later this wee) AND the Teresa Collins and Jenni Bowlin Core Amour lines!
Core Impressions Wall. I think this gentleman in the blue is drooling a little:
The other side of the Core Impression Wall with the new Jenni Bowlin and My Mind's Eye!
Some of the cool projects featuring Core Impression from the Design Team:
And last but not least….
THE gorgeous Teresa Collins and Jenni Bowlin Core Amour Lines. WOWZAS! These are gorgeous. Gorgeous! You are going to love these amazing colors…blues and pinks from Teresa Collins and reds and golden browns from Jenni Bowlin. You won't want to miss these. Make sure you ask your favorite scrappy store to stock these collections!

Hi everyone! Ready for some booth photos?  WE ARE! We have a lot more to show you. Make sure you stay tuned for a FUN give-a-way to kick off next week.
This is a great shot of our Tim Holtz line!!! It was a HUGE hit.
More Tim Holtz….
Our new 8.5″x11″ program for our Cardmaker Series (yeah!)
Our new Pearls Cardstock…gorgeous gorgeous! YOU WILL LOVE THIS paper. It so so smooth and shimmery. Just perfect for any project AND comes exclusively in 8.5″x11″ for our cardmakers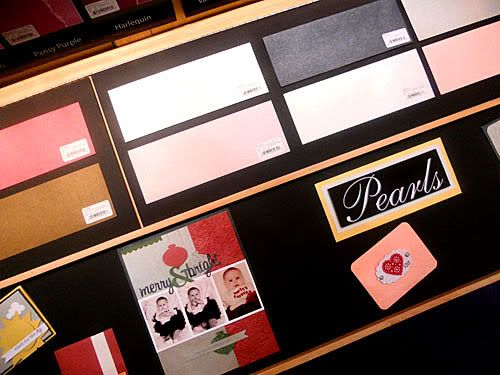 And the NEW Core Impressions
We will have more shots of these to come.
Some of the new Jenni Bowlin Whitewash Core Impressions:
The backside showing the core color:
Stay tuned for more! We have so much to show you and are super excited about our new releases!