You can Imagine. Dream. Fly with us today!  Using a variety of Core'dinations products I was able to create this fun card to celebrate National Aviation Day.
 The card base is a standard A2 cardbase, my favorite size, made from Core'dinations Distress Collection.  Of course, I distressed the edges a bit with my Sand It Gadget!
 The background is an embossed piece of Core'dinations Kraft-Core.  I sanded the embossed image down quite a bit and ran my green ink over the embossed/sanded image, leaving some of the Kraft-Core peeking through.
To create my sentiment, I trimmed up a Smooth CoreTag to fit in the corner.  I always save the trimmed off part of my CoreTags to use on other projects.
Tip of the day: Core'dinations Cardstock makes a sturdy base for stickers.  On my card, I adhered the cute airplane sticker to a sanded piece of the same base cardstock and then trimmed around the sticker.
Hi! Jill from Every Day is an Occasion here to share a kid's Craft project with you. Today I'm sharing how I made puppets for the story, Brown Bear Brown Bear What Do You See ?  featuring tons of Core'dinations Cardstock including the Brown Bear as the focal point made out of Chocolate Box cardstock!
Brown Bear Brown Bear What Do You See Puppets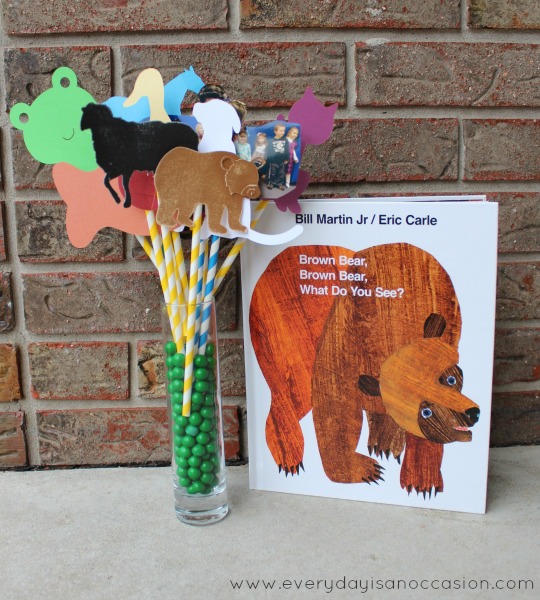 I used to teach first grade and my students LOVED reading this book. It's a great book because it's repetitive and kids can pick up on how to read it pretty quickly! My son memorized this book when he was 2 1/2 and now being 4 he likes to "read" it to his little sister. I thought it would be really fun for him to use these puppets in his puppet theater and create a puppet show for his little sister to watch.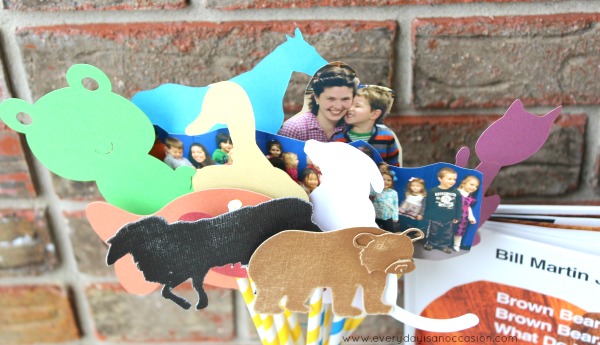 To create the puppets, I used Chocolate Box , Core Basics , 110 lb White Premium Cardstock, straws, and photos. I  cut out the animals using my Silhouette. They might not be the exact same shape as the animals in the book, but at least they are the same animals. At the end of the story, there is a Teacher and Students part. I used photos that I had taken in my son's class. All the animals and photos I adhered to straws using hot glue. The bear I assembled using Xyron Glue Dots and Xyron Glue Stick.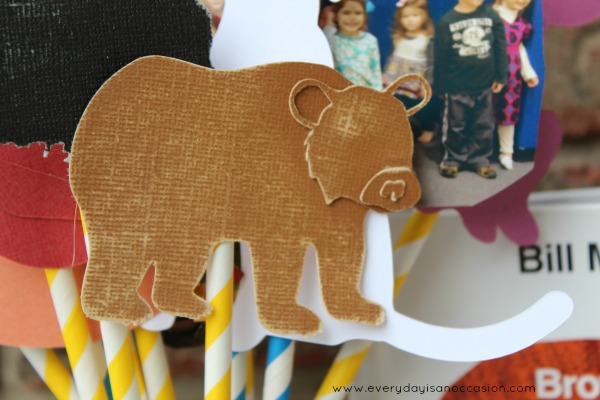 I love the way this brown bear looks sanded! I used the Chocolate Box  and sanded away! I love how the sanding gives him so much dimension.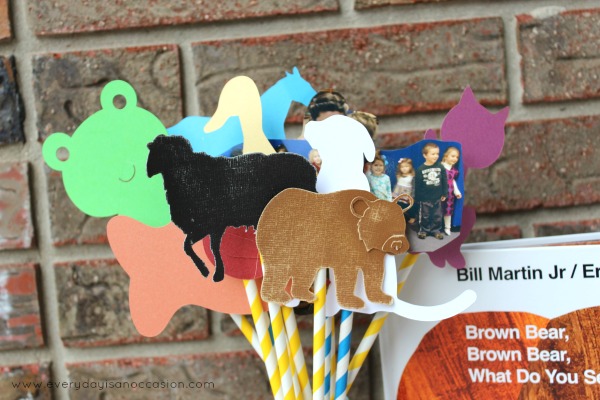 Core Tip: Use the backsides! The great thing about the Chocolate Box Pack is that it gives you so many options. You can sand away like I did on the bear or you can flip over the colors and use the colored side on the back!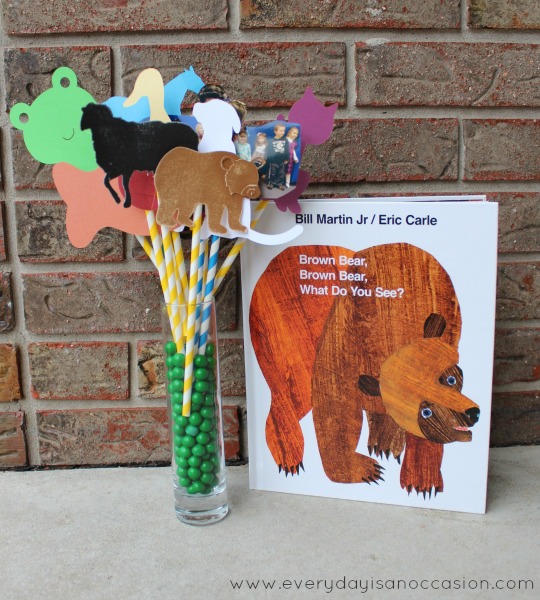 This was such a fun project and I cannot wait to give it to my son and watch his puppet show!!
All week long we are playing with Authentique papers! How awesome is that?
We are so excited for this week and trust me when I say our papers are a match made in heaven!  But seeing is believing, right? So make sure you stick around all week long for some inpsiration and a giveaway of course!
Make sure you check out the Authentique BLOG for more ideas and a giveaway  AND their complete lines of gorgeous papers HERE.
AND PLEASE head over to Authentique's FACEBOOK page to say "hi"!!!
We cannot get enough of this Be(you)tiful line, can you tell???
First let's start with a fabulous mini album page from Jill Lebbin. Jill used the Chocolate Box for her title. See that sanding??!?!?
She used one of those fun crafts straws on her layout for some dimension….how COOL!
Straw
Hot glue
xyron-megarunner
Epiphany Crafts Round 25 tool
Brads
Mini Album 6×6 cardboard piece
~~~~~~~~~~~~~~~~~~~~~~~~~~~~~~
And a goooorgeous card from Gail Linder. I mean she CUT this pattern herself?!?!
I mean..AMAZING!
MFT die
Big Shot
Xyron Sticker Maker
~~~~~~~~~~~~~~~~~~~~~~~~~~~~~~~~~
The fabulous Kate Nolan Denham is up next with a layout. I love how she used the Red Pepper from the Brights Collection pack with the Be(you)tiful line. There are all these little accents of this color throughout the line and it is so so pretty!
We are giving some away so comment here to win!
We are excited to share Xyron projects with you all week long!  We hope you have been having fun so far!
And do not forget to head over to the Xyron blog for MORE inspiration AND a giveaway!  AND we have a giveaway for our Facebook Fans, too! CLICK HERE to enter to win over there and keep reading on how to win on our blog, too.
Let's start today off with festive layout from Tim Holz Seasonal Kraft Core with Designer Suzanna Lee:
For those of you who have followed my blog, you've already heard my rave review of the Xyron MegaRunner. You can read all about it here. Having had the chance to use my MegaRunenr A LOT more since that review, I am still a big fan! The cartridges are so easy to just drop in and get scrapping. You don't have to rely on that one friend who threads it for you, nor do you have to keep re-threading. Big bonuses! The Create-A-Sticker "X" has been sitting on my desk for AGES. I think it's the one adhesive that still remains from early, early days. It's the tried and true work horse for letters (like the title on this layout) and smaller embellishements (like the pumpkins, ribbon and burlap). New "wows" that I got to play with in the making of this layout with are the 3/16 inch dots and 1/2 inch double sided tape, each with their own environmentally friendly dispenser. The double sided tape is fantastic when you're using Core'dinations products in that sometimes the sanded Core, no matter how clean that Dust Buddy gets it, can be a little more resistant to stick and bond to more Core. Not the case with Xyron's double sided tape! Thanks Xyron for some innovative, earth friendly and reliable adhesives!
And another detail shot:
Core'dinations Kraft Core; Nostalgic, Shattered, Seasonal Impressions
Core'dinations Deep Lagoon
Core'dinations Rustic
Core Tag
Dust Buddy
Sand It Gadget
Xyron MegaRunner
Xyron Create-A-Sticker 1.5 inch
Xyron 3/16 inch dots
Xyron Double sided tape
Twine – The Twinery
Glassine bag – Michaels
Tags – October Afternoon, Chic Tags
Punch – McGill
Letter Dies – Lifestyle Crafts
Decorative Scissors – Fiskars
Ribbons – May Arts
Pennant – October Afternoon
Stamp/dies – Lawn Fawn
Wood Veneer – Studio Calico
Misc craft supply – burlap, tulle
~~~~~~~~~~~~~~~~~~~~~~~~~~~~~~~~~~~~~~~~~~~~~
And how about a super cute card from Designer Tracy Gruber? Love her play on geometric shapes and of course that CUTE stamp! The create-a-sticker is perfect for the chevron shapes along the side of the card.
Supplies:
-Paper Smooches Cyber Cafe
-Copic Markers: E23 and E25
-My Favorite Things Chevron die
-Tim Holtz Walnut Stain Distress Ink
-Tuxedo Black Memento Ink
-Sand It Gadget
-Dust Buddy
-Sizzix Diamond embossing folder
~~~~~~~~~~~~~~~~~~~~~~~~~
Day four means only one more day of this fun week..makes me sad!
We are here all week long with Lawn Fawn! Our team loves loves loves loves their stamps so much..make sure you head over to their site to do some shopping! From cards to layouts, we have it for you! Please make sure you head over to the Lawn Fawn blog for more inspiration AND their Facebook page as well. There is a stamp set up for grabs!
And don't forget…we have a prize up for grabs this week! Some Fancy Pants Core Impressions!
First up today we have a gorgeous card from Designer Clare Buswell and here is how she did it:
Make card from cardstock. Cover top half of card with blue Core'dinations cardstock, sand edges using Sand-It Gadget and wipe with Dust Buddy. Stamp sentiment. Stamp clouds onto Tillie dot cardstock, fussy cut and adhere to card. Stamp pinwheels, color with Distress Markers, fussy cut and attach to card. Repeat stamp flowers, color with Distress Markers, fussy cut, trim and adhere to card. Fold piece of green Core'dinations cardstock, fringe edge with scissors to create grass effect, emboss using Gridlock embossing folder, sand and adhere to card with foam tabs. Attach baker's twine, to finish.
Supplies:
And a card from Designer Debbie Standard featuring loads of Core and some of the cool background stamps from Lawn Fawn.
Some Tim Holtz Kraft Core and the sharp backdrops:
and using the interlocking backdrops  with some Chocolate Box…loooove the subtle look of this. Debbie added some May Arts ribbon to both of her cards and a David Tutera Celebrate cardmaking system  sentiment. These are GREAT if  you don't have  a sentiment stamp that fits your needs.
Next up a funky cool layout from Designer Ava Gavloski. LOVE how she created a layout and used the So much to say , You've Got Mail  sets in such a cool and unique way!
Supplies:
Jenni Bowlin Core Amour from  Core'dinations Cardstock
Sand It Set
Lawn Fawn, Dewey Decimal paper pack collection
Couture Creations, Doily die, Fantasia Collection Blossom
Imaginisce, I-rock heat setting tool, Glam rocks , Red 002988 2.5m 4 mm
The Crafter's Workshop Stencils, Cell Theory & Chicken Wire Reversed
Clearsnap Ink, Blackbird, Pepper and Cherry Ice Smooch Spritz
Cuttlebug
Not sure about you but wedding season is in full swing for us in the summer and today Designer Gail Linder has some gorgeous engagement cards for you today.  Gail mixes and matches our cardstock brilliantly! Glitter Silk and Chocolate Box?  Fabulous!
Here is a little bit about these gorgeous cards from Gail:
I've had a couple of family members announce engagements recently so I created a couple of cards to celebrate the good news! I started by choosing a gorgeous card from the Chocolate Box collection and cutting a couple of designs out from my Cameo. In the end I settled on the fun sunburst and polaroid and went from there!
For the blue card, I chose the background from the Gemstone collection as the gave it an elegant feel. I've embossed the background and adhered my sanded polaroid over the top with pop dots, adding some patterned paper and a red Gemstone card underneath the cut out pieces.
Similarly, behind the sanded sunburst (be careful sanding the fine frame) I used a pink Glittersilk card to add a bit of elegance. The leaves were die cut from Gemstone cardstock also and the project was completed with the fun pink flower!
So there you have two card designs, made into elegant engagement cards by using specialty cardstock but imagine the same designs in different colors for any occasion!
Glittersilk 6×6 cardstock
Chocolate Box cardstock
Core Bookmark
Sand It Gadget
Dust Buddy
Cameo
Hero Arts Stamp
Ranger Distress Inks
PTI leaf die
Manor House flower
queen& Co Pearls
Chocolate Box cardstock
Core Bookmark
Sand It Gadges
Dust Buddy
Cameo
Cuttlebug embossing folder
Big Shot
Hero Arts Stamp
Ranger Distress Inks
flowers