On behalf of the entire Core'dinations Team, we want to wish all of you celebrating Thanksgiving today a safe and happy Holiday.
We are so thankful for each and every one of you that spreads your love of crafting and cardstock each and every day.
Being part of this awesome community brings us joy every day and we cannot be more thankful for that.
Take this time and enjoy your families and count your blessings.
Gift box by Designer Ellen Sosnoski using
Vintage
Cardstock and
May Arts Ribbon
. Inspired by Scrapbook and Cards  Today blog post
here
.
We are hitting it hard today with our Label Makers.
We just LOVE using it around here. It works perfectly with Core and if you aren't sure how to use it, CLICK HERE for the video and some "how to" tips under "LABEL IT".
For these next two layouts Design Team Member Lydia Jackson used her label maker. Check them out!
For this fun summery layout, Lydia also used some of the Core Tags and the background is Jillian Spotted Cardstock. We love these and are so great for any project. Lydia also used her Xyron for the waves. And make sure you look closely at the Title. Lydia used her Tim Holtz Ranger  inks to gently ink the white Paper Trunk alphas…doesn't that look FABULOUS!  Great detail….
And next up is Design Team Member Leica Forrest. She created this beautiful layout about herself and used her Label Maker for ALL of her journaling. Love the Pink Paislee Core Impressions against the Chocolate Box.
We will post May Arts/Petaloo winner tomorrow!
GOOOOOOOOOOOOOOD Morning!
We have a project for you today featuring Paper Trunk goodies and Core'dinations Cardstock.
Make sure you head over to their blog for some more GREAT ideas and inspiration.
AND DON'T FORGET.. we are giving away some Cardstock to one lucky person. So leave a comment on any post you see with Paper Trunk (here at our blog) for a chance to win!!!  (Please note  prize will not be mailed until after the 12th of September due to us being at an event out of the country).
Today we have a very fun layout from Design Team Member Char Dobson featuring some Paper Trunk goodies and Core'dinations Chocolate Box cardstock.
How cool is that Scoring in the corners?!??!!?!?  If you want to see some more ideas on Scoring, check out our Videos here. And the touch of misting over the sanded hatching looks awesome, too.
Are you using Chocolate Box?  If so we would love to see!
Inspiration!!!
We posted our July Peach Keen Colour Challenge this week so make sure you read all about it here. There is some yummy Core'dinations Cardstock up for grabs!
Here is the palette:
And the inspiration piece:
First up is a layout from Debbie Standard.  Debbie embossed the images and then cut them out as accents on her page.  And how perfect is that wave punch?!?!?!  Make sure you check out that great scoring detail Debbie added to do her journaling.
Today we have a card AND some gift wrapping from Char Dobson.
AND it gets BETTER!
Char had started off just making the card, but then had the great idea to wrap my gift in butcher paper and embellish with the scraps leftover from making my card. It turned out super cute! A nice change from using a traditional gift bag.
Core is so versatile!
Core'dinations: Core Essentials, Chocolate Box, Cosmo Cricket Core Impressions.  Other Supplies: Cricut Nursery Rhymes, Martha Stewart Flower Punch, Fiskars Corner Round Punch, Cuttlebug Swiss Dots Embossing Folder
Have a GREAT week!
YES! I said Winner(s)!
We couldn't pick just one so we picked TWO!!!
First up is Irit Shalom. Irit submitted two fabulous entries with some fun journaling and cool techniques and here they are:
Some awesome Basic Grey Core Impressions on this layout. Love it paired with all of the vertical strips of cardstock and ribbon. AND, yes! We would love to go to that Cherry Festival! Sounds amazing.
Love love all the Jillibean Soup Core Impressions on this layout and how Irit sanded the "18″ with the Core Impressions. And those layered journaling spots are the best!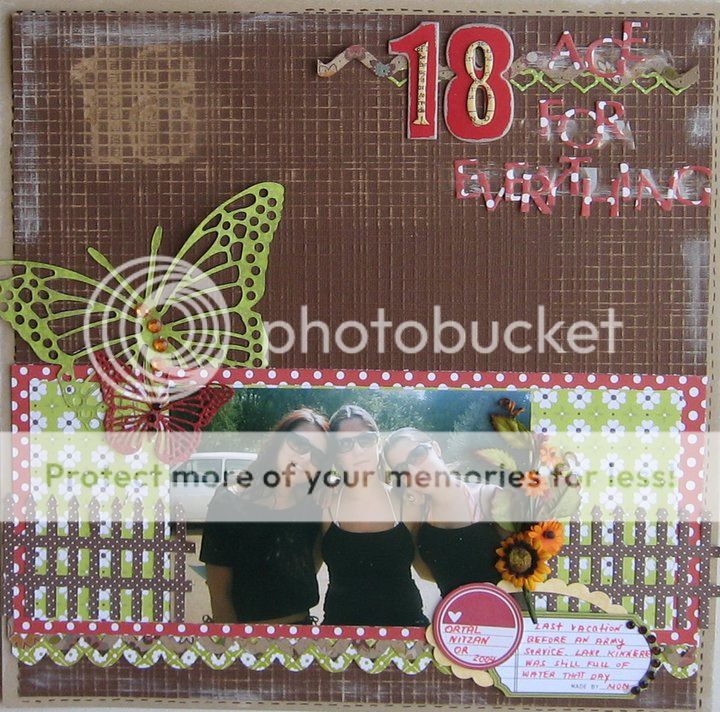 And Sherry Coogan submitted this layout where she etched in the embossed woodgrain on the Chocolate Box like a REAL Tree!!!!
Such a cool idea!!!
Make sure you check out how Sherry mixed handwriting with tiny alphas for her journaling.
Thank you thank you so much for all the entries!!! We will be doing challenges every month so stay tuned for the 1st of July for details for the July challenge.
Winners can you please email your address and phone number (for international entries) to  ellen_sosnoski@coredinations.com.
Have a GREAT week!
It's April Fool's Day!   That means it's April 1st and only about two more weeks to get those entries in!
Don't forget to check out the details on the Design Team Call Here. We updated it with some answers to the questions we received, too!
We hope you are having  a wonderful start to your spring. Here on the East Coast it is SNOWING again! So this morning I was going through the gallery and saw this WARM, FUN & SUNNY looking layout from Design Team Member Kimber McGray. Who else is ready for WARM????
Isn't that palm tree in the Chocolate Box cardstock the coolest! The touch of sanding along the edges are the perfect touch.