Inspiration!!!
We posted our July Peach Keen Colour Challenge this week so make sure you read all about it here. There is some yummy Core'dinations Cardstock up for grabs!
Here is the palette:
And the inspiration piece:
First up is a layout from Debbie Standard.  Debbie embossed the images and then cut them out as accents on her page.  And how perfect is that wave punch?!?!?!  Make sure you check out that great scoring detail Debbie added to do her journaling.
Today we have a card AND some gift wrapping from Char Dobson.
AND it gets BETTER!
Char had started off just making the card, but then had the great idea to wrap my gift in butcher paper and embellish with the scraps leftover from making my card. It turned out super cute! A nice change from using a traditional gift bag.
Core is so versatile!
Core'dinations: Core Essentials, Chocolate Box, Cosmo Cricket Core Impressions.  Other Supplies: Cricut Nursery Rhymes, Martha Stewart Flower Punch, Fiskars Corner Round Punch, Cuttlebug Swiss Dots Embossing Folder
Have a GREAT week!
YES! I said Winner(s)!
We couldn't pick just one so we picked TWO!!!
First up is Irit Shalom. Irit submitted two fabulous entries with some fun journaling and cool techniques and here they are:
Some awesome Basic Grey Core Impressions on this layout. Love it paired with all of the vertical strips of cardstock and ribbon. AND, yes! We would love to go to that Cherry Festival! Sounds amazing.
Love love all the Jillibean Soup Core Impressions on this layout and how Irit sanded the "18″ with the Core Impressions. And those layered journaling spots are the best!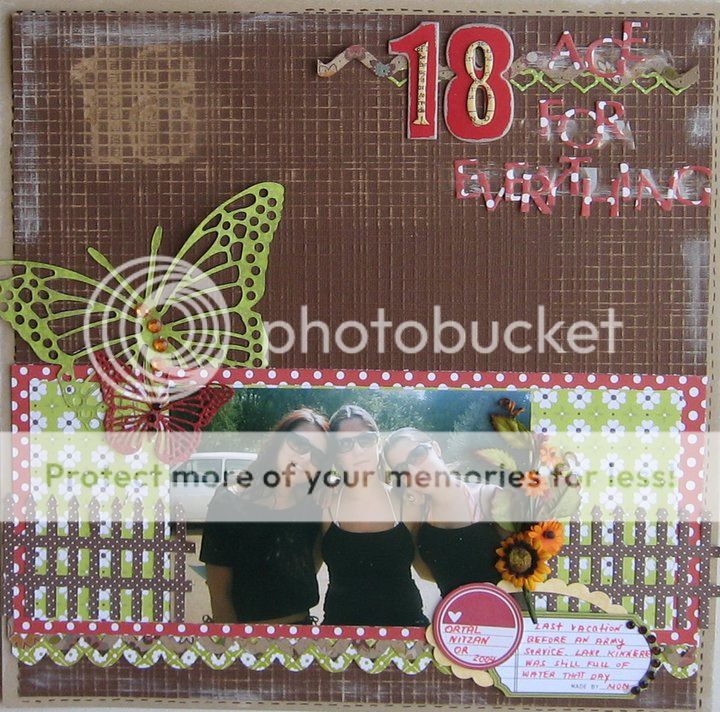 And Sherry Coogan submitted this layout where she etched in the embossed woodgrain on the Chocolate Box like a REAL Tree!!!!
Such a cool idea!!!
Make sure you check out how Sherry mixed handwriting with tiny alphas for her journaling.
Thank you thank you so much for all the entries!!! We will be doing challenges every month so stay tuned for the 1st of July for details for the July challenge.
Winners can you please email your address and phone number (for international entries) to  ellen_sosnoski@coredinations.com.
Have a GREAT week!
It's April Fool's Day!   That means it's April 1st and only about two more weeks to get those entries in!
Don't forget to check out the details on the Design Team Call Here. We updated it with some answers to the questions we received, too!
We hope you are having  a wonderful start to your spring. Here on the East Coast it is SNOWING again! So this morning I was going through the gallery and saw this WARM, FUN & SUNNY looking layout from Design Team Member Kimber McGray. Who else is ready for WARM????
Isn't that palm tree in the Chocolate Box cardstock the coolest! The touch of sanding along the edges are the perfect touch.
For some Chocolate?  Chocolate Box that is….
Today we are sharing some layouts from our Design Team featuring our Chocolate Box line.
Firs up is a layout from Design Team Member Debbie Standard. Debbie used Chocolate Box as the base of her layout here.  Debbie used Chocolate Box with a blue core and sanded the scored frame to accent the blues throughout the layout.  Also note on both of these layouts the hearts at the bottom of the page!
Other Supplies used: Jenni Bowlin Core Impressions, Core Essentials Cardstocks.
This layout is from Design Team Member Cari Locken.  Brown looks GREAT with everything! The colors on this layout are gorgeous…blues…reds…greens and Cari anchors this layout with some Vintage cardstock as the base and uses the Mint Chocolate Chip Chocolate Box to accent the green. Remember: all of our lines Core'dinate! So the green in the Core of the Chocolate box core'dinates perfectly with the green from the Core Essentials. Isn't that great? Makes matching colors for your project so easy.
Other Supplies used: myStampBOX stamps; Stacy Julian Core Impressions (red) and Cosmo Cricket Core Impressions.
Happy Wednesday everyone!  Today we wanted to share with you an amazing layout from the My Mind's Eye Core Impressions line just released  at CHA in January.   This project is from the Lost & Found 12×12 paper pack.
Check out this gorgeous layout from Design Team Member Kim Moreno. Just gorgeous!  It was designed to work with both My Mind's Eye Lost & Found Collections and it pairs beautifully with other Core'dinations lines like the Chocolate Box that Kim used as her base for this 12×12 layout.  Notice how she scored the frame around the outer edge of the layout base?
Have a great day!!!
Welcome to our First Ever 12 Days of Techniques. We are excited to share with you some of our favorite techniques using our unique color core cardstock. Each day a Design Team member is going to share a project featuring a technique with Core'dinationscardstock. We have TWELVE unique and amazing days lined up for you leading right into Christmas Eve Day.
In case you are just joining us today here is what we covered so far:
Day One: Sanding
Day Two: Tearing
Day Three: Embossing
Day Four: Debossing
Day Five: Distressing
Day Six: Scoring
Day Seven: Outlining
Each day we will be giving away a great selection of Core'dinations ! Each prize will also receive a Dust Buddy and our NEW Sand It Gadget! And today we have one of our favorite sponsors and they have a prize for you in addition to the Core'dinations prize pack!
AND today we have another cool addition to the Core'dinations prize pack. The winner will also receive this…Their VERY own Label Maker!!
All we ask of you is to leave us a comment either here OR on our Facebook page for two chances to win today!!! And don't forget to check out the video on Label Making here.
Design Team Member Melissa Oliveria has some beautiful projects for us using her label maker. Melissa used a beautiful combination of Black Magic, Vintage and Core Essentials cardstocks.
Melissa used her Label Maker to embellish the heart! Just a brilliant idea!
And yesterday's Winner is……………………………..
Lesley from WI says:
I have never seen this technique before and look forward to try it. Thanks for sharing so many great techniques. I have learned a lot and cannot wait to try them!
Have a GREAT Day!!!