HAVE YOU SEEN THE NEWS?
We are at it again. YES, we are giving away more Core'dinations Cardstock!
WE ARE GIVING AWAY 50 OF THESE! Plus three lucky winners will get a signed copy from Tim himself!
CLICK HERE to enter to win.
Curious what to do with your Kraft Core? We have tons and tons of inspiration coming for you and we are kicking it off with a great tutorial for you from Designer April Derrick. April is our in house Tim Holtz guru. She uses color washes and distress inks beautifully and  this layout is no exception. We hope you can find some cool techniques to use on your craft projects from this tutorial today.
Supply List:
– Cardstock: Core'dinations / Tim Holtz Craft Core Nostalgic Collection
– Patterned Paper: 7gypsies
– Color Wash: Ranger Adirondack in Red Pepper
– Pens: Staedtler Triplus Fineliners
– Film Strip Tape, Tissue Tape, Mini Staples: Tim Holtz
– Metal Clip: 7gypsies
– Sparkly Brad: Paper Studio
– Distress Ink: Ranger
– Other: White Office Tag, Black Sewing Thread
Step 1 – Spray 3 to 4 squirts of Color Wash on a craft mat.
Step 2 – Dip a paintbrush into water and then swirl your color wash around with your paintbrush creating a small puddle of paint.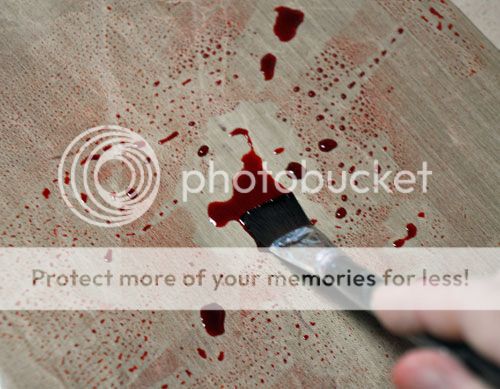 Step 3 – Start painting your cardstock. You can paint as little or as much as you like, depending on how much of the cardstock you want to cover.
Step 4 – With every layer of color wash paint you add, the colors will get deeper and darker. If you think it's too dark you can swipe a paper towel across it while it's still wet. You will probably need to add more color mist and water during the painting process depending on how much paint you use.
* Note}: I always like to leave the "Logo strip" along the bottom of the cardstock on until I have finished the painting process! Then I cut it off right before I get ready to sand and set it aside to use later.
Step 5-Grab your Core'dinations Sand it Gadget and sand away! On this particular layout, I chose to sand the edges of the cardstock sheet and also various areas towards the top of the sheet where my paint was a little lighter. This resulted in a really cool texture effect!
Step 6 – Grab your color wash and spray a couple of mists onto your cardstock. (I personally like to choose 2-3 areas to mist. I don't want it to overwhelm my page and it also helps if you have an idea of where your picture is going to be placed so you can spray the areas you know will not be covered up.)
Step 7 – Hold the cap of the color wash bottle and squeeze. Large drops will fall out of the bottom of the tube. I like to call this Cap Dropping. It's an easy way to get big drops, if you don't want larger drops than simply skip this step.
Now remember how I said I save my "Logo Strips" to use later? Well here's what I did with my leftover strip!
I cut the strip in different sections and sizes. This way I ended up with some of the painted portion without words, and the others I just flipped over to use the kraft core side without writing.
Then I simply adhered the small strips of cardstock along the top portion of my layout in a collage like fashion. I even turned up a couple of the edges of the kraft strips so that a little of the red painted side would show. I completed this look by sewing over my paper strips, but you could also create a faux stitch using pens!
Here is what it looks like almost done. You just need to embellish and you are read to go!