So we have LOADS of winners to announce!
There is no better way to start a week than to win some Core, right?
We have our October Colour Challenge Winner….
drum roll please………….
Amy at PluckingDaisies.com made this…..
SO COOL!
CORE ON A PUMPKIN! LOVE IT!
Amy email ellen_sosnoski@coredinations.com with name, address and phone (if international).
Next up are the Graphic 45 Winners!!!
From the blog …..
Denise Bryant
Great layouts! I love the colors one the circus page! The dance page is lovely.
And our FAcebook Winner is….
It's so much fun waking up the computer each morning to see what your dt members have created to delight the senses!
Winners make sure you email Ellen_Sosnoski@coredinations.com with your name, address and phone number (if you are international).
SOOOOOOOOOOOOOOOO…
ready for next month's Colour Palette for the Colour Lover's Challenge?!??!!?!?
Make sure you post your entries on Facebook or link back to this post for a chance to win.
AND, yes ONE more thing…
MARK YOU CALENDARS!!!
WHO WANTS TO WIN SOME CORE??????
We are brining in WCMD with our October Colour Lover's Challenge.
This month is all about fall and autumn colors.
AND WE ARE GIVING YOU THE CHANCE TO WIN TWO PACKS OF CORE!
We will pick one winner that creates a card with this color palette by Tomorrow, October 2nd at Midnight PST and links it here on this post or on our Facebook page to win a pack of Core'dinations Cardstock! REMEMBER…you must use Core'dinations Cardstock to be eligible.
AND you will still be entered to win the October Colour Lover's Challenge, too! That is two chances to win this month so get busy! (Please note: You can create any project you want for our monthly Colour Lover's Challenge but for this weekend we are looking for cards to celebrate WCMD)
Here is the color palette design by Design Team Member Lydia Jackson:
And a card created by Ellen Sosnoski using Whitewash as the base and some Tim Holtz-Kraft Core: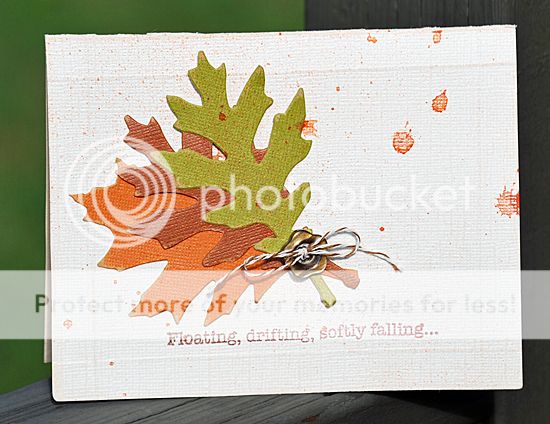 One of my favorite sentiments by myStamp Box…
All entries for our monthly colour lover's challenge must be linked to this post by the end of October 31st at midnight PST.
For the WCMD challenge, they must be linked by October 2nd, midnight PST.
You may link your project to our Facebook page as well.
Happy Friday!
(edited with last month's winner)
First up we want to Congratulate Courtney! She is the winner for last month's Colour Challenge.  Email ellen.sosnoski@coredinations.com with your address information. Prizes will not go out until September 12  due to us being out of the office at an event.
Here is the cute card she made.  Love all the great Cricut work and the glossy accents. A GREAT example of how Core'dinations ColorCore Cardstock can be your go to cardstock for any project.
You can see her entry here on her blog.
Now it is time to live with September's Colour Challenge!!!
It is all about colour for sure.
Again, our inspiration piece comes from our Pinterest Colour Lover's Board. Every Month Design Team Member Lydia Jackson gets the incredibly difficult task of choosing one of the beautiful color schemes found in Pinterest.
This month it is all  about back to school!
What is better than rainbow crayons???
Our Core Essentials line is PERFECT for this challenge. LOADS AND LOADS of gorgeous colours…..
Design Team Member Debbie Standard Created this fun card using this colour inspiration using loads of embossing and sanding:
AND…Debbie created a layout, too.
The great thing about this inspiration piece is that you don't have to use every single colour like Debbie did here.  She focused on the blue, red, yellow, orange and brown. Looks awesome, don't you agree?  The Stacy Julian Line Core Impressions is great for this challenge as well. No one does Colour like Stacy!
Remember you must use Core'dinations Cardstock on your project and link back to THIS post by September 30th or link us up on our Facebook page.
So the blog has not been cooperating with me this weekend.
I spend most of Saturday morning copying and pasting and reposting
but nothing worked.
So we have ONE MORE CHEERY LYNN project for you! You may have seen this on
Facebook over the weekend but that is okay. It is too cute not to share with you today.
And what a perfect way to announce the random winner of our give-a-way from last week………….
Krista's Paper Cafe says:
I think it looks more antique then grungy. I like it. I want to try. Now i know what to use a white/off white Core'dinations paper for.
Congrats!!! Email ellen_sosnoski@coredinations.com your address information.
Now let's see this layout…..
Design Team Member Melissa Oliveira created this super cute layout using the French Scallped Flair nesting dies. She used the smallest size and then cut it to create the fun green border along the photo. BRILLIANT! And of course that fun banner.
AND she used our August Colour Challenge as her colour inspiration.
And check out this cuuuuuuutie of a layout!
We are!
Here is the inspiration piece for this month from Pinterest that Debbie Standard pinned for us from the shepaperie.blogspot.com.
Isn't it beautiful?
SIX gorgeous colours to play  with…..
Here is Design Team Member Shaunte Wadley's take on the challenge using
ooodles and oodles of Vintage Cardstock.
For the Colour Lover's Challenge you must use a noticeable amount of Core'dinations Cardstock
on your project. And since we are technique junkies here…we wanna see some technique, too! Sanding…embossing…sky is the limit!
Link your submission to THIS post or post on our Facebook account by August 30th for a chance to win some fabulous Core'dinations Cardstock!!!
Featuring the Core Colour Challenge from Design Team Member Kim Jeffress.
Kim created this gorgeous layout using this month's inspiration from our Pinterest Colour Lovers Board.  If you don't follow us over there, you should. There is TONS of colorful inspiration!
Here is Kim's Layout. Just love how Kim layered her Core Essentials cardstock. They really pop off the page
with those distressed edges!  How did she do those edges???  Well keep reading….
All you need is a scissor! Yep, that's it…nothing fancy. Just the  sharp side of your scissor and the edge of your paper.
AND Voila! Instant edge distressing 🙂
And another close up for you…
Apply varying pressure to create these cool tears…
Thanks Kim! Have a great day!