Happy Friday! Who is ready for some more December Daily inspo from Vivian Keh?  I know  I am!
~~~~~~~~~~~~~~~~~~~~~~~~
Hello, Core fans! Vivian Keh here today to share with you a few more pages from my December Daily. How is yours coming along?
How quickly the days pass when it comes to December Dailies, don't you agree? I'm having to mark my calendar so I don't lose track of what I plan to use for each day in December. I'm really glad that I decided to craft this project as the month proceeds instead of ahead of time, because as you can see, the photos very much informed how I chose to design each page. And since December is such a busy month for me and probably for many of you, I decided to keep my pages really simple.
For this page, I paired some lovely colors from the Core'dinations Tim Holtz Nostalgic Kraft Core Collection with a few pretty Kaisercraft patterned papers in order to create a knit-inspired pattern. The shapes were die-cut from a fantastic basic shape Sizzix die called Leaves, Tear Drop.
Several dots of a pearl pen were added to draw attention to my pattern of knit stitches.
We have been busy trying to ready our home for about 25 of my in-laws visiting on Christmas day. As of December 1st, the living room was still completely unfurnished, but things are moving along. Part of the preparations involved a trip to IKEA for fast, affordable furnishings – love that place, especially the cafeteria, where we stopped first to fill our tummies with some Swedish meatballs.
I couldn't get over how many meatballs were heaped on DH's plate, and of course I teased him about it. Using just a circle punch, I jokingly exaggerated the number of meatballs he consumed. They were all cut from warm brown Core'dinations hues – French Roast and Latte from our Core Essentials, and Hazelnut from the Tim Holtz Adirondack Collection.
My photo on this page features a project made while hubbie was on a business trip. His presence was definitely missed, but I made use of the time, checking off items on the to-do list, crafting projects such as this wreath.
The wreath in the photo uses a beautifully pre-embossed cardstock from Core'dinations' Core Amour Collection. I created a perfectly coordinated page using the same Core Amour cardstock and a new die that I love, the Sizzix Doily, Classical Lace Bigz Die. If you are curious about the wreath, I have more details on that over on my blog.
Thanks so much for visiting with me today! Wishing you happy holidays filled with much joy and love.
-Vivian
SUPPLIES:
Core'dinations – Tim Holtz Nostalgic Kraft Core Collection,
French Roast and Latte from our Core Essentials,
Hazelnut from the Tim Holtz & Ranger Adirondack Collection
Core'dinations' Core Amour Collection
Sand-it Gadget, Dust Buddy
We have three gorgeous layouts from the amazing Debbie Standard!
Debbie creates the most amazing projects…so much detail and SO MUCH CORE!  She really demonstrates the entire concept of, ahem, not needing any patterned paper.  You can do it!
I love using the White Wash collection – there's just so many uses for it.  For my page here I  sanded over the entire sheet so some of the blue tones would come through and then up under the title area I put a piece of cloud chipboard and sanded over it in several different places to simulate the sky and clouds in that area of my page.  Then I had two small embossing folders and I used some of the bright cardstock which perfectly matched the little dress and embossed and sanded two small squares.  I then used the same paper and scored it around the area of my embossed piece to create little frames.  To make the embossed piece stand out I backed it with white.  The leaves were all created on my Silhouette machine.  As long as you can run these through your Xyron you can sand these delicate pieces before taking them off the backing and applying them to your page.  The flowers are all cut with Spellbinder's Dies.  Then I  lightly sanded them – you have to be really careful doing this as they are delicate – I find it works best to put my finger in the middle of the flower and then lightly sand the edges of the petals.  The larger the flower the easier it is to sand.  Then I rolled the petals over my paper piercer and sprayed them with some Maya Road mist.  I continued to encourage the edges to curl after misting.  After they were dry I added some My Mind's Eye brads.  This adorable little subject is my sister's bff's granddaughter, Bridgette.
Supply List:
Whitewash cardstock
Core Brights
Sand it Gadget
Dust Buddy
Cuttlebug
Silhouette Cameo
Spellbinders Dies – Rose Creations
Embossing Folders:  Sizzix, Cuttlebug
Xyron
My Mind's Eye Brads
Scor it
D'eja Views Clear Word Stickers
I just love the dotted collection – both of them – one has larger dots and one smaller.  It even comes in the 6 X 6 too!  For this I started with a sheet of the blue in the Jillian collection.  First I scored a frame around the entire sheet and then I sanded only inside my frame.  Then I cut a piece from the Tillie collection in a lighter shade of blue and attached it to top of my page.  I then used a sheet of Core Impressions Fancy Pants collection which I sanded and then just cut out the frame from.  I made my clouds using a die cut and then cutting it from a sheet of White Wash – these make the best clouds – you can sand them letting the blue come through and they really look like clouds!  Then using some of the smooth tags I used one for my title tying a May Arts ribbon around it and another for my journaling.  The adorable little subject is my daughter's bff's baby – so love that she got these monthly stickers so she can record a picture every month for me!
Supply List:
WhiteWash Collection
Jillian Dots Collection
Tillie Dots Collection
Core Pastels collection
Core Impressions Fancy Pants collection
Core Smooth tags
Sand It Gadget
Dust Buddy
Martha Stewart Punch
Tags:  October Afternoon, My Mind's Eye
Chipboard:  Basic Grey
Hellicopter:  Best Creations
D'eja Views Clear Word Stickers
Ribbon:  May Arts

I saw this wedding photo and immediately knew I would be jumping into my Core Amour collection for this one.  I also used some of the Core Pastels which were the colors of her wedding.  This particular Amour sheet only requires that you sand across the works.  Then I misted it.  I used my  Silhouette to cut some swirls which I layered down the side of the page.  I then used a Martha Stewart punch and placed a small pink ribbon over it.  The photo itself I first matted with black, then with pink and then which yellow white I tore around .  The flowers and butterfly all came from die cuts which I cut, sanded and then sprayed with Maya Road spray.  I let them dry and then put them together and attached to my page.  I added some little tiny die cut tags and some prima leaves.  
Supply List:
Core Onyx Amour Collection
Core Pastels collection
Spellbinder's Rose Creations Die, and tags CD003
My Mind's Eye Brads
Maya Road Mist
D'eja Views Clear Word Stickers
Sand It Gadget
Dust Buddy
Silhouette Cameo
Xyron
Ribbon:  Stash
Envelope:  Stash
Bling:  Queen & Co.
Leaves:  Prima
Every month we challenge our designers with something fun and this month it was all about monochromatic color schemes.
Did you get the August newsletter?  Well if you did then you got a FREE downloadable PDF from Designer Mary Pat Siehl featuring a quick "how to" on how to create EASY monochromatic looks with just embossing!  Core makes scrapbooking easy, don't you think? By being a Hard Core Crafter you are automatically signed up for our newsletter.
Our Design Team also did some for us today as well. As you can tell our team likes blue 🙂
First up Kate Nolan-Deham…Kate used a banner to really enhance her monochromatic color scheme. And how sweet is her Glitter Silk dress form that she embellished!
And look at all this texture from Designer Gail Linder??!?! LOVE how she chose to use some yellow…a color I think a lot of scrappers struggle with:
A super simple card from Designer Ava Gavloski…monochromatic doesn't need to be complicated….
 and one last card from Designer Heather Kaesgan…LOVE how she mixed in some Gemstones for her monochromatic look for that bit of shimmer….
Clare Buswell used our Core Amour Cardstock to create a unique monochromatic look:
And Tracy Gruber always creates the CUTEST cards….hippo-ray, LOL! So cuuuuute! And monochromatic doesn't need to be the exact same color. Tracy used different hues of purple for hers and added some Gemstones as well.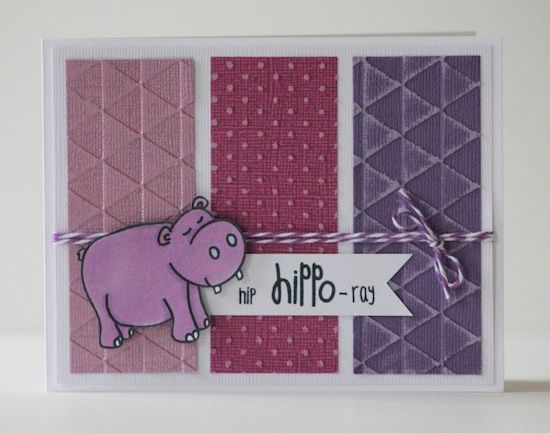 And how about a Pink Monochromatic layout from Designer Ava Gavloski? Look at all that gorgeous detail!  Using the BasicGrey Core Impressions for her base and then just adding fabulous bits and pieces in pink and white….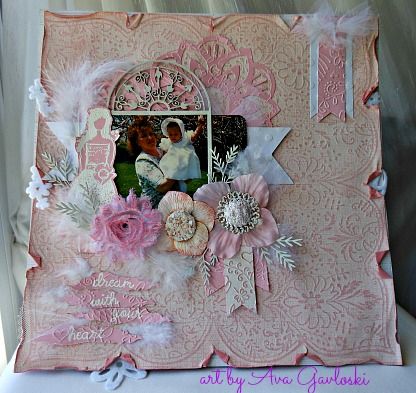 Can you believe March is upon this week?  Don't  forget about our Northridge giveaway! We have a ONE YEAR sub  to giveaway and you only have until   to enter to win!
Up  for grabs are a  ONE YEAR SUB to Scrapbook Trends AND a HUGE prize package giveaway for you and your friends that, of course, includes Core 
Don't miss out!
Today we have a card for you from Design Team Member Debbie Standard featuring our Core Amour…loving the pop of green with the black and white!
With only a few days left to Halloween we thought we would share some very treats for you!
And when we say treats, we of course mean festive Halloween tags 🙂 Don't forget to check out yesterday's post for more of these fun and festive Halloween inspired tags. One for each day of the month of October.
Glitter Silk, Black Magic, Core Tags…you name it Designer Leica Forrest used it for her Halloween Daily Fun box of tags. I don't know about you but this is my favorite time of year!
So for the last few days we have been sharing these fun tags Leica created for us.  This is a great idea for any month of the year…you could make them next month and pick something to be thankful every day or even December for fun things you and your family can do to celebrate Christmas.
Add some May Arts ribbon and you have the perfect tags.Don't forget the sanding and embossing!
Stamping with Versamark looks GREAT on Black Magic Cardstock. Add a little bit of sanding on the edges and you are good to go!
Check out the gorgeous tags (on the right) using the Core Amour! Love this line for Halloween, too!  Leica stamped right on hers and used a bunch of fabulous Stampendous Glitter! Sky is the limit with Core.
Our Team has picked out a few of their favorite layouts and projects to showcase this month.
Today we have Design Team Member Debbie Standard. Debbie just rocks the black and white and Core Amour!  And the details she has on one layout are just amazing!!!!