We are sponsoring  the Cupcake Inspiration Blog again! All you need to do is create a card using this inspiration piece. It's that easy! Please make sure you check out the Challenge Rules section of their blog for details.
Designer Shaunte Wadley created this card using the above inspiration piece. Love how she used the Core Basics  vellum and crumbled it to look like the cupcake wrapper!
Cupcake Card Inspiration Piece:
Halloween is right around the corner and Core'dinations new Chalk Core is perfect for your all of your Halloween needs. It also core'dinates perfectly with our Black Magic and Core Essentials, too!
Halloween Layout Supplies:
Dies: Tim Holtz, Lifestyle Crafts, Papertrey Ink
Sequins: American Crafts
Twine: The Twinery
Button: October Afternoon
Embossing Folder: Stampin Up
Label Maker
Cut N Boss
Step 1. Using a ruler and cutting tool, cut the grid pattern in 1″ increments. Within those 1″ pieces, cut out a smaller square.  Where some of the lines meet, punch a whole for added interest. Lay a piece of Black Magic Cardstock  underneath it and score the lines that will appare in the negative image of the squares you just cut.
Step 2. Flip over the Black Magic and sand the scored lines, remove dust with Dust Buddy. Line them up again and adhere. Add your additional elements like the sanded doily cut from Chalk Core. Cut the ghosts from the vellum cardstock.
Step 3. Emboss a piece of vellum and add your title along with some additional embellishments.
I created a simple bag tag for these cute mini-bags from Darice. Here's how you can create this  removable tag:
The same tag attached onto a card:
Super cute idea, isn't it?
Here is another example of how I reused a gift bag tag for a card…
How many types of Core'dinations can you get on one layout?  Keep reading to find out!
Supplies:
Core Basics - 110lb White
Suzanna Lee here and I wanted to share with you this pocket page layout created entirely from Core'dinations cardstock. Not a lock of patterned paper in there. Well, there is a smidge of vellum! Guess how many different types of Core there are there? My point being, you don't have to go out and buy those fancy cards when you can create your own cards from cardstock! Different types and the textures you can create with die cuts, embossing and stamping provide you with all the spice and variety you need!
Embossing and sanding with letter stickers. Overlay color on color for some variation.
Layer Whitewash on Core Essentials that has been embossed and sanded. Layer Gemstones on vellum and stamp.
The man and women were created with the likeness of the bride and groom in mind. I used Maya Road acetate shaped and rubbed with my Sand It Gadget on the paper leaving the outline of the people. I pushed down on the edges in order to create the slightly embossed look.
Did you guess correctly? Seven, 7 types of Core'dinations cardstock in that pocket page!
Clare Buswell here today sharing some cards for you for the upcoming summer wedding season. I tried to play with a white-on-white color palette with some splashes of color. You can easily interchange any color you want for the theme of the wedding, too. ENJOY!
Cover a David Tutera A7 White Smooth Card base with Signature Series Graphic 45 Lights Precious Pink cardstock. Cut a rectangle of Core Glitter Silk Opulent Opel, emboss using Anna Griffin embossing folder Rosa, round corners and machine stitch border. Layer onto larger panel of Core Essentials Snowflake cardstock and round corners. Adhere lace, ribbon and cord. Attach panel to card base. Stamp sentiment onto Core Premium Cardstock 110lb White and attach to card with foam pads.
Stamp flowers and leaves onto Core Premium Cardstock 110lb White using VersaMark ink and emboss in Silver Pearl. Color flowers and leaves using Distress Markers and wet with a artist's paintbrush to create a watercolor effect. Once dry attach to card with foam pads and add pearls, to finish.
Cut a rectangle of Core Essentials Snowflake cardstock and emboss using the roses embossing folder and round corners. Die cut two butterflies using the Stampendous Jumbo Lovely Garden dies and Core Glitter Silk Opulent Opel, cut another two butterflies using Core Essentials Snowflake cardstock and emboss using the script embossing folder. Arrange butterflies onto panel, fix and machine stitch centers. Add lace and adhere panel to a David Tutera A7 White Smooth Card base. Stamp sentiment onto Core Premium Cardstock 110lb White and attach to card with foam pads. Add row of pearls and pink flowers, to finish.
Hi! Jill from Every Day is an Occasion here to share a kid's Craft project with you. Today I'm sharing how I made puppets for the story, Brown Bear Brown Bear What Do You See ?  featuring tons of Core'dinations Cardstock including the Brown Bear as the focal point made out of Chocolate Box cardstock!
Brown Bear Brown Bear What Do You See Puppets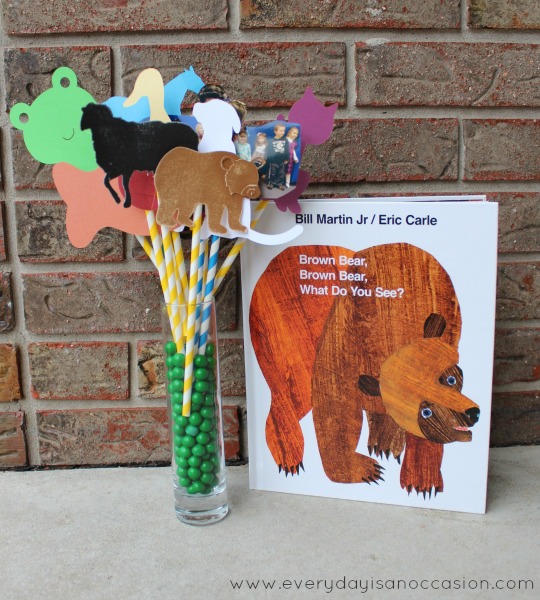 I used to teach first grade and my students LOVED reading this book. It's a great book because it's repetitive and kids can pick up on how to read it pretty quickly! My son memorized this book when he was 2 1/2 and now being 4 he likes to "read" it to his little sister. I thought it would be really fun for him to use these puppets in his puppet theater and create a puppet show for his little sister to watch.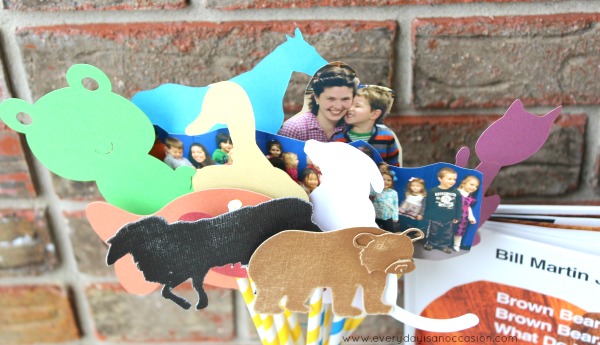 To create the puppets, I used Chocolate Box , Core Basics , 110 lb White Premium Cardstock, straws, and photos. I  cut out the animals using my Silhouette. They might not be the exact same shape as the animals in the book, but at least they are the same animals. At the end of the story, there is a Teacher and Students part. I used photos that I had taken in my son's class. All the animals and photos I adhered to straws using hot glue. The bear I assembled using Xyron Glue Dots and Xyron Glue Stick.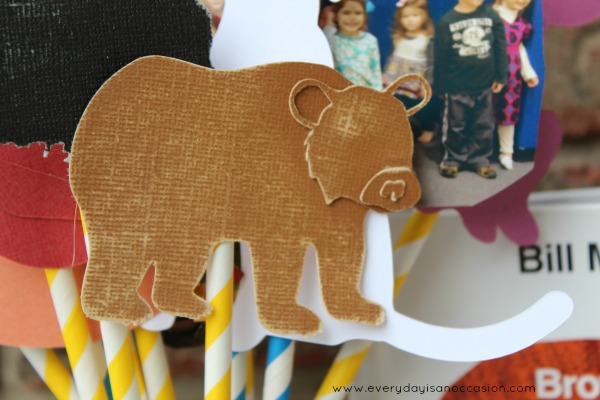 I love the way this brown bear looks sanded! I used the Chocolate Box  and sanded away! I love how the sanding gives him so much dimension.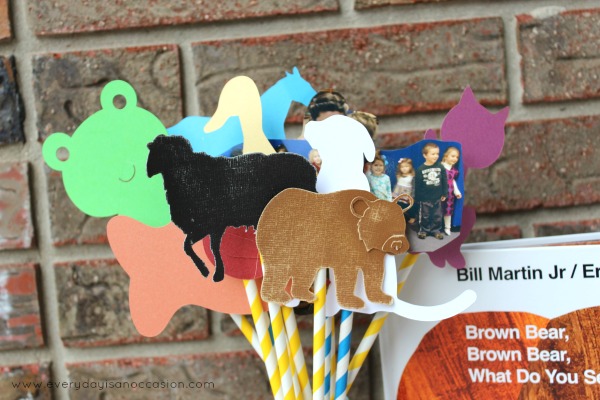 Core Tip: Use the backsides! The great thing about the Chocolate Box Pack is that it gives you so many options. You can sand away like I did on the bear or you can flip over the colors and use the colored side on the back!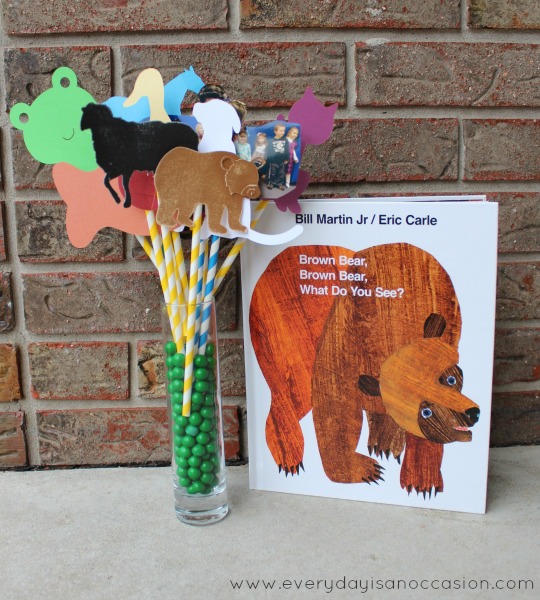 This was such a fun project and I cannot wait to give it to my son and watch his puppet show!!