Hi! Jill from Every Day is an Occasion here to share a kid's Craft project with you. Today I'm sharing how I made puppets for the story, Brown Bear Brown Bear What Do You See ?  featuring tons of Core'dinations Cardstock including the Brown Bear as the focal point made out of Chocolate Box cardstock!
Brown Bear Brown Bear What Do You See Puppets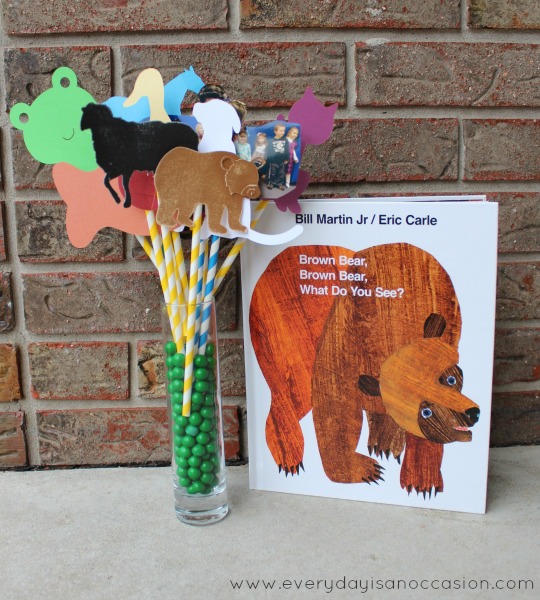 I used to teach first grade and my students LOVED reading this book. It's a great book because it's repetitive and kids can pick up on how to read it pretty quickly! My son memorized this book when he was 2 1/2 and now being 4 he likes to "read" it to his little sister. I thought it would be really fun for him to use these puppets in his puppet theater and create a puppet show for his little sister to watch.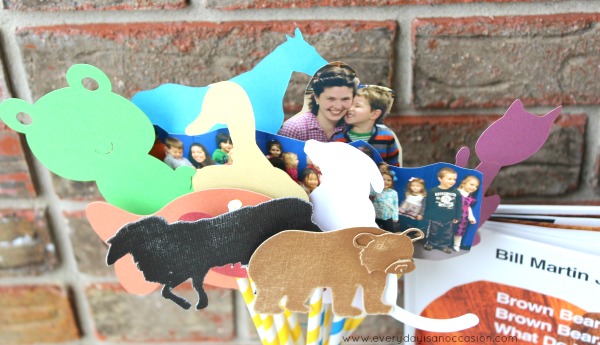 To create the puppets, I used Chocolate Box , Core Basics , 110 lb White Premium Cardstock, straws, and photos. I  cut out the animals using my Silhouette. They might not be the exact same shape as the animals in the book, but at least they are the same animals. At the end of the story, there is a Teacher and Students part. I used photos that I had taken in my son's class. All the animals and photos I adhered to straws using hot glue. The bear I assembled using Xyron Glue Dots and Xyron Glue Stick.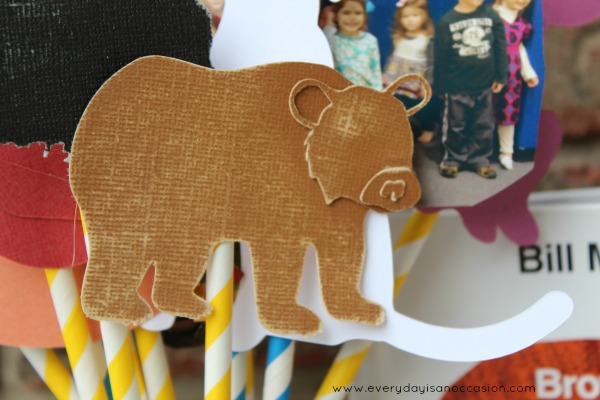 I love the way this brown bear looks sanded! I used the Chocolate Box  and sanded away! I love how the sanding gives him so much dimension.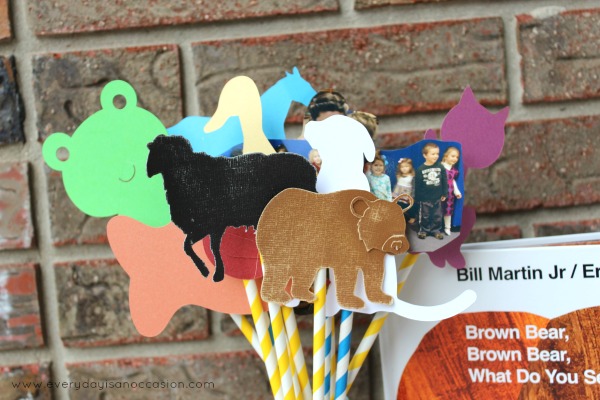 Core Tip: Use the backsides! The great thing about the Chocolate Box Pack is that it gives you so many options. You can sand away like I did on the bear or you can flip over the colors and use the colored side on the back!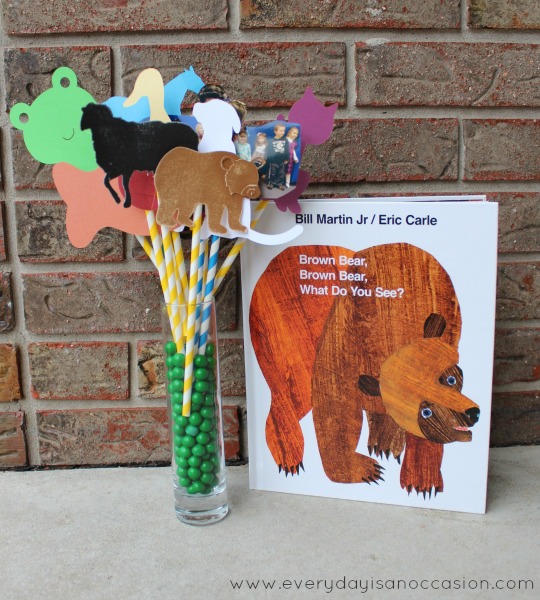 This was such a fun project and I cannot wait to give it to my son and watch his puppet show!!
Today we have some gorgeous layouts from Debbie Standard!
We had a beautiful day for my mother's 87th birthday and afterwards while the girls were still dressed up we went around the corner from my house and had them pose in this beautiful field of blue bonnets (Texas is known for their  state flower)! My granddaughter was patient with me up to a point and then she spontaneously burst into some random poses – these were  my favorite!
3. I matted my photos with white and then added pink behind my photo strip.  I punched the edges with a Martha Stewart punch and then sanded them before adhering.
4.   I cut my flower and my title from my Silhouette ran the title through my Xyron machine and attached it.  Totally loved how these colors came out and reflected everything in my photos.
Sand It Gadget
Dust Buddy
Cuttlebug embossing machine
Embossing Folder:  Spellbinders
Martha Stewart Punch
Silhouette Cameo
Silhouette Die Cuts – Title and flower
My Mind's Eye Brad
Teresa Collins Enamel dots
My Mind's Eye Tags
Xyron 250
Xyron Mega Runner
Glue Dots
~~~~~~~~~~~~~~~~~~~~~~~~~
1. Sand the BasicGrey Core Impressions and adhere together with Washi tape.
2. Then I cut and matted my photos on a sheet of white and then backed it with a bright blue and attached it.
3. Next, I cut my title and my balloons from a Silhouette die, ran them through my Xyron 250, sanded them lightly and adhered them to my page.
6. Add some Queens & Co. twine for  balloon strings.
Supplies:
Glitz Washi tape
Sand It Gadget
Dust Buddy
Cuttlebug Embossing Machine
Embossing folders:  Darice
Silhouette Cameo
Silhouette die cuts (balloons and title)
Queen & Co. twine
Xyron 250
Xyron Mega Runner
Glue Dots
Paper Studio letter stickers
I don't know how she does it but Debbie Standard uses ALL Core'dinations on her layouts.  The amount of detail is amazing and how she mixes and matches our different lines of Core is incredible! Grab a cup of coffee and sit back and get ready to be inspired!
~~~~~~~~~~~~~~~~~~~~~~
I loved this sketch over at Page Drafts and knew exactly what picture I wanted to use with it.  Love how the Tim Holtz Shattered collection gives you such great background even if you don't do anything to it – it already has a great look.  Love that I can do a layout and never touch any patterned paper.
American Craft Chipboard letters
Number Stickers:  Crate Paper
Buttons- stash
Button (seriously)  Crate Paper
Chipboard Speech Bubble: October Afternoon
Rub On:  October Afternoon
Cuttlebug Embossing Machine
Embossing Folders:  Darice, Cuttlebug
Letter Stickers:  Jenni Bowlin
Adhesive:  Sookwang, Tombow Foam tabs and Glue Dots
Die Cuts"  Spellbinder's circle die
Sand It Gadget
Dust Buddy
~~~~~~~~~~~~~~
Start with a Core Impressions base so you don't have to emboss it on your own.  Then use the Tim Holtz/Sizzix 12X 2 strips and emboss.   The Core tags are so easy to use and add to your page.
I created the flower with Spellbinder's dies and some Mr Huey's spritz.  I love how the flowers look when they have been sanded and sprayed – my new favorite thing to do!
Cuttlebug Embossing machine
Embossing Folders:  Cuttlebug- Anna Griffin, Cuttlebug
Spellbinder's Dies:  Rose dies, Foliage Dies, Aster Flowers
Pearls:  Queen & Co.
Dust Buddy
Sand It Gadget
Brads:  My Mind's Eye
Letter Stickers:  Tim Holtz
Mist:  Mister Hueys Shine
My Mind's Eye Brads
Silhouette Cameo Die for title
Photo by Inbloom photography
~~~~~~~~~~~~~~~~~~~~~
Next up a layout using tons of Core and a few embellishments:
Sand It Gadget
Dust Buddy
Silhouette Cameo Die for title
Bo Bunny Stickers
My Mind's Eye Brads
Wood Veneer:  Gossamer Blue
Photos by: Inbloom photograph
….that is with our CORE IMPRESSIONS! Debbie Standard is rocking the layouts for us today. ENJOY!!!!
~~~~~~~~~~~~~~~~~~~~~~
Creating with the Core Impressions line is SO MUCH fun! For this page I wanted an embossed background in a soft color so I chose a sheet from the Pink Paisley collection as my base which I sanded with my Sand It Gadget and then dusted with my Dust Buddy. Then I just went through my scraps (and yes I keep all reusable Core'dination's scraps) and picked colors from the basic core colors that went with my photo and background paper.  To tie them all together I used a neutral beige to back each square.  I embossed each square with Darice embossing folders, sanded them and then matted them with the Neutral beige.  I added my title and some embellishments both hand made and pre-made to compete the page. The beautiful girls are my daughter (left) and her bff.
Supply List:
Pink Paislee Core Impressions
Core Basic Colors – a variety
Sand it Gadget
Dust Buddy
Cuttlebug
Darice Embossing folders:  1218-28, 1215-62, 1215-61, 1216-68, 1216-64, 1217-59, 1215-60
Spellbinder's Die:  S4-328 Foliage,S5-050 Rose Creations, andS5-114 Spectacular Spin
AND another layout from Debbie Standard working that Core Impressions…this time the Cosmo Cricket Woodgrain cardstock.  Debbie uses these for her CSI case files. The colors are always amazing!
The cool thing about Core Impressions, in addition to the fact they come embossed, is that you can add layers and layers of sanding and inking and sewing like Debbie did here:
Ink:  Tim Holtz
Stamps:  Fancy Pants, Cornish Heritage Farms
Flowers:  Prima
Papers:  Webster's Pages
Lace:  Webster's Pages
Brads:  My Mind's Eye
Rubons:  Basic Grey
Every year I say I am going to blog while we are at CHA and I always run out of time. BUT we did post some stuff on Facebook so hoping you got a chance to see it over there. We will be updating our website soon with these FABULOUS new products as they will be shipping late February, early March.
First up CHALK CORE! Can I get some applause please?  Holy wow you are going to LOOOOOOOVE this stuff!  It is smooth and sandable. What?!?!  Check it out below:
Chalk Core comes in FIVE colors and white. Red, orange yellow, green and blue Cores….they are gorgeous.
See how the blue and red just pop when sanded?  It looks JUST like chalkboard!
AND we have a NEW Core Basics line. White, Black and Kraft in smooth and textured. Same Core'dinations, heavyweight cardstock but no colored core.   They come in 12″ and 6″ and we have a new 110 cardstock that you will LOVE!  That comes in 8.5×11, too.  OH and smooth cards in the white, cream and kraft.
We will have more photos of projects SOON! First up…a photo of some SMOOTH Kraft. OOOOOH!   AAAAAAH!
110 lb cardstock. YIPEEEEEEEEEEEEEEEEEEEEEEEEEE!
Here are some projects done with the Basics. We will have more SOON!
So stay close…we will have lots of photos for you coming very SOON!