Today we have more inspiration for you during this amazing time of year. Looking for a beautiful frame for your mantel or your wall?  This would also make a really fabulous gift for the host of your Thanksgiving Day celebration. You can get inexpensive frames at your local craft store or maybe you have an old one your stash and have been waiting to be inspired. Now is the time! You can't get this kind of the at Pier 1 Imports now can you?
Here is a little bit about these projects from Mary Pat Siehl from Siehled with a Kiss:
I love to decorate my house for fall and Thanksgiving.  My mantle was missing something this year so I decided to make asome fall/Thanksgiving framed art.  I started with some yummy Shattered Core'dinations from Tim Holtz.  To me these colors just scream fall with the beautiful hues.  Then I  used my Silhouette to cut out my design (item #46560 and #13696).  After framing it using an old 8×10 frame that I had on hand, I placed it on my mantel with my other home decor.  I made a video for you to see how it came together so scroll down!
And a close up:
And check out how to create this wonderful piece with Mary Pat in her video  below:
Tattered Angels mist
And we aren't done yet! How about a super cute Turkey Card from Mary Pat?  I don't care how old you are…turkeys are too cute and never get old when it comes to Thanksgiving. I can't imagine this card not sanded..it is the perfect  touch to any project!
I love making shaped cards because they are just so much fun and just so adorable.  For my project I created a shaped card using my Silhouette ( item # 34152) and I used all Core Essential pieces.  Once I cut out and sanded each layer around the edges to give it a distressed look, I just adhered it!   I think it turned out so cute!  
Sand it
Dust Buddy
If you like cards you came to the right place, just sayin'! Today we have some gorgeous cards for you from our very talented design team member, . But first… we wanted to say Thank YOU for an awesome week and weekend of Cropping Hard Core style!
We will post winners as SOON as we can. We hope you had as much fun as we did. Seeing Core'dinations in action is always amazing and I learn so much and see so many new things.  So stay close!
Now here are Tracy Grubers two CUTE cards. She always stamps beautifully, don't you think?
There is no question that I love to stamp and color with Copics.  The awesome part?  I can stamp on my Core Tags and then color them.  They are made with a really heavy card stock, which allows you to color and shade your images without the ink bleeding.  I used a Lawn Fawn stamp set to make this cute baby card.  The background is made with Spotted Jillian Dot and Vintage Core'dinations papers.
Lawn Fawn Plus One stamp set
Copics: V15, E31, E33, C1, C3,C5
Studio Calico Wood Veneer
Lilac twine from The Twinery
The Chocolate Box Collection has some really cool card stock!  I love how one side is brown and the other side has a variety of colors that can be revealed when sanded.  I used one of this card that was a tan backing to keep with the "animal/jungle" theme.  I paper pieced the leaves with green card stock from the Darks paper pad.
Spellbinder's Standard Circle Small
Copics: YG61, YG63, YG67
Paper Smooches Zoo Crew stamp set
Tuxedo Black Memento Ink
Simon Says Stamp Talk Bubbles 2
Vintage Photo Distress Ink
DCWV Safari Chic Matstack
Tombow 3D Foam Tabs
All week long we are playing with Authentique papers! How awesome is that?
We have been busy this October for sure but before we get started a few things.  First up..winners from last week will be posted HERE torrow so please check back to see if you won. AND, next up, SAVE the date! In a few weeks we will be cropping ALL WEE LONG! Rules will be posted on October 28th so check back then for more details but challenges will be posted that first week in November.
Now on to this weeks festivities. First up we have Shaunte Wadley working some Pride layouts. I don't know about you but I JUST got my summer photos printed so I am going to be reaching for this paper pack for sure.  I just love how Shaunte works the 12×12 sticker sheet here with all the little bits you can make with them.  She creates her own little embellies al over the page with the tags and banners.  Layouts are easy with Core'dinations  and Authentique!
And when you are done here make sure you head over to the Authentique blog for inspiration and a giveaway, too!
Twine by David Tutera Celebrate
And nothing goes better with 4th of July projects than Tim Holtz Core Seasonal Impressions!  Again, Shaunte used the cardstock stickers for fun little elements all over the page
~~~~~~~~~~~~~~~~~~~~~~~~~~~~~~~~~~
~~~~~~~~~~~~~~~~~~~~~~~~~~~~~~~~~~
We are giving some away so comment here to win!
Before we get started today we have some dates for you that you need to put on your calendars! We are having our THIRD  online crop in less than a month so make sure you save the dates! We have SO MUCH fun..we have tons of challenges all weekend long and then you have an entire WEEK to create.
So if you have been with us this week then you have been seeing loads of Xyron and Core ALL week long. And do not forget to head over to the Xyron blog for MORE inspiration AND a giveaway over there, too. AND we have a giveaway for our Facebook Fans, too! CLICK HERE to enter to win.
We love our mega runners and today that is what we are working here on the Core blog!
~~~~~~~~~~~~~~~~~~~~~~~~~~~~~~~~~~~
Hi! I'm Jill from Every Day is an Occasion here to share a project I made using the Xyron mega runner and Core'dinations Fancy Pants Core Impressions and pink Vintage cardstock. I also used some Authentique patterned paper. My daughter turned two recently and so we got her two year old pictures taken. I just adored this one and had to create a mini album page layout.
Mini Album Two Year Old Layout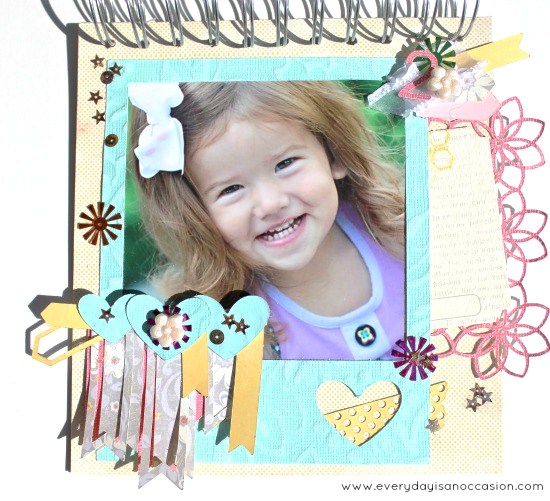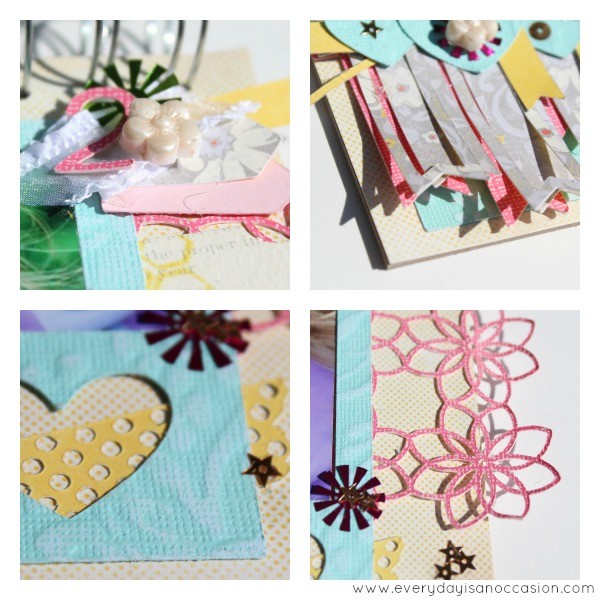 As mentioned before, I used the Xyron Mega tape runner. Even though it is called a "mega" tape runner it isn't so mega that it is obtrusive to your crafting. Actually, I love the size of the mega tape runner. I also love the refill system, so simple and quick! Thank you Xyron!!!
In this layout I used the Fancy Pants Core impression paper for the photo frame, and then I sanded it. The pick accents are the Core'dinations Vintage Collection. I cut out the accents using my Silhouette Cameo.
Materials:
Fancy Pants Core Impressions, Vintage Core'dinations, Authentique Patterned paper, Vintage sequins from stash (the were my great grandmother's), flower, Xyron mega tape runner, Sand it Gadget and Dust Buddy.
~~~~~~~~~~~~~~~~~~~~~~~~~~~~~~~~~~~~
And next up Designer Ava Gavloski with an amazing project for us today, too!
Party Favors have truly taken center stage at parties and has given the cake a nudge. So, today, I would like the two too share the spot light together.
Lets start with quality Xyron Adhesive and the best cardstock on the market…Coredinations! 
You need some GREAT adhesive for this. Have you ever made a project like this and then the next day it's all popped apart?  Not with Xyron. This beauty is still going strong!
Now, look at how lovely the Couture Creations Embossing folder showcases the Core'dinations inner colored cardstock.
Adding some Graphic 45 papers to the top of the cake was a delight. To complete the bridal presentation I made a card and decorated a candle holder to match the festive occasion.
Supplies:
Core'dinations:
"Sugar and Spice" from Pastels Collection
"Old Paper" from Tim Holtz & Ranger Distress Collection
Sand-It Gadget
Dust Buddy
Xyron:
Mega runner tape adhesive
1.5 Create a Sticker
Glue Stick for corners
May Arts Ribbon
Want2Scrap-pearls
Couture Creations – Embossing Folder: Smooch, from Fresh & Fun Collection,
Graphic 45- Once a upon a springtime pattern paper
Marvy Uchida – Floral Paper Punch
Marvy Uchida-Poppy punch
Imaginisce-Glam Rocks
~~~~~~~~~~~~~~~~~~~~~~~~~~~~~~~~~~
And a layout from Designer Kim Moreno!
Here's how Kim created this layout:
 I used my ScorPal again to create the border around the edge of my layout and then sanded it slightly. I then sanded and cut out the ledger cardstock and adhered it to the center of the black cardstock. I matted my photo with the red cardstock and tore it along the bottom to reveal the colored core of the red cardstock. I cut out the clocks and sanded each of them to reveal the kraft core.  Then layered my photos and embellishments to finish my layout.
Supplies:
Stickers: Jillibean Soup (yellow "joy")
Letter Sticker: American Crafts (yellow), Doodlebug (black glitter)
Embellishments: Simple Stories
Flag Pins: Maya Road
Tool: ScorPal
We are excited to share Xyron projects with you all week long.
And do not forget to head over to the Xyron blog for MORE inspiration AND a giveaway! AND we have a giveaway for our Facebook Fans, too! CLICK HERE to enter to win over there and keep reading on how to win on our blog, too.I heard a rumour that it might be a sticker maker?!??!?! So day TWO…hmmmm….how about some cards and a treat bag today?
Designer Clare Buswell worked her Xyron adhesive with a card and treat bag. I just loooooove me some Halloween projects and these are so awesome!  You can do a lot with some Core, Authentique and a Xyron Mega runner.
Halloween Card:
Cover card base with black Core'dinations Color Core cardstock, sand edges with Sand-It Gadget and wipe with Dust Buddy. Trim patterned paper, round corners, ink edges with Distress Inks and machine stitch border. Adhere to card using Xyron Mega Runner. Cut spider's web file from Core using Silhouette, attach to card and trim edges. Wrap seam binding around card and tie bow. Die cut labels from Core'dinations Color Core cardstock, stamp sentiment, ink edges and adhere to card using Xyron Mega Runner, to finish.
Other: Authentique Papers – Thrilling Collection, Spellbinders Labels Eighteen, Fancy Tags Two, Big Shot, sewing machine, Silhouette file – Spider Webs, Silhouette Portrait,  sentiment stamp from Hocus Pocus from Waltzingmouse Stamps, seam binding, Jet Black Ink (Ranger), Distress Inks – Antique Linen, Scattered Straw and Vintage Photo (Ranger), card base, corner rounder.
~~~~~~~~~~~~~~~~~~~~~~~~
And check out this amazing detail!
Other: Authentique Papers – Thrilling Collection, Big Shot, sewing machine, Silhouette file – Spider Webs and Trick or Treat, Silhouette Portrait, seam binding, Jet Black Ink (Ranger), Distress Inks – Antique Linen, Scattered Straw and Vintage Photo (Ranger), Kraft bag, hole punch, embossing folder Starry Night (Craft Concepts), Glossy Accents (Ranger).
~~~~~~~~~~~~~~~~~~~~~~~
It's as easy as 1-2-3!
Happy Monday everyone!
Today we have two layouts from Designer Suzanna Lee using our Core Impressions.  The great thing about these lines is that you can sand them or not sand them. So we thought we would give you to examples  of each. The first one uses the BasicGrey Core Impression Whimsy collection not sanded. 
The fun thing about Core is you can sand some …and not sand others ..all in the same  layout like Suzanna did here. She sanded the tone on tone stars and scallop shape in red to make them pop off of each other and then left her Core Impressions as is. Don't forget to get out your Sand it Gadget when you decide to sand 😉 It's repositional sand paper pieces make it so easy to use!
Supply List:
Core Impressions:  BasicGrey
Coredinations Tim Holtz  Distress
~~~~~~~~~~~~~~~~~~~~~~~~~~~~~~~~~~~~
Core'dinations looks great cut in your Silhouette or any die cutting machine!
Love the bits of sanding….
Supply List:
Core Essentials: Darks
Core Impressions Basic Grey Whimsy
Tim Holtz/Ranger: Distress
12×12 Crabgrass
Whitewash 6×6 pad
Sand it Gadget
Dust Buddy
Patterned Paper and stickers: Pebbles
Decorative bag: Fancy Pants
Ink: Memento
Stamp: Cocoa Daisy
Wood pin:Little Yellow Bicycle
Wood Veneer: Studio Calico
Tag: Chic Tags
Die: Lifestyle Crafts
Dot: Q&Co